This raspberry chocolate chip coffee cake is bursting with fresh raspberries and pools of melted chocolate. Perfect for breakfast, dessert, or midafternoon snack. The best part? It is completely gluten-free! This post is sponsored by Bob's Red Mill (@bobsredmill) and Bake from Scratch (@thebakefeed). Thank you for supporting the brands I love!
Why it works
The cake is incredibly moist and packed with flavor. The coffee cake base itself is perfect on its own, with a strong flavor profile that creates the perfect blank canvas for any add-ins.
Bright, fresh raspberries add a burst of fresh fruit flavor while the chocolate balances out the raspberries to create a harmonious blend of flavors to delight you.
The streusel is buttery but not too decadent thanks to the sliced almonds and hearty oats.
My favorite part might be the sour cream whipped cream, which adds a delightful tanginess that pairs beautifully with the raspberries.
Oh wait, there is something else amazing about this raspberry chocolate chip coffee cake: it is completely gluten-free. Don't worry, though—we don't have to use any hard-to-find alternative flours because we use Bob's Red Mill Gluten Free 1-to-1 Baking Flour.
Overall, this is a delicious and simple cake that is great for those summery days when you want something that celebrates the in-season fruit.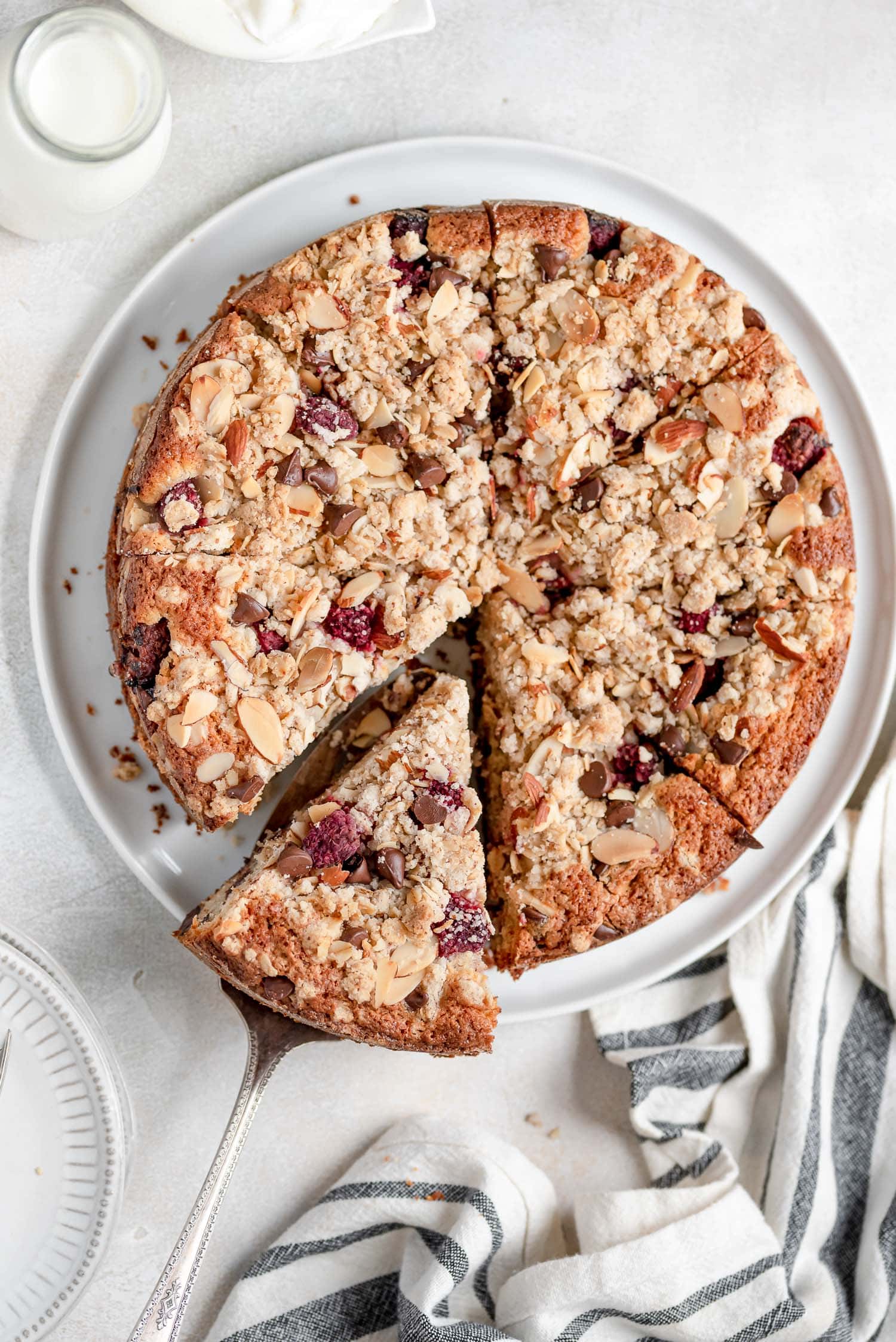 Ingredients
We only use pantry staple ingredients with a few exceptions. Here is a quick breakdown of some of the most important ingredients in this raspberry chocolate chip coffee cake.
Flour - In this recipe, we use Bob's Red Mill Gluten Free 1-to-1 Baking Flour, which is great because it bakes up just like all-purpose flour and you can use it to substitute any recipes using all-purpose without needing to do any math. It is a straight 1:1 replacement. The mix is so perfect, no one can tell you are using a gluten-free flour blend. We also use almond flour in the coffee cake to add a bit of heartiness, flavor, and texture.
Sugar - You should use granulated sugar in this recipe for the best results. You can substitute with a sugar alternative—just remember you will typically need to use half the amount.
Sour cream - We use sour cream to add tang and help keep the cake nice and tender. I recommend full-fat sour cream, but you can substitute with reduced-fat sour cream or plain nonfat Greek yogurt.
Milk - To add to the tenderness of the cake, we also use milk. I recommend whole milk, but you can also use buttermilk, or a dairy alternative.
Berries - For this recipe, we use raspberries. They are sweet and slightly tart, which makes them perfect for a dessert that also incorporates chocolate. Look for raspberries that are a deep red and still slightly firm to the touch.
Nuts - You can use a number of different nuts in this coffee cake, but I think almonds work the best with the raspberries. I like sliced almonds in particular when it comes to the streusel topping because they toast nicely and add more dimension to the flavor profile.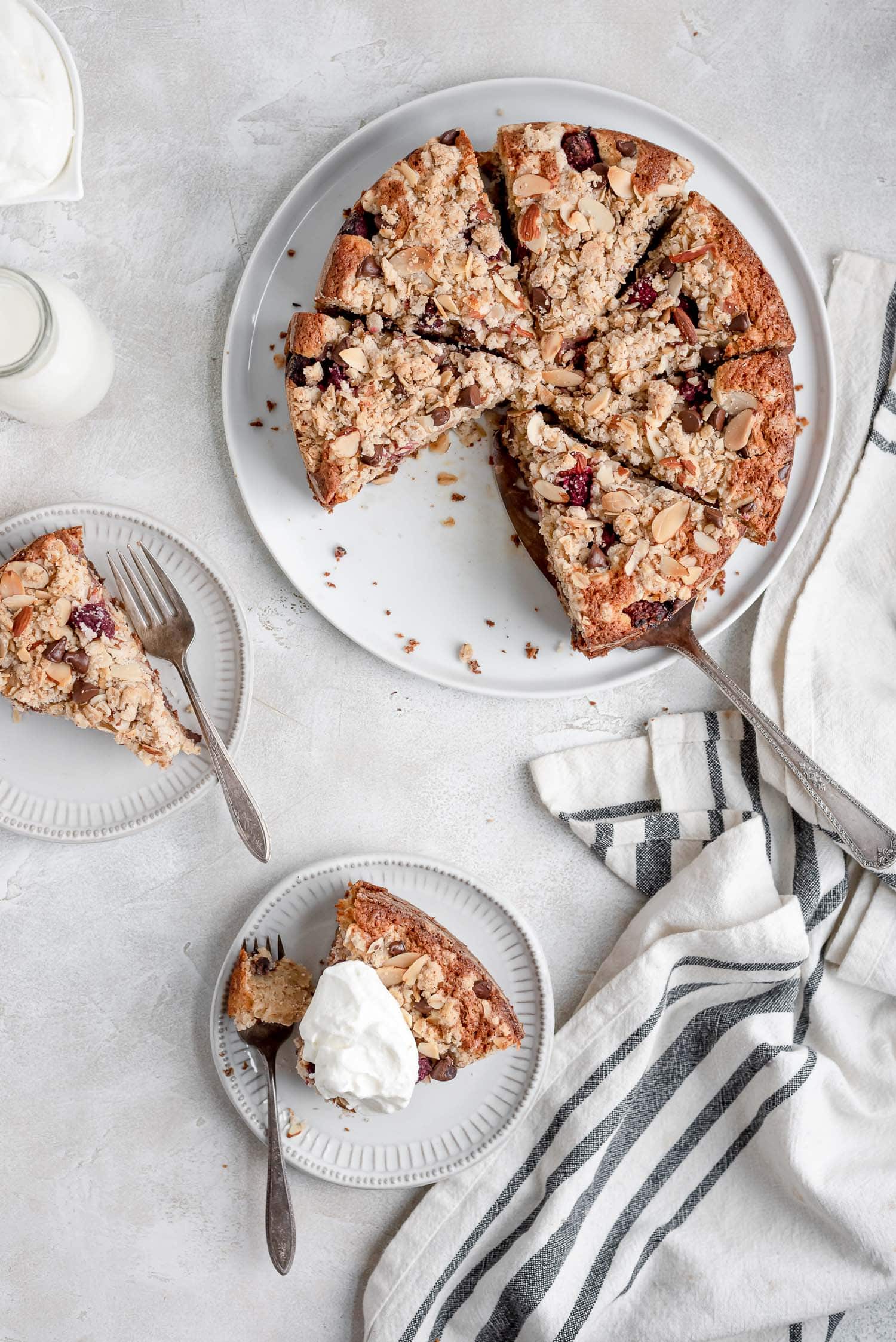 Method
What I love about this recipe is that it is great for someone who is new to making coffee cake or new to baking altogether. It is very simple to make, with no complicated techniques or methods. Perhaps the most difficult part is greasing and flouring your pan and being patient while the cake cools!
Always start with preheating the oven and preparing your pan with grease and Bob's Red Mill Gluten-Free 1:1 Baking Mix flour. You should also line the pan with parchment paper for the best results.
Make the streusel. Mix all the ingredients except for the nuts together. You need to press the butter into the mixture until it forms large crumbs. Fold in the nuts and store the streusel mix in the freezer until needed.
Begin with the cake. Mix your dry ingredients together until well-combined. Then in a separate bowl, whisk together the wet ingredients, including the lemon zest.
Pour the wet ingredients into the dry ingredients and stir until just combined.
Fold in the chocolate chips and raspberries and then pour into your prepared pan. Top with the streusel, raspberries, and chocolate chips.
Bake until golden brown, and while it is in the oven, whip together the ingredients for the whipped topping until it forms stiff peaks.
Enjoy!
FAQs
How to store your coffee cake
I recommend storing your coffee cake in an airtight container for up to three days. If you would like to keep the coffee cake longer, you may freeze it. Tightly wrap the cake in plastic wrap and then place in an airtight container. It will last for a month frozen.
Can anyone tell the cake is gluten-free?
Nope! Bob's Red Mill Gluten Free 1-to-1 Baking Flour is perfectly crafted with high-quality ingredients to mimic traditional all-purpose flour so that it bakes up exactly the same. The final taste and texture are indistinguishable.
Can I use frozen raspberries?
Yes! While this cake is the best when using fresh fruits, you can absolutely use frozen raspberries. Do not thaw the raspberries before baking.
Can I use other fruits?
Yes! You can substitute the raspberries with any other berries or cherries. If you use strawberries, be sure to chop them into small pieces first.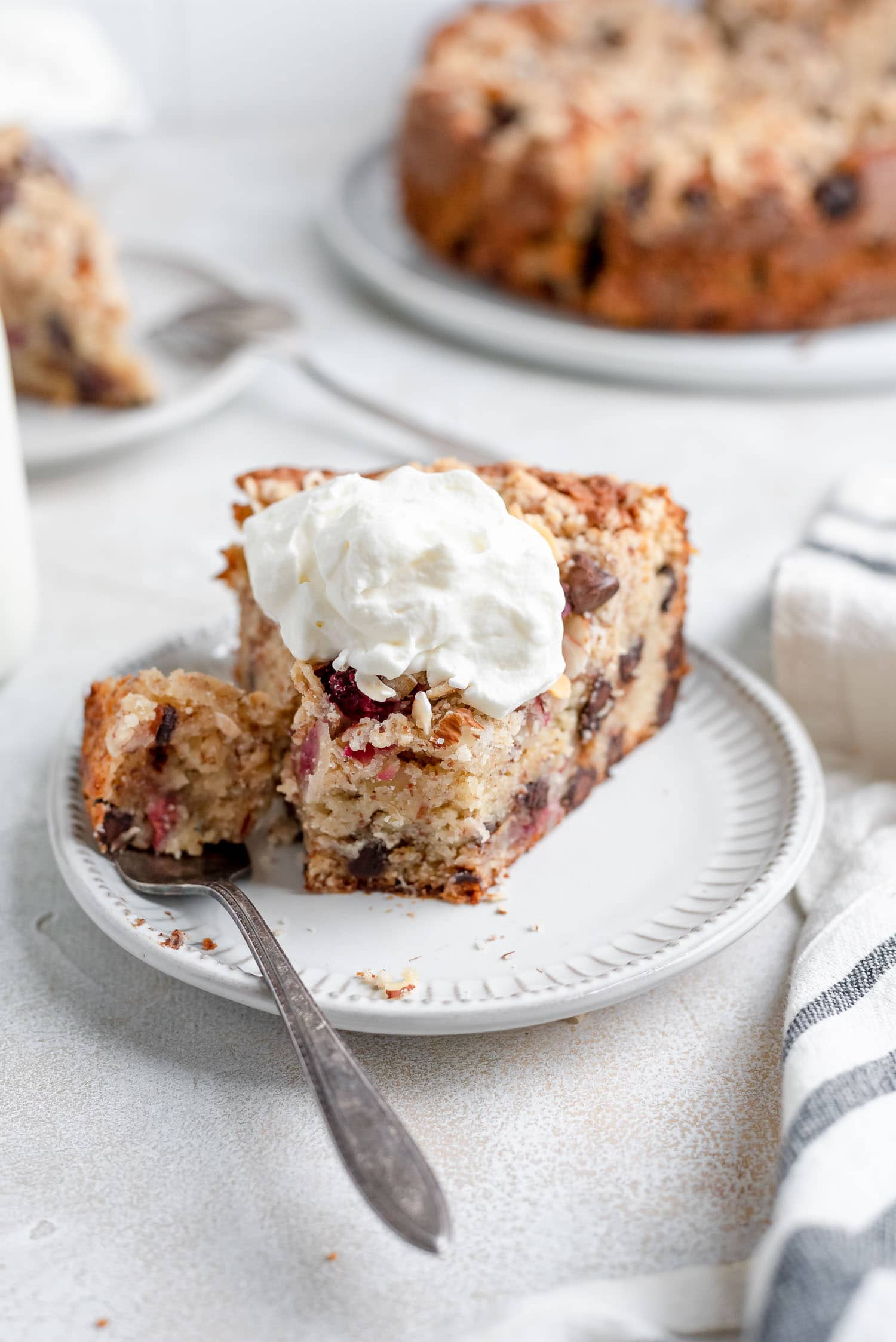 Raspberry Chocolate Chip Coffee Cake
Cook Time:
1 hour
10 minutes
Total Time:
1 hour
55 minutes
A rich and flavorful raspberry chocolate chip coffee cake that is also gluten-free!
Ingredients
Raspberry Chocolate Chip Coffee Cake
1⅔ cups (246 grams) Bob's Red Mill Gluten Free 1-to-1 Baking Flour
1½ cups (300 grams) granulated sugar
¾ cup (72 grams) Bob's Red Mill Super-Fine Almond Flour
2 teaspoons (10 grams) baking powder
1 teaspoon (3 grams) kosher salt
¼ teaspoon (1.25 grams) baking soda
¾ cup (180 grams) sour cream, room temperature
⅔ cup (150 grams) unsalted butter, melted
¼ cup (60 grams) whole milk, room temperature
3 large eggs (150 grams), room temperature
2 teaspoons (6 grams) tightly packed lemon zest
1 tablespoon (15 grams) fresh lemon juice
1½ teaspoons (6 grams) vanilla extract
1½ cups (225 grams) raspberries
1 ¼ cups (213 grams) semi-sweet chocolate chips
Oat Streusel
⅓ cup (33 grams) Bob's Red Mill Gluten Free Organic Old Fashioned Rolled Oats
¼ cup (37 grams) Bob's Red Mill Gluten Free 1-to-1 Baking Flour
3 tablespoons (36 grams) granulated sugar
2 tablespoons (16 grams) Bob's Red Mill Super-Fine Almond Flour
½ teaspoon (1.5 grams) kosher salt
¼ teaspoon (0.5 grams) ground cinnamon
2½ tablespoons (35 grams) cold unsalted butter, cubed
⅓ cup (38 grams) sliced almonds
Whipped Sour Cream
1 cup (240 grams) cold heavy whipping cream
½ cup (120 grams) cold sour cream
2 tablespoons (24 grams) granulated sugar
1 teaspoon (4 grams) vanilla extract
Instructions
Coffee Cake
Preheat the oven to 325°F (170°C). Spray a 9-inch springform pan with cooking spray. Line the bottom of the pan with parchment paper.
In a large bowl, whisk together baking flour, sugar, almond flour, baking powder, salt, and baking soda.
In a medium bowl, whisk together sour cream, melted butter, milk, eggs, lemon zest and juice, and vanilla. Add sour cream mixture to flour mixture, stirring just until combined. Fold in 1 cup (150 grams) raspberries and 1 cup (170 grams) chocolate chips. Pour into the prepared pan. Sprinkle with remaining ½ cup (75 grams) raspberries and ¼ cup (43 grams) chocolate chips; sprinkle with Oat Streusel.
Bake until a wooden pick inserted in the center comes out with a few moist crumbs, 60 minutes to 70 minutes. Let cool in the pan for 15 minutes. Remove from the pan. Serve warm or at room temperature with Whipped Sour Cream.
Oat Streusel
In a medium bowl, stir together oats, baking flour, sugar, almond flour, salt, and ground spice. Using your fingers, cut (or snap) in cold butter until the mixture is crumbly.
Crumble with your fingertips until desired consistency is reached, squeezing a large portion of mixture in your hand and then crumbling with your fingertips.
Stir in nuts.
Refrigerate until ready to use.
Whipped Sour Cream
Refrigerate a large bowl and a whisk until cold, about 10 minutes.
In a cold bowl, using a cold whisk, whisk together all ingredients until medium-stiff peaks form. Use immediately.
Nutrition Information:
Yield:

8
Serving Size:

1
Amount Per Serving:
Calories:

441
Total Fat:

26g
Saturated Fat:

7g
Trans Fat:

0g
Unsaturated Fat:

17g
Cholesterol:

90mg
Sodium:

153mg
Carbohydrates:

43g
Fiber:

5g
Sugar:

10g
Protein:

13g
Calculations are estimations, use your own calculations using the brands you specifically used for more accurate numbers.