This post is sponsored by Blue Apron. Thanks for supporting the companies I love!
I got into food delivery subscriptions way back in the day around 2012 when the only real game out there was one particular company and then soon after, Blue Apron appeared on the radar in my area. I just started my life as a 9 to 5er and was desperate for easy dinner options that didn't require me to think much about what to make and having to run to the store for that last minute ingredient and the subsequent trip back to the store again because I managed to buy everything but that one ingredient I really needed. I know that's happened to you at least once.
So I jumped on the meal delivery concept immediately (which was made easier by the fact that you can get $30 off your first delivery). And even as a food blogger, I love it. I mean, I adore it.
Let's be honest. Yes, I can cook and yes, I am fairly good at it. But cooking meals for us to eat feels like such a chore after I've been laboring over a cake or pie all day. I like baking because it isn't something I have to do and the moment something feels like it is something I have to do, the prospect of doing it suddenly makes me feel very tired. There's the choosing one meal when I really want to eat literally everything. Then the buying of the ingredients. It's a lot for me. So when a company like Blue Apron gives you a few specific recipes to choose from and all the ingredients you need to make it, it makes cooking a lot more enjoyable for me.
The best part is that they introduce you to so many recipes and food with global inspiration and its all amazing. I love to pick out my favorites and put them in my regular rotation. I still make the chipotle black bean burgers I tried about two years ago. This particular meal was so quick and easy to make. There was very little prep (although full disclosure: some recipes do require more prep than others). I was at first a little skeptical of the mashed sweet potatoes because I usually prepare mine with a lot more going on, but this simple sweet potato mash is incredibly delicious which I attribute to the dark amber maple syrup and ultra creamy butter which really rounds off the sweet potatoes.
And now they can also deliver wine and gives you wine recommendations for each meal.
For novice cooks, you can go to their website and find tips and tricks for your recipes that are more in-depth if you need to learn how to do something like dice potatoes.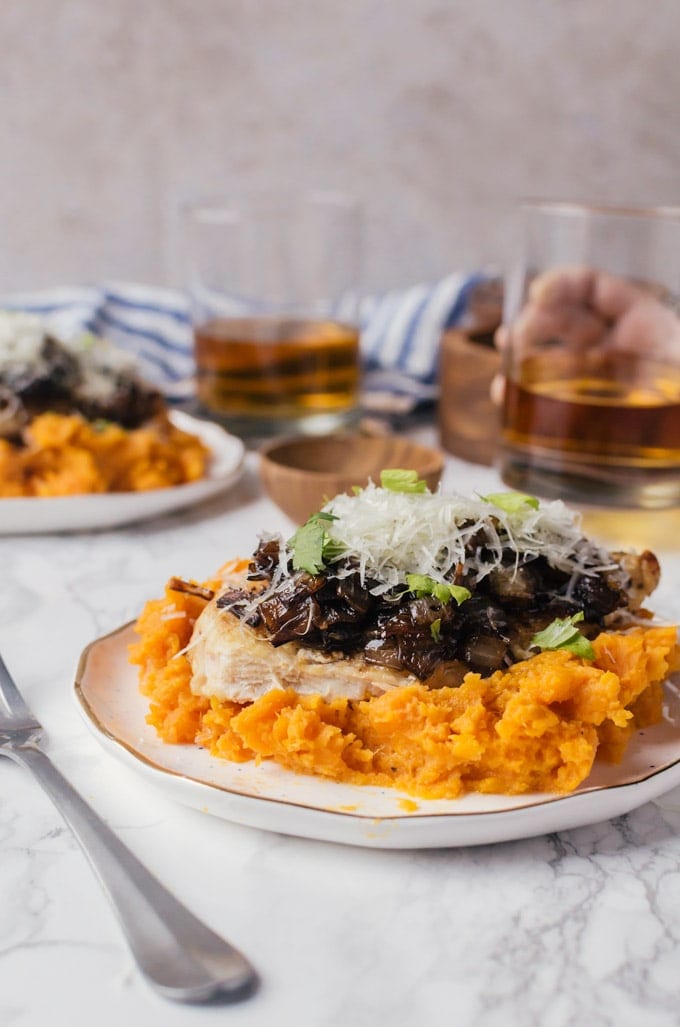 What also really separates Blue Apron from the rest is their connection to using quality ingredients from local farms. Long time readers will remember that I went to Cheese Camp a few months ago with Vermont Creamery who happens to be a supplier for Blue Apron. During our tour of their farm and factory, we were actually able to see their Blue Apron station and hear how they prepare their ingredients for Blue Apron orders which was really interesting. I love Vermont Creamery and everything they stand for, so I imagine the other farms are as incredible.
The packaging is a bit much, but you are able to recycle just about everything they send you. You also have the option to return your box to Blue Apron for them to recycle your packaging on your behalf which is a-m-a-z-i-n-g.
Recipe Card
Seared Chicken with Sweet Potato Mash
A delicious and simple searched chicken with sweet mashed potatoes
Ingredients
3

sweet potatoes

1

yellow onion

1

bunch parsley

2

oz

piave cheese

⅓

cup

balsamic vinegar

4

boneless

skinless chicken breasts

2

tablespoons

all-purpose flour

2

tablespoons

butter

1 ½

tablespoons

maple syrup
Instructions
Peel and chop the sweet potatoes. Peel and thinly slice the onion. Remove the leaves from the parsley and set aside. Discard the stems. Grate the cheese and set aside in the refrigerator.

Heat a pot of salted water to boiling.

In a large skillet, heat a tablespoon of extra virgin olive oil on medium. Once the oil is shimmering, add the onions and cook for about 8 minutes, stirring frequently. Add about two tablespoons of water and cook for a couple of minutes longer. Add in the vinegar and cook for about another two minutes. Season with salt and pepper to taste. Keep in a warm area.

While you are cooking the onions, add the sweet potatoes to the boiling water and cook until fork tender. Once it is cooked, drain the water and return the potatoes to the pot. Add in the butter and maple syrup, then mash to your desired consistency. Season with salt and pepper to taste. Keep warm.

While the potatoes are cooking, pat the chicken breasts dry, then season with salt and pepper. Coat with the flour. Wipe clean your skillet and add another two tablespoons of oil and heat. Cook the chicken until golden brown and cooked through.

Evenly divide the onions, potatoes, chicken, and cheese among four plates. Sprinkle with the parsley and serve immediately.
Nutrition
Calories:
472
kcal
Carbohydrates:
49
g
Protein:
52
g
Fat:
6
g
Saturated Fat:
1
g
Polyunsaturated Fat:
1
g
Monounsaturated Fat:
2
g
Trans Fat:
1
g
Cholesterol:
145
mg
Sodium:
370
mg
Potassium:
1502
mg
Fiber:
6
g
Sugar:
16
g
Vitamin A:
24128
IU
Vitamin C:
9
mg
Calcium:
92
mg
Iron:
2
mg
Tried this recipe?
Tag me on Instagram! @acookienameddesire #acookienameddesire