Shortbread crust is a buttery, crisp crust used in pies, tarts, cookie bars, and more. It is easy to make with only four ingredients needed. Learn how to make it with this super easy recipe!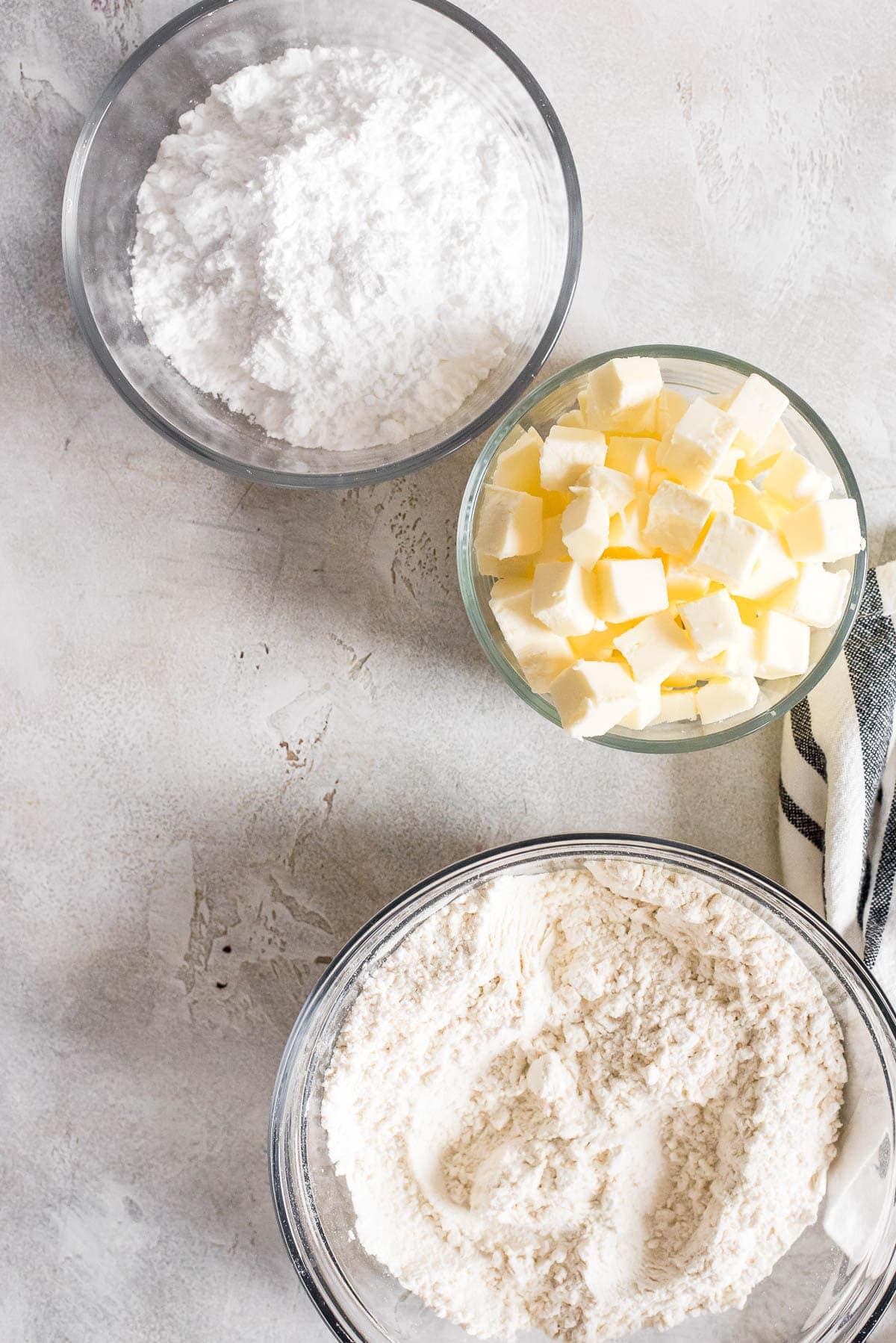 I love shortbread crust because it is so much easier to make than most other types of crusts for desserts. Even compared to graham cracker crust. It may be delicious, but turning graham crackers into crumbs can sometimes just be one step too many.
This easy crust recipe doesn't need anything beyond mixing and it holds up well when pressed into your baking pans ensuring you get an even layer that is beyond delicious.
Jump to:
What is shortbread crust
This type of crust is a buttery, crisp crust that can often replace a traditional pie crust, graham cracker crust, or cookie crust. It is pressed directly into your pan as opposed to rolled out and laid into your pan.
You may also hear it referred to as a sablé breton, which is simply the French name for this type of crust. It gets its name because of the high butter content in the recipe that keeps the flour from forming gluten, which would end up leaving you with a chewy crust instead of the crisp, slightly crumbly crust we know and love.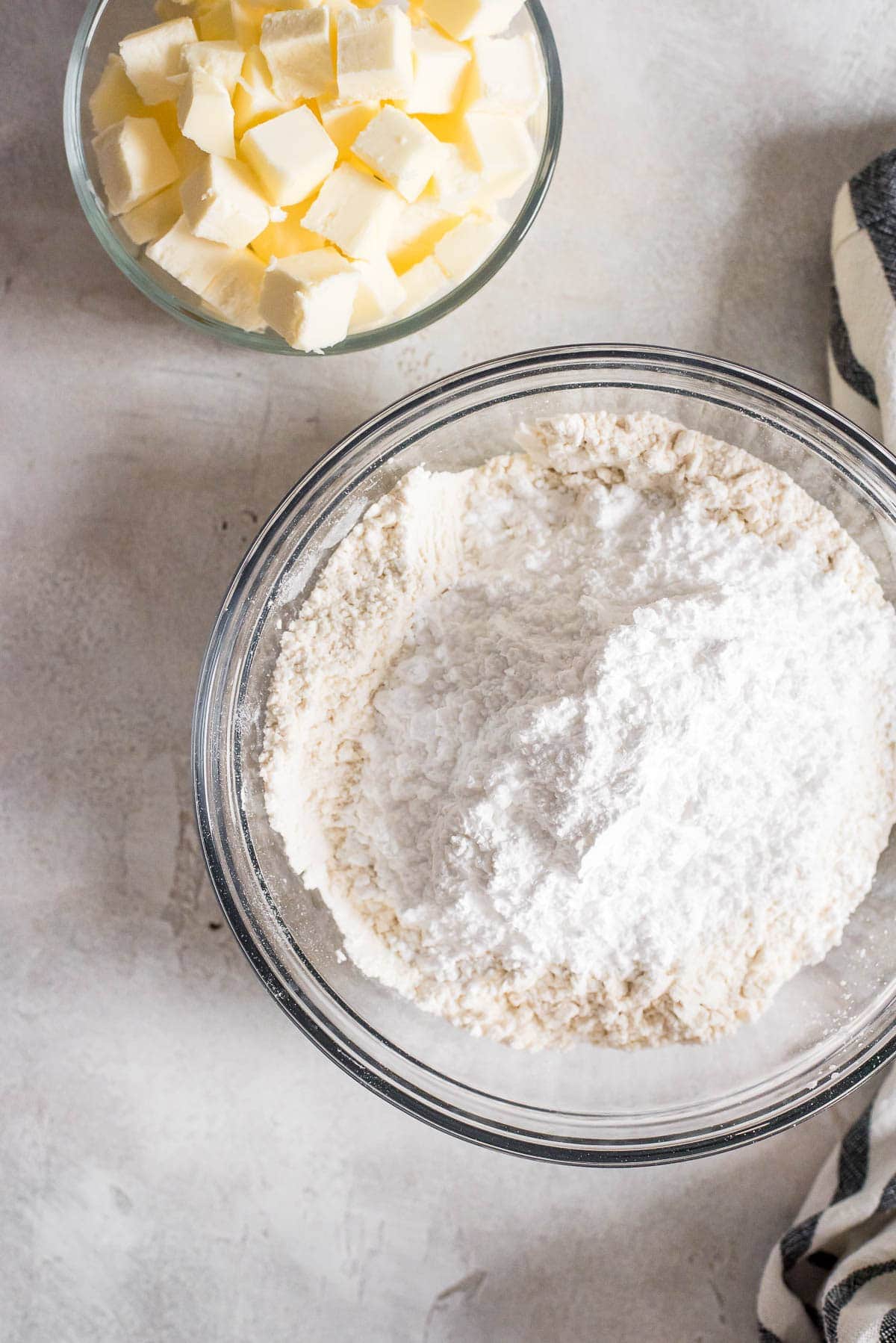 Ingredients
Flour - This is what binds the crust and creates the bulk of the structure of the crust. It is as important as the butter. You should use all-purpose flour, but you may substitute it with some bread flour, or whole wheat flour. Cake flour will typically be too tender to use for a crust.
Butter - Not only is the butter critical for that signature shortbread flavor, but it also acts like the glue keeping the ingredients together. It also prevents the flour from forming too much gluten which would make the crust chewy instead of crisp. Make sure to use room temperature butter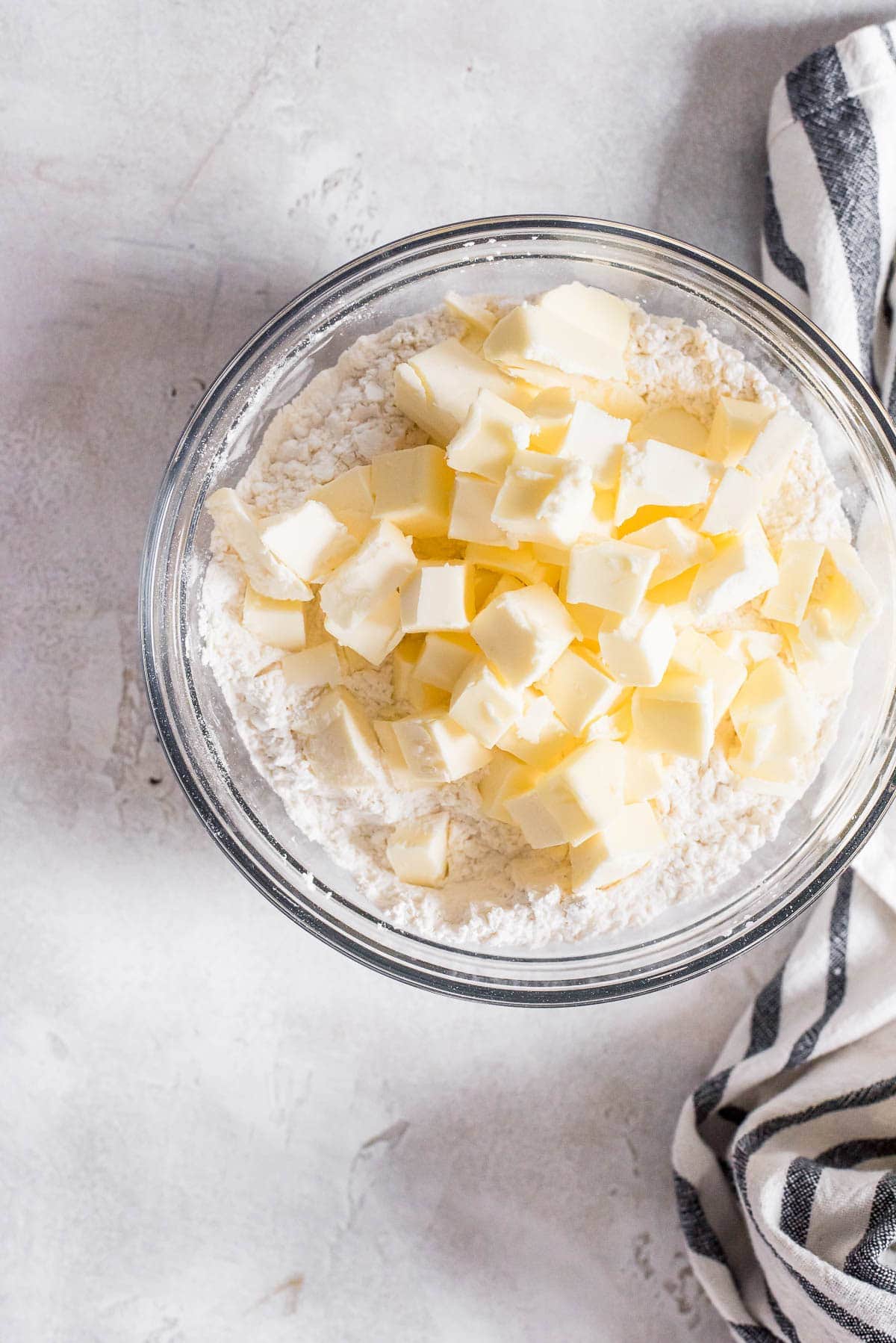 Sugar - Sugar is used to sweeten the crust as well as enhance the flavor of the butter and the ingredients used for your filling.
Salt - The primary reason we use salt is to bring out the flavors in the other ingredients to really make them pop. The same is true with this recipe.
Vanilla (optional) - I do not usually use vanilla in my shortbread crust, but it is a popular additional ingredient, so I wanted to mention it. Paired with the sugar and salt, it adds more dimension to the crust. You can also substitute the vanilla with other ingredients such as finely grated and chopped lemon zest, lavender, or herbs.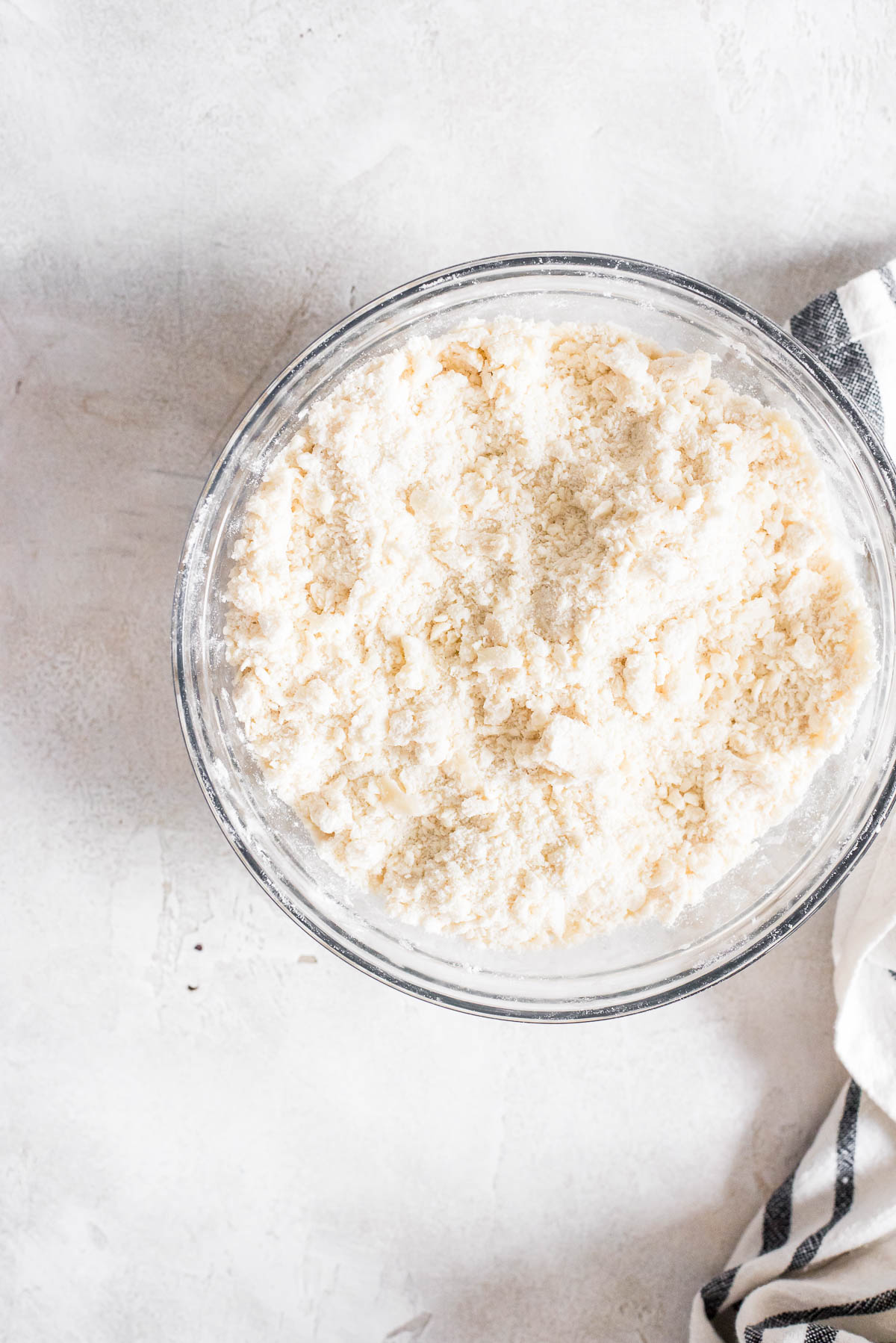 How to make
The best part about this recipe is how easy it is to make. You can use a food processor, but I usually find it is more fun to make it by hand.
Mix together the flour, sugar, and salt in a bowl.
Cut the butter into cubes and add to the flour.
Cut the butter using a pastry cutter, or use your hands and rub the butter into the flour mixture.
Continue until the mixture resembles crumbs. It will look dry, but will stick together when pressed.
Press the mixture into your pan, making sure it is pressed firmly into the sides and edges.
Bake. If you are baking your filling, you will only need to bake partially. If your filling will not be baked, bake the crust through.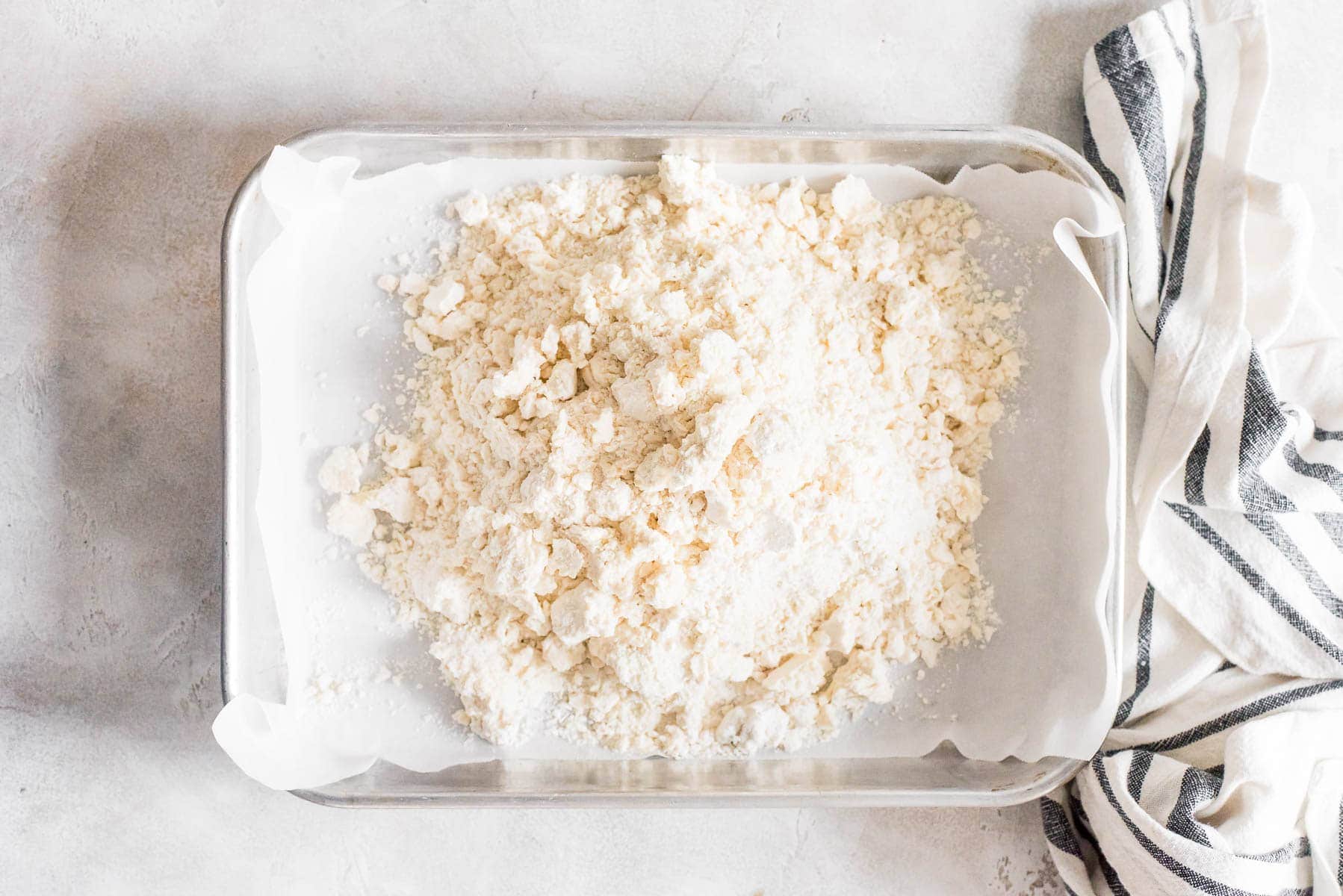 Expert tips
Take care to measure your flour correctly. The most common mistake made in baking is accidentally adding too much flour. You should fluff your flour and then spoon it into your measuring cup then sweep off the excess. For the most consistent results, you can use a kitchen scale and use the recipe card below to convert the recipe into metric measurements.
When to use
You can use shortbread crust for a number of recipes. I think it works especially well as a crust for tarts, but it also works incredibly well with creamy or citrusy pies. It is also popular to use with cookie bars and cheesecake bars. If you would like to try it in one of my recipes, I think you would love it in this blueberry mascarpone tart or these sweet and tart lemon bars.
In reality, this can be used as the crust to just about any pie. If the pie filling needs to be baked, you must parbake the crust. If the filling does not need to be baked, fully bake the crust.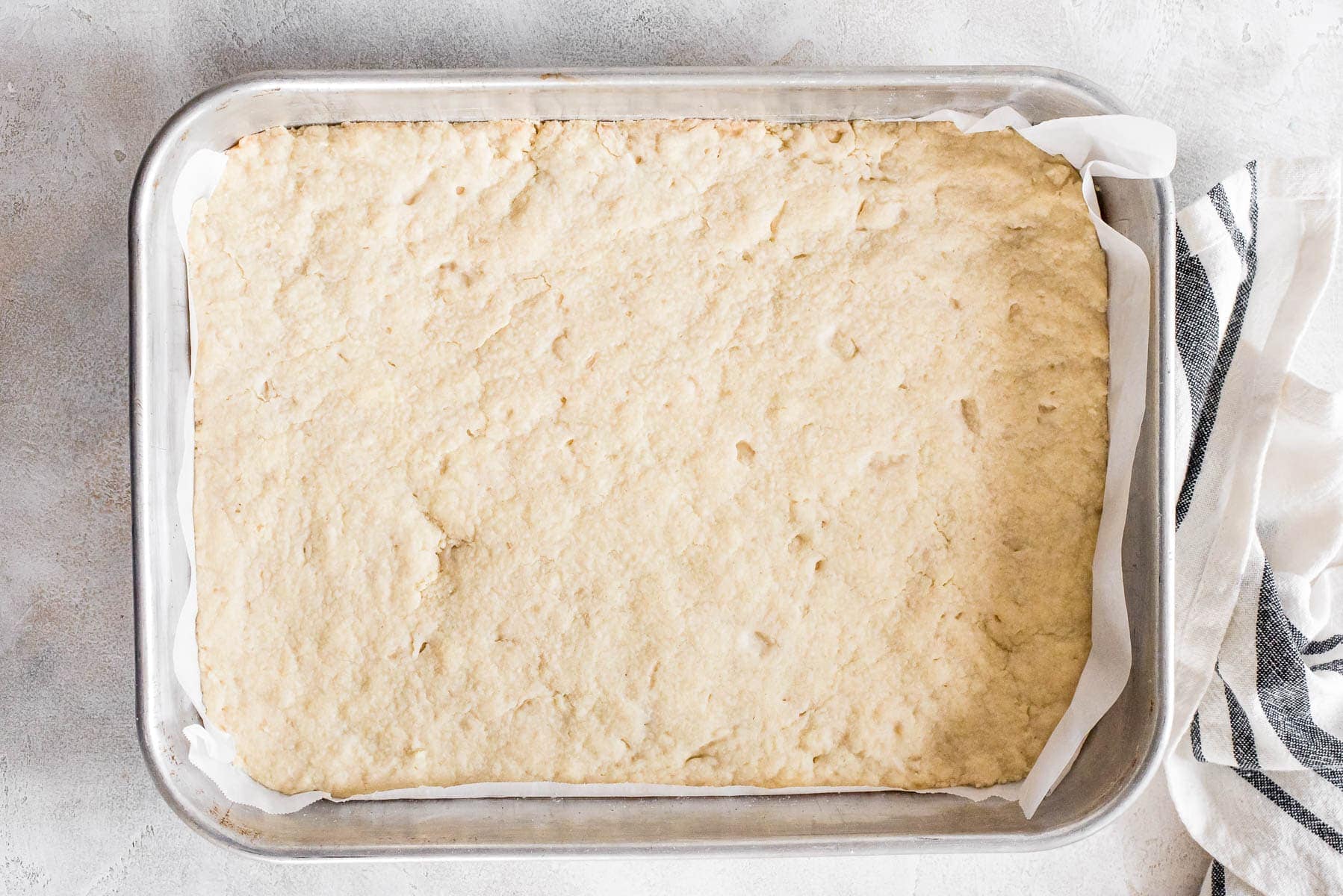 Recipe FAQs
Is this a true sable breton?
Sable breton is shortbread, just like this. The difference between making a sable breton crust like this and a sable breton cookie is the use of egg which adds richness. If you would like to make this closer to a true sable breton cookie as opposed to a crust, you may add two room temperature egg yolks.
Why do we need room temperature butter?
To fully incorporate the ingredients together, using room temperature butter is very important. This is not like a flaky pie crust where cold ingredients are essential. Instead, everything should be done at room temperature when making this crust recipe.
Recipe Card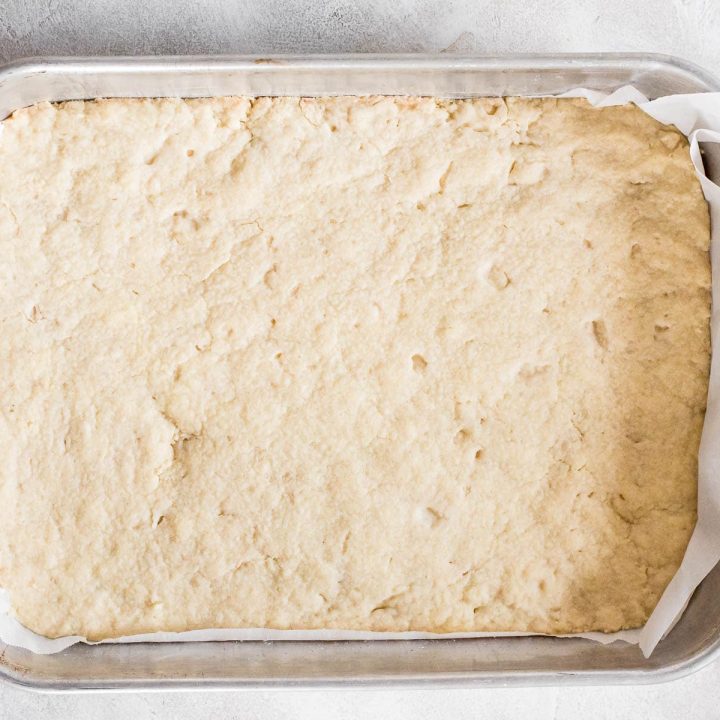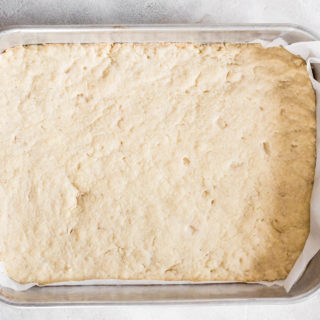 Shortbread Crust (Sablé Breton)
Buttery, crisp classic shortbread crust recipe
Ingredients
2 ½

cups

all-purpose flour

1

cup

powdered sugar

½

teaspoon

sea salt

1

cup

unsalted butter

cut in cubes
Instructions
Preheat the oven to 350 °F. Line a 9 x 13 baking pan with parchment paper.

Mix the flour, sugar, and salt together until combined.

Add in your cubed butter and cut into the flour. You can do this by pulsing the ingredients in a food processor 4 - 5 times, using a pastry cutter, or rubbing the butter into the flour by hand.

Pour the mixture into the baking pan and press down firmly.

Bake for 25 minutes if you also need to bake the filling. If you do not need to bake the filling, continue baking until the crust is a light golden brown - about an additional 15 minutes.
Notes
You can add in extracts, zests, herbs or spices to flavor the shortbread crust. About 1 teaspoon of vanilla extract will work for this recipe and 1 - 2 teaspoons of an herb or spice, depending on its potency.
The recipe can be halved to fit an 8 x 8 or 9 x 9 baking pan. The halved recipe should also work well for most tart pans.
Nutrition
Serving:
1
g
Calories:
160
kcal
Carbohydrates:
17
g
Protein:
2
g
Fat:
9
g
Saturated Fat:
6
g
Polyunsaturated Fat:
3
g
Cholesterol:
24
mg
Sodium:
55
mg
Sugar:
5
g
Tried this recipe?
Tag me on Instagram! @acookienameddesire #acookienameddesire