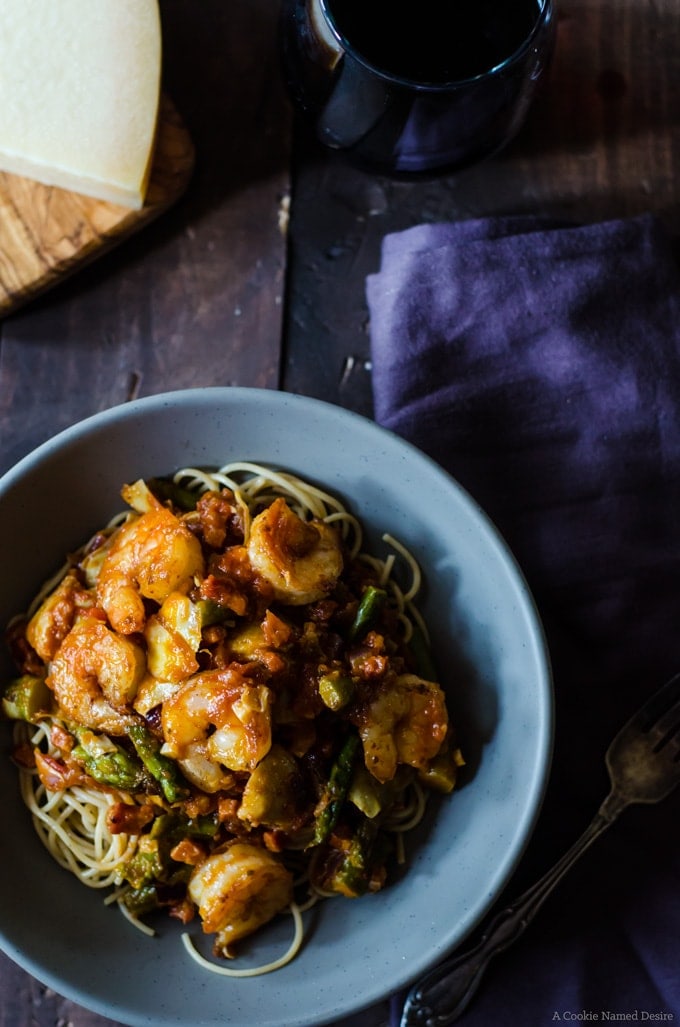 Like most families these days, my family doesn't get a chance to sit down to dinner together and relax. Most of the time dinner will be left on the stove and you eat when you get a chance. The last person to eat has to clean up the kitchen. That all seems to change during the holidays when we all seem to make a somewhat subconscious effort to make time for dinner together. When that happens, I try to make sure it is something we all like. One of those dishes is this shrimp and pancetta pasta.
We all love pasta and shrimp, so I usually make them together and this particular recipe is one that I usually end up having to double up because everyone wants seconds or thirds! I think the Colavita artichokes really make the difference here. You don't really expect it, but they are a surprisingly welcome addition to the dish. My favorite part about making this pasta: it comes together so quickly!
If you remember, I made a lemon and lavender semolina cake this summer. Ever since making it, I knew I would be making a wintery version of this cake and this chocolate orange polenta cake with hazelnuts is definitely that cake. It's unbelievably moist with the best winter flavors that blend together so well under the hearty crumb of the polenta. It is made that much more complex with the Colavita extra virgin olive oil. Not to play favorites, but the chocolate truffles I used in this recipe is probably my favorite truffle ever. I used chopped Perugina chocolate hazelnut truffles and what I love about the chocolate truffles (which are by Perugina and are called Baci which means kisses in Italian) is that they have the most amazing chocolate hazelnut cream on the inside with bits of hazelnut folded in and a whole hazelnut nestled in the middle. It's heavenly.
Shrimp and Pancetta Pasta
Author:
Prep time:
Cook time:
Total time:
Ingredients
1lbs Colavita spaghetti
4 oz pancetta, cut in small cubes
1 lbs shrimp, peeled and deveined
½ medium red onion, diced
2 cloves garlic, finely diced
1 cup chopped asparagus (may substitute with sweet peas)af
⅓ cup chopped Colavita artichoke hearts
1 26oz jar Colavita tomato basil sauce
salt and pepper to taste
Instructions
Bring a large pot of water to a boil and add salt. Add the spaghetti and cook for about 8 - 10 minutes, or until cooked. Drain and rinse. Lightly coat the spaghetti with about 2 tablespoons of extra virgin olive oil.
In a large skillet, cook the pancetta over medium high heat until the fat is rendered and the pancetta is crispy. Remove and set aside. Leave the fat in the skillet.
Cook the shrimp in the skillet with the pancetta fat. Cook for about 2 minutes on each side. Take out and set aside with the pancetta.
Add a tablespoon of extra virgin olive oil to the skillet and cook the onion and garlic until the onion is translucent. Add the asparagus and artichoke hearts and cook for about 4 - 5 minutes. Add the pancetta and shrimp back to the skillet and cook until heated through.
Add the tomato basil sauce into the skillet and cook until it is heated through. Season with salt and pepper as needed. Serve with the spaghetti.
Chocolate Orange Polenta Cake
Ingredients
1

cup

polenta

1 ¾

cups

almond flour

2

teaspoons

baking powder

½

teaspoon

salt

½

teaspoon

ground cloves

½

cup

1 stick unsalted butter, room temperature

⅓

cup

extra virgin olive oil

¾

cups

sugar

3

large eggs

room temperature

zest of t=2 oranges

1

teaspoon

vanilla extract

8

Perugina dark chocolate hazelnut truffles

1.25

oz

Perugina orange chocolate bar

plus more for sprinkling
Instructions
Lightly grease a 9-inch round cake pan. Preheat the oven to 350 degrees F.

In a small bowl. mix together the polenta, almond flour, baking powder, salt, and clvoes. Set aside.

In a mixer, beat the butter until smooth. Add the oil and sugar and beat until light. Beat in each egg, one at a time, mixing well between each egg. Mix in the zest and extract.

Pour the dry ingredients into the wet and mix until combined. Chop the truffles and the chocolate bar. Fold into the batter. Pour the batter into the pan and bake for 35 - 40 minutes.

Allow to cool in the pan for about 20 minutes, then transfer to a wire rack to continue cooling. Top with fresh whipped cream and more chocolate orange shavings
Tried this recipe?
Tag me on Instagram! @acookienameddesire #acookienameddesire