A recipe for a simple rhubarb syrup. Use this rhubarb syrup for dressings or cocktails, or even pour it over ice cream for a fruity treat!
I love rhubarb season! This year, I decided to try to grow my own rhubarb. I was a little late planting my bulbs, but I won't be able to harvest it within the first year anyway. To be honest, I've been trying unsuccessfully for years to grow my own garden. I am just not blessed with a green thumb, but I try and try again. Fortunately, rhubarb is known for being fairly low maintenance compared to other vegetables, so I am hopeful!
My first experience with rhubarb was actually in college before I became interested in cooking. My flatmate bought some and we attempted to make a rhubarb crumble. We chopped the rhubarb and tossed graham cracker crumbs and cinnamon on top with a bit of sugar and baked. That was it. No butter or anything else. The end results were shriveled rhubarb topped with dried, burnt graham cracker. Not our best attempt at cooking.
I didn't try rhubarb again until four years later. My ex-fiancee would tend garden for this older lady once a week during the summer and one day I decided to accompany him so I could study for final exams in the warm summer sun. We ended up spending most of our time talking about what it would be like to start our own farm. Me, the farmer's wife waking up at 4 am to bake fresh bread and boil water for tea for our farmhands. He would be out in the farm harvesting plants and fixing up the barn. We'd have 6 children, just so they could help us with the farm. It is always fun to imagine different lives we could live. I've always been a city girl at heart, so the farm life wouldn't have worked out for us.
He also helped me with my Russian. Pointing at different plants and naming them. When he got to the rhubarb, he asked me if I knew what it was, cut out a stalk and peeled away the skin. "Revyen'," he said, "it's rhubarb, try it." I remember how my face puckered when I bit into the tart stalk of the plant.
It was a beautiful day and I was in love with rhubarb ever since. I love to make simple rhubarb syrup to add to pretty much everything I get my hands on. As soon as the height of Spring begins, I make rhubarb everything. It becomes the base in many of my drinks, salad dressings, and more. There isn't anything that is safe from my rhubarb syrup. The best part is that the pulp that remains after you make the syrup becomes a jam that you can use to spread on your freshly made bagels and toast. Yum. It is so good. This is the best way to make rhubarb season last and last!
I add a bit of ginger to my simple rhubarb syrup for a bit of extra flavor, but you can opt to leave it out or replace it with orange zest or a splash of pomegranate juice. You can also toss in a couple of mint leaves while the syrup is simmering for a refreshing touch. No matter what additions you use (or no additions at all!), you really can't go wrong.
Don't have time to make this simple syrup recipe now? Pin it for later!
Recipe Card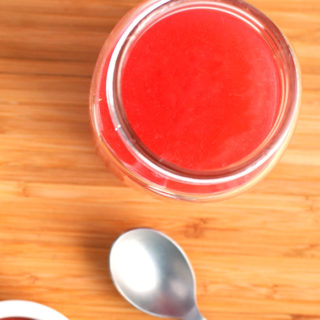 Simple Rhubarb Syrup Recipe
A simple rhubarb syrup that you can make in minutes and use in just about everything. Save the pulp to spread on your bagels for breakfast!
Ingredients
4

stalks of rhubarb

chopped

1

cup

200 g granulated sugar

⅔

cup

75 mL water

½

inch

cube fresh ginger

finely grated. (optional)

pinch

of salt
Instructions
Toss all the ingredients in a large pot and bring to a boil.

Take the mixture down to a simmer and allow it to cook for about 5 - 10 minutes longer, or until the mixture slightly thickens. Stir frequently while mashing the rhubarb as you go. .

Strain the mixture to remove the pulp. Store the pulp in a separate container and use as a jam on your bagels or toast.

Allow the syrup to cool to room temperature.

Store the syrup in an air-tight container for up to two weeks in the refrigerator.
Tried this recipe?
Tag me on Instagram! @acookienameddesire #acookienameddesire