Creamy and irresistible spicy macaroni and cheese.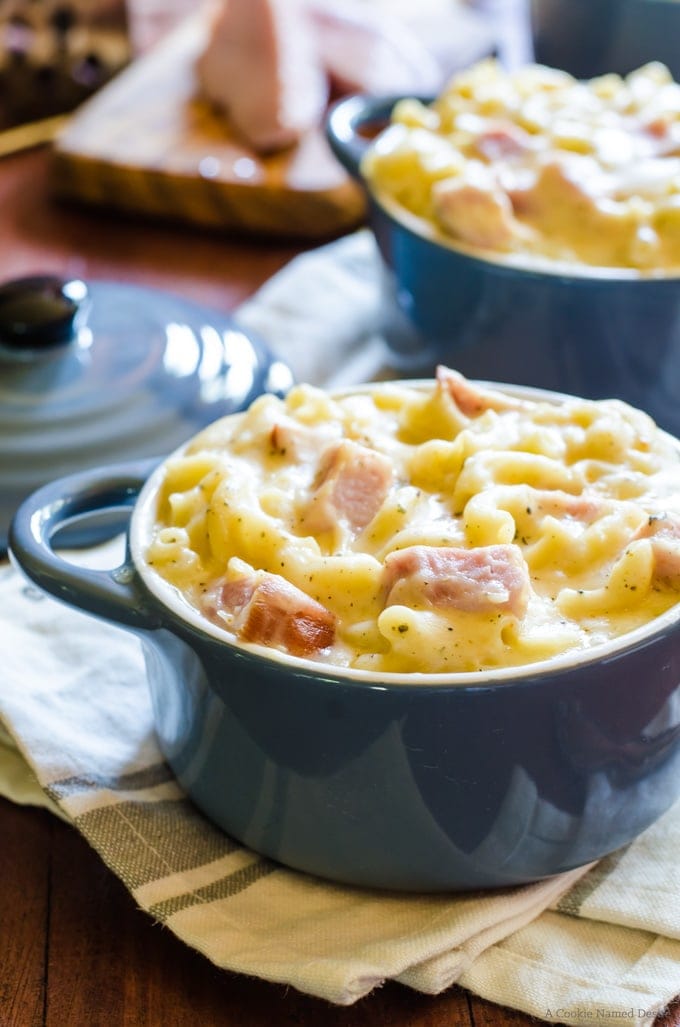 One of my favorite things in the world to eat is macaroni and cheese. Honestly, I can eat pounds of mac and cheese in a single sitting and probably have on a few occasions. In my family, my grandmom always makes huge batches of macaroni and cheese on the holidays.
Thanksgiving and Christmas would not be the same without a huge foil baking dish filled with her buttery, cheesy macaroni and cheese. She would always make sure I had plenty I could eat later. I don't think I would be able to handle it if I did not get my mac and cheese during the holidays.
Of course, I need my macaroni and cheese fix between the holidays and have to resort to making my own. Like my grandmother, I make a big batch to feed the family and even give some to friends for lunch.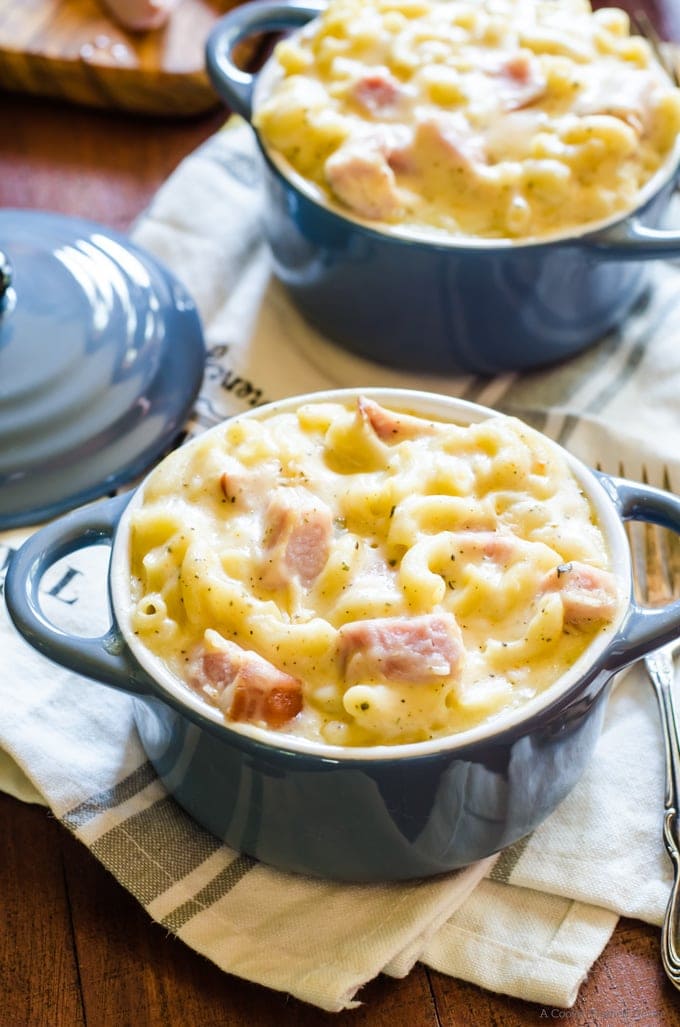 My grandmom's macaroni is more butter and tons of cheese mixed with cooked macaroni and baked up to gooey deliciousness. I like to make a creamier macaroni using a béchamel sauce to which I add well over a pound of cheese. I also love to add in other things like broccoli or meats to make it more of a meal.
Right now I am in love with the addition of Boar's Head SmokeMaster Black Forest Ham because the smokiness of the ham goes so well with the ultra-cheesiness of my macaroni and cheese which I also spice up with a bit of cayenne for a warming kick that I love during the colder seasons. The spicy macaroni and cheese with ham is the one thing I plan on making over and over again this fall.
It's hearty and comforting and has a delicious balance of flavors that leave me sneaking bites of pasta whenever I enter the kitchen (and I am in the kitchen a LOT). The smokiness of the ham really adds a nice depth of flavor here that I have a hard time finding with other deli meats. Usually, we smoke our own meat if we want that kind of flavor which requires a bit of foresight and I have none of that so that makes this ham that much better!
Boar's Head is currently running a sweepstakes called Boar's Head Smoke House Rules where you can share your own culinary rules for creating the perfect smoked recipes. In order to get ham that you can slice and put into your macaroni, you can ask your clerk to slice the ham as thickly as possible which you will need so you can cut the ham into cubes.
If you can't find the SmokeMaster Black Forest ham, any Boar's Head ham would work, but trust me, you will want to try and get your hands on the SmokeMaster. It has a beechwood smoke flavor from imported German beechwood to create a taste you rarely find here in America!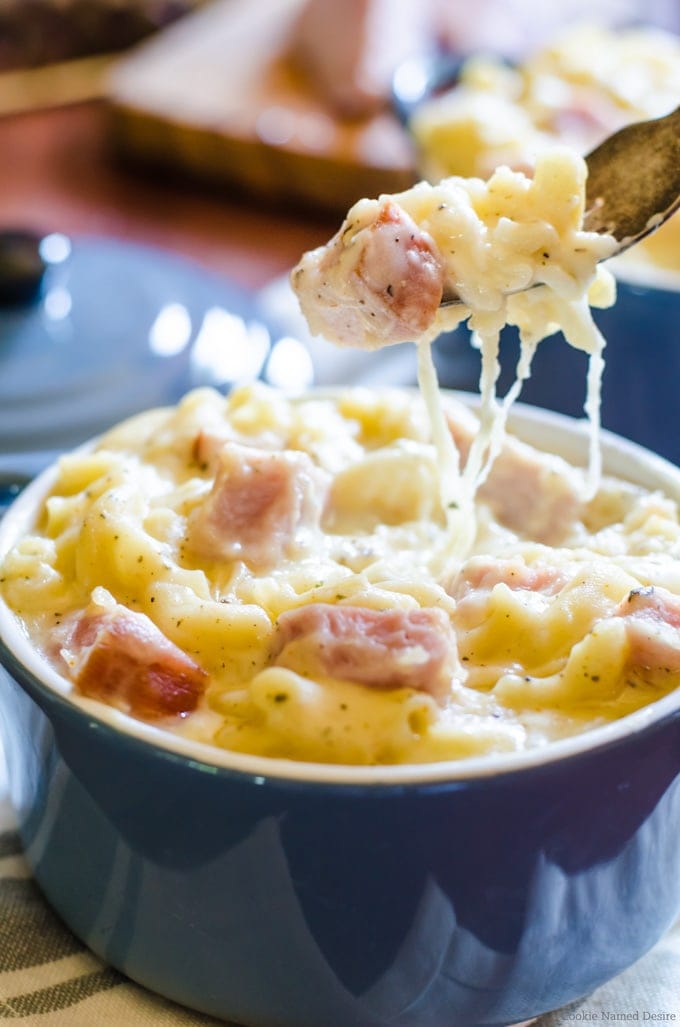 Also, you can easily halve this recipe for a smaller crowd!
Recipe Card
Spicy Macaroni and Cheese with Ham
Ingredients
1

lb

elbow macaroni

or your favorite pasta

½

cup

1 stick unsalted butter

½

cup

all-purpose flour

2 - 3

teaspoons

cayenne pepper

more or less to taste

8

cups

milk

1

teaspoon

salt

½

teaspoon

freshly cracked pepper

1

teaspoon

oregano

10

oz

cheddar cheese

shredded

2

cups

shredded parmesan

optional

2

cups

shredded mozzarella

1 ½

lbs

Boars Head SmokeMaster Black Forest Ham

cut in bite-sized cubes
Instructions
Boil a large pot of salted water and add the macaroni. Cook until a little more than al dente. Drain, lightly rinse, and set aside.

In a large pot, melt butter and add the flour. Mix well and cook on medium high until the flour is lightly browned. Add the cayenne pepper, then slowly add the milk one cup at a time, mixing the milk into the flour mixture well before adding more. Heat the mixture, stirring constantly until the mixture thickens. Add in the salt, pepper, basil, and the cheeses.

Lower the heat to medium and allow the pot to rest for about a minute for the cheese to begin to melt. Mix until smooth, then add in the ham and allow to cook for about 2 -3 minute, stirring frequently. Add in the elbow macaroni and mix in well.

Serve immediately. Optionally, you can preheat the oven to 350 degrees and pour the macaroni and cheese into a large baking dish and bake for about 35 – 40 minutes, or until the top is a light golden brown and the cheese is bubbly.
Tried this recipe?
Tag me on Instagram! @acookienameddesire #acookienameddesire