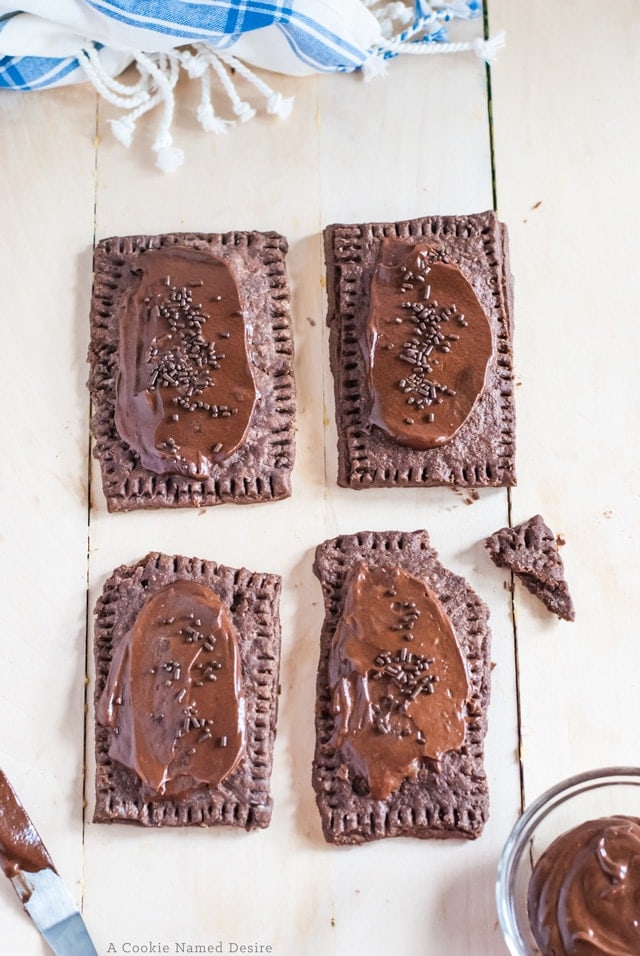 Okay, I'm going to be honest with you… I've always had a rough relationship with pop tarts. I liked them enough when I was younger, but when toaster strudels came around, I switched in the blink of an eye. I loved the flaky pastry and the thicker fruit filling and that sticky sweet icing. By that time, pop tarts just kinda tasted like sugary crap thrown together. And worst of all, they just didn't satisfy me.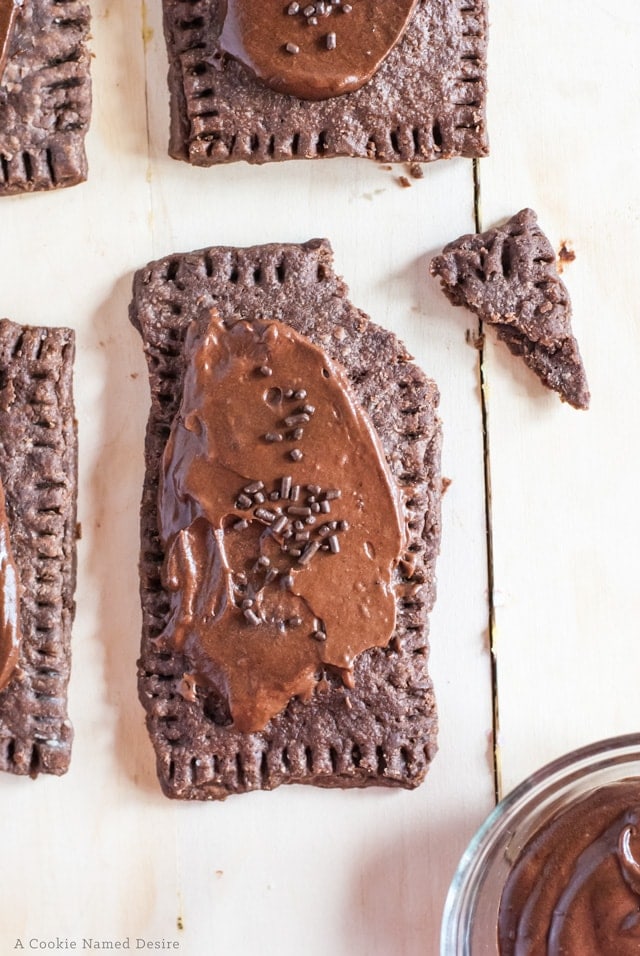 When I came back from London, I started eating pop tarts like crazy. Even though they had a few select flavors in the UK, they tasted different and I missed the crazy flavors. It's funny how things you didn't really like before suddenly become an obsession once you've spent a few years away. I loved that overly sugary processed mess. Although I still wasn't satisfied with them, I probably ate a packet of pop tarts every morning and again after lunch as a snack. That's four pop tarts a day (hey, I was pregnant!). Then one day I decided to take a look at the nutrition label – what a mistake! I found out each single pop tart was 200 calories. 200!! That's 400 calories per packet! Way too much for me to be able to justify eating them, so I haven't touched a pop tart – until now.
I figure, if you are going to eat a pop tart, you should at least make the calories worth it by not eating a processed box of unsatisfying blah and go for something with better ingredients and flavor. Don't get me wrong, I love junk food, but with this, I think homemade is just better.
I've mentioned before that when I have a chocolate craving, it is serious and I need to get as much chocolate in as possible as soon as possible. That's why I decided to go for an all chocolate pop tart stuffed with Nutella and topped with chocolate frosting and chocolate sprinkles (do you call them sprinkles or jimmies?) Perfect for the chocoholic.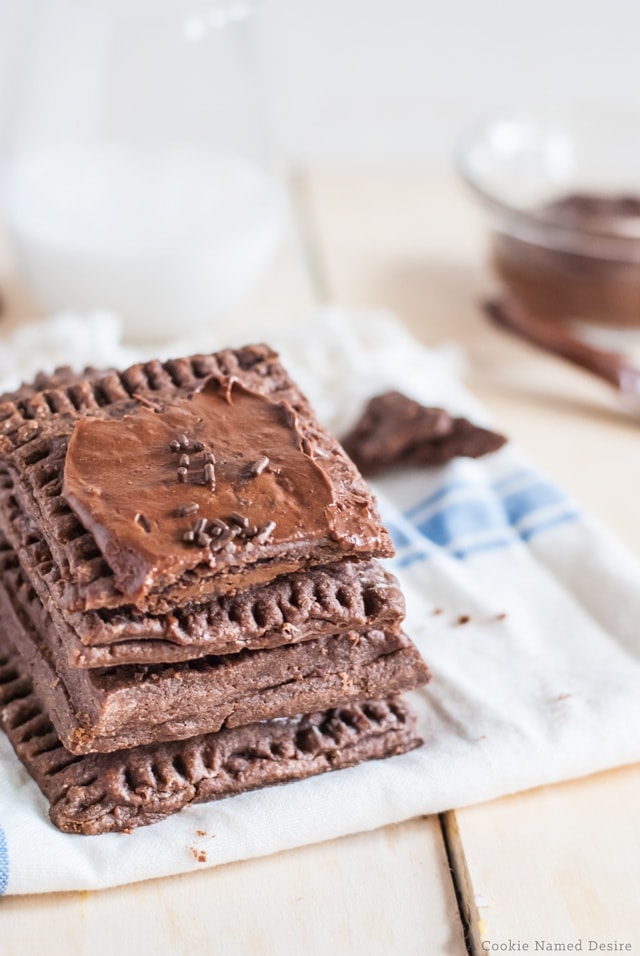 Recipe Card
Triple Chocolate Nutella Pop Tarts
Ingredients
2

cups

all-purpose flour

3

tablespoons

Dutch processed cocoa powder

2

tablespoons

sugar

1 ½

teaspoons

kosher salt

1

large egg

2

tablespoons

heavy cream

1

tablespoon

vanilla extract

I used Rodelle

1

teaspoon

chocolate extract

I used Rodelle

1

cup

2 sticks unsalted butter, cut in cubes and frozen
For the Filling
1

cup

Nutella

3

tablespoons

heavy cream
For the Frosting
2 ½

cups

powdered sugar

5

tablespoons

cocoa powder

5

tablespoons

milk

not heavy cream

1

teaspoon

vanilla extract

1

teaspoon

chocolate extract

4

tablespoons

½ stick unsalted butter, room temperature and cut in cubes

1

tablespoon

chocolate sprinkles

optional
Instructions
In a food processor, add the dry ingredients and pulse to combine. Add the butter and pulse again until the mixture resembles very coarse crumbs. In a separate bowl, add the wet ingredients and mix until just combined. Add the wet ingredients into the food processor and mix until dough just begins to form.

Turn the dough onto a light floured surface and knead gently until the dough comes together. Divide in two and form into discs. Wrap each disc in plastic wrap and chill in the refrigerator for about 2 hours.

Preheat the oven to 350 degrees F. Line a baking sheet with parchment paper.

Take out one of the discs and roll out into a rectangle about ¼ inch thick. Cut out rectangle that are 3 x 4 inches. Take any scraps and form into another disc, rewrap in plastic and place in the fridge. Repeat with the second disc. Keep repeating with the discs until all the dough is used. Be sure to keep re-chilling the scraps before rerolling. The dough is very sticky and can be difficult to work with if the dough warms too much. You should end up with about 20 rectangles.

Mix the Nutella and heavy cream together. Place about two tablespoons of the Nutella on the center of half the rectangles and spread out, leaving a 1 -2 centimeter border. Place the other half of the rectangles on top of the Nutella halves and press the edges down with a fork to seal. Prick the tops of the pop tarts with your fork several times.

Bake for about 10 – 12 minutes. Allow to cool completely.

Mix together the powdered sugar and cocoa powder for the frosting. Stir in the milk and extracts. Beat in the butter until smooth. Spread a thin layer of frosting onto the pop tarts and sprinkle with chocolate sprinkles if using. Allow the frosting to dry. (We couldn't wait for the frosting to dry and it tastes amazing with fresh frosting.) Alternatively, you can just slather on some more Nutella on top - just sayin'!
Tried this recipe?
Tag me on Instagram! @acookienameddesire #acookienameddesire