A simple and delicious turkey stuffed acorn squash that is great any day of the week. 
Thank you to the Mushroom Council for sponsoring this post. Make the pledge to be a blenditarian and share what drives you to do better!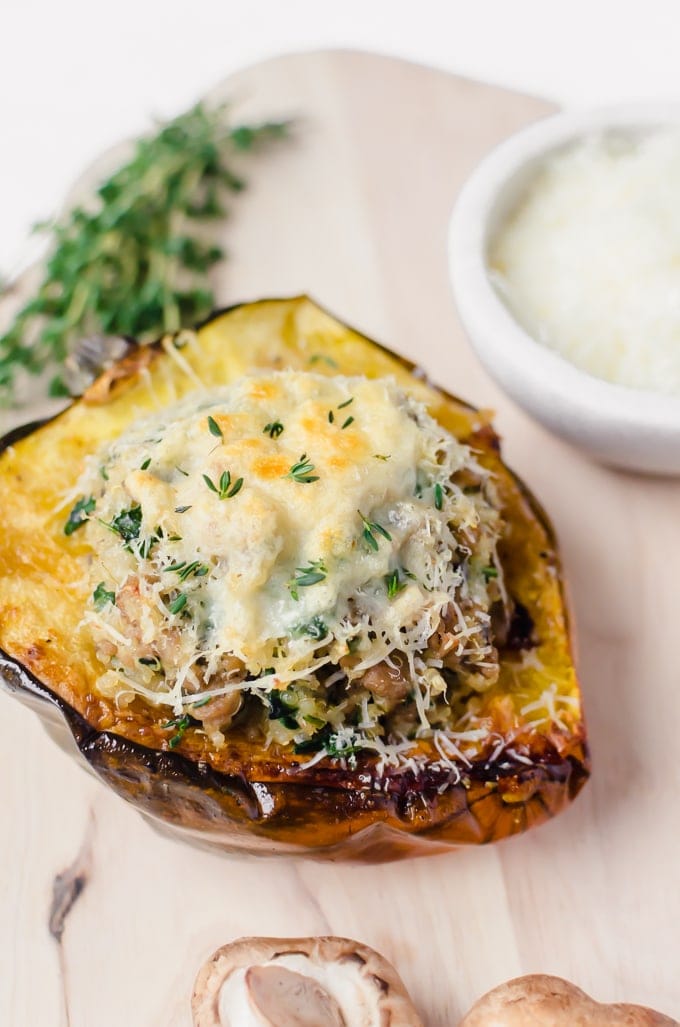 Most people have stuffed acorn squash during the fall, but I personally love them all year long. They make an easy and delicious dinner at any time. I have even been known to roast the acorn squash a day or so before if I know I want to make turkey stuffed acorn squash later. All you have to do then is reheat the squash when you add in the filling and top with cheese.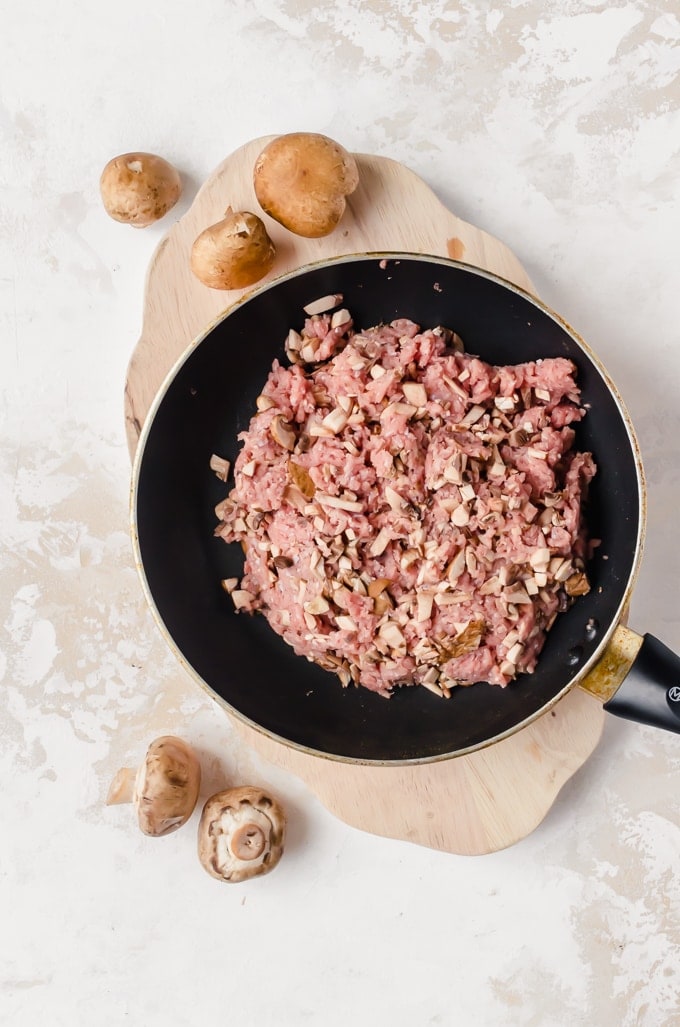 There is so much you can do to change things up with your stuffed acorn squash, but I always blend mushrooms into the meat. Portobellos and baby portobellos are my favorite to use for how meaty they are in flavor. They also help add more bulk to the dish to make your food go a bit further. It's a thing called being a "blenditarian"... for more clarity, it is someone who believes adding mushrooms to your ground meat makes more delicious, nutritious and sustainable meals.
What I love about acorn squash is that the flavor is somewhat buttery and nutty all at once. I frequently substitute butternut squash with the acorn since their flavors are similar when roasted. It pairs well against the filling of turkey, mushroosms, quinoa, and kale. You can make substitutions as needed for most of the ingredients. spinach instead of kale, or wild rice over quinoa. You can also experiment with different types of mushrooms.
If you want to reheat leftover turkey stuffed acorn squash, I prefer to do it in a 300 degrees F oven for about 20 minutes with foil coveringg it. You can also reheat it in the microwave for a few minutes, but may leave the squash a little watery.
I love pairing my stuffed acorn squash with a side of more vegetables or soup. If we are feeding a lot of people. I will serve half an acorn squash as a side dish to a main course of a roast and other vegetables.
Recipe Card
Turkey Stuffed Acorn Squash
A simple and hearty turkey stuffed acorn squash
Ingredients
3

acorn squash

¼

cup

extra virgin olive oil

divided

salt

to taste

pepper

to taste

1

cup

chicken or vegetable broth

½

cup

uncooked quinoa

rinsed

1

medium onion

5

oz

portobello mushrooms

1

tablespoon

fresh thyme

1

lbs

ground turkey

2

cups

shredded kale

1 ½

cups

shredded parmesan
Instructions
Preheat the oven to 400 degrees F. 

Cut the acorn squash in half lengthwise. Gut out the inside seeds and discard. Brush them with a generous amount of extra virgin olive oil, then season with salt and pepper. 

Lay them cut side down onto your baking sheets and roast for about 25 - 30 minutes, or until fork tender. 

While the squash is roasting, work on the filling. Start to boil the chicken broth in a medium saucepan.

Add the quinoa to the boiling broth and allow to cook uncovered until the liquid is soaked up and the quinoa is light and fluffy.

Dice the onions and the mushrooms until they are about the same size as broken up cooked ground turkey. 

Heat a large skillet on medium high and add a few tablespoons of extra virgin olive oil. Add the onions, mushrooms, and thyme then cook until the onions are transluscent and fragrant.

Add the ground turkey, then season with salt and pepper and cook, breaking up the turkey and mixing in the onion and mushrooms. Cook until the ground turkey is cooked through and no longer pink. Turn off the heat, but leave the skillet over the hot burner.

Add in the kale and allow it to wilt in the heat. Once wilted, stir in the quinoa until well-combined. 

Stir half the cheese into the mixture. 

Remove the squash and flip. Fill with the mixture and then top with more cheese. 

Place back in the oven until the cheese is melted. 

Serve immediately. 
Tried this recipe?
Tag me on Instagram! @acookienameddesire #acookienameddesire
Learn more about being a Blenditarian and take the pledge. You can also take the monthly Blenditarian challenge and enter to win $200.
I was selected for this opportunity as a member of CLEVER and the content and opinions expressed here are all my own.