This delicate 3-layer 9-inch birthday cake is made with vanilla beans and organic pure vanilla extract. Each layer of this vanilla bean cake is slathered with bourbon-soaked peach compote and topped with both vanilla bean and spicy, salted caramel popcorn. The whole cake is then topped with a spicy salted caramel and spicy salted caramel popcorn. The perfect way to celebrate your special day.
Last year I decided not to celebrate my birthday. I was unsatisfied with where I was in life, mostly fueled by serious lack of job satisfaction. This year, I am still not completely in the place I want to be, I've come to realize that is just a part of life and shows that I have ambition and want to keep striving for more. Sure, I don't have that perfect blog life so many people seem to have. I don't have a super-hot guy on my arms, I'm not making it rain with my blog, and I still can't fit into a size 6. There is so much I have to be grateful for with this turning of age: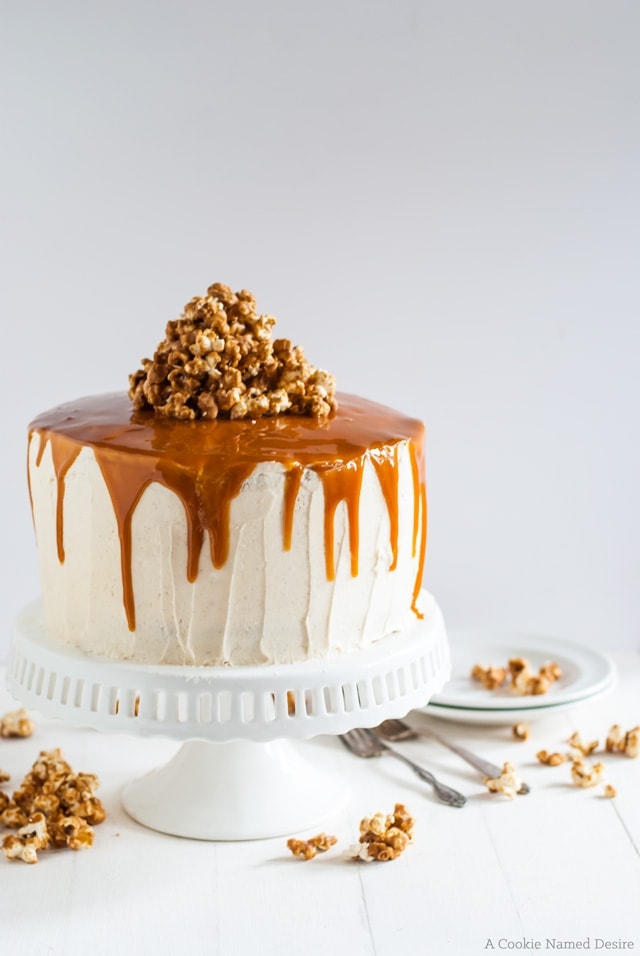 I have the love of an amazing little girl who is smart, kind, funny, and unbelievably observant.
I am doing something that I love.
After a year of hard work and persistence I finally, finally gained the affections of my cat. (If you've ever adopted a cat, you know how big of an accomplishment that is)
I'm moving to a really great city soooooon!
One of the best parts about my blog is that I get a chance to not only share delicious desserts, but I get to share my love of the brands I use the most in my kitchen. That's why I am so excited to announce that I've officially partnered with one of my favorite brands of vanilla extracts: Rodelle. This means will supply my essential baking ingredients (extracts, cocoa powders, spices) and these will be the products I use in my recipes I share with you. I will keep you up to date on important Rodelle-related news.
I discovered Rodelle a while ago while searching for an organic pure vanilla extract that did not cost an arm and a leg. What really struck me about Rodelle Kitchen is that they strive to be socially and environmentally responsible. The Rodelle facility is They work with their farmers to create a sustainable financial system within their community as well as help improve the lives of the local people by helping to prove families with energy-efficient cooking stoves. This is just a small amount of what they do – you can find more information about their efforts here.
To celebrate this new partnership and my birthday, Rodelle and I are giving away a special prize for one reader! One person will win: 8oz vanilla extract, 8oz Gourmet Dutch Processed Baking Cocoa, 6oz Vanilla Bean Paste, and 2oz chocolate extract. These are all staples in my kitchen and I've been using them every day even before we teamed up, and they make this vanilla bean cake extra special!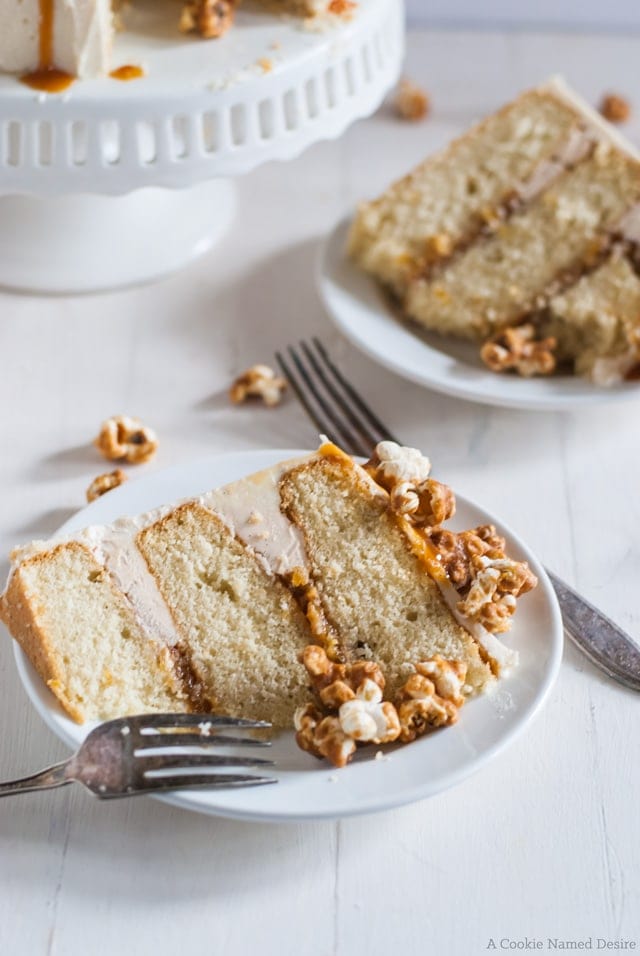 Now, let's take a moment to talk about this vanilla bean cake. I've been thinking about what kind of cake I should make for weeks. All I knew was that I wanted vanilla bean to be a featured ingredient. With three vanilla beans in the cake, I think I succeeded. Now, if you can't use vanilla bean, you are use pure vanilla extract. Substitute 1 vanilla bean with 1 tablespoon of vanilla extract. Just know that it will affect the color of the vanilla bean cake and frosting.
My daughter and I recently went peach picking and the peaches are the most amazing peaches we've ever tasted. I decided to soak them overnight in bourbon and cook it down to a nice, thick compote. The peaches are complemented with my favorite bourbon caramel sauce with a bit of a spicy kick of cayenne pepper. I've always been impressed with the cakes topped with popcorn and I knew homemade caramel popcorn would go great with this cake and add some really nice crunch. Ladies and gentleman, I think this vanilla bean cake is possibly the best cake I've ever had.
Vanilla Bean Cake with Bourbon Soaked Peach Compote and Spicy Caramel Popcorn
This delicate 3-layer 9-inch birthday cake is made with vanilla beans and organic pure vanilla extract. Each layer is slathered with bourbon-soaked peach compote and topped with both vanilla bean and spicy, salted caramel popcorn. The whole cake is then topped with a spicy salted caramel and spicy salted caramel popcorn. The perfect way to celebrate your special day.
Ingredients
For the Bourbon-Soaked Peach Compote
3 peaches, skinned and sliced
Bourbon
¾ cup sugar
¼ teaspoon ground cinnamon
For the Vanilla Bean Cake
1 cup (2 sticks) unsalted butter, room temperature
2 cups sugar
2 cups cake flour
1 ½ cups all-purpose flour
2 teaspoons baking powder
1 teaspoon baking soda
1 teaspoon salt
5 large eggs, room temperature
2 teaspoons vanilla extract
1 vanilla bean
1 ¼ cup milk (I used almond milk, but any will work)
For the Caramel Popcorn
10 cups popped popcorn
1 cup lightly packed brown sugar
10 tablespoons unsalted butter
1 teaspoon vanilla extract
1/2 teaspoon cayenne pepper
1 tablespoon bourbon
½ teaspoon kosher salt
¼ teaspoon baking soda
For the Spicy Bourbon Caramel Sauce
1 cup sugar
1 tablespoon agave nectar
4 tablespoons bourbon, divided
1 cup heavy cream
½ vanilla bean
1 teaspoon cayenne pepper
¾ teaspoon kosher salt
4 tablespoons unsalted butter
For the Frosting
3 ½ sticks unsalted butter, room temperature
4 ½ cups powdered sugar
½ teaspoon salt
2 tablespoons heavy cream
1 vanilla bean
1 teaspoon vanilla extract
3 tablespoons caramel sauce
Instructions
For the Peach Compote
Place the sliced peaches in a mason jar and fill with bourbon until the peaches are completely covered. Allow to sit at least overnight or up to a week. Strain out the peaches (but keep the peach-flavored bourbon for cocktails!) and place in a pan with the sugar, cinnamon, and ¼ cup of the bourbon. Cook until the liquid resembles a thick syrup, mashing the peaches occasionally and allow to cool completely. Blend for about a minute to break up the peaches more if needed.
For the Cake
Grease and flour three 9-inch baking pans. Preheat the oven to 350 degrees F.
Beat the butter and sugar together until light and fluffy. In a separate bowl, mix together the flours, baking powder, baking soda, and salt together. Set aside.
Beat the eggs one at a time into the butter, making sure each egg is fully incorporated before adding another. Add the vanilla extract and the beans from the scraped vanilla bean. Beat well. Alternate between adding the flour and the milk, beginning and ending with the flourand mixing until just combined. Evenly distribute the batter into the baking pans and bake for about 20 – 25 minutes, or until lightly golden and a toothpick comes out clean after being inserted in the centers. Allow the cakes to cool completely before wrapping tightly with plastic wrap and freezing for a few hours, or overnight. (Freezing the cakes makes it easier to frost).
For the Caramel Popcorn
Place the popcorn into a very large bowl. Preheat the oven to 250 degrees F. Line 2 baking sheets with parchment paper
In a heavy-bottomed saucepan add the sugar and butter together and heat on medium-high until the mixture bubbles. Allow the mixture to bubble for about 3 minutes. Add in the remaining ingredients and mix until it comes together into a smooth sauce.
Pour the caramel over the popped popcorn and mix well so all the popcorn is evenly coated Transfer the popcorn the baking sheets and bake for one hour, mixing the popcorn every 30 minutes. Break apart any clumps and allow to cool completely
For the Caramel Sauce
In a heavy-bottomed saucepan, add the sugar, agave nectar, and two tablespoons of the bourbon. Allow the sugar to absorb the bourbon then turn on the heat to medium high. Allow the mixture to cook and boil until it reaches a deep amber color. Remove from heat and add the heavy cream and mix well. The mixture will bubble a lot when you add the cream. Mix until smooth, then add the remaining bourbon, cayenne pepper, the beans from the vanilla bean pod, salt, and butter. Mix until it is a creamy sauce. Transfer to another container and allow to cool completely.
For the Frosting
Beat the butter until smooth and creamy. Add the powdered sugar one cup at a time mixing well between each addition. Add in the salt and mix well. Repeat with the heavy cream and the beans scraped from the vanilla bean pod. Take out about ¾ cup of the frosting and add the caramel sauce to it. Mix well.
Assembly
Level the cakes as-needed. Fit one piping bag with a large round tip and fill with the frosting that has the caramel. Pipe two touching rings of frosting on the outside edges of two of the cake layers. Fill the insides of the rings with the peach compote. Layer the cakes so that the one cake layer without the frosting and compote is on top. Frost the cake with the vanilla frosting. Place the cake in the fridge for about 30 minutes to slightly stiffen the frosting a bit, this helps with controlling the caramel we are pouring on top. Spoon caramel around the top of the cake. I did not do it in the middle where the popcorn is so that the popcorn does not get soggy. I placed a doughnut cutter on top to make it easier to avoid the center. Use the back of the spoon to spread the caramel evenly over the top of the cake, it will drizzle down on its own. Place caramel popcorn over the center of the cake. Serve!
Notes
You will end up with more popcorn and caramel sauce than what you need for the cake. I figured since this is a celebration, that would not be a problem!


Need more cake? Check out my cake recipes in the archives, or follow my Cakes & More pinterest board!