This post was sponsored by Maille. Sponsored posts such as this one helps keep A Cookie Named Desire going. Thank you for supporting the blog! As always thoughts and opinions are always 100% my own.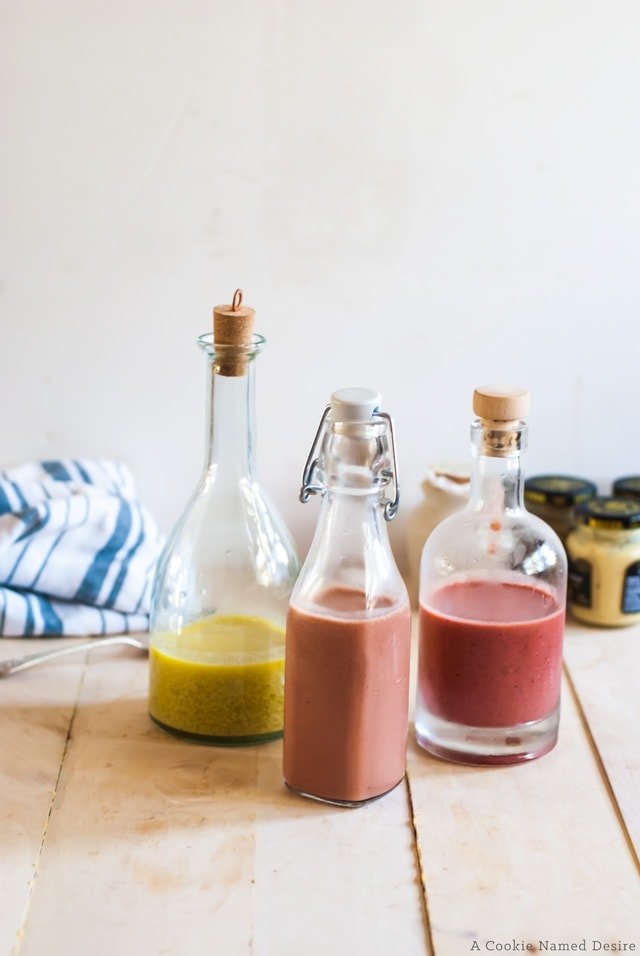 I've been committed to eating lighter foods now that the weather is warming up. Although I love autumn and the comfort foods that are associated with that season, I am not a fan of that heavy, weighed down feeling afterward. During the warm months, I embrace foods that are light, but still pack a nice punch of flavor so that I can feel satisfied, but still want to go outside and run around after.
For years, I've been in a bit of a salad rut. I use the same basic types of lettuce, the same mix-ins, and the same bland vinaigrettes. This always leaves me feeling bored and completely unsatisfied. I've started changing up my vinaigrette recipes by creating a few that are much more flavorful and with much more personality.
Vinaigrettes with Dijon mustard have always been a favorite of mine. I love the creaminess the mustard brings, and also the spiciness that wakes up your tastebuds. I recently sampled a few different mustards from Maille, and was instantly smitten with the striking flavors. In the past, I only knew of a few Dijon mustard flavors, but Maille brought a whole new world of flavor to me with flavors such as white wine; blackcurrant liquor; parmesan and basil; lemon and harissa; and walnut. I was most surprised by how much flavor is in each flavor of mustard. It wasn't just a hint of flavor, Maille fully committed to embracing each to create something truly pleasing.
As it happens, Maille, has a contest for a trip for two to Burgundy, France. Here is a bit more information regarding the prize: One lucky winner will enjoy a journey to France to discover the origins of French cuisine in the heart of Burgundy. During the trip for two, the winners will enjoy an exclusive tasting at the Maille boutique in Dijon with the trained Mustard Sommelier, amazing food at Michelin-starred restaurants, prestigious wines at world famous vineyards, and plenty of culture and entertainment. If you want to enter, you can simply use the rafflecopter at the end of this post. How's that for making things nice and simple for you? 🙂
For the vinaigrette recipes, I used a very simple formula, and you will notice what that is when looking at each recipe. I did this so that you can use it as inspiration to create any flavor of dijon mustard vinaigrette recipe (Maille has 20 mustard flavors available, so the flavor combinations you can create are nearly endless!) You can make these vinaigrettes by hand by simply whisking the ingredients together or shaking them in a covered mason jar, but I prefer to make them in the blender because it creates a thicker, creamier vinaigrette, plus they do not separate as much. The roasted garlic parmesan basil vinaigrette does separate a bit simply because it has heavier ingredients, but the other two stay uniform. Additionally, this is the only vinaigrette I highly recommend you use a blender to make. You can keep these vinaigrettes at room temperature, but I feel they taste better when chilled.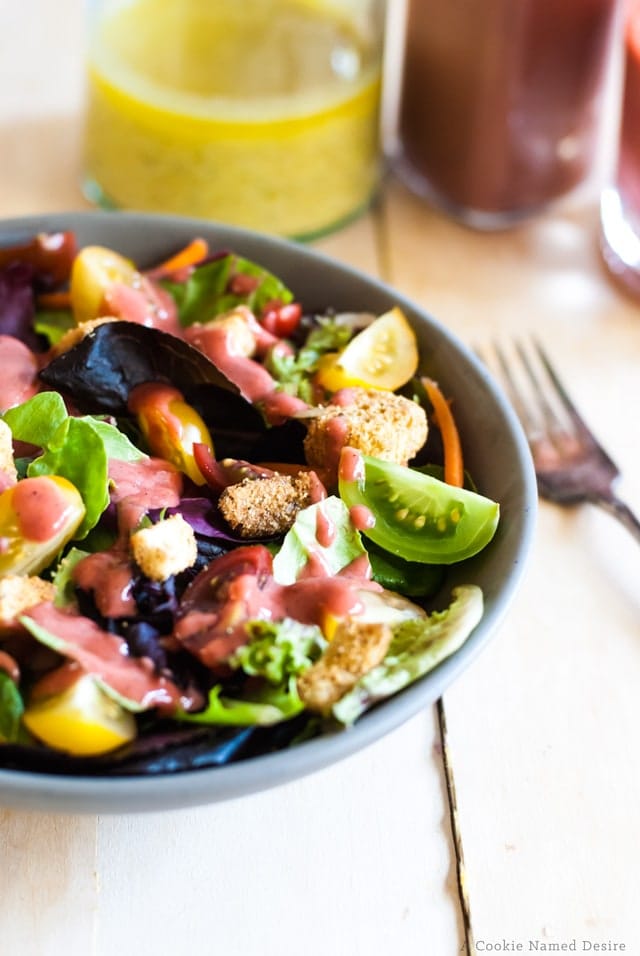 Roasted Garlic Parmesan Basil Vinaigrette
Author:
Prep time:
Cook time:
Total time:
Ingredients
2 cloves garlic
2 ½ tablespoons grated parmesan
1 teaspoon fresh basil or ½ teaspoon ground basil
2 tablespoons white wine vinegar
1 tablespoon lemon juice
1 ½ tablespoons parmesan basil Dijon mustard
½ cup extra virgin olive oil
Salt and pepper to taste
Instructions
Mince the garlic and pan roast the garlic until fragrant. Set aside to cool.
Place all the ingredients in a blender and blend on low for about one minute. Increase the speed to medium for about another 30 seconds.
Store in an airtight container
Blackcurrant and Pomegranate Vinaigrette
Author:
Prep time:
Total time:
Ingredients
2 heaping tablespoons pomegranate juice
½ teaspoon agave
1 ½ tablespoons red wine vinegar
1 tablespoon lemon juice
1 ½ tablespoons blackcurrant liquor dijon mustard
½ cup extra virgin olive oil
Salt and pepper to taste
Instructions
Place all the ingredients together in a blender and blend on low for about a minute. Bring up the speed to medium and blend for another 30 seconds.
Store in an air tight container
Raspberry Walnut Vinaigrette
Ingredients
⅓ cup crushed frozen raspberries (about ½ cup fresh)
1 teaspoon agave
2 tablespoons white wine vinegar
1 tablespoon lemon juice
1 ½ tablespoons walnut Dijon mustard
½ cup olive oil
Salt and pepper to taste
Instructions
Place all the ingredients together in a blender and mix on low for about a minute, and then an additional 30 seconds on medium. You may strain the vinaigrette to remove any seeds.
Store in an air tight container