These American breakfast tacos are the perfect on-the-go way to get a full breakfast food truck style. Light and fluffy pancakes act as a vehicle for thick slices of bacon, melted cheese, and fried eggs. Smother the whole thing in maple syrup and you have the best breakfast ever!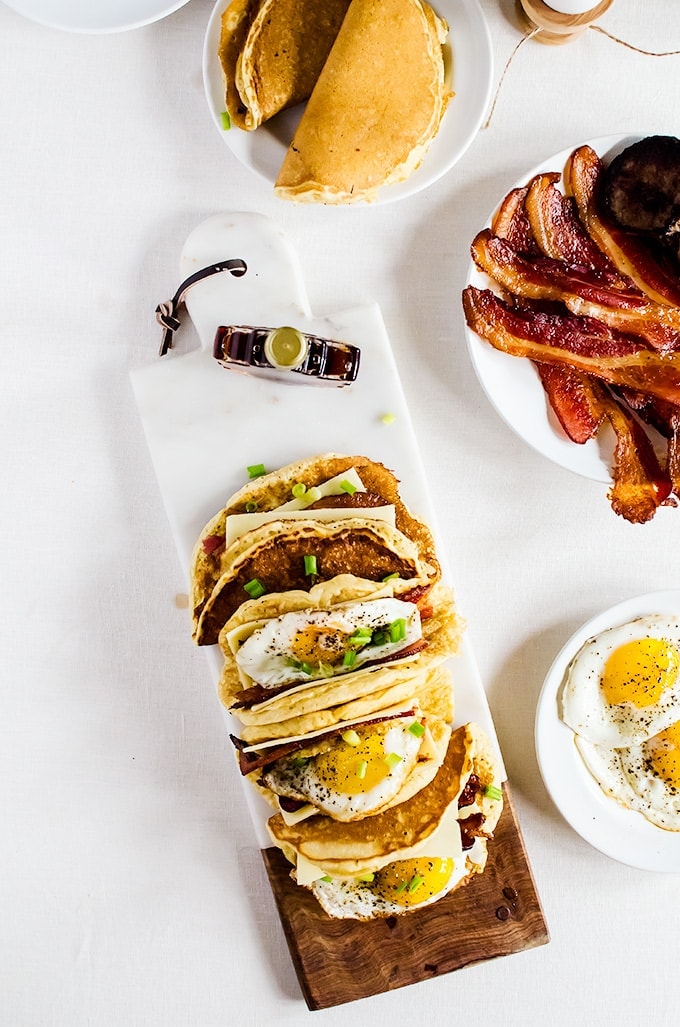 I love American food culture. I feel like no one can do food quite like American can. No one loves food quite like we do. No one. Don't try and tell me its all about French cooking. We make our food the way we live our lives. To the absolute limit with no holds barred.We embrace different techniques and heritages and create something entirely new and wonderful, but with loving notes of nostalgia. So when America's Best Breakfasts came out, I was all over it. I don't think there could be a better book for me as a breakfast lover.
The book is broken down by regions of the country, then each recipe is labeled with the city, state, and cafe/bakery it came from. So as you can imagine, there is incredible variety here. There is something for everyone. Sweet, savory, healthy, and decadent. I couldn't find a recipe that I wanted to start with, so I took the decision to my sister and her fiancee. It took them less than five minutes to find the recipe for American breakfast tacos aka pacos and decide they needed me to make it.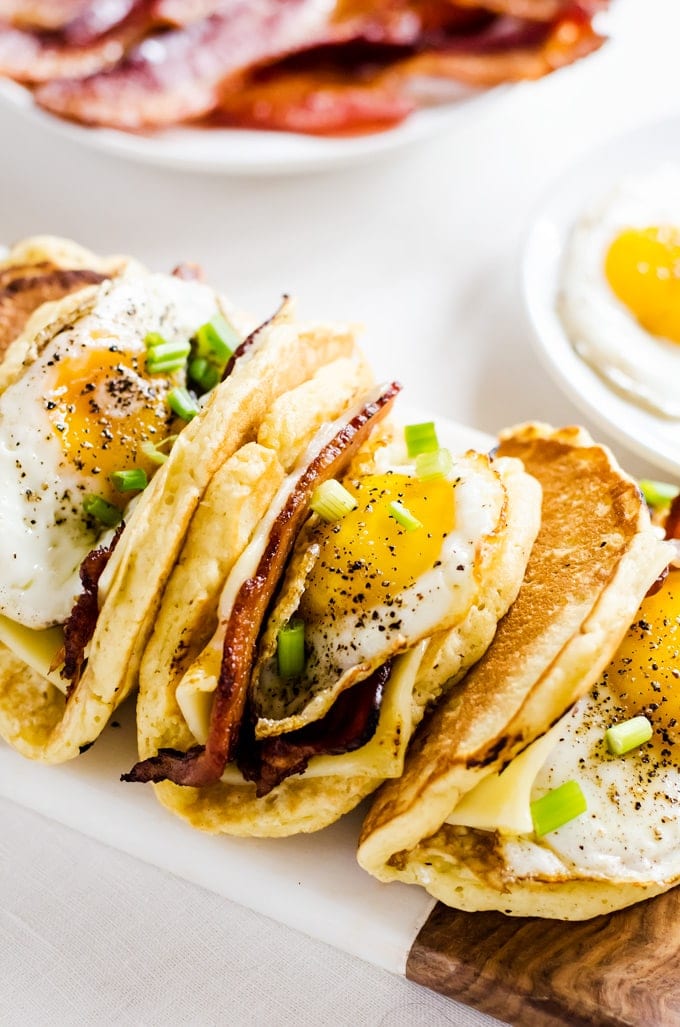 What I love about these American breakfast tacos (sorry, I can't bring myself to use the term paco yet) is that it is really a non-recipe. You can use your favorite pancake recipe and fill with bacon, eggs, and cheese, then smother in maple syrup. They did have a recipe for the pancakes though and I think it is officially my new favorite pancake recipe. It is so light and fluffy and completely amazing, especially if you use melted butter instead of oil. Yum!! I also used cheddar instead of American cheese like the original recipe because I am not a fan of American cheese, but you can really use whatever you want.
Recipe Card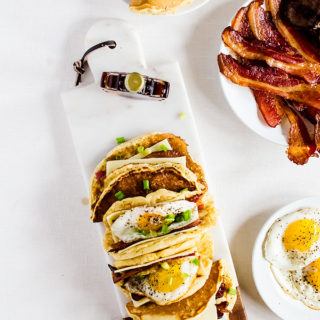 American Breakfast Tacos aka Pacos
These American breakfast tacos aka pacos are a fun and delicious
Ingredients
1 ½

cups

all-purpose flour

5

teaspoons

baking powder

3

tablespoons

sugar

1

teaspoon

kosher salt

1 ½

cups

milk

2

large eggs

room temperature

3

tablespoons

oil or melted butter

1

teaspoon

vanilla extract
Filling
12

slices

of bacon

6

eggs

salt and pepper to taste

6

slices

of cheese

maple syrup
Instructions
Preheat the oven to 200 degrees F. Heat a griddle on medium.

Add all the dry ingredients for the pancakes together in a bowl. In a separate bowl, mix together the wet ingredients.

Mix the wet ingredients into the dry ingredients and mix well. Do not over mix as lots of lumps are best.

Lightly grease the griddle with butter or oil. Pour ½ cup of the batter onto the griddle and cook until the top starts to bubble a lot. Flip, and cook for another 1 - 2 minutes.

Gently fold in half then place on a baking sheet. Leave in the oven to stay warm (I lightly brushed mine with the maple syrup at the point)

Cook the bacon and leave the cooked baking on the baking pan with your pancakes. Reserve some of the grease.

Use the grease to fry your eggs. Season with salt and pepper.

Add a slice of cheese to the inside of your pancakes, then add the bacon and eggs.

Enjoy hot!
Notes
This is also great with scrambled eggs.
Top your pacos with any of your favorite toppings. Avocado, tomato, pico de gallo, and any number of things go great here.
Nutrition
Serving:
1
g
Calories:
576
kcal
Carbohydrates:
38
g
Protein:
28
g
Fat:
34
g
Saturated Fat:
13
g
Polyunsaturated Fat:
19
g
Trans Fat:
1
g
Cholesterol:
308
mg
Sodium:
1375
mg
Fiber:
1
g
Sugar:
12
g
Tried this recipe?
Tag me on Instagram! @acookienameddesire #acookienameddesire