Sweet, salty, and utterly addictive. These bacon brownies are the perfect dessert for people who need a decadent treat that hits all the right spots. 
As a food blogger, you need to wear many hats. I'm talking so many hats that your neck is kinda hurting and the hats are leaning dangerously off to one side as you try and balance them all atop your head. You can't even fit inside a room because the hats would topple off your head as you tried to duck under the doorway to fit in.
I think Dr. Seuss may have illustrated a picture of someone wearing hats like that.
The one hat many bloggers work really hard at is photography. From day 1 we are taught that excellent photography is the key to almost everything and we teach ourselves how to master the craft. Some learn quickly, others such as myself, learn slowly. No matter what, our cameras soon become an extension of us. We grow attached to our cameras and lenses and maybe even love them almost as much as we do our families (even though we all know we secretly covet that upgraded model next door).
Our cameras are very important to us. And guys... my camera isn't feeling too well. Just yesterday I was trying to take photos of these bacon brownies for you. The whole house smelled like delicious maple bacon and chocolate and we were all dying to dig into them, but of course, pictures first. I got my new shooting area set up and was taking a few test shots before I really started styling the set (in case you were wondering, styling basically refers to how I place the food in the photos, plus anything else I may add to the photo like a kitchen towel, or more bacon, etc). Then my camera shut down. Like completely shut down. I switched it on and off and nothing happened. I cleaned out the battery like a friend suggested and nothing happened. It was just... dead. But it would flicker back to life for a couple of seconds before shutting down again. I checked the battery life and it was still fully charged.
I just didn't know what to do and everyone was begging for a piece of these bacon brownies. And to be honest, I was seconds away from devouring one myself. But I was worried about ol' Bessie and what could be wrong with my poor baby. I was told to try buying a new battery before I consider putting her out to pasture and getting a new camera (I would love to upgrade, but financially, it isn't the best time), so hopefully a new battery will work.
For now, all I have are these two shots of these bacon brownies. Hopefully you can tell just by these how amazing these brownies really are. Seriously, its delicious. I brushed my bacon with some leftover maple syrup from my maple ice cream (that also has bacon in it!!) and cooked them until they were nice and crispy. Then I coated half the bacon in chocolate because who doesn't love chocolate covered bacon? These were folded into the brownies. On top of the brownies, I added more bacon and some chocolate chips because, obviously.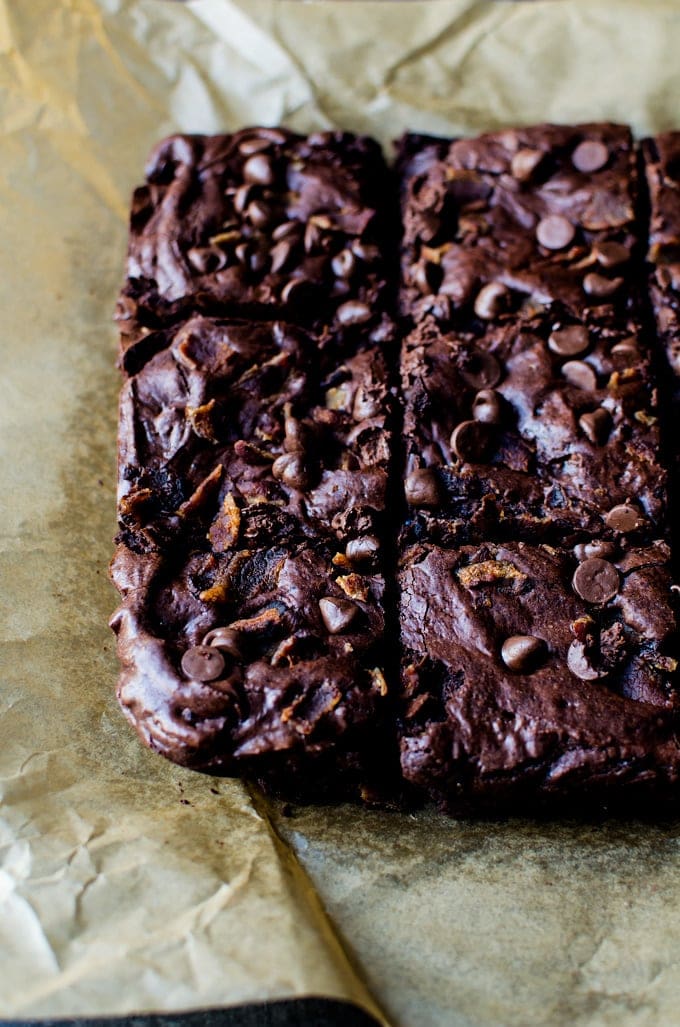 These bacon brownies are fudgy and decadent and sweet and salty and the best thing you will ever make - ever. I know that was just a terrible sentence, and probably shouldn't even be considered such, but when you've got a bacon brownie in your hand, its hard to care.
Bacon Brownies Recipe
Notes: No, the bacon doesn't get soft of chewy. If you want to go extreme on the decadence, consider adding some bourbon to the batter. I recommend about 3 tablespoons which you could add just before adding in the cocoa powder and flour.

Recipe Card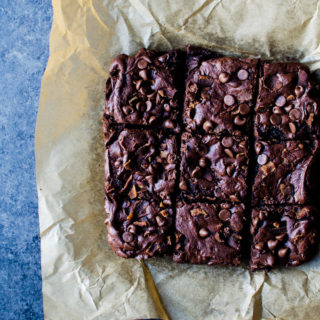 Bacon Brownies
Fudgy bacon brownies perfect for the bacon lover in your life
Ingredients
8

slices

of bacon

2

tablespoons

maple syrup

½

cup

1 stick unsalted butter

1

cup

granulated sugar

9.5

oz

semi sweet chocolate chips

divided

3

large eggs

room temperature

2

teaspoons

vanilla bean paste

or vanilla extract

½

cup

cocoa powder

I used Dutch processed, but natural will also work

1

cup

all-purpose flour
Instructions
Preheat the oven to 400 degrees F. Line a baking sheet with parchment paper.

Brush both sides of all the bacon with the maple syrup, then place the bacon on the baking sheet.

Bake until nice and crispy, anywhere between 20 - 25 minutes.

When the bacon is done cooking, remove excess fat with a paper towel and allow to cool. Melt 2 oz of the chocolate in a small microwave safe bowl by placing in the microwave at 50% power for 30 second increments.

Lightly crumble 3 - 4 pieces of bacon into pieces. They shouldn't be too small, about ½ inch each. Coat in chocolate and leave on parchment paper to harden. (I placed mine in the freezer for 2 - 3 minutes to speed up the process). Set aside.

Take the oven temperature down to 350 degrees F. Line an 8 x8 baking pan with parchment paper.

Mix together the butter, sugar, and 7 oz of the chocolate together in a large saucepan. Heat over a double boiler until the butter and chocolate is melted. Stir well to dissolve the sugar and combine everything. Set aside to cool for a couple of minutes.

Once the chocolate and butter mixture is cool enough to touch, add the eggs and vanilla and mix until well combined.

Add in the cocoa powder and flour and mix until there are no lumps of flour or cocoa powder.

Fold in the chocolate coated bacon into the brownie batter. The mixture should be very thick.

Pour the batter into the baking pan. Crumble the remaining bacon and place it, plus the remaining 0.5 oz of chocolate chips on top of the brownie batter and gently press down.

Bake for 30 - 35 minutes. Remove and allow to cool to room temperature before slicing.
Notes
It is best when the bacon is nuce and crisp
Nutrition
Calories:
358
kcal
Carbohydrates:
55
g
Protein:
6
g
Fat:
14
g
Saturated Fat:
7
g
Polyunsaturated Fat:
1
g
Monounsaturated Fat:
4
g
Trans Fat:
1
g
Cholesterol:
56
mg
Sodium:
26
mg
Potassium:
288
mg
Fiber:
4
g
Sugar:
37
g
Vitamin A:
94
IU
Calcium:
40
mg
Iron:
3
mg
Tried this recipe?
Tag me on Instagram! @acookienameddesire #acookienameddesire