This post is sponsored by Orville Redenbacher's Popcorn. Thank you for supporting the blog and the brands I love!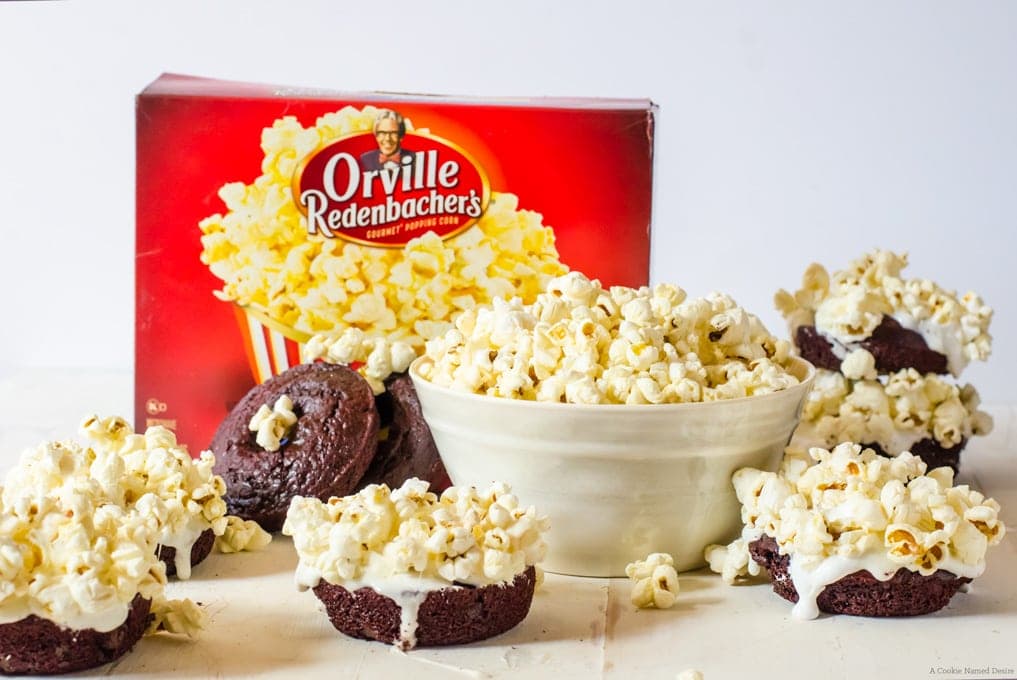 I just got back from the US Weekly's Family Movie Night at the Prudential Center in Boston? This was my first time in Boston since I was little, so I was so excited to see that the Prudential Center is a really awesome shopping center with a gorgeous little garden in the middle. It was the perfect place to have the event because the Center is so easy to find and the location was closed off which is perfect for peace of mind while your kids run around to each stall before the movie started.
There were a few different little stations throughout the garden that you could go to. One handed out blankets, another had huuuuuuge coloring books for the kids (and adults) to color, and you could also get unlimited Orville Redenbacher's Movie Theater Popcorn in the cutest Orville Redenbacher's Popcorn containers. (I may have gone for seconds or thirds. Their popcorn is just so perfectly buttery and salty and perfect for movie snacking) The last station was probably my favorite. You could make your own flipbook for free. They had a bunch of props and signs you could hold up to make your book really fun.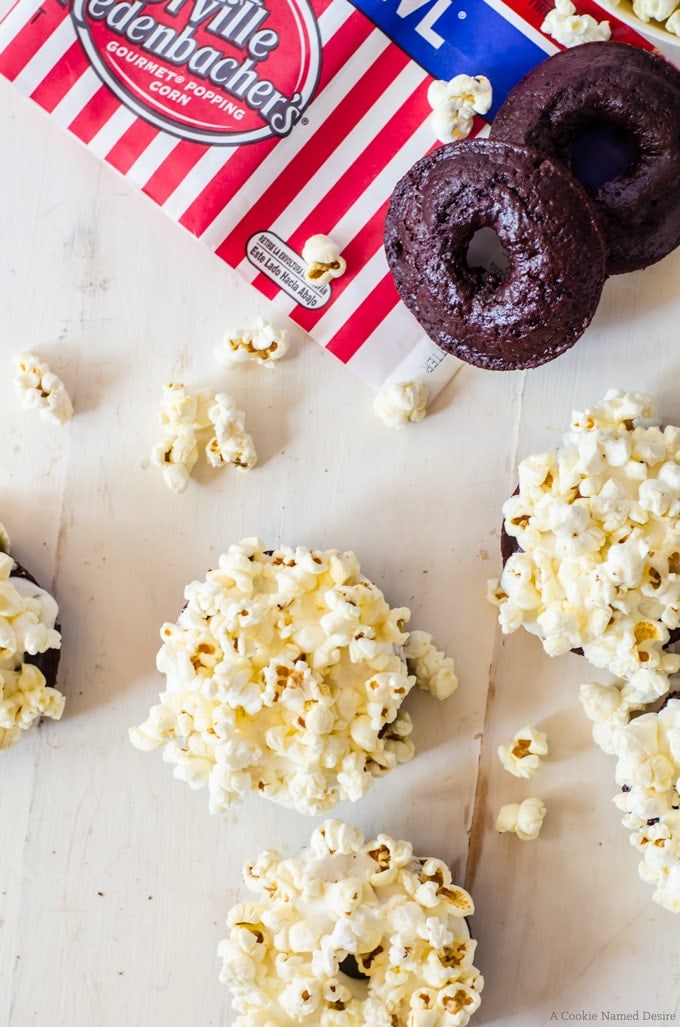 After I was stocked up on all my gear, I was easily able to set up a little spot right in the middle to watch the movie. Fortunately, the garden is big enough to hold a lot of people without it feeling crowded. If you didn't want to lay in the grass, the garden benches also had a great view of the movie. It was such a fun time and everyone was so friendly. Even the security there was having a blast chatting with movie-goers and even fetching popcorn for one or two people. Definitely a family-friendly atmosphere that I really enjoyed. I wish Orville Redenbacher's Popcorn had these events all the time!
I was inspired by the entire event and the movie they showed to create red velvet doughnuts with marshmallow and popcorn using Orville Redenbacher's Movie Theater Popcorn. I made a bit of a boo-boo and accidentally put double the cocoa powder in the doughnuts which made these doughnuts a darker red velvet. They look just chocolate in the photos, but trust me, they are still red. In the recipe below, the correct amount of cocoa powder is used so you can expect a true red velvet doughnut. If you want a darker, chocolatier doughnut, simply double the cocoa. Either way, you will have a super moistmand rich doughnut. The marshmallow and Orville Redenbacher's Movie Theater popcorn create a sweet and salty topping that make these doughnuts a delicious movie time treat you won't want to stop eating. I also used a red velvet emulsion which basically means it also has that chocolate flavor blended into the red food coloring so it adds to that amazing chocolate flavor. You can replace it with just red food coloring if you can't get your hands on the emulsion.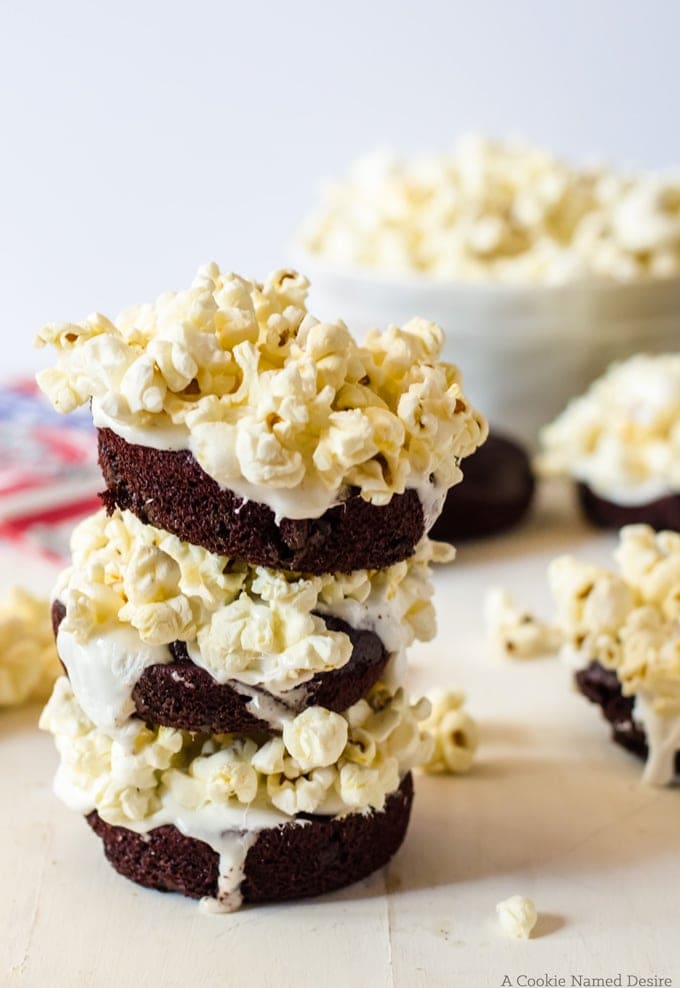 Recipe Card
Baked Red Velvet Doughnuts with Marshmallow and Popcorn Topping
Ingredients
¾

cup

plus 2 tablespoons all-purpose flour

2

tablespoons

cocoa powder

½

teaspoon

baking soda

½

teaspoon

baking powder

½

teaspoon

salt

⅔

cups

brown sugar

1

large egg

⅓

cup

plus 1 tablespoon milk

2

tablespoons

oil

1

tablespoon

red velvet emulsion

or red food coloring

½

cup

chocolate chips

½

cup

marshmallow fluff

approx

½

bag Orville Redenbacher's Movie Theater Popcorn
Instructions
Preheat the oven to 350 degrees F. Lightly grease two 6-well doughnut pans.

In a large bowl mix together the flour, cocoa powder, baking soda, baking powder, and salt.

In a separate bowl mix together the sugar and egg and beat well. Beat in the milk, oil, and red velvet emulsion.

Mix the wet ingredients into the dry until combined, but not overmixed. Fold in the chocolate chips.

Evenly distribute the batter into the doughnut wells. You should have enough for 8 - 8 doughnuts.

Bake for 9 - 12 minutes, or until the top springs back when gently pushed down. Remove and place doughnuts on wire rack and allow to cool completely.

Top the doughnuts with the marshmallow, then with the popcorn. Press gently so the popcorn sticks to the marshmallow.
Tried this recipe?
Tag me on Instagram! @acookienameddesire #acookienameddesire
Orville Gives You More www.facebook.com/orvilleredenbachers