A delicious and showstopping Baklava crepe cake.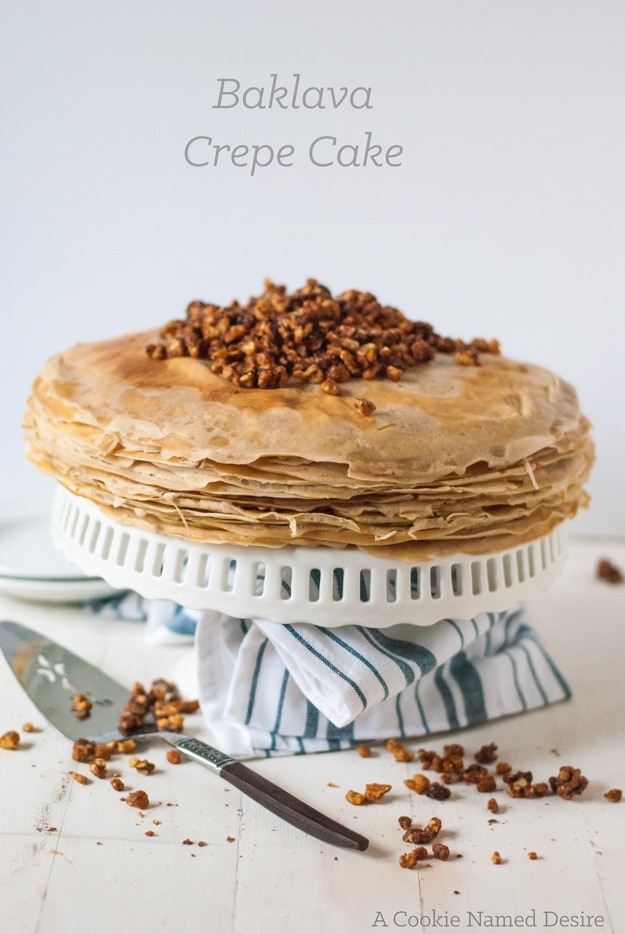 When I first moved in with my fiancee in London, the first dessert I made for him was baklava. It was hurried and I ran out of nuts and used too much cinnamon, but he ate it and loved it (at least that's what he kept assuring me). Baklava and I have a long history and it's why I love this baklava crepe cake.
As a small child, my family would go to the Greek festival every year where we would fill up on tons of delicious food and desserts. My favorite was always the baklava. I loved the flaky crust that got everywhere once you bit into it and that sticky, sweet honey orange sauce.
Baklava was the first real dessert I made when I was a teenager.  I would crush the nuts by hand which took hours and the nuts never got small enough. Carefully, I would create each layer and the finished baklava would always look more like a million layer lasagne because of how large the nuts were. It was still so delicious and I made it over and over again.
Whenever Vlad and I wanted dessert, he would always ask me to make the baklava again. It was the start of a tradition we were creating together.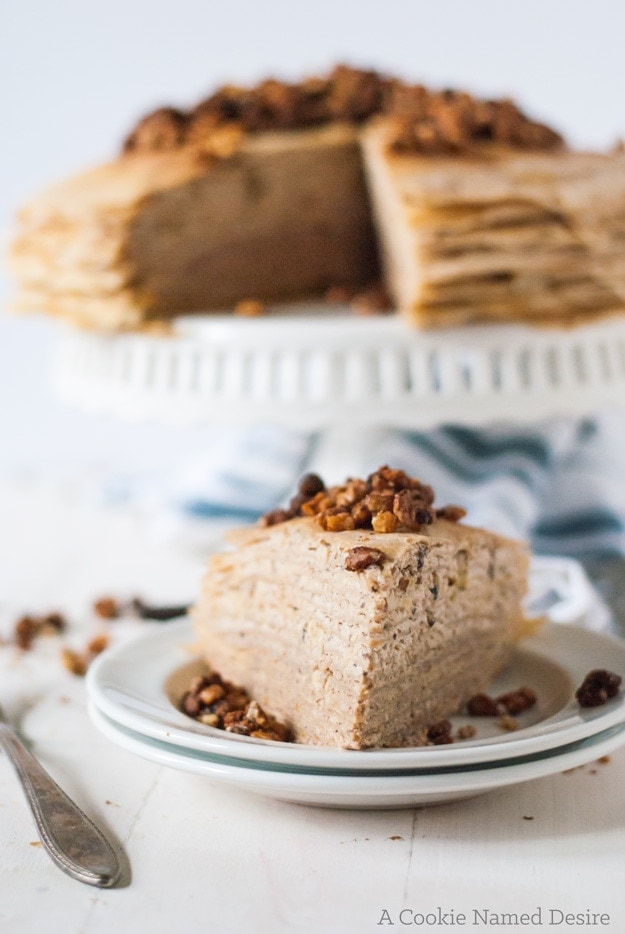 The first time Vlad tried to come to America to visit Natushka, he got stuck in Canada because he didn't take a direct flight to America and they did not let him through the border. You see, he is in the unique position of not being a citizen of any country. Although he had the correct visas and documents, they still decided he could not cross into the country. It was the day after Christmas and he was in a panic. He told me how they detained and questioned him and would not even allow him into a certain part of the airport. He couldn't afford a return ticket back to England and would have to stay in Canada until his return flight.
Now at the time, Natushka was only a few months old and I was only working as a part-time web content creator because I wanted to be home with her. This allowed me the chance to spend all my time with her and pay my bills, but not enough for a mini-vacation to Canada with an 8-month-old. It had been about a year since I saw Vlad and wanted nothing more than to be near him again. We were both at a loss as to what to do. I had a team of maybe 8 people including someone who worked with the TSA trying to figure out what we could do to get him to the country. It was one of the worst feelings in the world.
He managed to find a place to stay last minute, but he hadn't prepared to pay for a place to stay, plus food and travel, so I had to send him some money via Western Union so that he would have enough to be able to be comfortable there. Buy a few toiletries and do some light grocery shopping for the week. Fortunately, wiring money through Western Union is such a fast and easy process, he was able to wait at his local Western Union location while I transferred the money and received it immediately. Out of the whole ordeal, knowing that I could easily and efficiently send him money was the only good thing to happen.
I am truly grateful for the wonderful people in my life because a friend of mine then wired me some money via Western Union so that I could go up to see him for a night. I took a bus through the night and managed to see him early the next morning. With me, I brought a few small squares of baklava hidden in my duffel bag for us to eat together that I originally made as a surprise for him.
It was the best thing I ate in the longest time. Eating it with him was like having a bit of the home we once created back again.
When I saw the video from Western Union and everyone's connection to their food that reminded them of home, I could not help but relate. Vlad was and will always be my home and baklava will always be the food that reminds me of him. What touched me, even more, was realizing how much Western Union played in the events of that time and how it would have been much harder for us without their services.
I have not made traditional baklava since that time, and I won't until we are living together again. Still, I wanted to share something that meant a lot to me, so I made a twist on baklava by turning it into a baklava crepe cake. It maintains the multitude of layers and the thickness of the baklava I would make, but instead of those buttery, flaky layers, we have a softer, orange-scented crepe that is delicious enough to snack on plain. I used a traditional syrup to pour over the cake and the results are pretty fantastic.
Recipe Card
Baklava Crepe Cake
A delicious showstopping baklava crepe cake
Ingredients
For Crepes
5

large eggs

2 ¼

cups

milk

1 ½

cup

water

3

cups

flour

6

tablespoons

melted butter

plus extra for pan

2

teaspoons

cinnamon

zest of one orange
For Syrup
2

cups

sugar

1

cup

honey

1 ½

cups

water

2

tablespoons

orange juice

freshly squeezed - may also use lemon juice

2

3-inch sticks cinnamon (optional)

4 to 6

whole cloves

or ½ teaspoon ground cardamom (optional)
For Filling
2 ½

cups

fresh whipped cream*

14

oz

nuts

finely chopped (can use any nuts you prefer for baklava, I prefer walnuts or pistachios)

1 ½

tablespoons

cinnamon

¼

teaspoon

ground clove

optional

4

tablespoons

powdered sugar

3

oz

chopped candied walnuts for topping

optional
Instructions
Combine all the ingredients for the crepes together and blend in blender or food processor. Allow the batter to rest for about 30 minutes in the refrigerator.

In a saucepan, mix together all the ingredients for the syrup together and heat on medium-high. Stir until the sugar is completely dissolved and the mixture boils. Stop stirring and bring down the heat to medium and allow it to cook unstirred for about 5 minutes, or until the mixture becomes thicker. Strain out the cinnamon sticks and cloves and allow the syrup to cool completely.

Lightly butter your crepe pan (or frying pan) and place a scant ¼ cup of the batter in the center and spread out to the edges with a crepe spreader or swirling the pan. Cook for about 1 - 2 minutes then flip and cook for an additional minute. Repeat for the remaining batter. Place a sheet of wax or parchment paper between each crepe to prevent them from sticking.

Fold the ingredients for the filling together.

Begin creating your layers by spreading a thin layer of the filling on each crepe and stacking them on top of each other. (Do not put the filling on the last layer).

Top with candied walnuts if using. Drizzle the syrup on individual slices or on the entire cake (I recommend allowing each person to drizzle their own syrup).
Notes
Best served immediately and eaten the same day. May last up to 24 hours in the refrigerator.
If you want to make the cake ahead of time, make the crepes and syrup up to a day ahead and mix the filling and layer the cake the next day.
*If you want the cake to last longer and/or want to omit the whipped cream, you can replace the whipped cream for the syrup. Simply make a double batch of the syrup and combine the syrup with the remaining filling ingredients to make a thin nutty paste to spread on the crepes. The cake will last longer and have a more authentic baklava taste.
Nutrition
Tried this recipe?
Tag me on Instagram! @acookienameddesire #acookienameddesire