There is nothing quite like these balsamic strawberry cheesecake bars with shortbread crust. The balsamic complements the sweetness of the strawberries and deepens its flavor without any "vinegary" taste.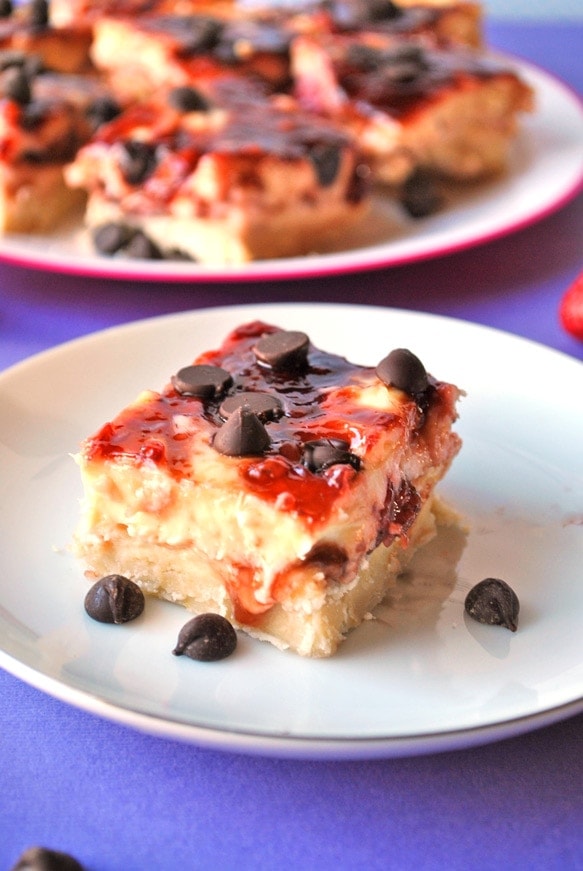 Yum.
My favorite way to eat strawberries is with balsamic vinegar drizzled on top. The sweet and tart tang of balsamic vinegar just pairs so perfectly with berries. But when you use a good balsamic and cook them together, the balsamic deepens the flavors of the strawberries and adds its own sweetness and depth of flavor. If you are afraid that the berries end up "vinegary" or too balsamic, worry not! No one will ever be able to tell there was any balsamic used. Just a little something extra that makes the strawberries taste amazing.
Add this to a cheesecake bar with a lightly lemony shortbread bottom and you've got yourself the perfect dessert. And these bars make the perfect portion control to keep you from taking an extra large slice because you know that is what you will want to do. Of course, there is nothing stopping you from eating two or three of these bad boys. I know I did – I have the food baby to prove it!
The balsamic strawberry cheesecake bars came during a serious cheesecake withdraw. (I don't know if I've told you before, but cheesecake is my favorite dessert ever. Especially lemon cheesecake. And cheesecake with crunchy honeycomb and drizzled with chocolate ganache. Oh my god. I just had a foodgasm thinking about it. Maybe I'll make it for you one day when I can find some crunchy honeycomb in this area.) I never usually go for strawberry cheesecake but considering my love for balsamic strawberries, I knew this would be a good idea. And it was. It really was.
What you are going to love about these balsamic strawberry cheesecake bars is that they have that delicious flavor of strawberry cheesecake, with just a hint of tartness and depth from the balsamic vinegar. Basically, these strawberry cheesecake bars are perfect for anyone who isn't lactose intolerant. Although, I just looked and there is dairy-free cream cheese out there that you can probably try using. So, yes, this is perfect for everyone.
Oh, and I highly recommend saving your leftover balsamic strawberry jam and spreading it on your bagels for breakfast. Trust me on this one. You'll thank me later!

Balsamic Strawberry Cheesecake Bars with Shortbread Base
Ingredients
Lemon Shortbread Crust
½ stick unsalted butter, room temperature
¼ cup sugar
1 tablespoon lemon zest
1¼ cup all-purpose flour
Balsamic Strawberry Jam
1½ cup sliced strawberries
¼ cup balsamic vinegar
¼ cup sugar
¼ cup water
Cheesecake
16 ounces cream cheese, room temperature
1 large egg
¼ cup sugar
2 teaspoons vanilla extract
chocolate chips (optional, but recommended!)
Instructions
Preheat the oven at 350 degrees.
Make the balsamic strawberry jam by marinating the strawberries in the balsamic vinegar for about 30 minutes (if you don't feel like waiting, you can skip this step, but I don't recommend it). Toss the strawberries in a pot with the sugar and water and heat on medium until the juices start to release and bubble. Simmer for about 5 - 8 minutes, or until the sauces thicken. Remove from heat and allow to cool.
Make the shortbread by creaming the butter and sugar together until light. Add in the lemon zest. Slowly work in the flour with your hands until well-combined. Press into the bottom of a greased 9x9 pan, prick several times with a fork, and blind bake for about 10 minutes.
Make the cheesecake filling by creaming the cream cheese until smooth. Add the egg, sugar and vanilla.
Pour half the cream cheese filling over the shortbread. Spread some of the balsamic strawberry jam over the cream ceese. Add the remaining cream cheese and top with the remaining jam.
Bake for 30 - 35 minutes. Allow to cool before cutting.
Top with chocolate chips if desired