While looking around online, I found these really delicious banana bread cookies and I knew immediately that I wanted to make some. The recipe that I found basically took a regular banana bread recipe and modified it so it would be able to stay in cookie form. In my attempt to stay a little healthier with this treat, I decided to go another route and try to make the cookie a little healthier.
But then I realized that my sweet loving self just could not have just a cookie. No, sir. I decided that I wanted to have a banana the banana paired with chocolate and peanut butter. Because, you know, it's a classic. So I decided to make sandwich cookies. But mini, because it's better portion control. You know, "healthy." You can make the filling one of two ways. Use the chocolate peanut butter buttercream frosting in the recipe, or use this quick recipe:
1.  2/3 cup heavy cream

2. 3 tablespoons sugar

3. 1/4 cup chocolate peanut butter

Use an electric mixer to whip heavy cream with sugar and chocolate peanut butter until peaks form.
This was the original filling I had in mind. It is a little lighter than the buttercream frosting, but I was low on heavy cream.  The butter cream frosting is really delicious though. I mean, it is just amazing. It's my go-to frosting because it doesn't taste like your typical frosting. It is light, airy and not overly sweet. Whichever filling you go with, you will be satisfied.
In an effort to keep the recipe simple, I also opted to use one of my favorite chocolate peanut butters I always have on hand. It is so yummy. I eat this stuff on anything and it goes really well with this cookie.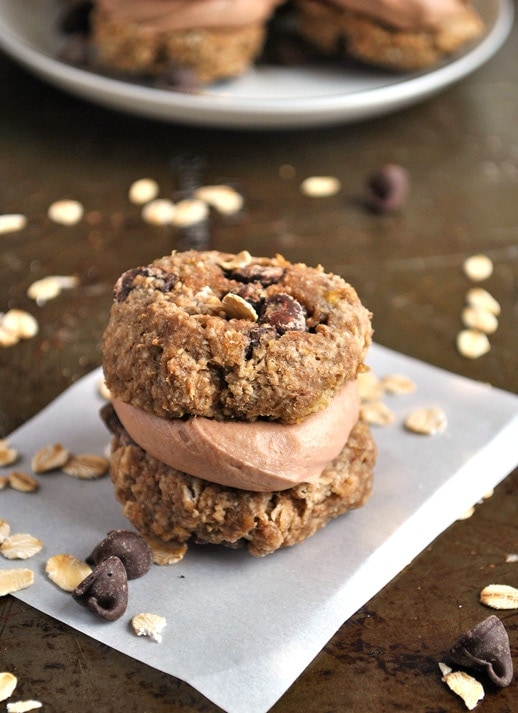 Banana Bread Cookie Sandwiches with Chocolate Peanut Butter Filling
Serves:
about 10 - 12 cookie sandwiches
Ingredients
Cookies
2 cups old fashioned oats
3 ripe bananas
3 tablespoons unsalted butter, melted
¼ teaspoon baking powder
⅛ teaspoon salt
¼ teaspoon vanilla
¼ teaspoon cinnamon
⅓ cup chocolate chips
Filling
1 stick unsalted butter, room temperature
1½ cup powdered sugar
¼ cup chocolate peanut butter
2 - 3 tablespoons heavy cream
Instructions
Cookies
Preheat the oven to 350 degrees.
Blend the oats until they form a fine powder. It is okay if you have large pieces of oat. Add the salt, cinnamon and baking powder
Mash your bananas. If you don't have ripe bananas, heat your bananas in the oven at 300 degrees for 10 minutes then mash.
Mix in the butter, then add the vanilla.
Add the oat flour mixture to the bananas. Fold in the chocolate chips.
Form your cookies - they should be about 1 - 1½ inches wide and approximately ¼ of an inch thick.. The dough does not really melt or change from the original shape you create, so keep this in mind.
Bake for 8 - 10 minutes
Filling
Cream the butter until it is light and fluffy.
Slowly add the powdered sugar ¼ cup at a time, making sure it is fully incorporated before adding in more sugar.
Add the chocolate peanut butter and mix well. Add in the heavy cream until the frosting is a nice smooth consistency, about 2 - 3 tablespoons.
Assembly
Top half the cookies with the filling and sandwich them with the remaining cookies.
Notes
Keep in an airtight container up to three days.