Black sesame ice cream is a sweet, nutty, and unique treat complemented with shards of chocolate studded throughout. You are going to fall in love with its fun color and rich, roasted flavor.
I've always been intrigued by black sesame ice cream. For a while I would see pictures on Instagram of large cones of ice cream with this wet cement grey ice thing and think: How freaking cool is that? I wonder how it tastes! There aren't any places near me that sell funky flavors like black sesame and black sesame isn't that easy to come by at stores either. Now you can find a bottle here and there are different stores, but they only seem to order small batches at a time because when I go back to buy some, they are sold out already.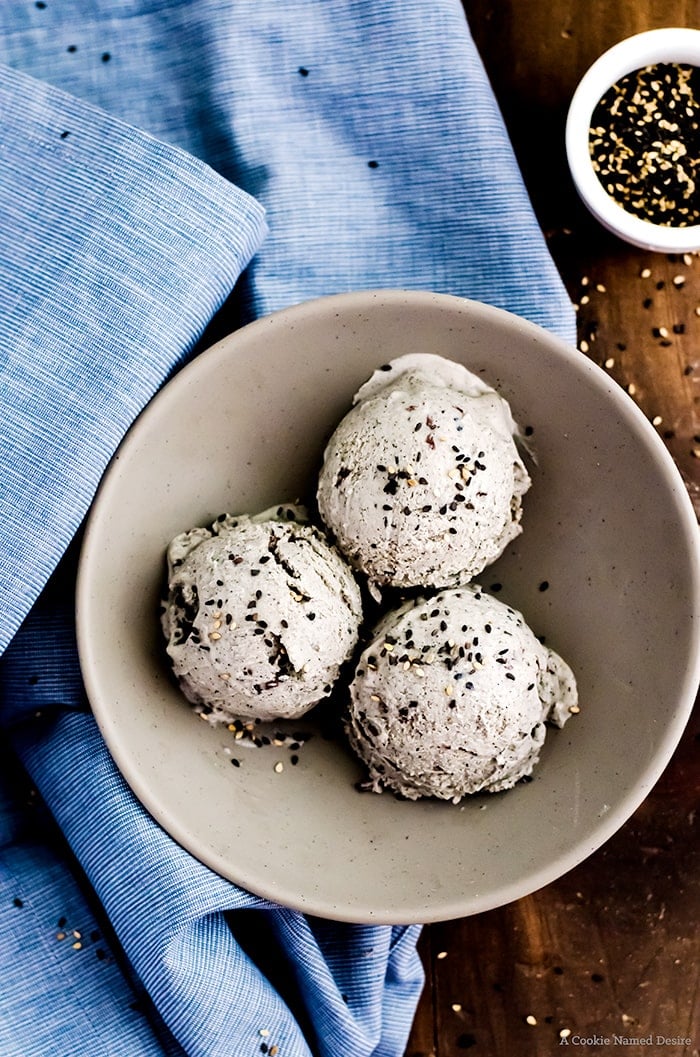 Finally, I received this black and toasted sesame mix from Rodelle. And you better believe I spent time actually separating the black sesame seeds from the toasted. Yeah, I've been told I am crazy more than a few times as I sat hunched over my kitchen table listening to Memory Palace and swiftly separating my sesame seeds. It was so worth the time and effort though! And to be honest, it's okay if you get a few toasted sesame seeds in the mix so I wasn't that meticulous.
It was worth it.
I decided that I would use the Philadelphia-style ice cream (the one I fell in love with after getting Jeni's Splended Ice Cream cookbook). I didn't want egg yolks to overtake the flavors of the sesame and thought the cream cheese would add a nice tanginess that would work well with the black sesame. I was right as it turns out. The finished ice cream ends up having a flavor similar to butter pecan, except with the distinct nuttiness of sesame. The chocolate adds a bit of decadence that keeps the sesame from being overwhelming.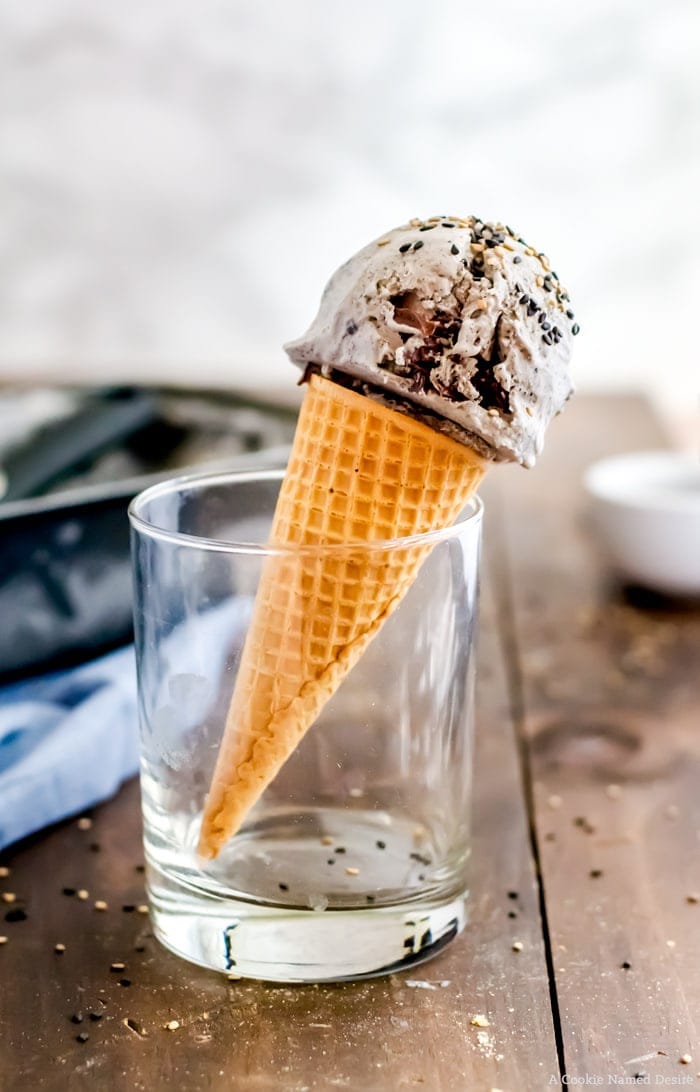 Don't have an ice cream maker? No problem! Learn how to make ice cream without an ice cream maker here.


Black Sesame Ice Cream with Chocolate Shards
Black sesame ice cream is a sweet, nutty, and unique treat complemented with shards of chocolate studded throughout. You are going to fall in love with its fun color and rich, roasted flavor.
Ingredients
Black Sesame Ice Cream
2

cups

whole milk

1 ½

tablespoons

cornstarch

Pinch

of salt

3

tablespoons

full fat cream cheese

softened

1 ¼

cups

heavy cream

⅔

cup

granulated sugar

2

tablespoons

light corn syrup

Black sesame paste

1

tablespoon

black sesame seeds
Instructions
Blend together until it forms a paste. Set aside in a small container.

Make the necessary ice cream preparations. This may mean freezing your ice cream maker insert for 24 hours beforehand. I also recommend freezing your ice cream container. Make an ice bath in a large bowl using more ice than water.

Take 2 tablespoons of the milk and the cornstarch and mix together in a small bowl to make a slurry. Set aside.

Mix together the salt and cream cheese into another small bowl and set aside.

In a large saucepan, add the remaining milk, heavy cream, sugar, and corn syrup together and mix. Bring to a boil on medium-high heat, stirring constantly for about 4 minutes.

Remove from heat then add the black sesame paste and the slurry. Mix well to combine. Bring back to the heat and stir for another 2 – 3 minutes, or until the mixture is thickened.

Slowly pour about ⅓ cup of the hot cream mixture into the cream cheese and mix well before transferring the cream cheese mixture back to the saucepan. Mix well to combine.

Pour the mixture into a large ziplock bag and place the bag in the ice bath until it is about 40 degrees F. I put my ice bath in the refrigerator to further help things along. Do not place ice bath in the freezer.

Pour the ice cream mixture and black sesame seeds into your ice cream maker and churn according to manufacturer instructions.

While the ice cream is churning, melt the chocolate and allow to cool slightly, but not harden.

During the last few minutes of churning (the ice cream should be thick now, but not quite ready to take out) Slowly drizzle the chocolate into the ice cream maker as it churns. This will freeze the chocolate and make it break up into small pieces throughout the ice cream. Save one tablespoon of the chocolate.

Pour the chocolate into your ice cream container. Drizzle thin strands of the remaining chocolate over the ice cream for visual effect (this step is completely optional!) Freeze for at least 3 – 4 hours.
Tried this recipe?
Tag me on Instagram! @acookienameddesire #acookienameddesire
Want more ice cream? Check out my pinterest ice cream board!
Follow Amanda | A Cookie Named Desire's board Ice Cream and Frozen Treats on Pinterest.