Black sesame ice cream is a sweet, nutty, and unique treat complemented with shards of chocolate studded throughout. You are going to fall in love with its fun color and rich, nutty flavor.
What are black sesame seeds?
Black sesame seeds are similar to white sesame seeds, but there are a few major distinctions that go beyond the color.
Typically, white sesame seeds are sold with their tan hulls removed, but black sesame seeds are sold with their hulls intact. Black sesame seeds are also more bitter, nutty, and have a greater earthiness. These qualities are what makes it a great accompaniment for many desserts.
Why you'll love it
Not only is this a beautiful and fun ice cream to see, it is complex and utterly delightful.
To keep the purity of the black sesame, this recipe utilizes the Philadelphia-style ice cream (from Jeni's Splended Ice Cream cookbook). So the flavor of the egg yolks won't overtake the flavors of the sesame while the cream cheese would add a nice tanginess that plays well with the black sesame. The finished ice cream ends up having a flavor similar to butter pecan, except with the distinct nuttiness of sesame. The chocolate adds a bit of decadence that keeps the sesame from being overwhelming.
It is a delicious treat that will delight anyone.
When I first developed the recipe, black sesame seeds were more difficult for people to find in the US, but luckily, they are more easily found in specialty stores and some major grocery stores. In fact, you can also find premade black sesame paste, which is great if you do not want to make your own paste at home.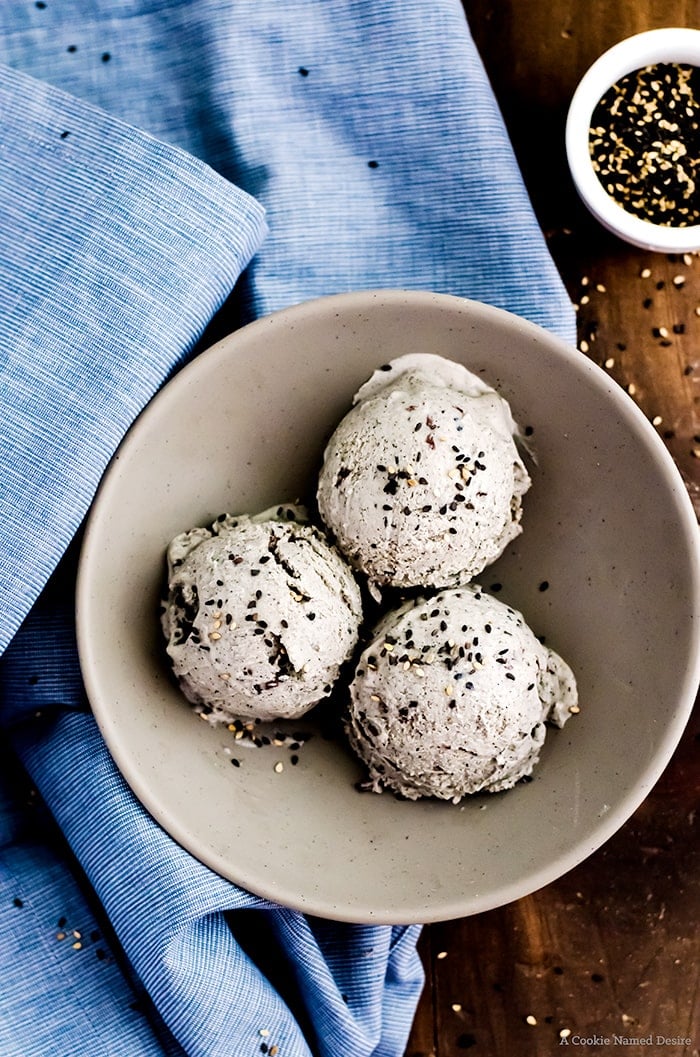 Key ingredients
This recipe is a Philadelphia-style ice cream base unlike a custard base like my homemade vanilla ice cream. There are a few key ingredients that are important to quickly review before making the ice cream.
Milk - To get the best mouthfeel, we need to use whole milk and heavy cream. I do not recommend substituting these ingredients.
Cream cheese -Full fat block cream cheese is the best thing to use here in this recipe. The reduced fat option has too much water content.
Cornstarch - Cornstarch helps to thicken the ice cream without the use of eggs along with the help of the cream cheese. You can substitute it with arrowroot starch.
Corn syrup - This is not high fructose corn syrup and is not something that is a negative to use in your recipes. It helps to reduce ice crystals in the ice cream and help keep it a delicious scoopable texture. If you are still concerned, you can substitute with honey, agave, or pure maple syrup.
Black sesame - There are no substitutes for the black sesame in this ice cream recipe. White sesame is not a suitable substitute and does not work as an ice cream flavor with this particular recipe.
Chocolate - For the best contrast, I recommend using dark or semi-sweet chocolate, but you can feel free to use any chocolate you like.
Making Black Sesame Paste
Black sesame paste is not the same as black tahini. Black tahini does not use toasted seeds and is typically unsweetened. When making a paste, you toast the seeds to help bring out the flavor even more. You also process it with honey so it is sweetened and ready to use for your desserts, or in this case, ice cream. It is a relatively simple process that doesn't take long to do!
Tips for making ice cream
Ice cream is one of my favorite things to make. I've often considered opening up my own ice cream shop. I love the different methods for making ice cream, and want to share some tips from my years of experience.
Have your tools ready and prepared. If you are using an ice cream maker with a base, you need to make sure it is prepared to manufacturer instructions, which oftentimes means freezing the base for 24 hours before you can add ice cream to it to churn. Luckily, you can make the ice cream a day ahead of time before churning, but it is best to have it ready in case you don't want to have to wait to be able to enjoy a scoop!
Have your ingredients measured out and at the right temperature before you begin. It makes the process so much more enjoyable and stress free. Knowing you are prepared also means so surprises or issues with the ice cream base which can happen if you are using cold cream cheese or accidentally dump the cornstarch directly into the milk instead of making a slurry.
Heat your milk slowly. Turning up the heat as you cook the milk and cream will make it more likely that it will burn on the pot. Slowly warm up the milk and make sure you frequently scrape the bottom and sides of the pot as you are stirring.
Be careful about introducing water into the ice cream while it is cooling. This is particularly important when you are putting it into an ice bath. The water will disrupt the water to fat ratio in the mix and may leave you with lots of ice crystals in your frozen ice cream.
Let the ice cream cool in the ice bath a bit before you put it into the refrigerator to minimize the heat from the freshly cooked ice cream from raising the overall temperature of the refrigerator because that will not only slow the process, but potentially do damage to other foods in your refrigerator.
Don't have an ice cream maker? No problem! Learn how to make ice cream without an ice cream maker here.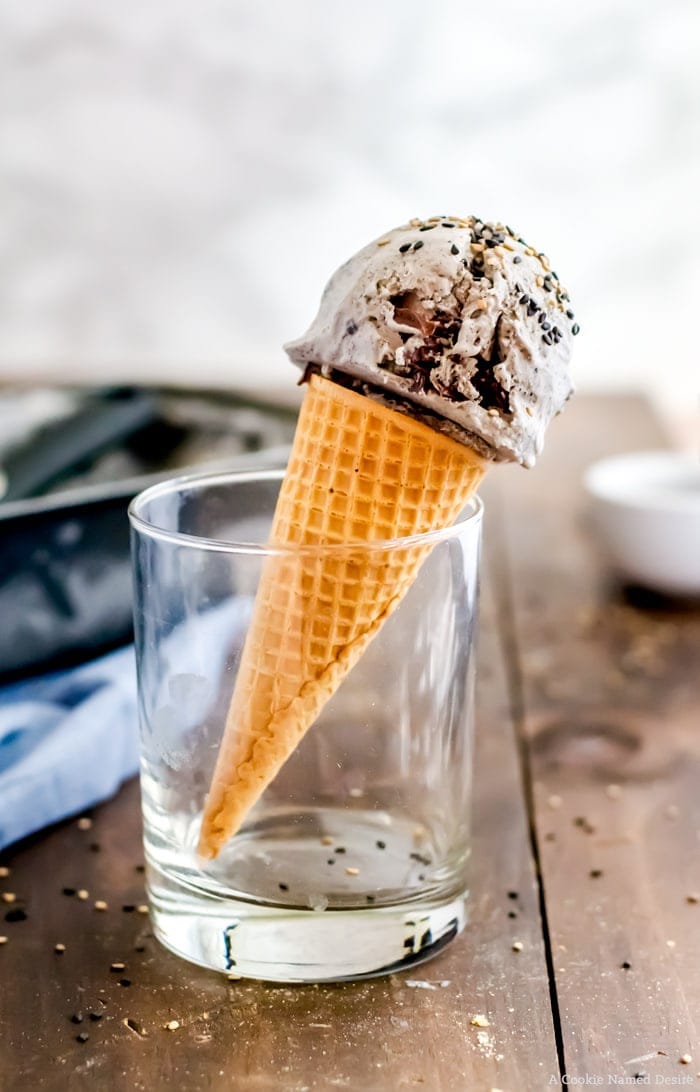 Recipe Card
Black Sesame Ice Cream with Chocolate Shards
Black sesame ice cream is a sweet, nutty, and unique treat complemented with shards of chocolate studded throughout. You are going to fall in love with its fun color and rich, roasted flavor.
Ingredients
Black Sesame Ice Cream
2

cups

whole milk

room temperature

1 ½

tablespoons

cornstarch

Pinch

of salt

3

tablespoons

full fat cream cheese

room temperature

1 ¼

cups

heavy cream

room temperature

⅔

cup

granulated sugar

2

tablespoons

light corn syrup

Black sesame paste

1

tablespoon

black sesame seeds

6

ouncesq

dark chocolate

may also use semi-sweet
Instructions
Add the black sesame seeds to a skillet and heat on medium-low until it begins to smell toasted and nutty. Add it to a food processor along with the honey.

Blend together until it forms a paste. Set aside in a small container.

Make the necessary ice cream preparations. This may mean freezing your ice cream maker insert for 24 hours beforehand. I also recommend freezing your ice cream container. Make an ice bath in a large bowl using more ice than water.

Take 2 tablespoons of the milk and the cornstarch and mix together in a small bowl to make a slurry. Set aside.

Mix together the salt and cream cheese into another small bowl and set aside.

In a large saucepan, add the remaining milk, heavy cream, sugar, and corn syrup together and mix. Bring to a boil on medium-high heat, stirring constantly for about 4 minutes.

Remove from heat then add the black sesame paste and the slurry. Mix well to combine. Bring back to the heat and stir for another 2 – 3 minutes, or until the mixture is thickened.

Slowly pour about ⅓ cup of the hot cream mixture into the cream cheese and mix well before transferring the cream cheese mixture back to the saucepan. Mix well to combine.

Pour the mixture into a large ziplock bag and place the bag in the ice bath until it is about 40 degrees F. I put my ice bath in the refrigerator to further help things along. Do not place ice bath in the freezer.

Pour the ice cream mixture and black sesame seeds into your ice cream maker and churn according to manufacturer instructions.

While the ice cream is churning, melt the chocolate and allow to cool slightly, but not harden.

During the last few minutes of churning (the ice cream should be thick now, but not quite ready to take out) Slowly drizzle the chocolate into the ice cream maker as it churns. This will freeze the chocolate and make it break up into small pieces throughout the ice cream. Save one tablespoon of the chocolate.

Pour the chocolate into your ice cream container. Drizzle thin strands of the remaining chocolate over the ice cream for visual effect (this step is completely optional!) Freeze for at least 3 – 4 hours.
Tried this recipe?
Tag me on Instagram! @acookienameddesire #acookienameddesire