This blueberry pie smoothie is like having a slice of your favorite summer dessert without the guilt. It's vibrant color is a sweet way to brighten your mornings! This post is sponsored by Almond Breeze. All thoughts and opinions are 100% my own. Thank you for supporting brands I love! 
Violet! You're turning violet, Violet!
That definitely in my top 5 favorite lines from Willy Wonka and the Chocolate Factory. It's fitting right now, isn't it? We actually call this the Beauregard Smoothie in my house because of how vibrantly violet it is. I think it's one of my favorite smoothies for the color alone. Of course, that isn't to say it isn't one of the best tasting smoothies I've made (but let's be honest, it's very hard to beat my avocado chocolate peanut butter smoothie) because oh my gosh I am in love with the way this blueberry pie smoothie tastes. I mean, hello, it tastes like a blueberry freaking pie!!!
Just like a lot of my smoothies, it's made to taste like it is decadent without actually being very high in calories. The worst of it is the granola which you can skip, but you will miss out on the full pie effect. But think about it, it's only 1 tablespoon of granola per serving and you are already probably going to end up having some granola later in the day anyway, ammiright?
My favorite addition to basically every smoothie I make is almond milk. I love the creaminess it adds to everything. If it isn't obvious, Almond Breeze is my favorite brand of almond milk to use. They are the official sponsor of Team USA Volleyball. I like to think the team would appreciate having a smoothie like this in the morning!
Blueberry Pie Smoothie Recipe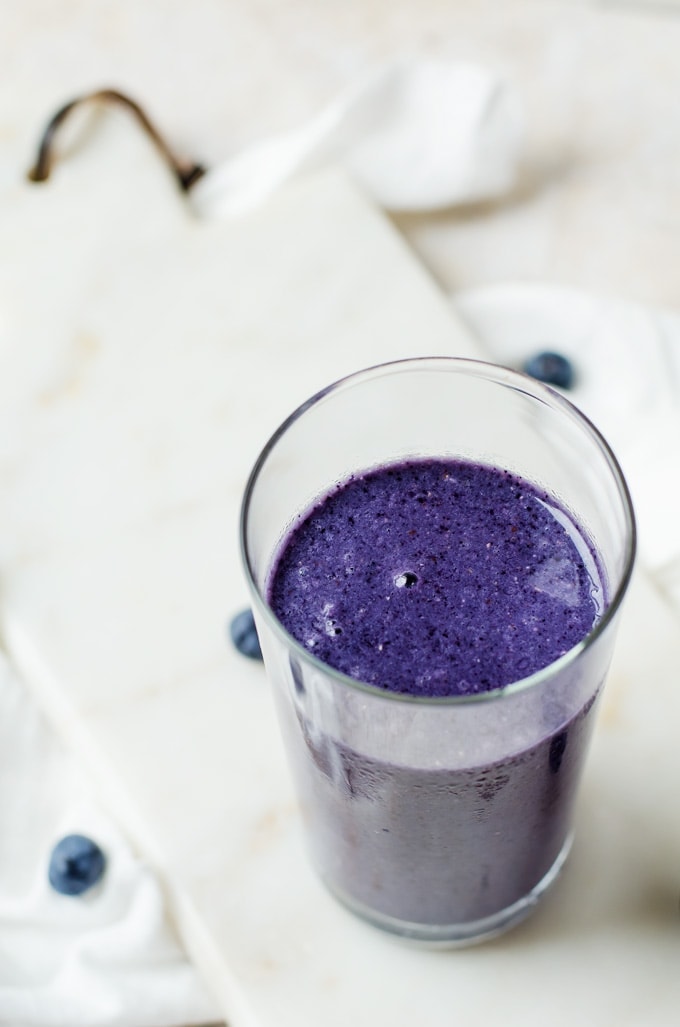 Blueberry Pie Smoothie
This blueberry pie smoothie tastes just like your favorite summertime dessert in a glass, minus all the extra calories!
Ingredients
1 large banana, frozen
1 cup frozen wild blueberries
1/4 cup vanilla granola
1/2 teaspoon dried culinary lavender (optional)
1/2 teaspoon lemon zest
1/2 teaspoon vanilla extract
1/4 cup plain Greek yogurt
1 1/2 cups Almond Breeze almondmilk
Instructions
Add all of the ingredients into a blender in the order shown.
Blend on low for about a minute, then slowly bring up the speed to high.
Once at high, blend for a minute longer until smooth and creamy.
Serve cold
This post is sponsored by Blue Diamond Almond Breeze Almondmilk. Almond Breeze believes in the best. That's why we only use Blue Diamond Almonds to make our almondmilk and why we're proud to be an official sponsor of USA Volleyball. Visit www.ServeUpYourBest.com for a chance to win $5,000 for the ultimate beach day, learn fun volleyball moves, get Almond Breeze coupons and smoothie recipes!