This post was sponsored by Blue Diamond. Posts such as these help keep A Cookie Named Desire going. Thank you for supporting my blog and the brands I love!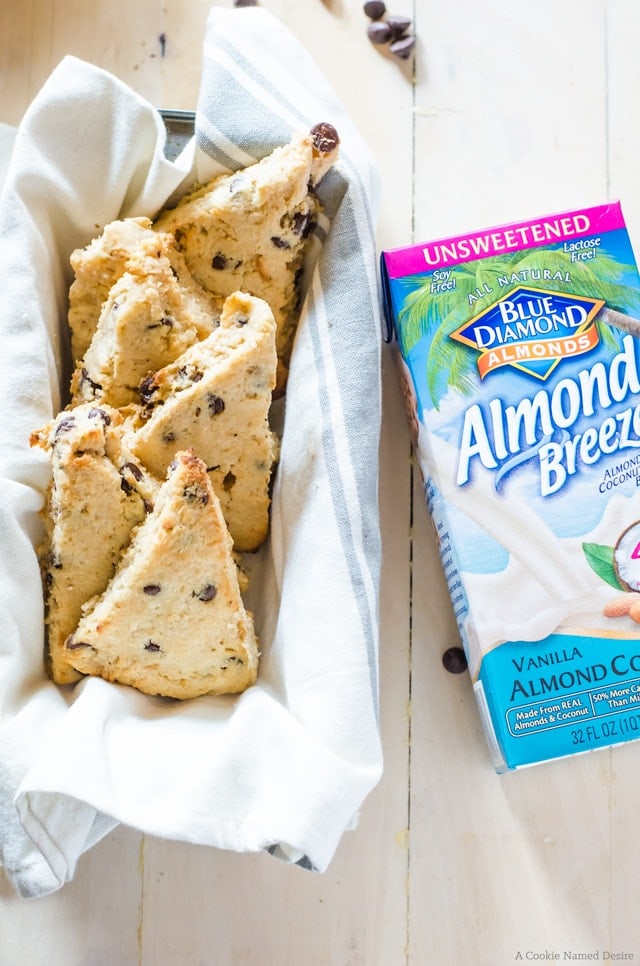 My daughter's started making books. She draws on a few notecards and uses tape to put them together and asks me to read them to her. They are the cutest thing ever. It's mostly pictures of her or me and doodles of hearts and her name along with a few other letters she knows how to write well. She loves to come up to me hiding a new story behind her back and go, "Oh hey, what are you doing? SURPRISE!" I love her stories, I really do, but she's already used up a pack of 200 notecards making I don't even know how many stories and they are piling up everywhere and I don't know what to do. I feel bad throwing them out, but finding a place to keep them is just too hard, especially with us packing things up and trying to cut down on stuff. Suggestions?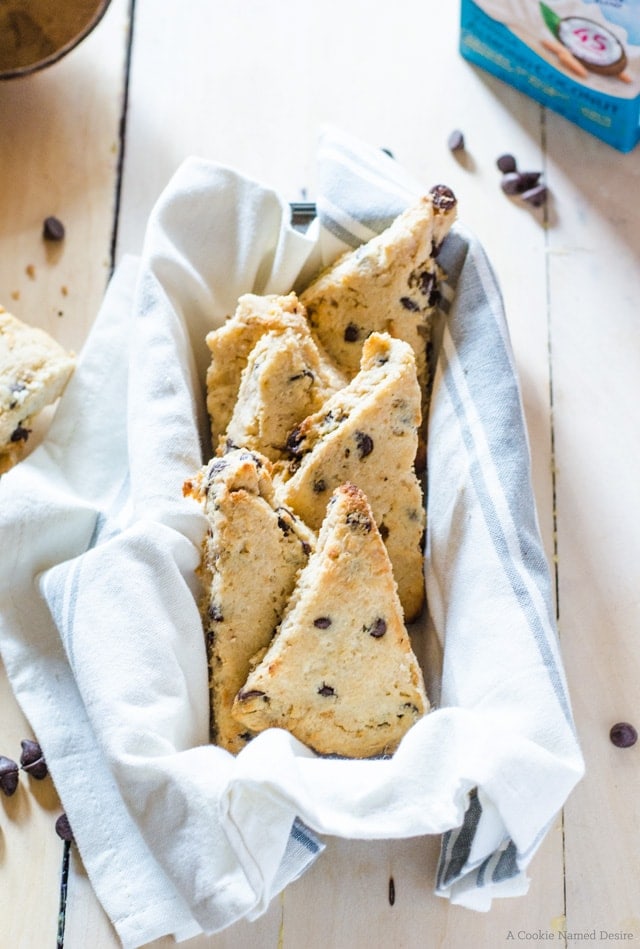 I made these scones a couple of weeks ago (you would have seen step by step instructions on Snapchat if you follow me) and I've made them three times since then. Each time the scones are gone within two hours of them leaving the oven. And that includes a very brief cooling time. These scones are nothing like what you may have tried in the past. They aren't the dry, crumbly scones you might be used to. These are soft and moist with a wonderfully tender crumb that melts in your mouth. It has a delicious sweet coconut flavor that is balanced out with nutty brown butter and sweet pockets of chocolate chips.
These scones are one of my favorites to make, right after my matcha white chocolate scones which I've been meaning to make for you. If you think you don't like coconut, you have to try these scones because I am sure they will convince you otherwise. They are so good I am confident they are the coconut converter of this century. Okay, maybe I am exaggerating. I just wanted to see if I could fit another "c" word into that sentence.
These brown butter coconut chocolate chip scones are also super easy to make, with little mess. I used one pan to brown the butter, one bowl to mix, and parchment paper on my baking sheet. That is it. You can have the whole kitchen clean while the scones are baking. Normally, I'd say you can wait until after, but with such small clean up, you won't even feel like you are cleaning anything. So get off your keister and get in the kitchen and make these scones!

Brown Butter Coconut Chocolate Chip Scones
Ingredients
1

cup

unsweetened shredded coconut

10

tablespoons

unsalted butter

1

cup

all-purpose flour

1 ¼

cups

coconut flour

1

tablespoon

baking powder

¼

teaspoon

salt

1

cup

Almond Breeze Almondmilk Coconutmilk Vanilla Unsweetened/li>

½ - ¾

cup

chocolate chips
Instructions
Preheat the oven to 300 degrees F. Line a baking sheet with parchment paper.

Place the shredded coconut on the parchment paper in a single layer and bake until toasted, approximately 8 - 10 minutes. Set aside to cool. Raise the temperature to 450 degrees F.

In a saucepan, heat the butter until it is melted. Heat the butter until it browns and begins to have a pleasant nutty aroma. Pour the butter into a large bowl and place in the refrigerator or freezer to solidify.

Score the solidified butter with a knife horizontally and vertically to form squares. Use a spoon to break out the butter from the bowl. You should have cubes of solidified brown butter in the bowl now.

Pour both flours, baking powder, salt, and shredded coconut (leave the parchment paper on the baking sheet) into the bowl and use a pastry cutter or two knives to cut the butter into the flour until it resembles large crumbs.

Create a well inside the flour and pour the coconut milk in the middle.

Use your hands to slowly work the milk and flour mixture together and it forms a dough. Do not over mix. Fold in the chocolate chips and work it in until it is evenly distributed.

Transfer the dough onto the parchment lined baking sheet and cut the dough into 8 pieces using a pizza cutter. Gently pull apart the scones so they do not touch.

Bake for 10 - 15 minutes, or until a light golden brown.
Tried this recipe?
Tag me on Instagram! @acookienameddesire #acookienameddesire