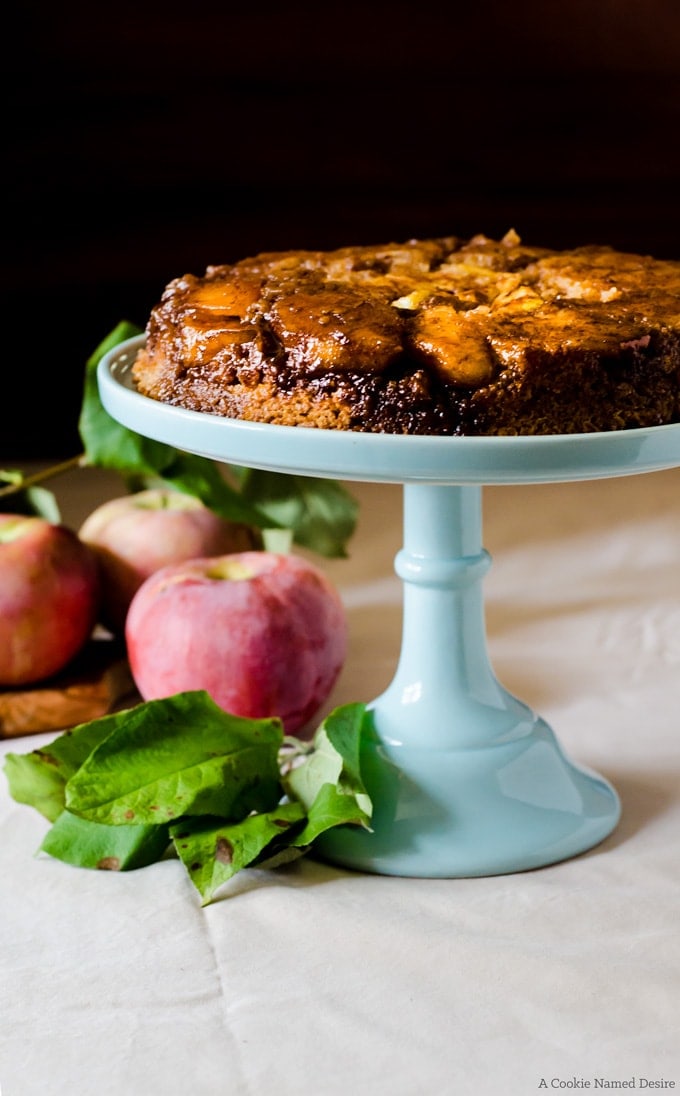 So this was the first thing I rushed to make after we went apple picking. I've been craving this cake all year and I waited because I knew I wanted to go apple picking and use those apples to make the cake. When we went to the main part of the farm to pick up our picking permits, I browsed through their pre-picked apple selection and I immediately fell in love with their Cortland and Staymared apples because they had that "dusty" looking coating that blueberries get (which actually helps them repel water) so we went directly to those orchards.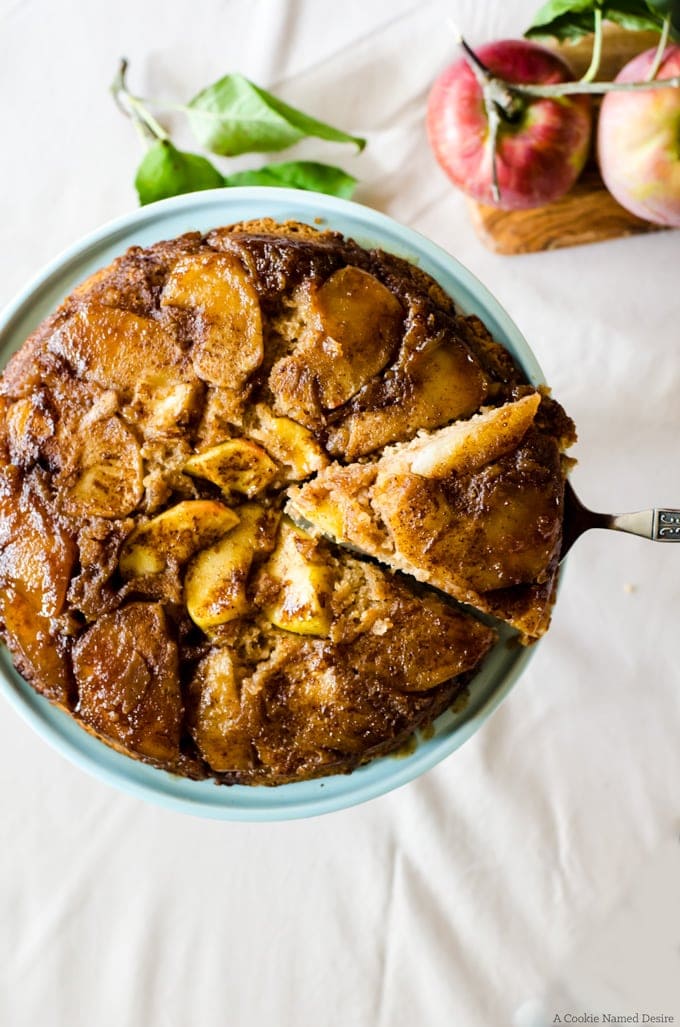 Now's about the time I explain to you that I am not naturally the outdoorsy type. I used to be when I was with Vlad, but I eventually went back to my hermit ways. I love the thought of having fun outdoor adventures. I just can't stand the heat and more importantly, bugs. Plus I am basically allergic to everything outside. So as soon as we reach the orchards, my allergies kicked which in turn started giving me issues with my asthma. And of course this happened to be the one time I take my inhaler out of my purse because the one I kept inside the house ran out. So I was huffing and puffing and trying not to start an attack in the middle of an apple field. At the same time, I didn't want to miss out on the opportunity to pick apples because it is so much fun.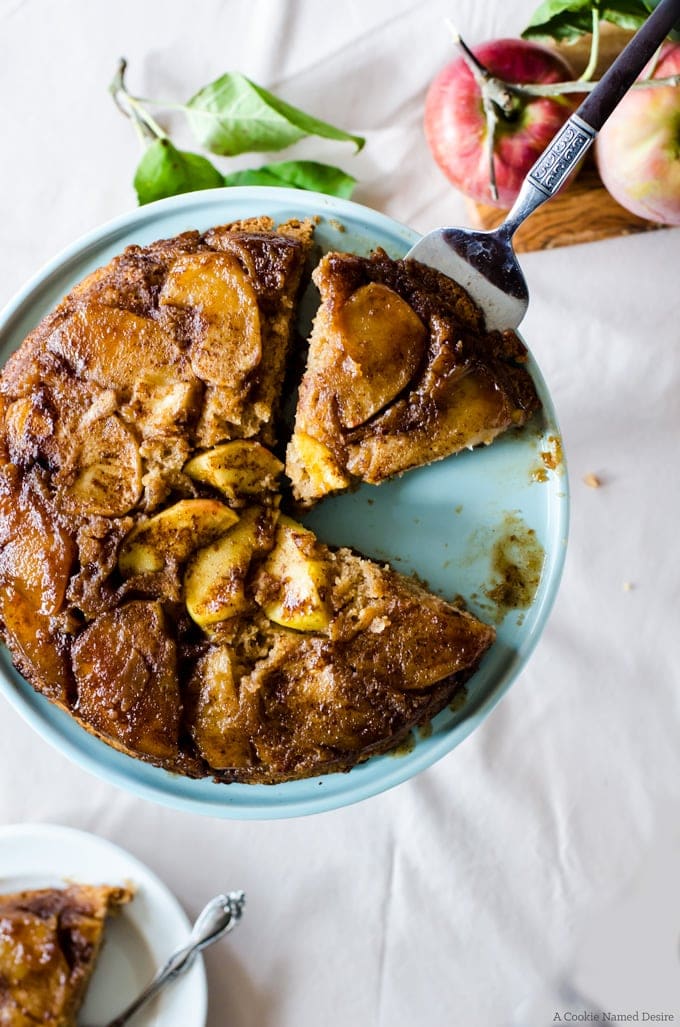 So here I am walking at a snails pace scared that I was going to have an asthma attack while searching through the trees for the best apples. And of course all the best ones had to be at the top, so I ended up picking my daughter up so she could grab them for me. We had a ton of tun at the end of it all and despite the fact that their apples were just over $1 a pound, I still ended up spending a ton on apples. I also bought some apple cider, peach cider, and apple cider doughnuts for us to munch on during the ride home.
We are actually going back today to go for a hayride and pumpkin picking. I love this particular farm because the hayrides are cheap and they come with the ability to pick one pumpkin AND you get a free apple cider doughnut and apple cider. Suh-weet!
Anyway, the caramel apple upside down cake. Yeah. It's yummy caramel goodness that soaks right into a simple, buttery cake. But it's got apples, so it counts as a breakfast food. I recommend making at least two of these (the recipe is easily doubled or triples) because they don't last long. At least they didn't in my house. I made three. One for us, another for my grandmom and aunt (my grandmoms diabetic, so it's mostly so she doesn't feel left out) and one for the neighbors. Well... my family ended up eating two and a half over night. Oops.

Recipe Card
Caramel Apple Upside Down Cake
A fluffy and decadent caramel apple upside down cake
Ingredients
1

cup

unsalted butter

room temperature, divided

1 ¼

cups

sugar

divded

2

teaspoons

cinnamon

divided

2

teaspoons

vanilla extract

divided

1

large apple

or two medium apples peeled and sliced to medium thickness

1 ½

cups

all purpose flour

1

teaspoon

baking powder

½

teaspoon

baking soda

½

teaspoon

ginger

½

teaspoon

cardamom

¼

teaspoon

nutmeg

¼

teaspoon

cloves

¼

teaspoon

salt

½

cup

brown sugar

2

large eggs

room temperature

½

cup

nonfat Greek yogurt
Special Equipment
Instructions
Preheat the oven to 350F. Take out a 9-inch cake pan and lightly grease.

In a skillet, heat half the butter until melted and slightly bubbly. Add one cup of the sugar and cook until a caramel brown color. Add in half the cinnamon and vanilla extract and stir well.

Pour the caramel mixture into the baking pan and make sure it is spread evenly on the bottom.

Place the apple slices onto your baking pan over the caramel. They should be fairly close together, but not too tight. You might not need to use all of the apple slices, depending on the size of your apples. That's okay. They make a good snack while your cake is baking.

In a small bowl, mix together the flour, baking powder, baking soda, remaining cinnamon, ginger, cardamom and salt together. Set aside.

In a separate bowl cream the remaining butter and sugar together until light and fluffy. Add the eggs one at a time and beat well between each egg. Add in the remaining vanilla and the yogurt.

Pour the flour mixture into the wet ingredients and mix until combined. the batter should be quite thick.

Pour the cake batter over the apples and spread to the edges. Since the batter is so thick, it will take some gentle coaxing to get the batter to spread evenly. You don't want to work it too hard otherwise the apple slices will start moving around.

Bake for about 30 - 35 minutes, or until a toothpick comes out clean. Allow to cool for 10 minutes. Run a knife along the edges of the cake, then place a plate over the pan and carefully, but quickly turn over the pan and plate so that the pan is on top. Carefully remove the pan and the cake should come out easily. Wait 10 minutes before slicing.
Nutrition
Calories:
341
kcal
Carbohydrates:
46
g
Protein:
4
g
Fat:
16
g
Saturated Fat:
10
g
Polyunsaturated Fat:
1
g
Monounsaturated Fat:
4
g
Trans Fat:
1
g
Cholesterol:
70
mg
Sodium:
158
mg
Potassium:
77
mg
Fiber:
1
g
Sugar:
33
g
Vitamin A:
526
IU
Vitamin C:
1
mg
Calcium:
47
mg
Iron:
1
mg
Tried this recipe?
Tag me on Instagram! @acookienameddesire #acookienameddesire
linked up at Miz Helen Country Cottage