Carrot cake trifle... a wonderfully moist carrot cake packed with carrots and brushed with a ginger syrup is layered with tangy mascarpone filling and studded with candied pecans. 
This recipe for the carrot cake trifle comes from the Cook Beautiful cookbook. It's a gorgeous cookbook with amazing food that is actually easier to make than you initially may think. I was immediately, of course, drawn to the dessert section and the trifle was calling my name. I was craving carrot cake which almost never happens, so I knew I had to make it.
There are a lot of components to making her carrot cake trifle, but each part can be made well in advance. I ended up making it slowly over the course of three days just before Christmas when I didn't have much time to spend in the kitchen. Also, each part was very simple to make, so it was something I knew anyone could put together.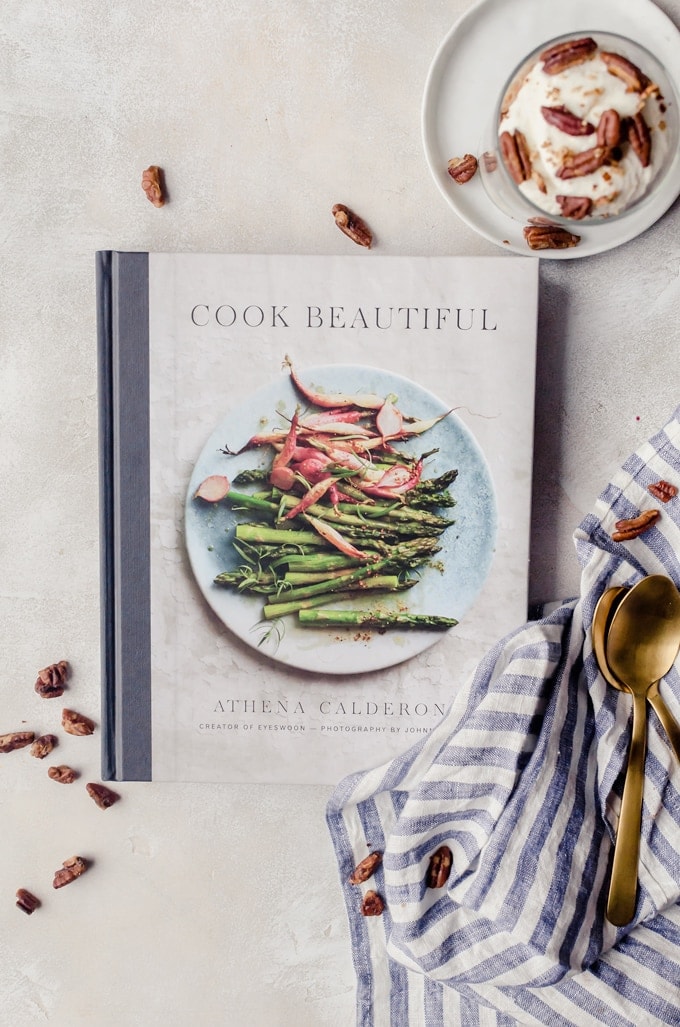 I adore the addition of the ginger syrup in the carrot cake. It keeps it so moist and adds such a nice kick of flavor. And the mascarpone frosting? It would be wrong of me to hide the fact that I did eat lots of it by the spoonful on its own. And I maybe used it to make little cookie sandwiches and top onto my waffles. It's so addictive! And I never made candied pecans on the stove before and now I wonder why not. It's so fast and easy. I've been making it on repeat.
These baby carrot cake trifles are a great way to feed a small crowd dessert. Or, if you are someone who likes a little something sweet at the end of the night, you can easily make everything you need for the trifles and make one as needed.
Recipe Card
Carrot Cake Trifle
Wonderfully moist carrot cake trifle packed with carrots and brushed with tangy mascarpone filling and studded with candied pecans. 
Ingredients
Carrot Cake:

2

cups

unbleached all-purpose flour

1

teaspoon

baking powder

¾

teaspoon

baking soda

¾

teaspoon

kosher salt

¼

teaspoon

ground ginger

½

teaspoon

freshly grated nutmeg

2

teaspoons

ground cinnamon

2

cups

packed light brown sugar

4

large eggs

at room temperature

1

teaspoon

vanilla extract

½

cup

canola oil

½

cup

apple sauce

1

pound

carrots

trimmed, peeled, and coarsely grated (about 3 cups of lightly packed cups)

½

cup

chopped walnuts

optional

½

cup

raisins

optional

Ginger Sherry Syrup

¼

cup

granulated sugar

¼

cup

water

¼

cup

dry sherry

1

inch

nub ginger

microplaned

Candied Pecans

4

tablespoons

butter

2

cups

pecan halves

¼

teaspoons

kosher salt

3

tablespoons

brown sugar

Mascarpone Cheese Frosting

14

ounces

mascarpone cheese

½

cup

powdered sugar

1

tablespoon

vanilla extract

Zest and juice 1 lemon

2

cups

whipping cream
Instructions
Preheat the oven to 375 degrees F. Line a 9 x 13 baking pan with parchment paper, leaving the sides of the paper to hang over the pan. 

In a bowl, mix together the flour, baking powder, baking soda, salt, ginger, nutmeg, and cinnamon together until well-combined. Set aside. 

In a mixer, beat the brown sugar and eggs together until light in color. Add in the vanilla and beat well. 

While the mixer is still running, slowly drizzle in the oil. Once the oil is fully incorporated, mix in the applesauce. 

Slowly fold in the flour mixture just until there are no lumps. Do not over mix. Fold in the carrots and the walnuts and raisins if using. 

Pour the batter into your baking pan and bake for 35 - 40 minutes, or until a toothpick comes out clean when inserted in the middle. 

Make the ginger syrup. Add the ingredients to a small saucepan and bring to a boil for about a minute. Set aside to cool.

Make the candied pecans. Add the butter to a skillet and heat on medium until it is browned and nutty. Add the pecans and stir. Add the salt and sugar and toss to coat. Cook, stirring frequently, until caramelized. Remove from heat and allow to cool completely. 

Make the mascarpone frosting. Add the ingredients to a stand mixer with the whisk attachment. Beat until it forms stiff peaks. 

Assemble. Add small holes over the cake and brush the syrup over the cake and allow it to soak in for a minute. Tear or cut squares of the cooled cake and begin creating layers of the cake, frosting, and pecans. End with the frosting and pecans on top. 
Tried this recipe?
Tag me on Instagram! @acookienameddesire #acookienameddesire