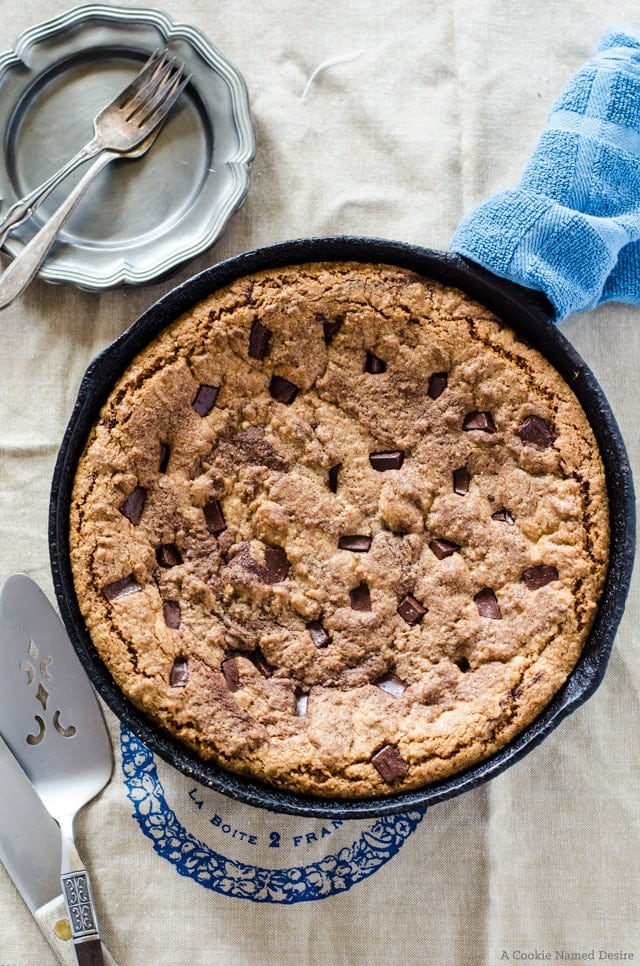 So, I've made it my mission to watchh all of the Netflix Original series. It's just some silly goal I made up since I am completely addicted to Netflix. It's what I have on when I am baking and even shooting photos and writing up posts. So far a lot of the series are pretty short - just a few episodes. I've finished about eight already and liked almost all of them and am totally obsessed with one called Sense 8. If you haven't seen it, you really need to watch it. Bonus: it has two of my favorite actors from Lost. I don't want to tell you what it's about because I am afraid I will undersell it. Just get on Netflix right now and put it on.
Actually don't. First you will need some snackage and will have to make this chocolate almond skillet cookie first.
After making a few recipes that involved melted chocolate, I found I would greatly over-estimate how much I needed and had a lot of leftover melted chocolate on my hands. Now, a big part of me just wanted to start eating it by the spoonful and adding it to everything, but the rational side told me to try and use it another way. That was the side that won over today and I am pretty happy that it did.
I am a hoarder of food. In addition to diligently holding onto this chocolate. I've also held onto bits of flour I used in other recipes. Some of it enough to use to create whole new recipes, but most of them not so much. I decided to use this as an opportunity to use up some graham flour I've had in the cupboard for months as well as two bags leftover almond flour I found. The end combination is ridiculous. It's nutty and chocolaty and chewy and crisp at the same time. It's a cookie party in your mouth.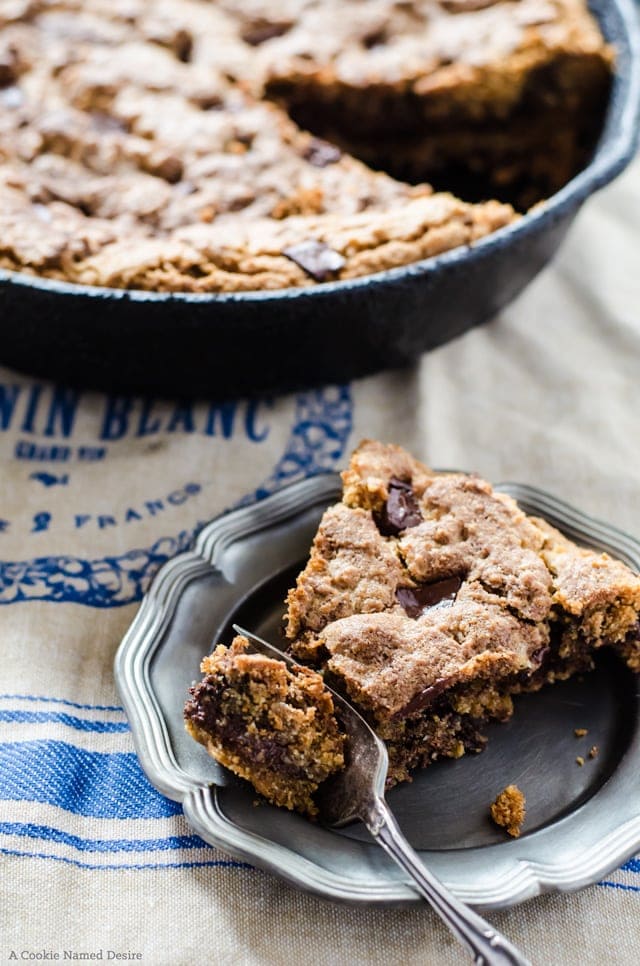 Okay, so go make this cookie, put on Sense 8, and tell me how you like it. Also, what are your favorite Netflix Original shows?

Recipe Card
Chocolate Almond Skillet Cookie
A rich skillet cookie that has a buttery, crispy outside and a soft, chewy inside. Gooey melted chocolate sandwhiched in the middle to create the ultimate cookie dessert. Devour on its own or with a scoop of ice cream.
Ingredients
1

cup

2 sticks unsalted butter, room temperature

⅔

cup

sugar

½

cup

lightly packed brown sugar

1

large egg

1

large egg yolk

1

teaspoon

vanilla extract

½

teaspoon

salt

1

teaspoon

cornstarch

1

teaspoon

baking soda

2

cups

graham flour

¾

cups

almond flour

6

oz

melted chocolate

⅓

cup

chocolate chunks
Instructions
Preheat the oven to 350 degrees F. Lightly grease a 12 inch cast iron skillet with butter.

Beat the butter and the sugars together until light and creamy.

Add the egg, yolk, and vanilla then beat well.

In a separate bowl, mix together the salt, cornstarch, baking soda, graham flour, and almond flour. Slowly add the flour mixture into the butter mixture and mix until just combined.

Add half the dough into the skillet and spread out evenly. Pour the melted chocolate over the dough and spread evenly over the dough, leaving a small border around the edges.

Top with the remaining cookie dough and gently spread across to the edges. Top with the chocolate chunks.

Bake for about 25 - 30 minutes, or until the top is golden brown, the center is not jiggly, and a toothpick inserted through the middle comes back fairly clean - some chocolate is okay, but no wet dough should stick.
Tried this recipe?
Tag me on Instagram! @acookienameddesire #acookienameddesire