I'm not even going to lie to you. I've had about five of these mini madeleines since setting out to write this post. I just can't help myself. Chocolate + chili is such a great combination. And I am obsessed with orange + chocolate. But I've already done that and I was sure that any citrus + chocolate would be good, so i made these and totally proved myself right. And.... now six of these chocolate chili madeleines with candied grapefruit are gone.

It's a good thing this recipe makes 100 mini madeleines. (Or maybe about 20 regular madeleines. To be honest, I'm not sure since I only have a mini madeleine pan.)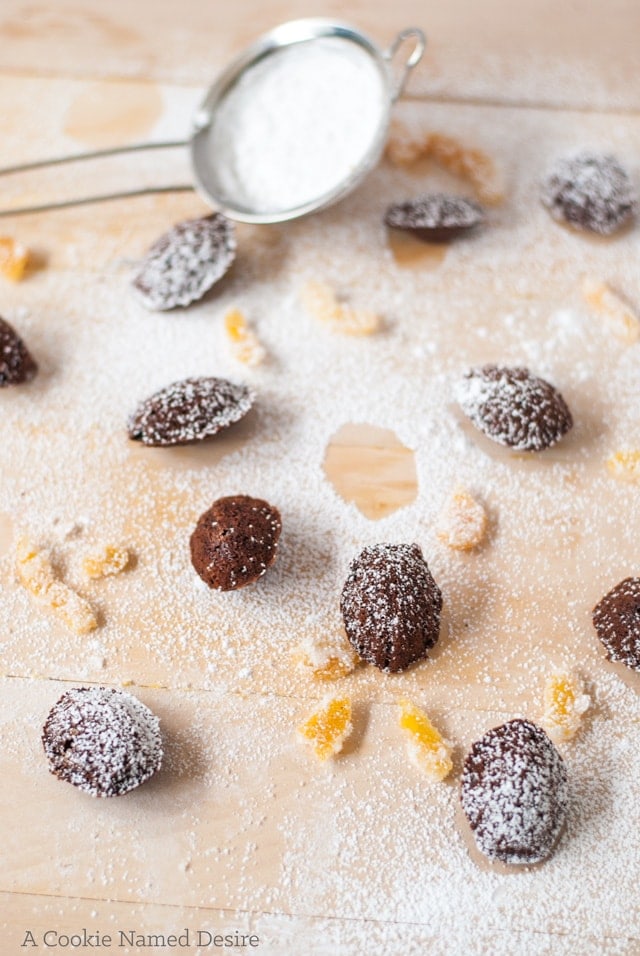 I seriously need some of this spiciness in my life. I mean, what is up with this weather? The water pipes in my kitchen all froze twice in one week. We've been putting an extra space heater in there to keep it warm, but it's obviously not enough. We are freaking out that the pipes would burst and with my luck lately, it just might.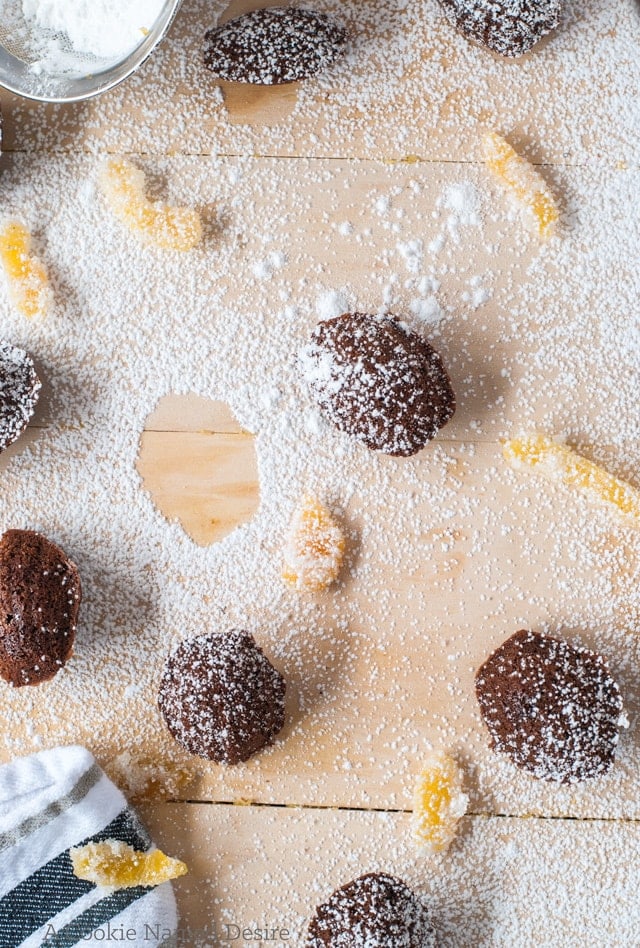 Ugh, speaking of bad luck... guess who just got called in to jury duty?
If you could see me right now, you'd notice some big eye rolls, groans, and then my 7th madeleine stuffed into my face.
I'm all for doing my civic duty and all, but, ugh. I just don't wanna right now. If I could get someone to go in my place, I would, but I don't think I could ever make enough to convince someone to go along with that.

That was a total tangent right there. Let's stop talking about depressing stuff and get back to these chocolate chili madeleines and how they are just so amazing. They've got this deep chocolatiness that balances out the subtle spice from the chili flakes. Then there's the candied grapefruit that adds a sweet, citrusy bite that brings it all together. Seriously, I can't get enough.

Recipe Card
Chocolate Chili Madeleines with Candied Grapefruit
Ingredients
Candied Grapefruit Peel
1

large grapefruit

¼

cup

sugar
Madeleines
8

tablespoons

½ cup unsalted butter, room temperature

⅔

cup

sugar

2

teaspoons

ground chili pepper

3

large eggs

room temperature

1

teaspoon

vanilla extract

1

tablespoon

grapefruit juice

1

cup

all-purpose flour

2

tablespoons

dutch process cocoa powder

½

teaspoon

baking powder

3

oz

melted dark chocolate

diced candied grapefruit peel
Instructions
For the Candied Grapefruit Peel
Remove the peel off the grapefruit. Try to remove it in as few pieces as possible. It should be about ⅛ of an inch in thickness. Cut the peel into thing slices about ¼ inch wide. Boil the peel in a small saucepan for about 5 minutes. Drain and boil again for another 5 minutes, or until the peel begins to look translucent. Drain well. Toss in the sugar and leave on a wire rack to cool and harden. When ready to use, dice roughly.
For the Madeleines
Beat the butter until smooth. Add the sugar and chili peppers and mix until light and fluffy. Add the eggs, one at a time, waiting until the last one is completely incorporated before adding the next. Add in the vanilla and grapefruit.

In a bowl, mix together the flour, cocoa powder, and baking powder. Slowly add to the wet ingredients and mix until it is just incorporated. Drizzle in the melted chocolate and mix until it is fully incorporated without over mixing. Fold in the diced grapefruit peel.

Lightly butter the madeleine pans and coat with a thin layer of cocoa powder. Fill the cavities and bake for 8 - 10 minutes. Remove from the pan and sprinkle powdered sugar over the cookies.
Tried this recipe?
Tag me on Instagram! @acookienameddesire #acookienameddesire