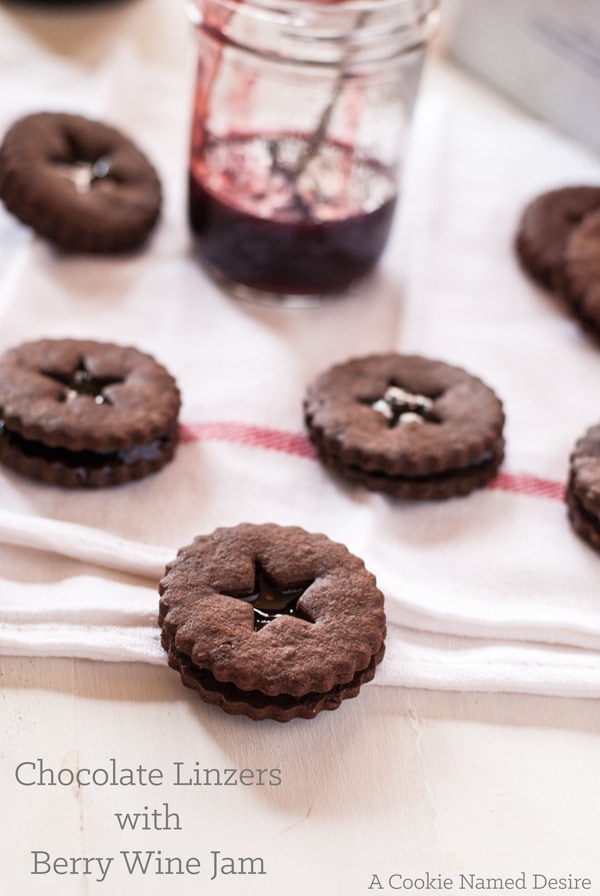 I've been waiting forever to share this recipe for chocolate linzers with berry wine jam with you!!! These are the cookies I made for the Great Food Blogger Cookie Swap and I was beyond nervous about joining since it was my first year and hello.... another food blogger is going to be tasting one of my recipes!!
What if they don't like it? What if they think my cookies suck and I should stop sharing my awful recipes with everyone? What if something happens in transit and the cookies suddenly go bad and I make someone sick?! What if my name is tarnished around the internet for life and I have to leave social media altogether?!?! Okay, so maybe I'm being a little dramatic, but I was seriously nervous about the prospect of having someone outside of my family and ex-coworkers trying my food first-hand.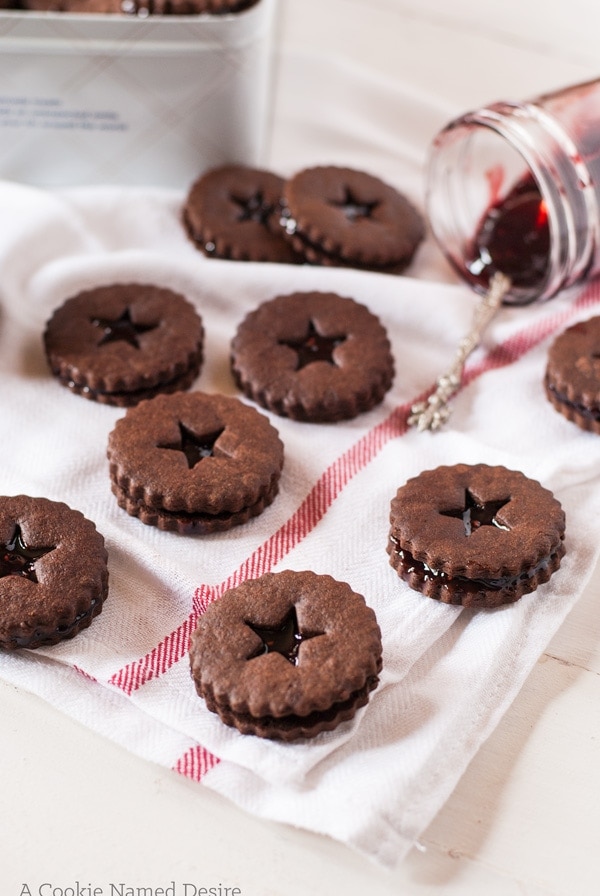 It took me for-ev-er to come up with a recipe. I was torn between doing something simple and more of a crowd-pleaser, but I also wanted to do something that showed off my personal tastes and let the recipient get a taste of the kind of cookies I enjoy. In the end, I decided the whole point of the cookie swap (besides raising money for a good cause), was to get to know another blogger and show a personal side of yourself and went with a cookie I love.
For as long as I can remember, my favorite cookies were the ones with the sticky jams. I would eat the cookie around the jam and then eat the jam last, or in the case of linzers, open up the cookies and eat the jam first. To this day, they are still my favorite type of cookies.
My idea was to create a grown-up cookie that the ladies I was sending them to could enjoy on their own as I figured their families may have already claimed the other cookies. I decided I wanted to make the jam a wine-based jam, then later I decided to pair a mix of berries in the jam to complement the flavors of the alcohol in case one of the bloggers wasn't a huge fan of wine. I was really worried that it would taste too much like wine and it would be a turn off to someone (to be honest with you, that is a huge turn on for me hahaha)
What I did not realize is that to make the jam suitable to put in cookies that were traveling around the country, I needed to make sure it was a very thick jam and would need to cook down the jam more than I normally would (I am using gelatin instead of pectin in this recipe just so you know. There is no particular reason for this except that I wasn't able to get my hands on pectin when I started baking). so in my opinion, the wine ends up being a very subtle flavor that blends perfectly with the berries. I could not have asked for a better jam.
While I was still in the planning process, I decided a chocolate linzer would also work well with the flavors of the wine and I was right! I think a plain vanilla linzer would not show off the deeper flavors of the wine as well.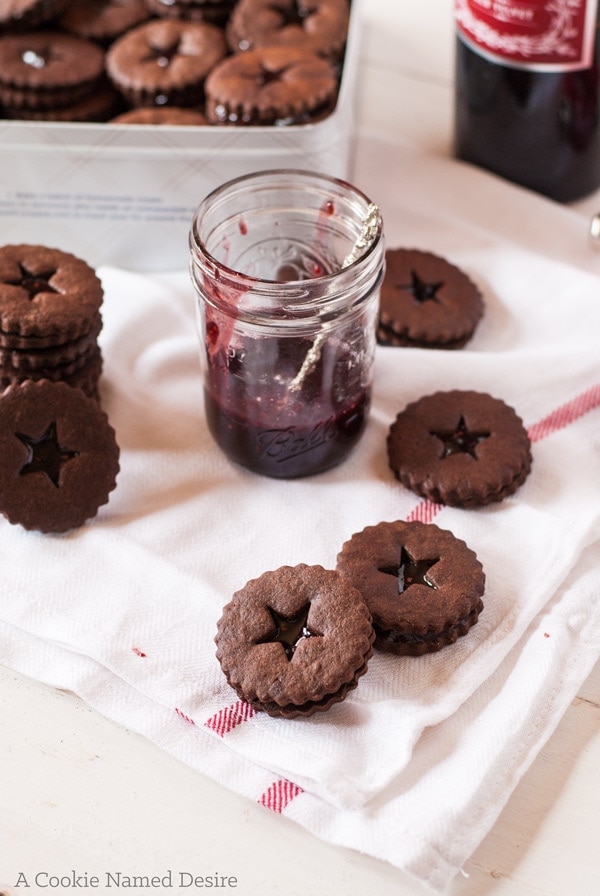 I really hope you enjoy these cookies and decide to make them for your loved ones this holiday season!

Recipe Card
Chocolate Linzers with Berry Wine Jam
Ingredients
3

cups

all-purpose flour

1

teaspoon

salt

½

teaspoon

baking powder

1

cup

16 tablespoons unsalted butter, room temperature

¾

cups

granulated sugar

½

cup

unpacked brown sugar

2

large eggs

1 ½

teaspoons

vanilla

⅔

heaping cups dutch processed cocoa

powdered sugar

optional
For the Jam
2

heaping cups berries

I used frozen antioxidant mixed berries from Target

2

cups

red wine of your choice

plus 4 tablespoons divided (I used Red Velvet from Cupcake)

2

cups

sugar

zest of lemon

juice of half lemon

2

teaspoons

powdered gelatin
Instructions
To Make the Cookies
Whisk together the flour, salt, and baking powder together. Set aside

In a mixing bowl, beat the butter and sugars together until light and creamy. Add the eggs and beat well. Beat in the vanilla and cocoa powder. until everything is creamy and a nice chocolate color. Scrape down sides as needed.

Slowly add the flour in batches until completely incorporated. Divide into two balls and turn each out on sheets of plastic wrap. flatten and tightly wrap. Chill in the refrigerator for about 2 hours, or up to overnight.

Preheat the oven to 325 degrees F. Line baking sheets with parchment paper

Lightly coat your working surface with cocoa powder and roll out one sheet of dough until it is about ⅛ inch thick for a crunchier cookie, ¼ thick for a softer cookie. Use a linzer cutter to cut out your cookies. Reroll the scraps as necessary. Repeat with the second sheet of dough. Make sure you have an equal number of cookies with and without the decorative cutout centers. (I used the linzer cutter set from Wilton and love it).

Bake for 9 minutes and allow to cool completely on a wire rack.
To Make the Berry Wine Jam
Mix all the ingredients except for the 4 tablespoons of wine and gelatin in a sauce pan. Heat on medium-high and beat the berries until they are completely pulverized. Bring to a boil for about 10 minutes. Bring down to a simmer for another 5 - 8 minutes. While the jam is boiling. Bloom the gelatin with the four tablespoons of wine by mixing both together and setting aside for about 5 - 10 minutes.

Once the jam is nice and thick, turn off the heat and mix in the bloomed gelatin. Make sure it mixes completely in the jam. Transfer the jam to mason jars.

Fill a pot with water and boil. Place the jar in the boiling water and let the water boil for about 10 minutes. Remove the jar wipe clean and allow to cool completely.
Assemble
Put about 1 teaspoon of jam on the half of the cookies that do not have the cut out centers. Top with the remaining cookies. Press gently down, but be careful to not let the jam spill out on the edges. If not mailing the cookies, top with a generous amount of powdered sugar if desired.
Tried this recipe?
Tag me on Instagram! @acookienameddesire #acookienameddesire