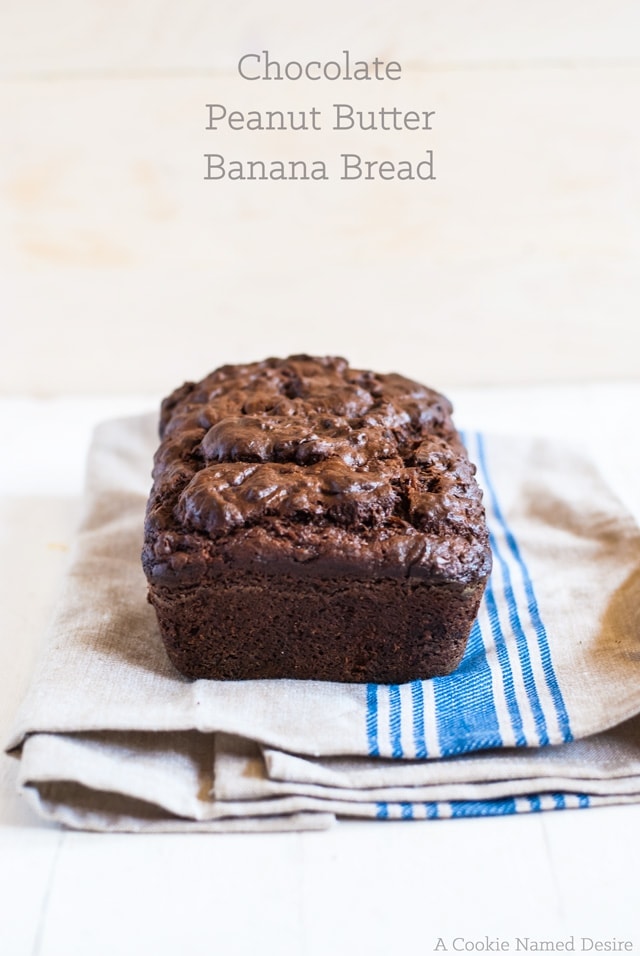 Guys, this bread. Oh my gosh, this bread. It rules my kitchen right now. It's the bread that everyone begs for day in and day out. It's that chocolaty peanut buttery banana-y goodness from which dreams are freaking made. I cannot get over how much I love this bread.
Before I start really talking about the bread, I wanted to throw in quick update that I forgot to mention earlier. I had my little get together with my friends and it was really well. The sparkling wine and profiteroles were a huge hit. I went simple with the food and served prosciutto, melon, tapenade, crusty bread, and all the regular appetizer small party type of food. It was really good to see everyone and have some adult time together. I really want to try and do stuff like that more often!
Originally, this bread wasn't even supposed to make it to the blog. After I tasted it and my family tried it, we all knew I had to put it up on the blog. Plus, since they already inhaled the first loaf, it meant I would have to make a whole other loaf to photograph. Fortunately, my family was so kind enough to offer to eat said second loaf…. it was gone before dinner.
I think simple bread like this with amazing comforting flavors needs to be featured more on this blog. What do you think? Cause I can think of a million things I want filled with choco-pb-banana deliciousness. And bonus: it is so quick and easy to whip up the bread. The hardest part is waiting for the bread to finish baking which becomes almost impossible once you start to smell all the flavors in the bread. I swear I could wear that scent as perfume,
This bread is nicely moist thanks to the roasted banana (FYI, you can use over ripe bananas here, I just love the brighter flavors of the roasted banana in general) and is perfectly balanced by the chocolate and peanut butter. You can also sub the peanut butter with almond butter and/or replace the flour with a nice gluten-free flour (I adore Bob's Red Mill gluten free flour)



Yield: 1 loaf
Chocolate Peanut Butter Banana Bread
Prep Time 15 minutes

Cook Time 1 hour 10 minutes

Total Time 1 hour 25 minutes
Ingredients
3/4 cup (1 1/2 sticks) unsalted butter, softened
3/4 cup sugar
2 large eggs, room temperature
1 teaspoon vanilla extract
1 teaspoon chocolate extract (optional)
3 large bananas, roasted and smashed
3/4 cup peanut butter
2 tablespoons oil
1 1/2 cups all purpose flour
1/4 cup, plus 2 tablespoons cocoa powder
1 teaspoon baking soda
1/2 teaspoon salt
1/3 cup chocolate chips
Instructions
Preheat the oven to 325 degrees F. Grease and flour a 9 x 5 inch loaf pan.
Beat the butter and sugar together until light. Add in the eggs and beat well before mixing in the extracts. Beat in the bananas, peanut butter, and oil then mix until thoroughly incorporated.
In a separate bowl, mix together the flour, cocoa powder, baking soda, and salt together. Slowly mix in the flour and mix until just incorporated. Fold in the chocolate chips.
Pour the batter into the loaf pan and bake for approximately 65 - 70 minutes, or until a toothpick comes out clean after being inserted in the middle of the loaf. You may need to cover the loaf with aluminum foil after about 60 minutes to prevent over browning.