Enjoy fortune cookies in a whole new way with these chocolate-covered homemade fortune cookies with a peanut butter drizzle. These are great for parties and to celebrate Chinese New Year!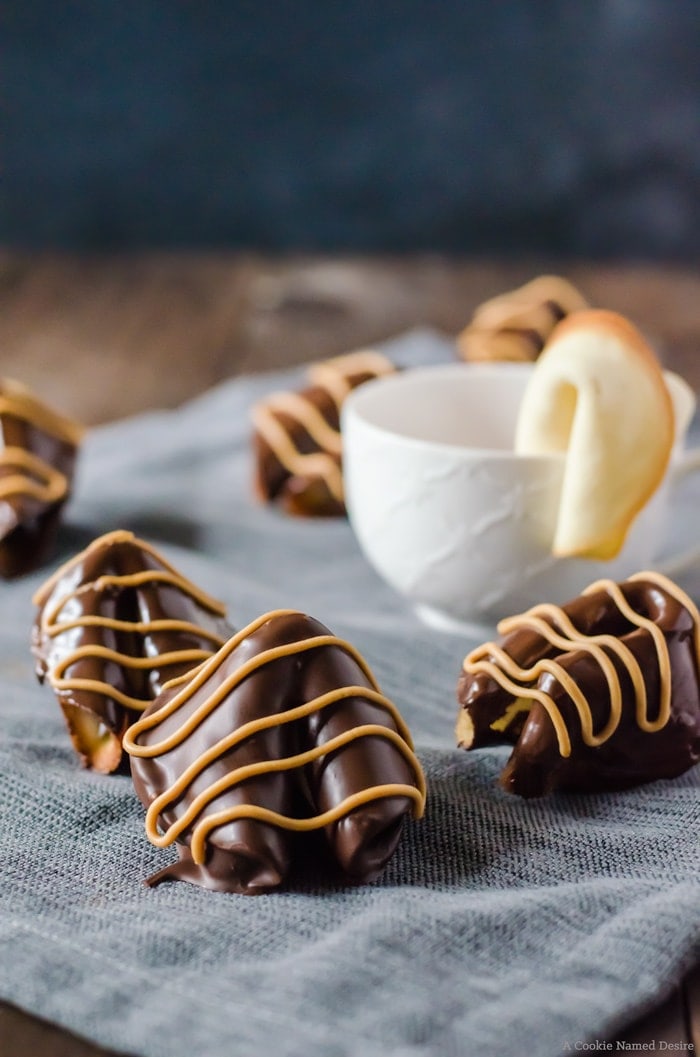 I remember the first time I really celebrated Chinese New Year. I was in university taking a photojournalism class. I loved it, and as it turned out, it was something I was fairly good at. One of our assignments was to cover the Chinese New Year celebrations in Chinatown. I was excited because I was able to really immerse myself in the celebration. I arrived hours before the festivities began to watch everyone set up. And I was able to get the best spots when the performers came and the dragons filled the streets. I remember there being so many people, I had to struggle to get my arms up to take photos as oranges were thrown about and the dragons danced and food was freely passed around. The fireworks and music pounded away so loudly, you could barely hear your own thoughts. I fell in love with two brothers under a bright red dragon as they leaped from pole to pole 10 feet up in the air then batted those large dragon eyes in silent flirtation.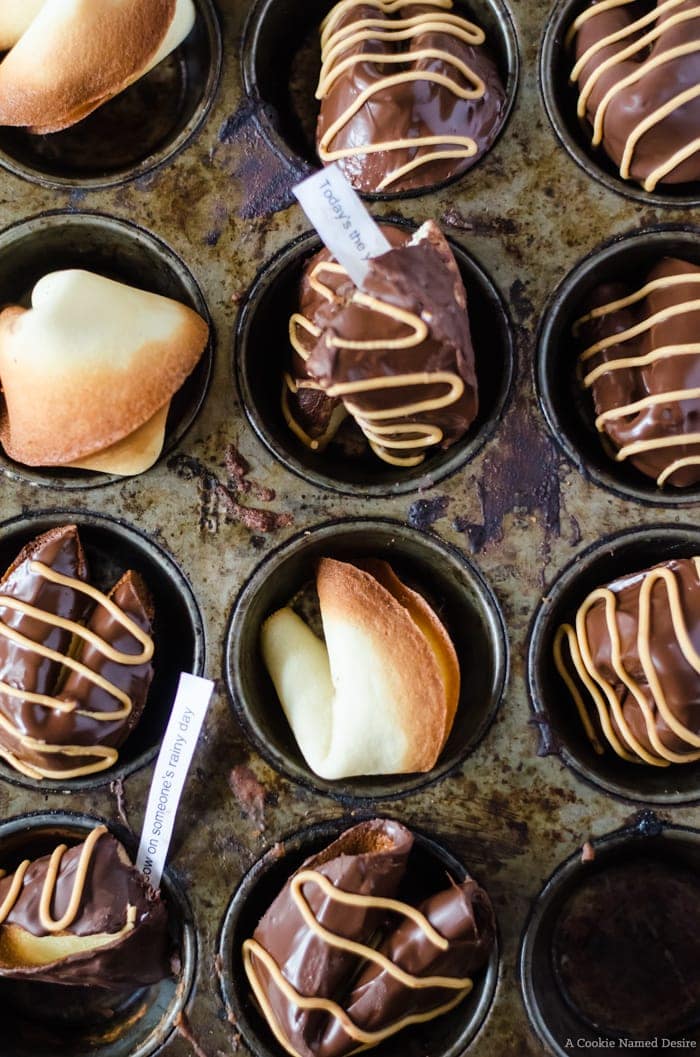 It was one of the best days of my life.
During the day, in one of the shops, someone made fresh fortune cookies for the tourists. I was mesmerized by how quickly he worked. Ever since, I've always wanted to make my own homemade fortune cookies. As it turns out, making fortune cookies is not as difficult as you may think. It is basically a tuile cookie. The trick is to work quickly and have your materials handy right after you take the cookies out of the oven because it stiffens quickly. You may need to sacrifice your fingers a bit in order to fold the cookies at their most pliable, but it is worth it!
My favorite part about making homemade fortune cookies is making up the fortunes. They ranged from inspiration, to funny, and even a few ominous ones I gave to my sisters. In a few, I also added in my favorite movie quote and song lyrics. My best recommendation is to make sure the strips you cut aren't too thin. The fortunes also sometimes stick to the hot cookie, so I like to form the cookie into a fortune, quickly unfold it to readjust the fortune, and refold again. It all has to be done in under a minute or else the cookies will begin to crack as you fold.
And since I cannot leave well enough alone, I thought it would be fun to dip the cookies in chocolate and then drizzle with melted peanut butter chips. It's East meets West. And it is delicious.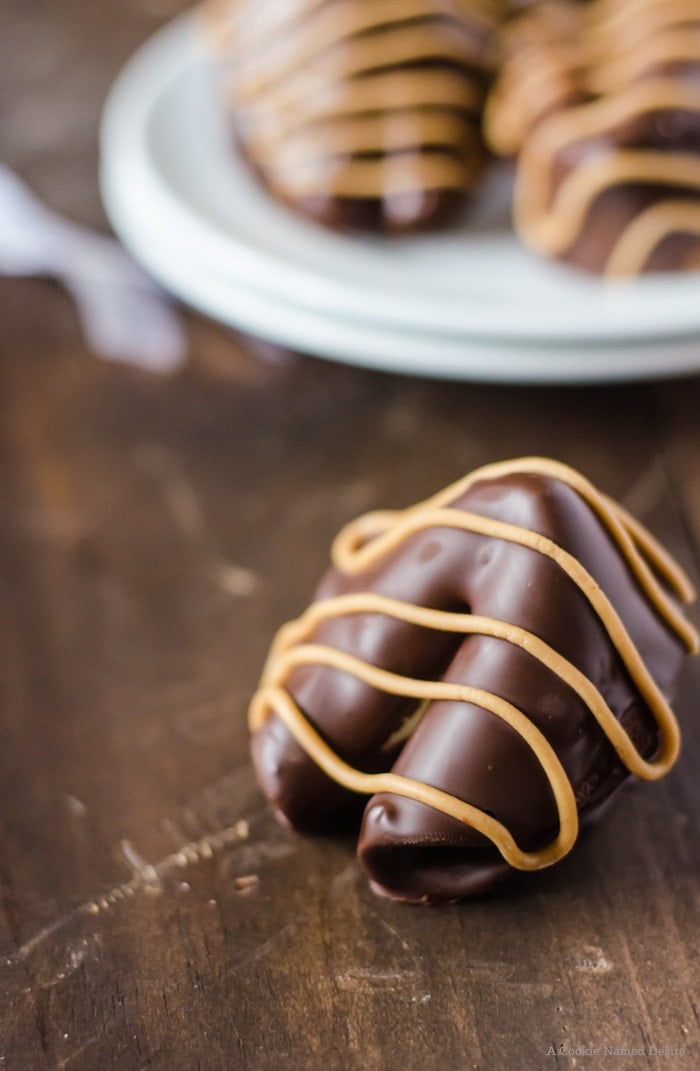 Recipe Card
Homemade Fortune Cookies in Chocolate
Super fun twist on fortune cookies
Ingredients
4

large egg whites

1

cup

granulated sugar

1

cup

all-purpose flour

¼

teaspoon

salt

5

tablespoons

unsalted butter

melted

3

tablespoons

heavy cream

1

teaspoon

vanilla extract

9

oz

dark chocolate

2

oz

peanut butter chips
Instructions
Preheat the oven to 400F. Line a baking sheet with a silicone baking mat - not parchment paper!

Beat the egg whites and sugar together on medium for a minute, then add the flour, salt, butter, heavy cream, and vanilla. Beat until smooth.

Pour a couple of tablespoons of batter onto the baking sheet and spread out until it is a circle about 5 inches in diameter. Repeat to fit another round on the baking sheet.

Bake for 5 - 7 minutes.

Work quickly! Remove the baking sheet, run an offset spatula under the cookies. Add your fortune cookie to the middle of the cookie. Fold each cookie in half, and then fold to point the two ends of your semi circle together to make the shape of a fortune cookie. You can use the rim of a cup to help make that shape. Place the fortune cookie in a muffin tin to hold its shape.

Repeat with the remaining batter, making only two cookies at a time.

Place the chocolate in a microwave safe bowl and heat on 50% power for 30-second intervals, mixing well between each interval until the chocolate is fully melted.

Dunk the fortune cookies into the chocolate, then leave on a sheet of wax paper to dry.

Melt the peanut butter chips in the same manner as the dark chocolate. Place in a piping bag with a small round point, or in a sandwich bag with a tip cut out and drizzle the peanut butter over the chocolate. Allow to dry.
Notes
recipe adapted from Martha Stewart
Nutrition
Calories:
194
kcal
Carbohydrates:
28
g
Protein:
2
g
Fat:
12
g
Saturated Fat:
7
g
Polyunsaturated Fat:
1
g
Monounsaturated Fat:
3
g
Trans Fat:
1
g
Cholesterol:
15
mg
Sodium:
44
mg
Potassium:
135
mg
Fiber:
2
g
Sugar:
17
g
Vitamin A:
167
IU
Vitamin C:
1
mg
Calcium:
17
mg
Iron:
3
mg
Tried this recipe?
Tag me on Instagram! @acookienameddesire #acookienameddesire