Simply irresistible chocolate stout macaroons with a wonderful balance of dark chocolate stout and chocolate to create an unforgettable macaroon. 
I was going through the blog earlier and realized I never shared a macaroon recipe with you. This is kind of a shame because there was a time in my life where I basically ate macaroons like it was my job. There were these raw, vegan lemon pie macaroons that I was addicted to. I had about four of them a day until that really expensive habit got to be too much for me! A bag only had about 4 - 5 macaroons and cost almost $7 so that on top of another snack craze that was equally as pricey, I had to stop.
Now these chocolate stout macaroons are not remotely like those macarons. Not raw. Not vegan. And not expensive to make. These are cheap, totally sinful macaroons that you are going to want in your life stat. It's boozy and chocolaty and chewy and just the best thing you will ever take out of your oven. The best part is that with the chocolate stout, it makes it a very "dude-friendly" dessert that is perfect for Game Day! You can use a regular stout in these macaroons, but I tried Brooklyn Brewery Chocolate Stout and oh my gosh it's so good in this macaroon. If you can get your hands on it, use it!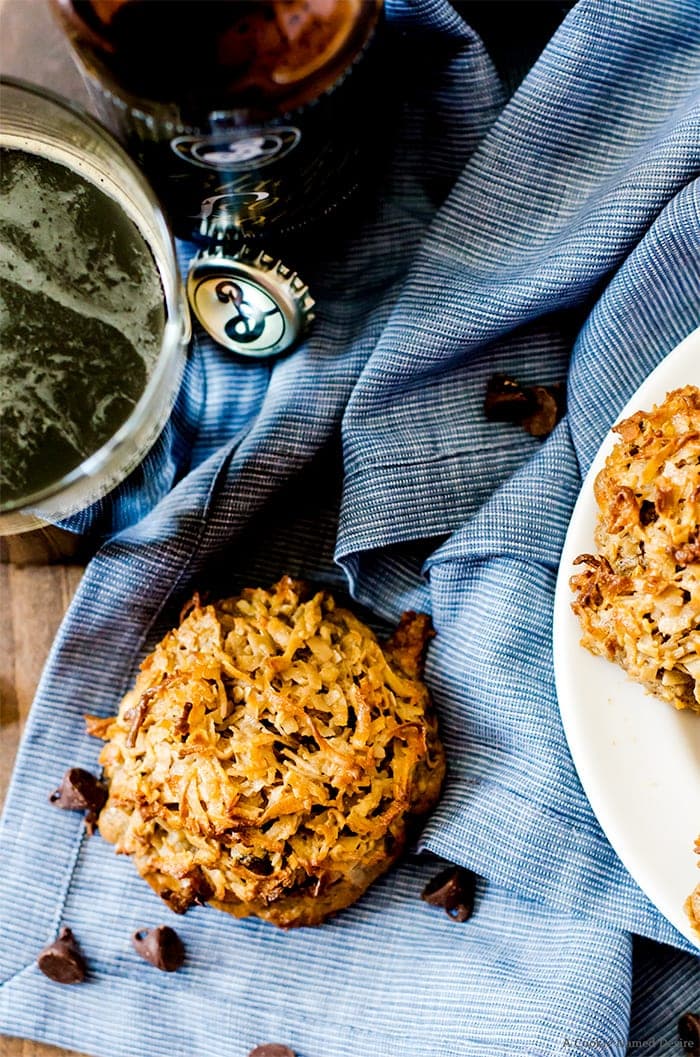 I thought about drizzling more chocolate on top of the macaroons to make them prettier, but I found the extra chocolate overwhelmed the flavor of the stout. If you want to do the drizzle, I recommend using ½ oz - 1 oz of melted chocolate to lightly drizzle.
Note: Typically, macaroons are small treat you can finish in a couple of bites, but I prefer these chocolate stout macaroons almost as big as my hand, so I use a regular ice cream scoop to portion them out. The directions have the baking time for smaller macaroons, but you can make them larger to make about 14 macaroons and up the baking time for another 5 - 8 minutes.
Recipe Card
Chocolate Stout Macaroons
Ingredients
1 12

oz

bottle chocolate stout or regular stout

2

large egg whites

14

oz

sweetened condensed milk

2

tablespoons

cocoa powder

2

teaspoon

pure vanilla extract

Pinch

of kosher salt

14

oz

shredded unsweetened coconut
Instructions
Preheat the oven to 350 degrees F. Line two baking sheets with parchment paper.

Pour the chocolate stout into a saucepan and reduce to 2 tablespoons. Set aside to cool.

Beat the egg whites in a bowl until they form stiff peaks.

Mix together the sweetened condensed milk, cocoa powder, vanilla extract, salt, cooled reduced stout, and coconut together in a separate, large bowl.

Fold the egg whites into coconut mixture until thoroughly combined.

Divide the coconut mixture to create 24 balls and space them about 1 ½ inches apart from one another on the baking sheets.

Bake for 20 - 25 minutes, or until they are a golden brown on the outside, and cooked at the bottoms - they shouldn't leave any bits behind when you take them off the sheet. Please read the post for tips on making larger macaroons. Allow to cool completely.
Tried this recipe?
Tag me on Instagram! @acookienameddesire #acookienameddesire