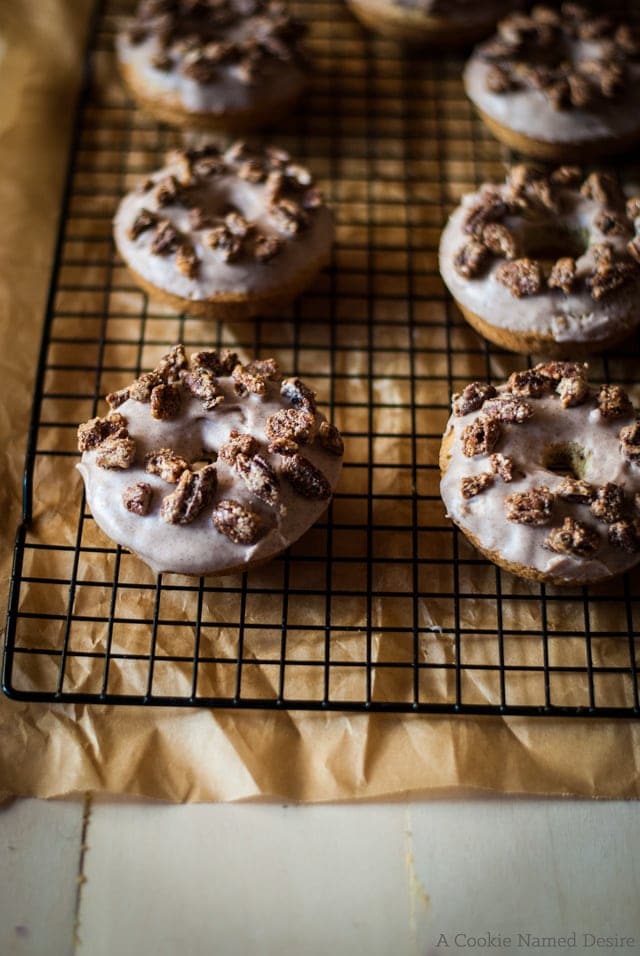 One of my biggest flaws with brainstorming and baking is that I tend to make things up as I go along. Sure, there are recipes that I plan out weeks in advance before even thinking about getting the ingredients necessary, but most of the time I tend to do things on the fly while I'm in the kitchen. It's not a bad thing, really. It just means it takes me longer than most people to complete a recipe

Take these triple cinnamon brown butter doughnuts with cinnamon pecans. I went into the kitchen with a simple idea: I wanted to make a baked doughnut. As I went along, I decided I knew I wanted to incorporate brown butter. Then I found cinnamon sticks I purchased and decided to make it cinnamon-based. The same thing happened when I saw I still had a few pecan halves around. What would normally take under an hour, took me nearly two hours to put together simply because I did things as I went along instead of planning which would have allowed me to use my time wisely. (ie: making the cinnamon pecans while the doughnuts were baking instead of sitting around watching Netflix. I mean, I'd still watch Netflix, but I would have also been making the pecans).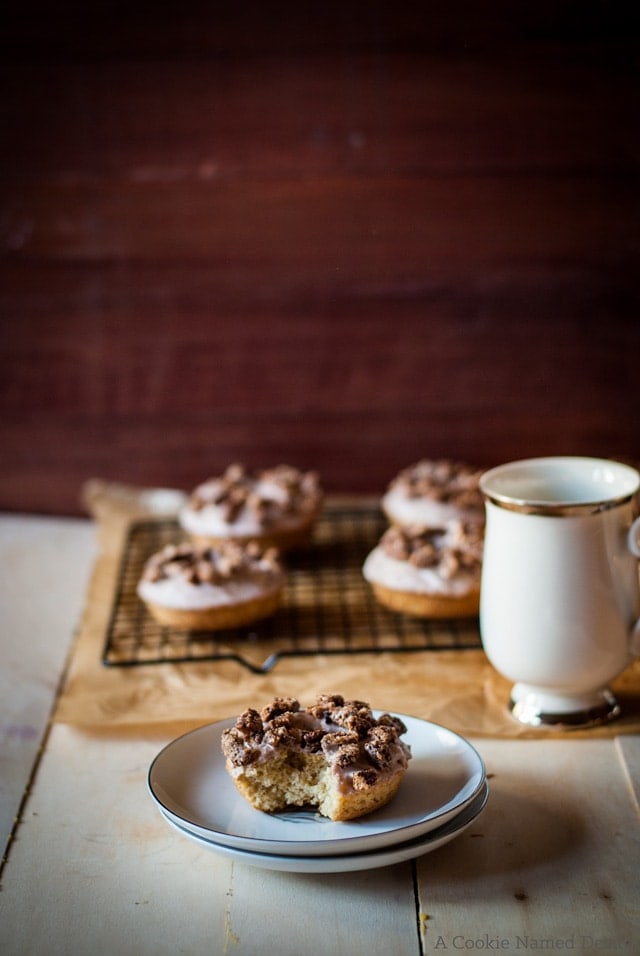 Regardless of my methods and how long it took me to make these doughnuts, I was so happy with what I made. These doughnuts are ba-ba-ba-bangin'! (Not to mention it won't nearly take you as long to make these doughnuts since I've laid everything out for you in advance.) If you love cinnamon, brown butter, and pecans, this is the perfect doughnut for you. Sweet, cinnamon spice, nutty brown butter, creamy cinnamon glaze, and the most beautiful candied cinnamon pecans. If you don't want to use fresh cinnamon, preground cinnamon is more than okay... cause I mean... they're doughnuts. 😉
Recipe Card
Cinnamon Doughnuts with Candied Pecans
Ingredients
For the Candied Pecans
2

tablespoons

whipped egg whites

1

tablespoon

sugar

½

teaspoon

ground cinnamon

pinch

of salt

½

cup

roughly chopped pecans
Cinnamon Doughnuts
1

cup

all-purpose flour

¾

teaspoons

baking powder

¼

teaspoon

baking soda

½

teaspoon

salt

1 ½

teaspoons

ground cinnamon

¼

teaspoon

nutmeg

⅓

cup

granulated sugar

2

tablespoons

brown butter

1

large egg

room temperature

½

cup

buttermilk
For the Cinnamon Glaze
½

cup

heaping powdered sugar

½

teaspoon

ground cinnamon

2

tablespoons

heavy cream
Instructions
For the Candied Pecans
Mix together the whipped egg whites, sugar, salt, and cinnamon, then fold in the pecans, ensuring the pecans are well coated in the egg white mixture. Bake at 325 degrees F for 16 minutes, flipping the pecans halfway through baking.

Quickly remove the pecans from the pan to avoid sticking. Allow to cool on a plate
For the Cinnamon Doughnuts
Preheat the oven to 350 degrees F. Lightly grease a doughnut pan with butter.

Mix together the flour, baking powder, baking soda, salt, cinnamon, and sugar together. In a separate bowl, whisk together the brown butter, egg, and

buttermilk

together. Slowly mix the wet ingredients into the dry. Be careful to not over mix. Some lumps are okay.

Fill the doughnut pan with batter. Bake for 10 - 15 minutes, or until golden brown. Remove the doughnuts from the pan and cool completely on a wire rack.
For the Cinnamon Glaze
Mix together the powdered sugar and cinnamon together. Slowly add the cream, one tablespoon at a time, mixing well before adding the second tablespoon.
Assembly
Dip each doughnut in the glaze until the tops are completely covered. Dip the doughnuts glaze-side down into the candied pecans.
Tried this recipe?
Tag me on Instagram! @acookienameddesire #acookienameddesire
I was provided with free product from Rodelle to make this post. All opinions are 100% my own.