Cinnamon roll doughnuts. Two of the best breakfasts come together in delicious. decadent, matrimony. This is the breakfast recipe you go to when you need something memorable.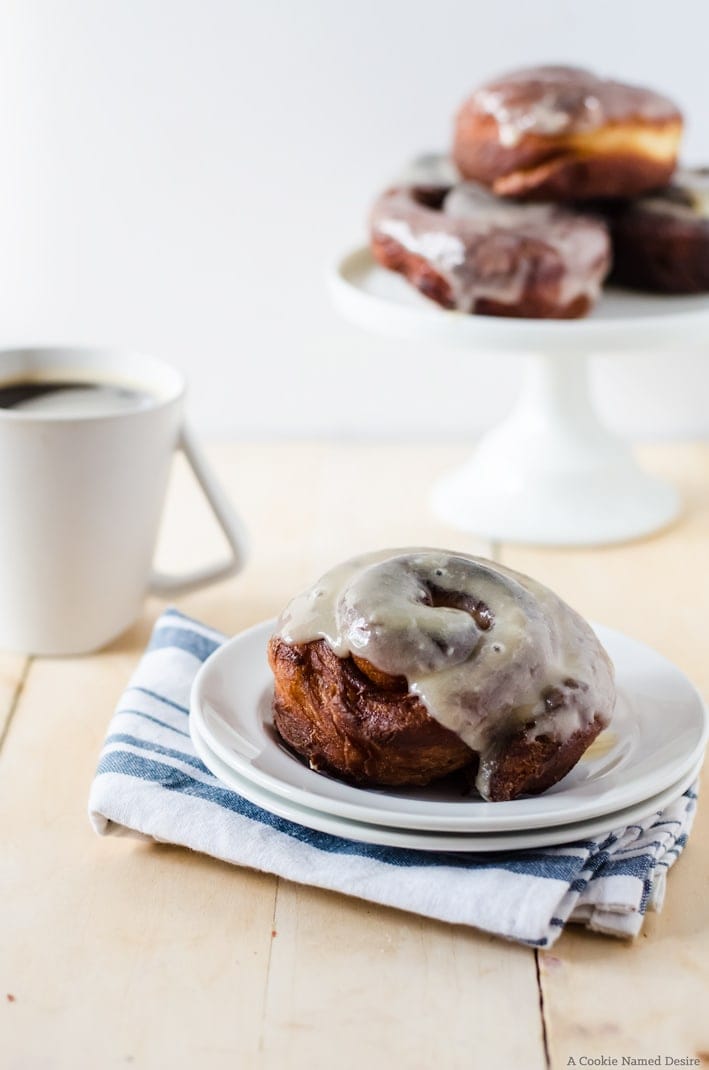 We finally had our first snow fall yesterday. There is something so peaceful about watching the snow silently fall around you. It makes me want to cozy up in a throw blanket and binge on Harry Potter. I also get cravings for something really indulgent. These cinnamon roll doughnuts are perhaps the most indulgent doughnuts I've ever made in my life.
My cinnamon roll doughnuts are made with my buttery brioche recipe and spread with more melted butter and covered in cinnamon sugar then deep fried to perfection. These delicious morsels are then topped with a cream cheese glaze. It's just like biting in a buttery piece of heaven.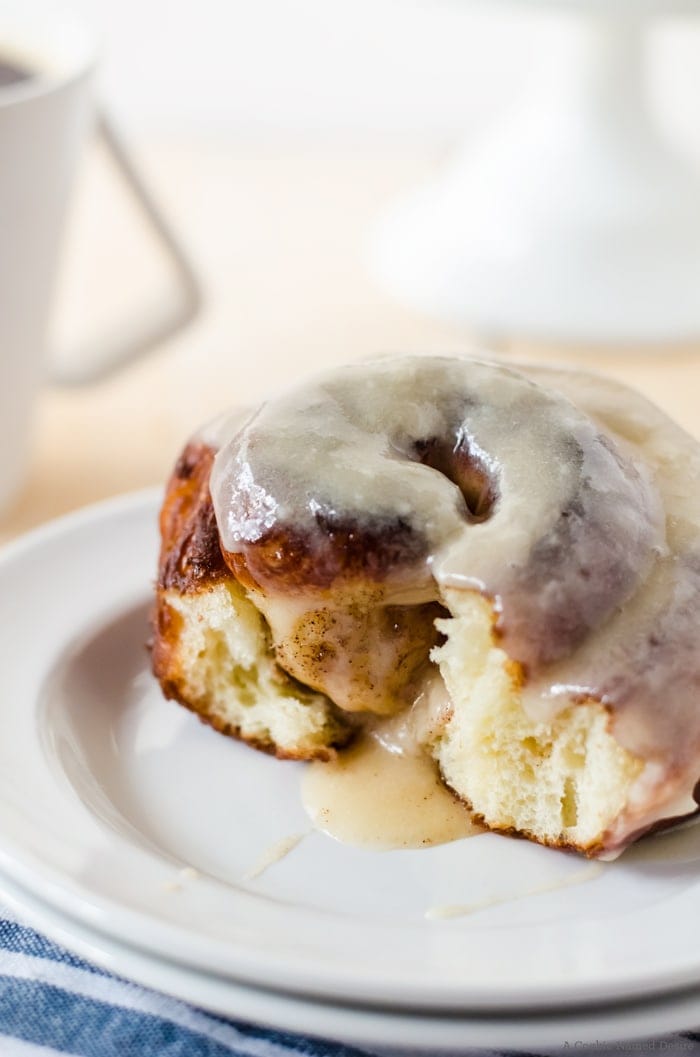 It took some time to get these doughnuts perfect, but I've finally found the best way to fry up these babies. First, only fry one or two doughnuts at once. Second, you have to keep the temperature of the oil at 375 degrees F. When the oil cools down too much, the dough is more likely to open up the swirl. That's not a terrible thing, but the cinnamon sugar escapes and gets into the oil which makes the outside of your doughnuts darker which can make it difficult to know when the doughnuts are really finished )on the upside, the cinnamon sugar caramelies on the doughnuts and tastes pretty yum). For insurance, you can stick a few toothpicks into the doughnuts when you fry them. Just remember to remove them before you glaze and serve them!
These make a great weekend breakfast, or when you are snowed in and want to indulge a bit! You can make the brioche dough ahead of time and let it rise tightly covered in the refrigerator.

Recipe Card
Cinnamon Roll Doughnuts
Ingredients
2

tablespoons

unsalted butter

melted

¼

cup

sugar

1

tablespoon

ground cinnamon

1 ½

cups

powdered sugar

4

tablespoons

cream cheese

softened

2 - 3

tablespoons

heavy cream

½

teaspoon

vanilla extract
Instructions
Roll out the dough after the first rise so that it is about an 18 x 14 rectangle.

Brush the dough with the unsalted butter. Mix together the sugar and cinnmon and spread evenly on the dough, leaving a ½ inch border around the dough.

Roll the dough lengthwise into a log. Pinch the edges of the dough and smooth out the log as much as you can. Cut out rounds of dough about an inch thick. Allow the dough to rise as you heat up your oil.

In a deep fryer, or large cast iron skillet add your oil at least three inches deep. Heat the oil until it reaches 375 degrees F. Place paper towels on a wire rack.

Place 1 - 2 doughnuts into the oil and cook on each side for 1 - 2 minutes, or until golden brown. Place on the wire rack.

Mix together the powdered sugar and cream cheese together until well combined. Mix in the heavy cream and vanilla extract until combined and a smooth consistency.

Pour the glaze over the doughnuts and serve.
Tried this recipe?
Tag me on Instagram! @acookienameddesire #acookienameddesire