This detox cactus smoothie is creamy, with a lot of tropical zing. Healthy and very simple to make. It is highly irresistible and tastes just like the cactus smoothie from Crusssh juice bar.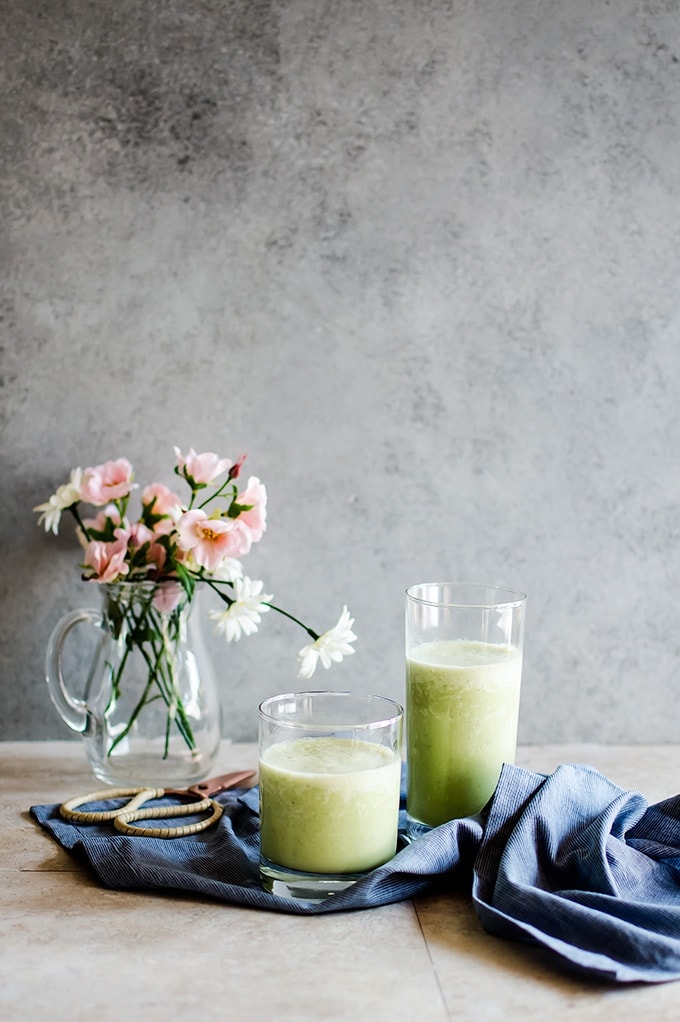 Despite popular belief, I am not all chocolate, bread and sweets. I have an intense fondness for smoothies. Detox cactus smoothies, in particular. When I stumbled upon cactus leaves at my local produce store, I knew I had to share this delicious drink with you. I first discovered cactus smoothies in college (I've been coming up with a lot of college stories lately, haven't I?) While on a hunt for chocolate in a train station. I came across this little place called Crusssh who happened to sell these awesome vegan double chocolate brownies (whaat?!). I also saw a sign that announced they were bringing back cactus smoothies.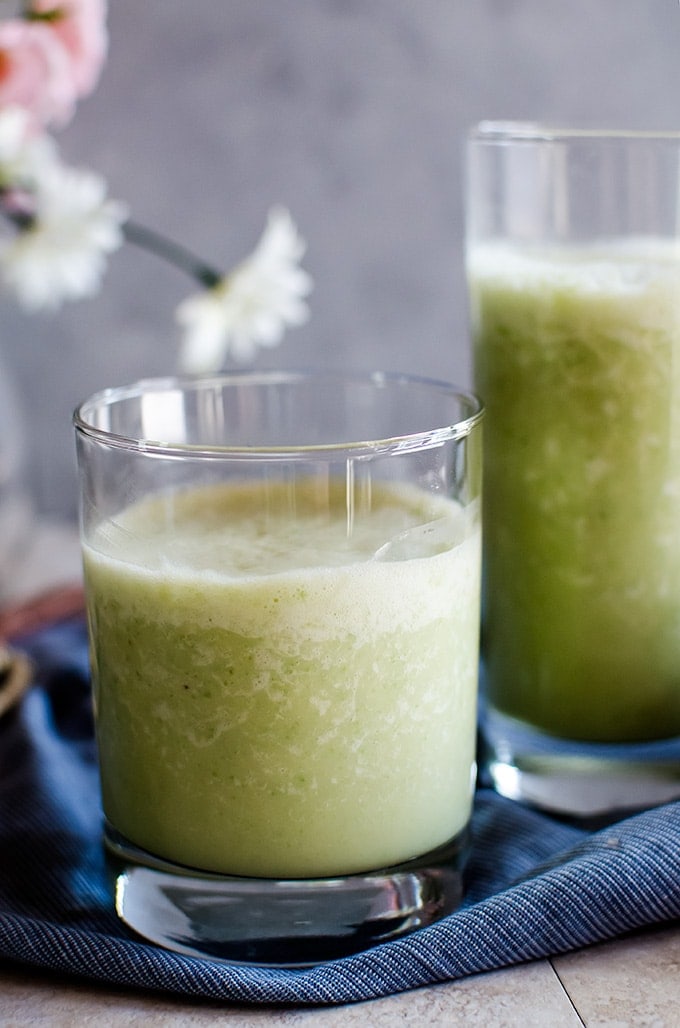 Now, at that time, I never heard of using cactus for anything other than decoration, so I was intrigued and bought one. My life was changed from that point on.
How can I describe the amazingness that is the detox cactus smoothie? It is light, creamy, but tangy at the same time. Yes, tangy and sweet and kind-of tropical in the best way possible. There are only a few ingredients in this smoothie, but the complexity of the flavor is simply irresistible and even addictive. When I discovered Crussh detox cactus smoothies, I would buy a large one to drink right away, and buy another two or three to take with me to drink later. Seriously, I was addicted. I introduced my friend Erin to the smoothie and she drank hers in 10 minutes and we had to turn right around to get another. It was that good.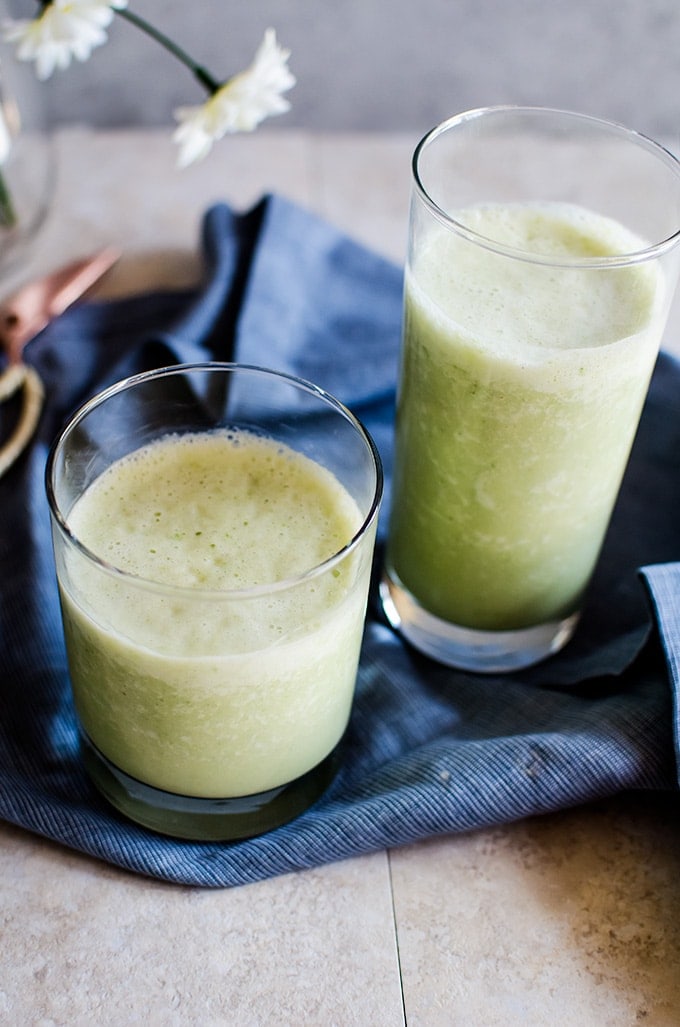 Besides the cactus, which I am sure you can also find at your produce store, everything is easy to find. Their smoothie is a lot sweeter than mine because they use pineapple juice as their base. I decided to use almond milk instead for more creaminess. Other than that, this is basically dead on. This recipe makes a huge blenderful because, I quite frankly always end up drinking it all on my own. In the same day. And I know you will, too!
UPDATE: In the original recipe I shared, I also added aloe vera for my own twist. You can also add aloe vera if you want, but I honestly have been craving the real deal lately and took it back out.
Prepping Cactus Leaves for a Detox Cactus Smoothie
Prepping cactus leaves can seem daunting, but it is fairly easy. Wear clean gloves if you feel nervous about being pricked. 
Grab a brand new dish scrubber and gently scrub the cactus in the opposite direction of the needles. The cactus leave will start to feel slimy as the needles come off. Cut off the edges around the cactus leaf.
Print
Detox Cactus Smoothie
Ingredients
5 oz (1 1/2 medium) cactus leaves, needles removed and chopped
1/2 (12 oz approx) fresh pineapple, cut in cubes and chilled
1 1/2 banana, sliced and frozen
5.3 oz (1 cup) plain Greek yogurt
1 lime, juiced
1 1/2 cups almond milk
1/3 cup aloe vera water (optional)
Instructions
Place all ingredients in the blender in the order shown.
Blend on low for 1 - 2 minutes, or until the cactus, pineapple, and banana are beginning to become well-blended. Slowly raise the speed to medium for one minute, then slowly raise to high, or until you see a vortex in the middle of the smoothie. Once you see the vortex, blend for another minute, or until creamy.
Nutrition Facts
Serving Size 1 cup
Amount Per Serving
% Daily Value
* Percent Daily Values are based on a 2,000 calorie diet. Your daily values may be higher or lower depending on your calorie needs.
Did you make a recipe?
Tag your culinary creations @acookienameddesire on Instagram and hashtag it #cookienameddesire.