This shop has been compensated by Collective Bias, Inc. and its advertiser. All opinions are mine alone. #SweetWarmUp #CollectiveBiasThis earl grey shortbread is made with a tea-infused butter to create a rich and aromatic flavor to the cookies. The jam is made with a mix of fresh fruits and Truvia to make it a healthier jam option. Pair both together for a delightful afternoon treat. 
I've never been one to make New Year resolutions. The whole "New Year New Me" thing never really appealed to me because the cynical side of me thinks that kinda of sets you up for disappointment. I do believe in setting overall goals for yourself (kinda more like a 5-year plan) and setting attainable milestones that you'd like to reach during the year that will get you to your overall goal.
Currently, I am working on having a more balanced diet and lifestyle. This involves trying to fit more whole foods in my life (and on the blog), exercising more consistently, and becoming more organized so that I can get more done in a day without feeling as though I've been running around everywhere not getting anything done.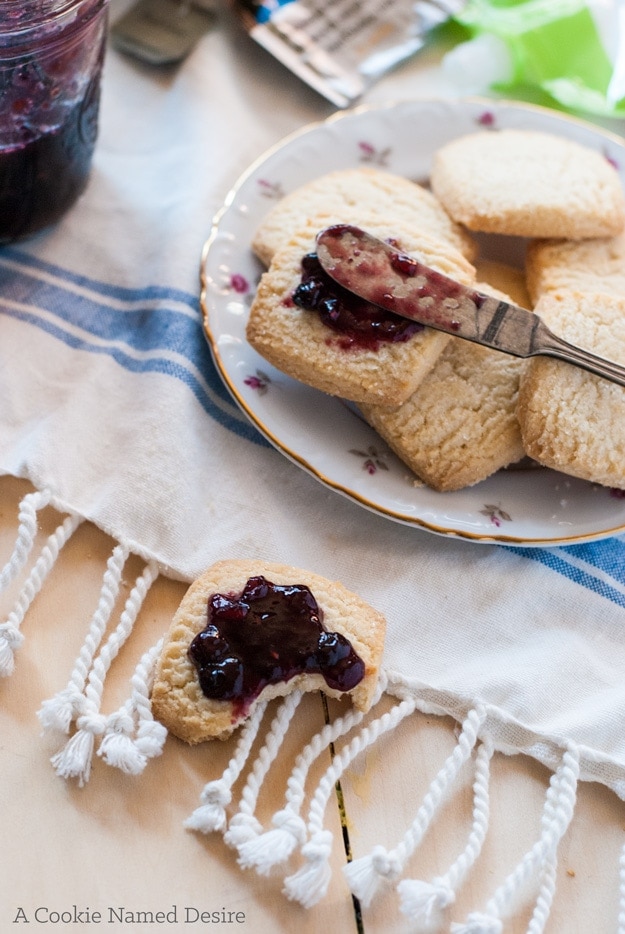 If you know me, you know that there is no way I can just let go of my sweets and treats. I mean, I've thought about it and there is just no way I can do it. Buuuuuuuuut.... what I can do is at least make more treats that are made a little bit better for you by cutting back on calories where I can. In some recipes, like an Earl Grey shortbread, butter is essential, but I can use a sweetener that is light on calories.
In the past, I've done the whole sugar-free thing and even used some sugar alternatives, but a lot of them have funky aftertastes and when I found out that some brands can potentially be really bad for you, I was out. Then a few years ago, Truvia came out and I found out that it was a natural zero-calorie sweetener made from the Stevia leaf. The best part was that the weird aftertaste you get with other sweeteners is completely nonexistent. Score! This past week at Target I discovered Truvia made a baking blend which works in baked goods which does have some calories, but still has 75% fewer calories than granulated sugar, I fuh-reaked out!
Since tea is my favorite thing to drink during the winter, and I love a good shortbread, I knew I needed to make a tea-infused shortbread, made a little lighter by using the Truvia Baking Blend and some mixed berry jam (mixed berries are my favorite if you haven't figured it out by now!).
What I love about the Bigelow Teas is that they have such a rich and aromatic flavor that really helps you to fully immerse yourself in the moment. When you infuse butter with tea, it is important to use a tea that is rich in flavor, it it was a natural choice to use Bigelow.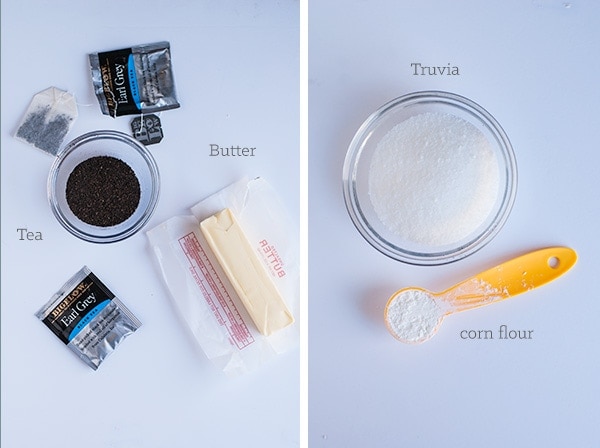 To infuse the butter, you need one teaspoon (about one tea bag) of tea per tablespoon of butter. So we need 8 tea bags for the half a cup of butter we need for the recipe. The shortbread requires powdered sugar, so I made my own by blending the Truvia with corn flour to make my own powdered sugar.
When infusing the butter, it is important to not heat the butter too much, we do not want the butter to brown. Although browned butter is normally a good thing, here it conflicts with the flavors from the tea. Your tea may come out with a light green or brown tint (if you decide to use a different flavor of Bigelow tea), but the color completely bakes away in the oven so you don't have to worry about serving guests green cookies!
Earl Grey Shortbread
Author:
Prep time:
Cook time:
Total time:
Ingredients
16 tablespoons (2 sticks) unsalted butter, room temperature, plus extra*
16 Bigelow Earl Grey Tea Bags
¼ cup Truvia Baking Blend sugar
¼ teaspoon corn flour
2 cups all-purpose flour
¾ teaspoon salt
turbinado sugar (optional)
Instructions
In a small saucepan, slowly melt the butter without boiling. Remove the tea from the teabags and add to the butter. Heat on medium-low for about 5 minutes, then remove from heat and allow to sit for another 5 - 10 minutes. You should occasionally press down on the tea to help release it's flavors in the butter. Press the butter and tea through a fine-mesh strainer to separate the tea. Press down as much as you can to get as much of the butter out as possible. Place in a small container and allow it to chill in the refrigerator for about 10 minutes. The butter should be soft, but mostly solidified.
Blend the Truvia Baking Blend with the corn flour until very fine and resembles powdered sugar. Set aside.
In a medium bowl, mix together the all-purpose flour and the salt together. Set aside.
In a large mixing bowl, cream 16 tablespoons of the infused butter, then slowly add your sugar and cream well.
Slowly add the flour mixture. and mix until a dough forms.
Turn out dough onto lightly floured surface, divide into two and form into discs. Cover the discs in plastic and chill for an hour.
Preheat the oven to 325 degrees F.
Roll out the dough until about ¼ inch thick and cut with cookie butters (I used a plain rectangle to minimize having to re-roll the dough). Lightly sprinkle the cookies with turbinado sugar if desired.
Line a baking sheet with parchment paper and place cookies on sheets. Chill for about 15 minutes, then bake for 13 - 15 minutes.
Notes
*You should add more butter than you need for infusing butter with tea as some of the butter will stick to the tea. I recommend at least another 3 - 5 tablespoons of unsalted butter.
Recipe Card
Mixed Berry Jam
Ingredients
3

cups

mixed berries of choice

I used strawberries, blueberries, and blackberries

zest of one lemon

¼

cup

Truvia
Instructions
In a medium saucepan, mix the berries, lemon zest and sugar together. Heat on medium-high until the juices seep from the berries and begins to bubble. Bring down to a simmer and lightly mash the berries.

Allow the mixture to simmer for about 20 minutes, or until the juices look thick and slightly syrup-y (the juices will thicken more as they cool).

Transfer to a mason jar and allow to cool completely before using.
Tried this recipe?
Tag me on Instagram! @acookienameddesire #acookienameddesire
Here is where I was able to find both Bigelow Tea and Truvia. I wasn't really expecting the tea to be in this aisle, but I was really happy that I could get both products easily without searching around Target too much.
As you can see, Bigelow and Truvia are very close together in the aisle. Perfect!
Some extra handy information:
You can download a $0.55 coupon for Bigelow tea at The Coupon Book
There is a Target Cartwheel digital coupon for Truvia - You can save 10% on your purchase of any package of Truvía® Natural Sweetener, Truvía® Baking Blend or Truvía® Brown Sugar Blend with Target Cartwheel. If you are not signed up, visit cartwheel.target.com or download the Cartwheel mobile app to join.
 If you would like to try Truvía® Natural Sweetener before purchasing, please request your free sample at truvia.com/freesample