Oreos and Nutter Butters come together to create these delicious Oreo Nutter Butter cupcakes. Try and resist these for long!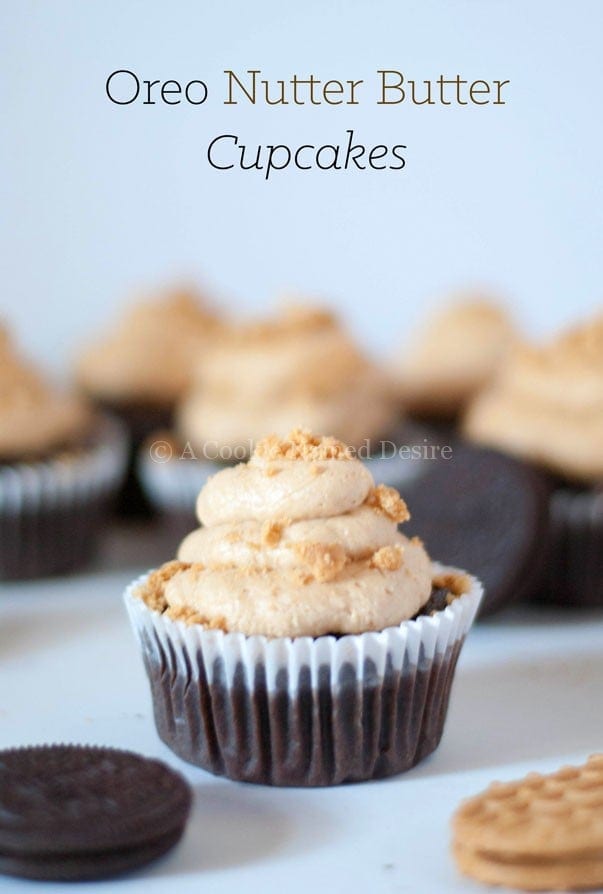 I've been having one of those months where I need some major food therapy and smother everything in chocolate and tons of delicious, decadent unhealthiness. And it helps. It really does. I'm not normally the kind of person to brag, but I really think this Oreo Nutter Butter Cookie Cupcake recipe is the best thing to ever happen and totally help perk up any bad day, week or month. It's seriously so good. Two of of the best cookies stuffed in a chocolatey peanut buttery cupcake of awesomeness is destined for greatness, dontcha think?.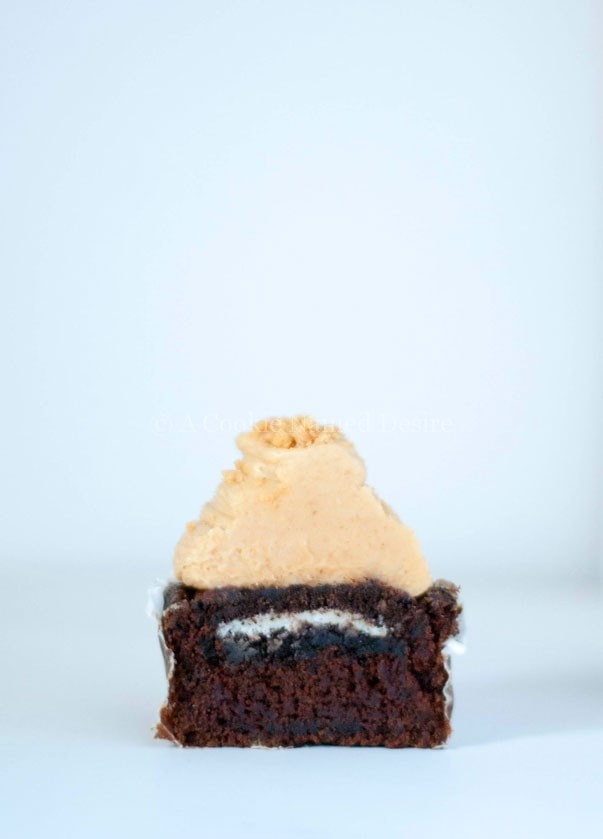 When I say these cupcakes are stuffed with cookies, I mean it. I ground up some Oreo cookies and placed it in the batter and topped it with a whole cookie for a sweet Oreo surprise. The peanut butter frosting also has ground Nutter Butters to give it that authentic Nutter Butter flavor, and it has big Nutter Butter crumbles sprinkled on top. The result: a rich, moist Oreo-flavored cake with a creamy peanut butter topping with a satisfying cookie crunch.
It. Is. Fab-U-lous!
And I never use the word "fabulous."
Recipe Card
Oreo Nutter Butter Cookie Cupcakes
Ingredients
1 ½

cups

all-purpose flour

½

cup

cocoa powder

1 ¼

cup

sugar

1

teaspoon

baking soda

½

teaspoon

baking powder

¾

teaspoon

salt

2

eggs

½

cup

vegetable oil

1

teaspoon

vanilla

¾

cup

whole milk

¾

cup

hot water

10

Oreos

ground

18

Oreo

whole
Nutter Butter Frosting
¾

cup

peanut butter

8

tablespoons

unsalted butter

1 ¼

cup

powdered sugar

1

teaspoon

vanilla

4

ground Nutter Butters

3

crushed Nutter Butters

¼

cup

heavy cream
Instructions
Preheat the oven to 305 degrees and line a cupcake pan with 18 liners.

Whisk together the flour, cocoa, sugar, baking soda, baking powder, and salt together in a medium bowl.

In a separate bowl, mix the eggs, oil, vanilla, milk and hot water together.

Slowly add the dry ingredients to the wet ingredients. Fold in the ground Oreos.

Evenly fill the cupcake liners a little less than ⅔ of the way full, then push the whole Oreos into the batter. They will rise back up, but you want the Oreo to get some batter on all sides of the cookie.

Bake for 16 - 18 minutes, or until a toothpick comes out clean when pushed into the cupcakes and they lightly spring back when you push down on them. Allow to cool.

Cream the butter and peanut butter together until smooth and cream. Slowly add the powdered sugar and vanilla. Slowly add in the ground Nutter Butter, make sure the pieces aren't too big or else it will get stuck in your frosting pipe!

Frost the cupcakes and sprinkle the crushed Nutter Butter on top.
Tried this recipe?
Tag me on Instagram! @acookienameddesire #acookienameddesire