Why are skillet cookies so good?
I think it has something to do with the fact that with skillet cookies, you are perfectly okay to take a pie-sized slice which is the equivalent of oh, I don't know, 5 large cookies, and no one blinks an eye. Of course, when I have a peanut butter chocolate chip and pretzel skillet cookie with Nutella swirled around, I might have two slices. Okay, three, but if you eat said cookie while hiding in the basement, the calories don't count, right?
This skillet cookie has everything I could possibly want in a cookie all rolled in one. It has that sweet and salty combination I love, plus crunchy pretzels and oh so addictive creamy Nutella. I swear, I would live in a jar of Nutella if it had better lighting. Did I remind you that all of this is wrapped in a peanut butter cookie with a crispy outer and soft, chewy inside? Because it is. The cookie itself is not overly sweet, it has a nice, mellow peanut buttery-ness that keeps all the flavors in check. Not one flavor outshines the other.
Oh, also, on a completely unrelated note: I am thinking of moving to Seattle. I've had enough of New Jersey and I miss city life. Plus, I have family in Seattle and it's a totally gorgeous city. Right now I am applying to different jobs and if I can find something good, I will be on a plane asap. I am really excited about this change and really nervous at the same time. I've never traveled more than an hour away from home with a toddler (and that was just going to the beach!) Once I find a job, I will stay with family until I can find a new place. I've already begun looking at apartments. Am I crazy for being only concerned with the lighting. And how I am going to get all my kitchen gear shipped to Seattle. Oh boy, there is so much I need to figure out. At least I have childcare figured out. My mom's sister watches everyone's kids now she is retired. She (and all of my family) is a baby hoarder and loves to be around as many little ones as possible.
Look at me rambling on. It's nerves.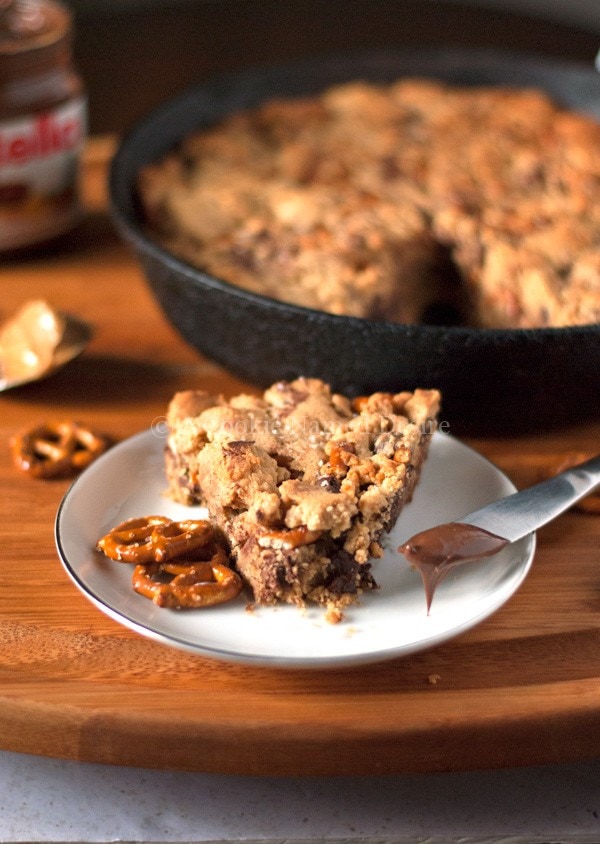 Anyway. Make this skillet cookie. Eat it alone or topped with some whipped cream. Might I suggest whipped cream with a tablespoon of Nutella added and crushed pretzels on top? God, I really know no bounds.

Peanut Butter Chocolate Chip and Pretzel Skillet Cookie with Nutella
Ingredients
1½

cups

all-purpose flour

½

teaspoon

baking soda

¼

teaspoon

salt

¾

cup

light brown sugar

¾

cup

creamy peanut butter

½

cup

unsalted butter

room temperature

½

cup

granulated sugar

1

egg

2

teaspoons

vanilla extract

1

cup

semisweet chocolate chips

1 ½

cup

lightly crushed mini pretzels

⅓ - ½

cup

Nutella

vanilla fleur de sel

optional
Instructions
Preheat the oven to 350 degrees. Lightly grease a 10" skillet.

In a bowl whisk together the flour, baking soda and salt. Set aside.

In a separate bowl, cream together the brown sugar, peanut butter, butter and granulated sugar until light and creamy. Add the egg and vanilla extract and mix until combined.

Add the dry ingredients, mixing only until the flour is just incorporated. Use a rubber spatula to mix in the chocolate chips and pretzels.

Put ⅓ of the dough in the skillet and smooth. Drop tablespoons of Nutella over the dough. Add another ⅓ of dough and more Nutella. Add the remaining dough.

Bake for 15 - 20 minutes and allow it to cool at least 10 minutes before slicing and eating.
Tried this recipe?
Tag me on Instagram! @acookienameddesire #acookienameddesire