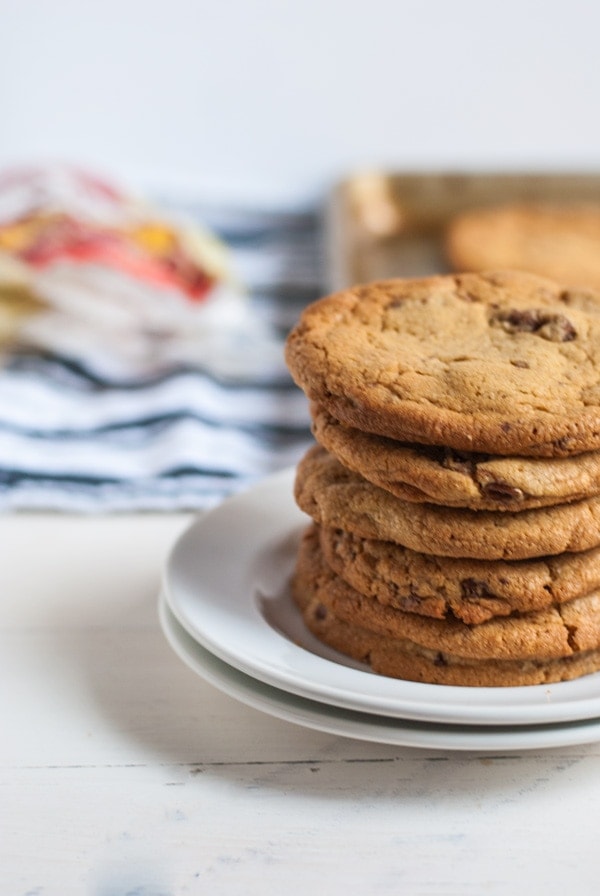 I hate squirrels. I really and wholeheartedly do hate squirrels. They are aggressive and mischievous little creatures and I would rather not have anything to do with them. My disdain for squirrels started years ago when I was sitting in a park, enjoying a lunch in the park after a bit of shopping when a gang of squirrels come along and start hounding me for food. When I say hounding, I mean, they were on top of my shopping bags, putting their paws on my shoulders, actually getting in my face trying to get food from me! I stood up and saw more coming. There had to be about eleven squirrels there trying to bully me. I grabbed my bags and started leaving when I noticed them following behind me! I started to run and fortunately they stopped chasing me before I reached other people. Which is a relief because how embarrassing would that look? Me with a bunch of shopping bags being chased by a pack of squirrels?
I don't even know why I told you that.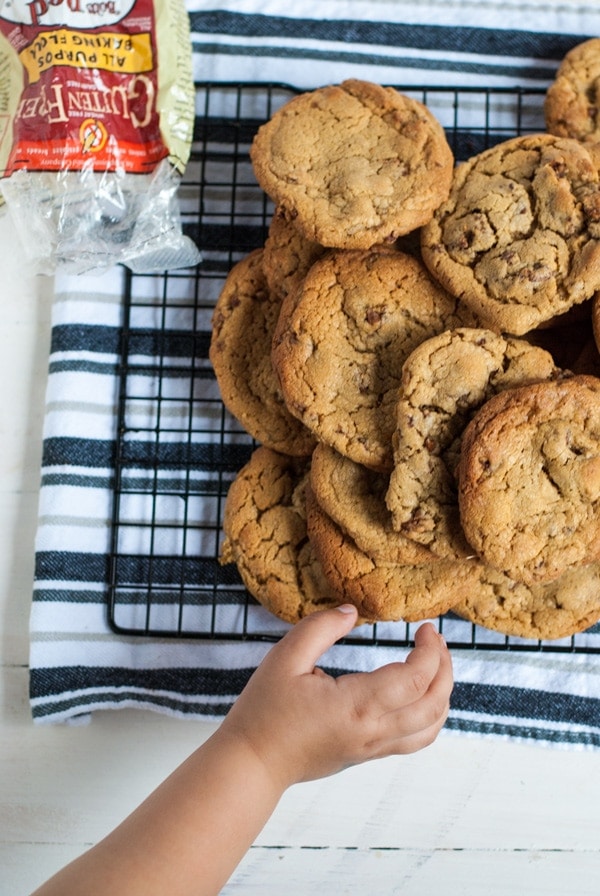 Unfortunately, that isn't the only bad experience I've had with squirrels. I once had a squirrel literally pull a candy bar out of my hand and eat it. Squirrels also try and steal my tomatoes off my plants. This squirrel harassment spans over several years and several countries. I really don't know what it is about me that makes squirrels behave this way, but our relationship is way beyond repair at this point.
To add to our very strained relationship, I took my daughter out to the park for a mini picnic since it will probably be the last time we can do it before it gets too cold out and we brought these white chocolate peanut butter cookies with candied pecans and a squirrel tried to take that from us as well! What.the.heck?!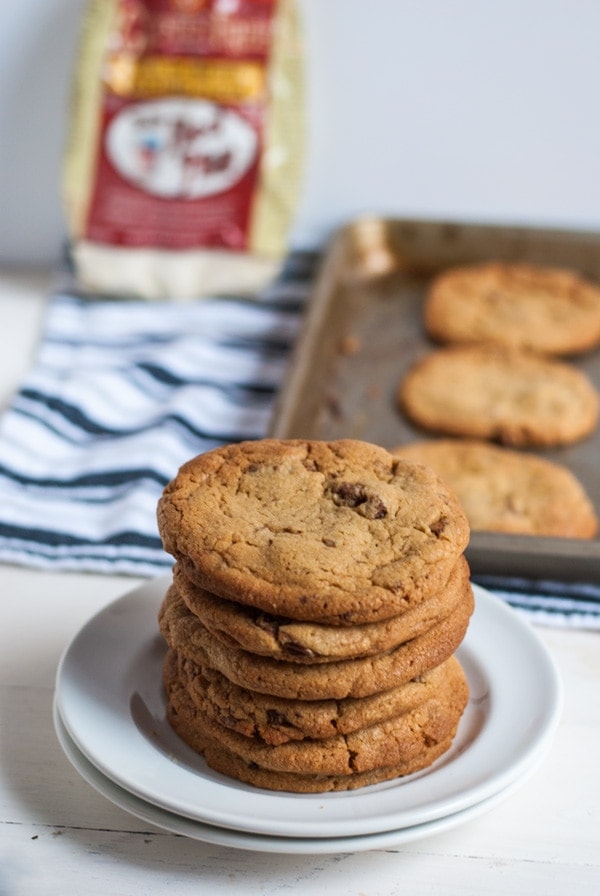 Really, I can't completely blame them this time because these cookies are insanely delicious. They are one of those cookies that go beyond rolling your head back with a deep satisfying groan, or closing your eyes to fully allow yourself to comprehend it's deliciousness. No, these cookies are so good,they kinda make you want to get a little violent. In my family. we have this thing where if something is just SO GOOD, you say that you just wanna hit something or smack yourself. Is that.... weird? Strangely violent, perhaps? I don't know, but it's what I know and it is how I would describe the incredible deliciousness of this cookie.  It's all soft, and chewy and has a wonderful white chocolate flavor to it (you can add a bit of extra melted white chocolate to amp it up more if you want). And then those candied pecans. Man, oh man, they are hands-down the most delicious thing ever. It's a struggle to not eat them on their own (which you can do if for some reason you don't feel like having cookies! When you put them altogether, it creates this orgasmic party in your mouth that makes you want to be a little violent and hit something. Now that's what I'm talking about!
Oh, and guess what, friends?? It's gluten-free, so all my favorite friends with celiac disease can enjoy it, too!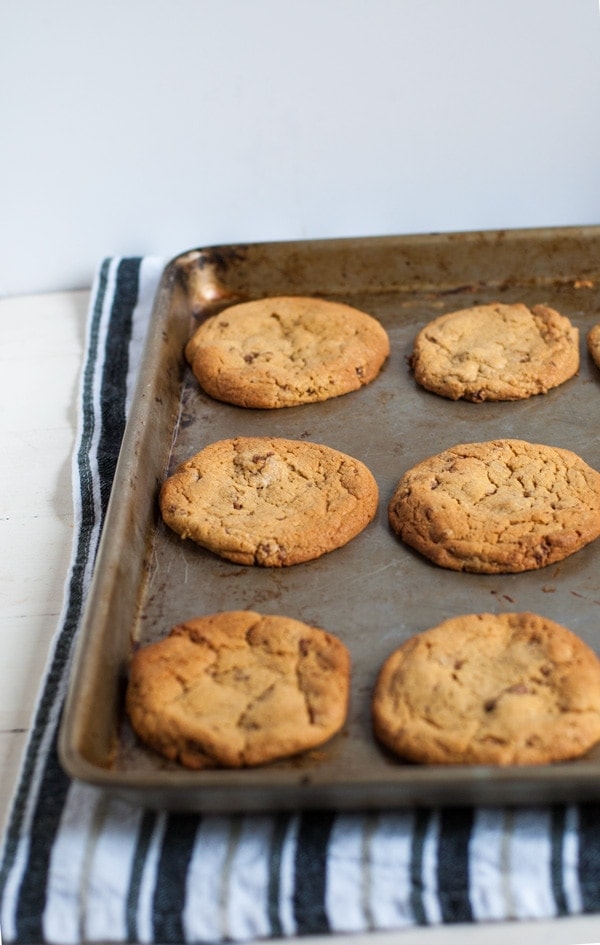 Now, go bake up some cookies... and maybe wear some extra padding when you share them. You know, just in case. 😉

Recipe Card
White Chocolate Peanut Butter Cookies with Candied Pecans (Gluten-Free)
Ingredients
White Chocolate Peanut Butter Cookies
1

cup

unsalted butter

room temperature

1

cup

granulated sugar

¾

cup

light brown sugar

not packed

2

eggs

2

teaspoons

vanilla

2

oz

melted white chocolate

optional

3 ¼

cups

all-purpose gluten free baking flour

1

teaspoon

baking soda

1

teaspoon

baking powder

¾

teaspoon

salt

¼

cup

granulated sugar and 1 heaping tablespoon cinnamon for rolling

optional
Candied Pecans
¾

cup

roughly chopped pecans

3

tablespoons

sugar

2

teaspoons

cinnamon

1

tablespoon

water
Instructions
In a medium bowl, beat the butter until light and creamy. Add the sugars and beat until well-incorporated and smooth. Add in the eggs, one at a time until fully mixed in. Add in the vanilla, peanut butter and white chocolate (if using). Mix until fully incorporated.

In another bowl, mix together the remaining ingredients and whisk to incorporate. Slowly add the flour mixture to wet ingredients and mix until combined. Cover the bowl with plastic wrap and chill for at least an hour.

While the dough is chilling preheat the oven to 275 degrees F and lightly grease a baking sheet or line with parchment paper. Mix together the ingredients for the candied pecans together until the pecans are well-coated. Place on the baking sheet in a single layer and bake for about 15 - 20 minutes. Break apart any pecans stuck together and set aside to cool.

Raise the oven temperature to 350 degrees and line a baking sheet with parchment paper.

Fold the pecans in the cookie dough and roll the dough into balls. I used about 1.5 tablespoons of dough per cookie. Roll the cookies in the cinnamon sugar mixture if desired. Lightly flatten the dough and place on the baking sheet, about 1.5 inches apart. Bake for 10 - 12 minutes, or until the edges are a light golden brown. Allow to cool on the baking sheet for about 5 minutes before transferring to a wire rack to cool completely. (the heat from the cookie sheet should be enough to finish cooking/setting the centers of the cookies.
Tried this recipe?
Tag me on Instagram! @acookienameddesire #acookienameddesire