These light and fluffy peanut butter and jelly muffins are everything you could ever want. Sweet, slightly salty peanut butter muffins stuffed with your favorite jam. Snacking just got a whole lot better.
There was a time in my life when I could swear that my diet was at least 80% peanut butter and 20% jelly. I would wake up and have peanut butter and jelly oatmeal, eat two peanut butter and jelly sandwiches for lunch, and for dessert, have a Belgium waffle topped with peanut butter and jelly. Of course between meals I would have peanut butter and jelly smoothies and these peanut butter and jelly muffins. At the time, I was about 6 or 7 months pregnant, but still those were good times and I miss them.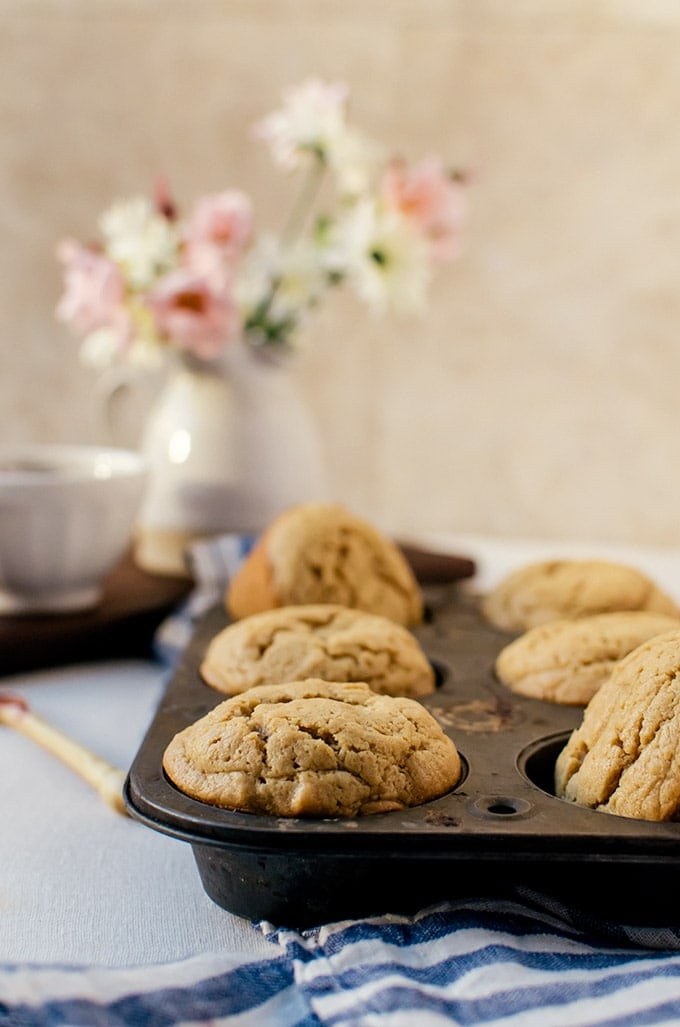 I feel like I need to get back to those days. This time I probably won't do the pb & j sandwiches with pepperjack cheese anymore now that I am experiencing weird pregnancy cravings. But definitely more peanut butter and jelly muffins and those waffles.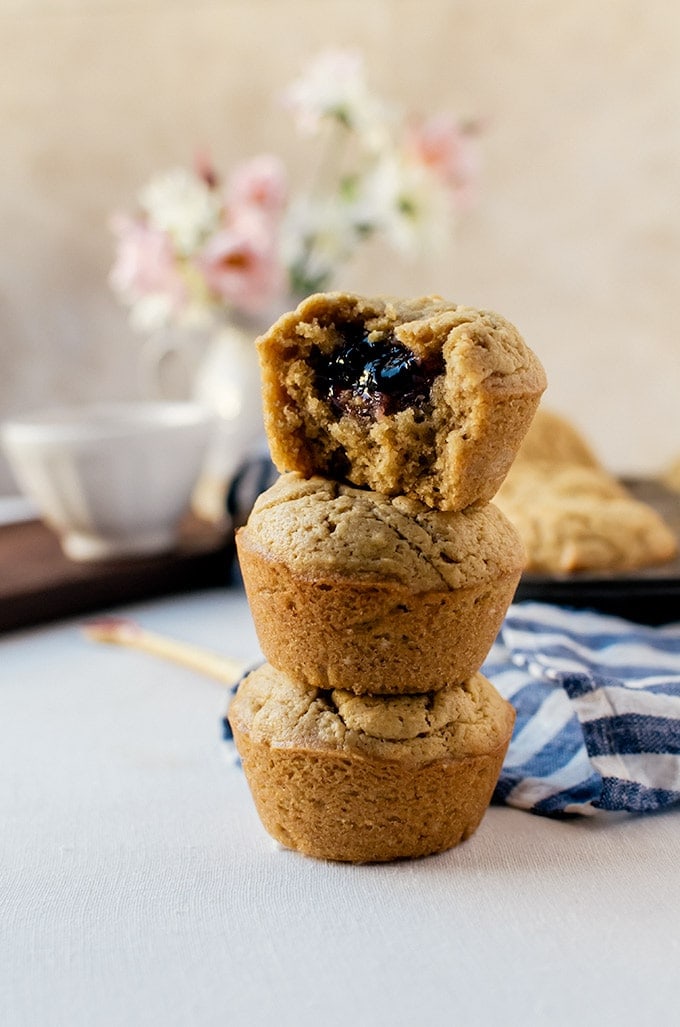 These muffins are ridiculously light and moist. They are soft and almost melt in your mouth. All you need is a nice tall glass of ice cold milk. You can use any jam or jelly, but my personal preference is to reach for jam or preserves. Something that still have bits of fruit in it because jelly tends to melt into the muffin the most. I used blueberry and blackberry jam that I made during the summer.
Peanut Butter and Jelly Muffins
Yield: 12 muffins

Prep Time: 12 minutes

Cook Time: 18 minutes

Total Time: 30 minutes

Childhood treats reimagined. These peanut butter and jelly muffins are light, moist, and delicious!
Ingredients
1 3/4 cups all-purpose flour
3/4 teaspoon baking powder
1/2 teaspoon salt
1/4 teaspoon baking soda
1/2 cup vegetable oil
3 tablespoons melted butter
1 cups sugar
3/4 cup creamy peanut butter (not natural pb)
3 large eggs, room temperature
1/2 cup buttermilk, room temperature
1/2 teaspoon pure vanilla extract
1/4 cup jelly
Instructions
Lightly grease a muffin tin and set aside. Preheat the oven to 375 degrees F.
In a large bowl, mix together the flour, baking powder, salt, and baking soda.
In a separate bowl, mix together the oil, butter, sugar, peanut butter, eggs, buttermilk, and vanilla extract. Mix until everything is well-combined.
Mix the wet ingredients into the flour mixture and mix until there are no streaks of flour, but there are still lumps. Do not over mix.
Fill the muffin tins halfway full with the batter, then add a teaspoon of the jelly the middle of the batter. Top with more batter. Each cavity of the muffin tin should be about 3/4 way full.
Put the muffin in into the oven and immediately drop the temperature to 350 degrees F. Bake for 18 - 20 minutes, or until a toothpick inserted comes out clean.
Best served the day they are made, but will keep in an air tight container for 5 days.