There is nothing like cozying up with a batch of peppermint mocha scones during the holiday season!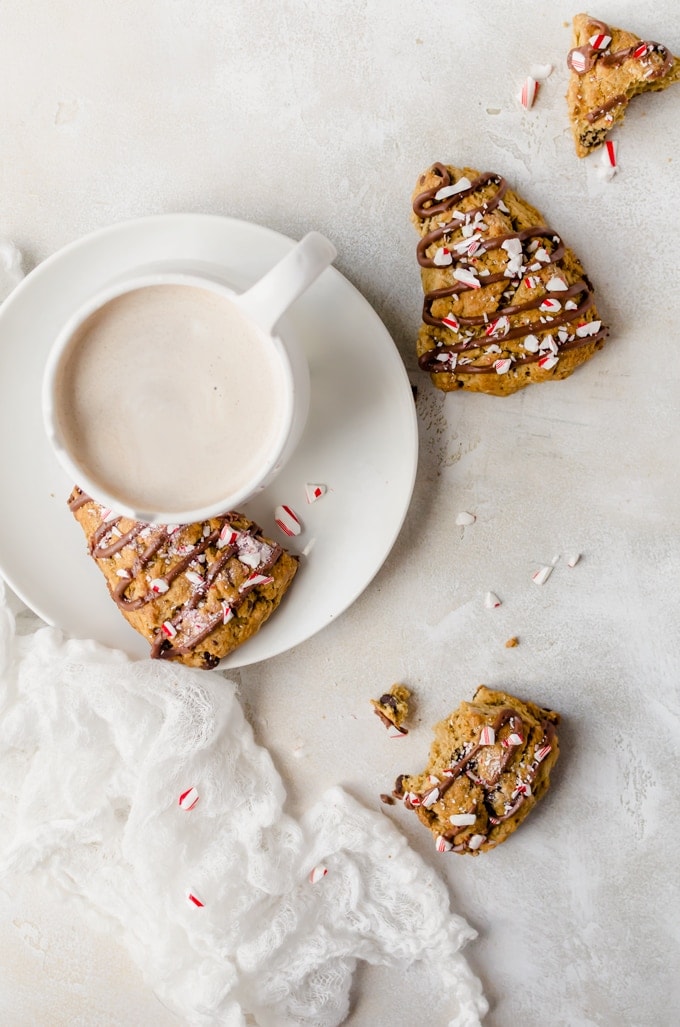 I get recipe ideas from lots of places. Sometimes I will find something that just fills me with inspiration. Other times I will get suggestions from readers and family. Inspiration comes anywhere at anytime.....
I need to confess something before I go any further. I have a relatively new guilty pleasure. I love cozy mysteries. Cozy mysteries are short little novels, usually in series, that usually involve a woman in a small town solving a murder. There is usually a format to all the books, and you can usually come up with who the murder is while you are reading (or in my case, listening, as I usually get them on audiobook for when I am working or driving). They are really fun, easy books that you can digest easily. The best part is they all usually revolve around food in some way. At least all the ones I've come across. A few even have recipes at the ends of their physical books. I was reading one from an author I like for her strong, unique female cast of characters and otherworldly locations. In this series, one of the main characters is a baker and her specialty is scones. In the one book I read, she made peppermint mocha scones.
They sounded so incredibly divine that I hadn't been able to get them out of my head. I needed to make my own peppermint mocha scones to try. I don't really have a point of reference as to how her scones are, but I imagine that mine are probably just as good, if not, better.
These buttery scones are infused with coffee flavor and studded with chocolate. I used a mix of chopped chocolate and chocolate chips so you get pockets of melty chocolate in some bites. I then topped the scones with an easy chocolate icing and finished with crushed peppermint. It is the ultimate holiday scone much like these cranberry orange scones. Definitely decadent and the tastiest way to get your morning pick me up.
I used a standard and reliable scone recipe that is very easy to handle. It is only slightly sticky, but very easy to shape and cut. I used 2 ½ tablespoons of coffee, but you can add more if you think it needs more coffee flavor. Do not skimp on the sugar on top as it does balance out the coffee.
Recipe Card
Peppermint Mocha Scones
Soft, buttery peppermint mocha scones
Ingredients
2

cups

all-purpose flour

9

tablespoons

granulated sugar

divided

1

tablespoon

baking powder

½

teaspoon

salt

6

tablespoons

unsalted butter

cold and cubed

1

cup

chocolate chips or chopped chocolate

¾

cups

heavy cream

cold

2 ½

tablespoons

instant espresso

1

large egg yolk

cold

1

teaspoon

vanilla extract
Instructions
Preheat the oven to 400 degrees F. Line a baking sheet with parchment paper.

In a large bowl, mix together the flour, 7 tablespoons of sugar, baking powder, and salt together until well-combined.

Add in the cubed butter and use your fingers or a pastry cutter to cut the butter into the flour until it resembles large breadcrumbs. Toss in the chocolate.

In a small bowl, mix together the heavy cream, espresso, yolk, and vanilla. Mix until it is well combined.

Create a well inside the flour mixture and pour in your wet ingredients. Stir until the mixture is combined. Do not overmix. If there are a few streaks of flour, turn out the mixture onto your parchment paper and incorporate by hand as you shape the dough into a large disc that is about one-inch thick.

Cut the disc into 8 equal parts and separate each triangle.

Sprinkle the tops of the scones with the remaining sugar.

Bake for 20 minutes, or until the scones are puffed and a light golden brown.

Set aside to cool.

As the scones are cooling, make the topping.

Mix together the powdered sugar, cocoa powder, heavy cream, and water until it forms a smooth consistency. Fill a piping bag with the icing, Cut off the bottom tip of the piping bag.

Crush your peppermints.

Once the scones are cooled, top with the chocolate icing and sprinkle on the peppermint while the glaze is still wet.

Serve immediately. These scones are best within the first 24 hours and can be rewarmed in the microwave with the toppings on for a few seconds.. If you would like these to last longer, ice and add the peppermint only to the ones you intend to eat and reserve the rest for later.
Notes
If you want to make these scones ahead of time for Christmas, make the scone dough and cut into triangles as described in the recipe. Freeze on a baking tray for at least two hours before transferring to a freezer bag. To bake, place on a parchment lined baking sheet and bake at the oven temperature in the recipe and bake for 20 - 25 minutes, or until they are big and golden brown. Glaze and top when ready to serve. 
Tried this recipe?
Tag me on Instagram! @acookienameddesire #acookienameddesire