Winter just got a whole lot better with this creamy, rich pomegranate curd recipe. Pomegranate curd makes a create treat to pair with scones, muffins, biscuits, and shortbread.
The last time I made pomegranate curd... it was more of an experiment on how hard I could make things for myself. (In case you are wondering, the answer is very hard.) While I loved the overall flavor of the pomegranate curd, I wasn't happy with how laborous it is to make and wanted something that didn't involve pomegranate arils. Something more like a traditional curd.
So for both our sakes, I made pomegranate curd 2.0. It's creamier (obviously) and still have a rich flavor, plus it has a beautiful rich reddish color that I adore. You could always add some food coloring for a more intense color, but I love it just the way it is.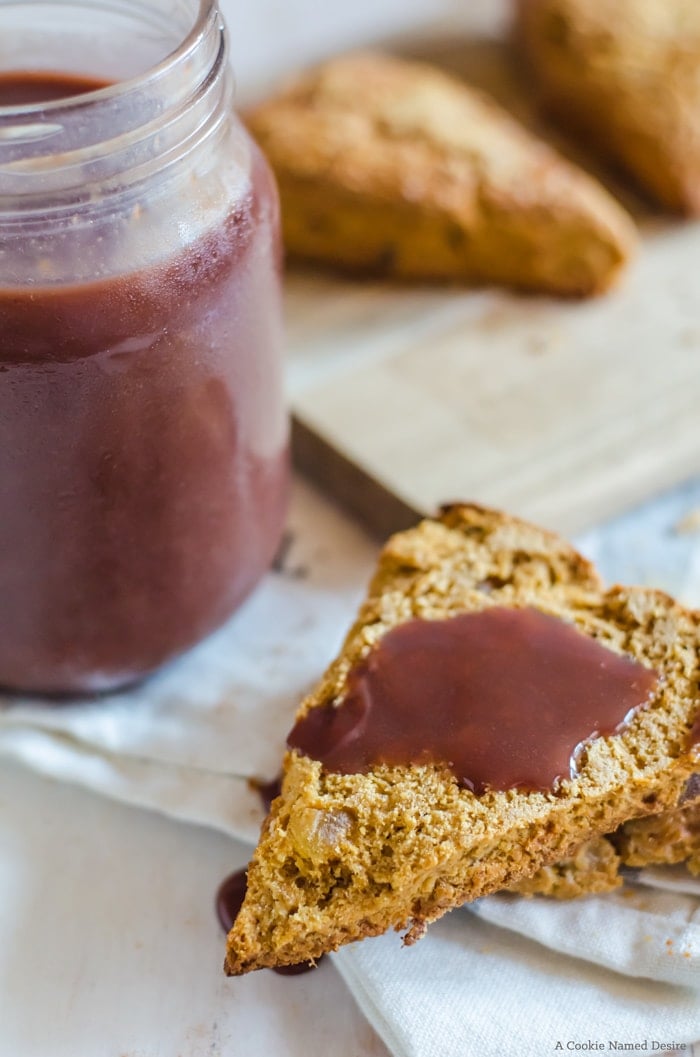 Pomegranate curd is unlike most other curds in that the richness of the curd is so much more promenant. I love pairing it with scones and muffins for a nice morning treat, but it is also great with just about everything you pair it with.
For a nice twist, you can add other flavors in your curd such as cardamom, ginger, cinnamon, honey, and different types of citrus.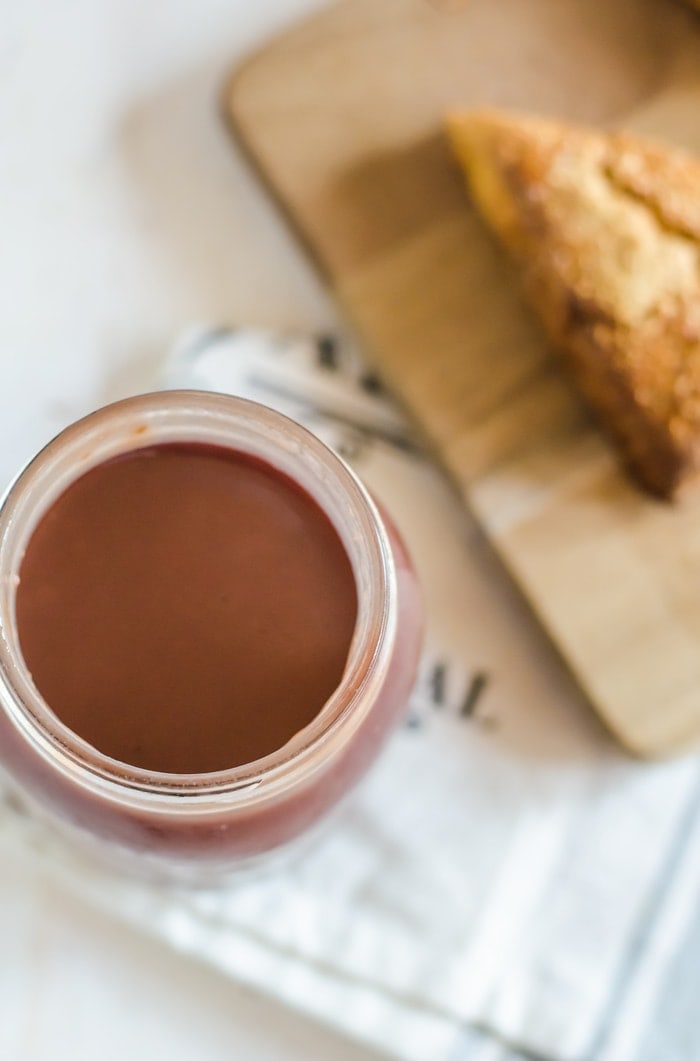 Recipe Card
Pomegranate Curd Recipe 2.0
Ingredients
2

cups

pomegranate juice

2

tablespoons

pomegranate molasses or syrup

optional

1

cup

granulated sugar

6

egg yolks

zest of one lemon

pinch

of salt

3

tablespoons

unsalted butter
Instructions
Heat the pomegranate juice in a saucepan until it is reduced to about 1 cup (this intensifies the flavor and color!)

Whisk the molasses, sugar and egg yolks together until light in color. Whisk in the pomegranate juice, lemon zest, and salt and put on a double boiler.

Cook while stirring constantly while the mixture thickens. You will know it is finished once the mixture coats a spoon and you run your finger down the back of the spoon and leave a trail. Stir in the butter.

Remove the curd and push through a fine mesh strainer. Place in a jar and allow to cool completely before placing in a refrigerator.
Tried this recipe?
Tag me on Instagram! @acookienameddesire #acookienameddesire
I was inspired by the blackberry curd Sarah from The Sugar Hut made for her Victoria sponge cake and used that as my basis for the first version of this curd. It came out insanely rich and creamy and tastes incredible on a slice of cake or toast.
Recipe Card
Pomegranate Curd Recipe
Ingredients
seeds from two large pomegranates

¾

cup

sugar

zest of one lemon

juice of half a lemon

1

stick unsalted butter

cut in cubes

2

large eggs

beaten
Instructions
In a medium sauce pan, heat the pomegranate seeds and sugar together on medium heat. The heat and sugar will draw out the juices from the seeds. Use the bottom of a cup or masher to help speed things along.

Add the lemon zest and juice.

Remove from heat and add the butter. The curd will look as though it is taking on a greyish color, but it will brighten up to a nice pink color after a while.

Very slowly add some of the curd to the eggs, stirring the eggs constantly. I drizzled one quarter cup at a time until about half the curd was in the eggs. It is very important to slowly bring up the temperature of the eggs so as not to cook them, especially if you plan on keeping the seeds in.

(Optional) Strain the curd through a fine mesh strainer to remove the seeds.

Transfer the curd to a container and place in the fridge to chill. The mixture will thicken as it chills.
Tried this recipe?
Tag me on Instagram! @acookienameddesire #acookienameddesire