A beautifully sweet raspberry swirl pound cake. There isn't a better way to end the evening than with swirls of vanilla and raspberry wrapped in a buttery pound cake. You PAM do it with the right ingredients. <
This is a sponsored post written by me on behalf of PAM Spray Pumps.
My daughter finally went back to school in August. I say "finally" like I am so excited she went back. Don't get me wrong, I am excited. Not just that she is in school, but also because it means fall is basically here and it's the best season ever. I go into a baking frenzy the moment the weather cools down five degrees. One of the things I like to make for the house is a pound cake. The last one I made was the insanely lemony lemon pound cake from a few months ago. We were long overdue for a new one.
As a kid, one of my favorite after school snacks was butter and jam on toast. I never had it for breakfast, but I ate it almost religiously while in elementary and middle school. There was something about the swirls of butter and jam on toast that made me so happy. I rarely ever eat it anymore, but to celebrate back to school, I decided to make something similar in the form of this raspberry swirl pound cake. It hits all the marks. Super buttery with lots of raspberry jam flavor. The edges of the pan's design also add a touch of buttery crunch.
To get those perfectly crisp lines in the designs of all my favorite Bundt pans, I always grease and flour my pans. After years of trial and error using butter and brushing on other types of grease, I've found that I get the best results using PAM cooking spray. I love their new spray pumps because they are non-aerosol with no artificial colors, preservatives or flavors. What's more, you can get it in Canola or Olive Oil which means I can use it for a variety of cake flavors.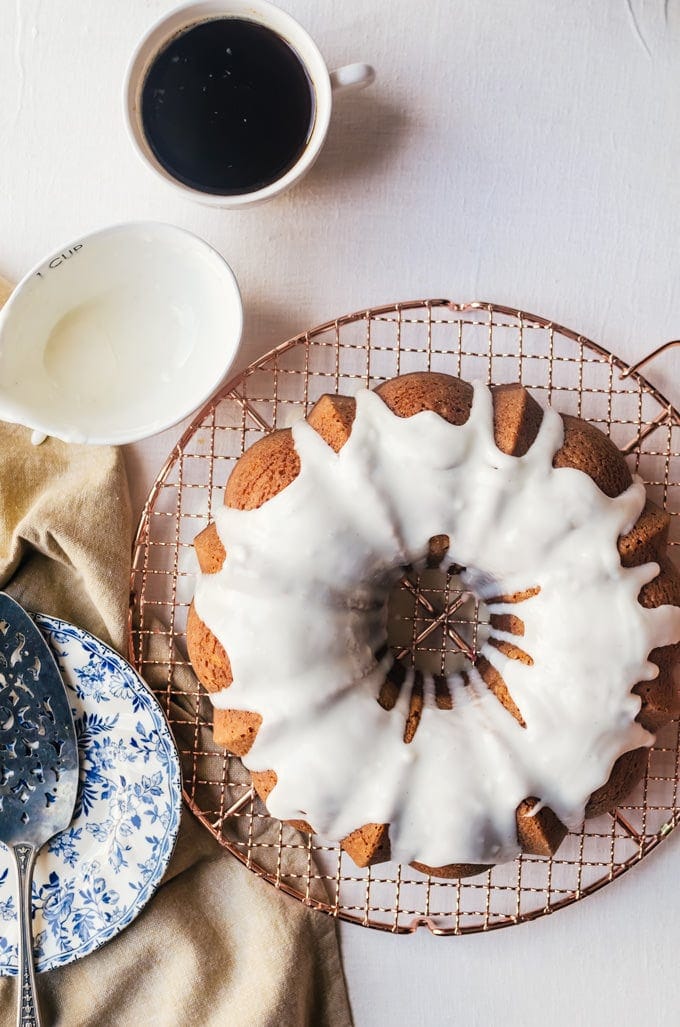 What makes this raspberry swirl pound cake really amazing is how easy it is to make. It's only a few ingredients and a few minutes to put together before you are baking and enjoying this cake. Plus, there are those delicious swirls of raspberry. I recommend using a raspberry jelly instead of preserves or jam because the seeds found in preserves and jam can interfere with the texture of the cake. If you don't mind a few seeds, then feel free to use whatever you desire! You can also amp up the flavor a bit using a few grams of finely crushed freeze dried raspberries.
Go relax and with this raspberry swirl pound cake!
Recipe Card
Raspberry Swirl Pound Cake
You are going to fall in love with this beautiful raspberry swirl pound cake. 
Ingredients
3

cups

cake flour2 teaspoons baking powder1 teaspoon salt2 cups

4 sticks unsalted butter, melted and hot2 ½ cups sugar8 large eggs, room temperature1 tablespoon vanilla extract1 cup raspberry jam1 drop red food coloring (optional)3 cups powdered sugar3 – 4 tablespoons heavy cream1 teaspoon vanilla bean paste.
Instructions
Preheat the oven to 350 degrees F. Spray PAM canola cooking spray in an even coating along the inside of the Bundt pan and lightly flour.

In a medium bowl, mix together the flour, baking powder, and salt. Set aside.

Beat together the butter and sugar until light in color. Beat in the eggs and vanilla and mix well.

Add the flour mixture into the wet ingredients in three additions. When there are still lumps in the batter, separate just over ⅓ of the batter into a separate bowl and mix in with the raspberry jam. Add in food coloring if desired. Mix the remaining batter so there are no more lumps.

Alternate between adding the vanilla and raspberry batter into your baking pan. Use a butter knife to swirl the two batters together.

Bake for 50 – 55 minutes, or until a toothpick comes out clean.

Allow the cake to cool in the pan for at least 10 minutes. Rap the pan on all sides against the counter to loosen, then turn out onto a wire rack. Allow to cool completely.

Once the cake is cool, mix together the powdered sugar, heavy cream, and vanilla bean paste together. Drizzle over the cake and enjoy.
Tried this recipe?
Tag me on Instagram! @acookienameddesire #acookienameddesire
This is a sponsored post written by me on behalf of PAM Spray Pumps.