This roasted brussels sprout and quinoa autumn salad is a healthy and delicious way to welcome in the fall season. Colorful, simply, and great for your waistline 😉
Morning!
I wanted to share this post with you and a bit of small news. I love my desserts. I think desserts are the bees knees and I would eat them all day every day if my waistline would let me. Unfortunately, my waistline hates me, so I gotta eat healthy most...of the time. And I like to think I make a lot of yummy healthy foods. At least that's what daughter tells me. The thing is, that "health" stuff doesn't really belong on this blog. No way, no how! Sure, I've posted a few healthy savory dishes around here, but I don't want anyone getting confused about what I am all about.  I don't want my cakes to hear about my salads. Treachery!
Sooooooo....... I will be posting some healthy recipes up on Homegrown and Healthy, starting with this beautiful autumn salad. And if things go well, it might turn into a regular thing.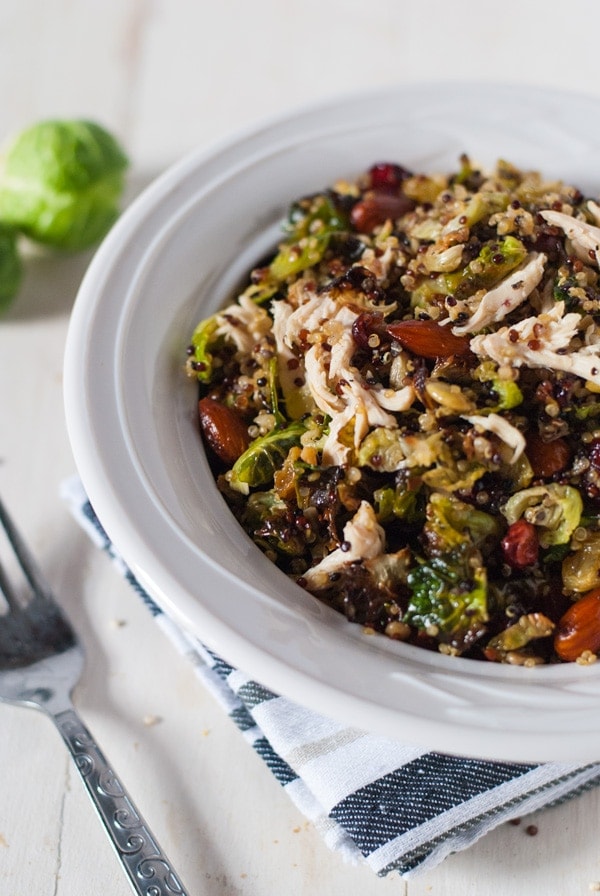 It's got garlicy roasted brussels sprouts that are crispy and totally addictive (I will eat the roasted sprout leaves as a snack at all possible times. They are kind of like kale chips, but you know, not), plus tricolor quinoa that I love just because of its vibrancy, and the shredded chicken which soaks up all that delicious flavor. And the seeds and dried fruit. This is my perfect autumn salad.
Bonus: This salad is just as good warm as it is cold. I prefer it cold, but I think that's only because it allows everything to get soaked in the garlicy olive oil and oregano. Did I mention I love garlic? If you hate garlic, or need a little something more, add in red onion. It will get well and truly caramelized when you roast it and just so good. Seriously, I can't get enough of it.
Don't have time to make this yummy fall salad now? Pin it for later!
Recipe Card
Roasted Brussels Sprout and Quinoa Autumn Salad
A great way to welcome in the fall season. Simple, healthy, and so darn colorful!
Ingredients
½

cup

50 g uncooked tricolor quinoa (regular quinoa works, too)

1

cup

250 mL low sodium vegetable broth

12

large Brussels sprouts

2

tablespoons

extra virgin olive oil

1 - 2

cloves

garlic

I like mine extra garlicy and use 3 -4

2

tablespoons

chopped red onion

optional

½

teaspoon

dried oregano

2 - 3

oz

shredded chicken

½

cup

60-70 g mixed sunflower seeds, pepitas, dried cranberries, golden raisins, almonds

1

tablespoon

red wine vinegar

optional

salt and pepper to taste.
Instructions
Read more: http://homegrownandhealthy.com/roasted-brussels-sprout-and-quinoa-autumn-salad/
Tried this recipe?
Tag me on Instagram! @acookienameddesire #acookienameddesire
And before you go (or on your way back), please let me know what you think about this kind of partnership. Is it something you are excited for, or do you think I should keep all the deliciousness housed here? It's all about what YOU think is best!