An irresistibly creamy roasted peach smoothie packed with flavor and protein. The perfect way to fuel your day and take on anything. This post brought to you by Friendship Dairies. The content and opinions expressed below are that of A Cookie Named Desire.
If you've been following this blog for a while, you know that I am obsessed with smoothies. I've shared a lot of my staple smoothie recipes and I always get requests for more of them. Most of the time, I will have a smoothie 3 or 4 times a week. During the summer, however, I will have a smoothie one or two times a day. It is my favorite way to fuel up and stay cool during these hot summer months.
During the summer, we also like to go fruit picking at our local farm. When peach season rolls around, we can pick over 20 lbs of peaches in a visit and I try to come up with as many different ways to use them up as possible. This roasted peach smoothie was one of those ways and it quickly became a staple.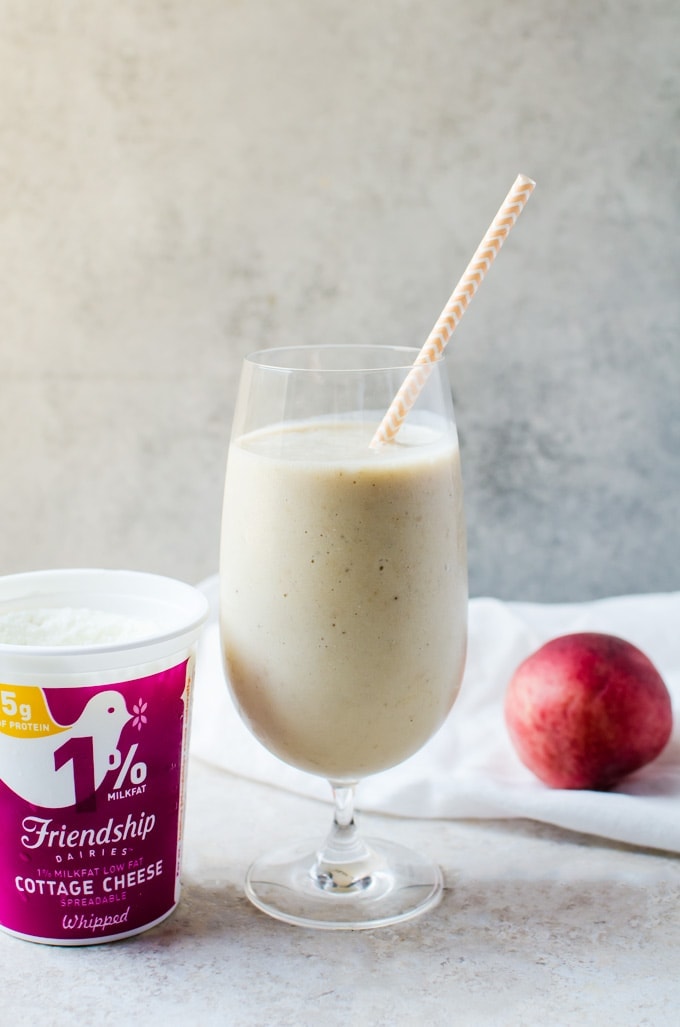 I can't get enough of this roasted peach smoothie and don't mind having it daily. It is naturally sweet, with a nice depth of flavor thanks to the roasted peach. It's irresistibly smooth and creamy thanks to the Friendship Dairies cottage cheese, which also gives it a slight cheesecake flavor. I mean, come on, roasted peach cheesecake! How can you possible resist?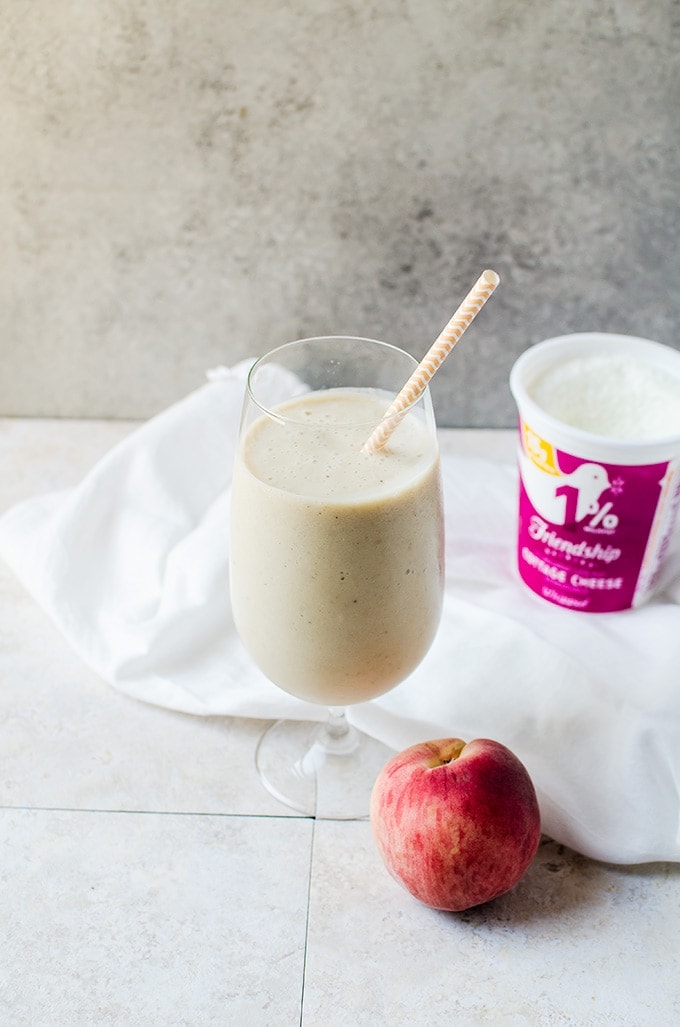 Honestly, I wasn't really into cottage cheese for a very long time. I just didn't like the way it looked and was too scared to try it. What I didn't know about cottage cheese was that it is really The Original Superfood and is really high in protein, with 15 grams of protein per ½ cup serving, which is great to keep you going and "Fuel Your Fancy" as they call it, which means charging up healthily so you can get out there and take on the day with everything you've got. If you are worried about cottage cheese being too boring, there is a lot you can do with it.
Like I mentioned, it makes my smoothie, and almost every smoothie you put it in, taste a little like cheesecake only so much better for you. You can also add it to dips, sauces, and just about anything that may need a bit of creaminess. And I am totally biased, but this roasted peach smoothie is probably my favorite way to eat it. If you need more recipe inspiration, Friendship Dairies has plenty on their site.
So I am curious, how do you like to fuel your day? And what are you fueling for? Today I am fueling up for finishing up the last of our unpacking and planning a weekend trip to the beach!
Roasted Peach Smoothie Recipe
Recipe Card
Roasted Peach Smoothie
Ingredients
2

roasted peaches

½

frozen banana

5 - 8

ice cubes

juice of one lemon

optional

⅓

cup

Friendship Dairies cottage cheese

½

cup

unsweetened vanilla almond milk

⅛

teaspoon

vanilla extract
Instructions
Add all the ingredients to a blender. Blend on low to break up the banana, then slowly bring the speed up to high and blend until it is smooth and creamy - about 1 - 2 minutes. Serve cold.
Tried this recipe?
Tag me on Instagram! @acookienameddesire #acookienameddesire