My favorite part of blogging is the relationships. I love getting to know my readers and seeing who is making the recipes. What I love more is learning that a reader is wanting for a certain recipe and asks me to share my own version for them. Such an awesome feeling. One reader asked for a rum raisin ice cream. It's her favorite flavor of ice cream, but not a lot of stores carry it. I said that I would try and fit it in my schedule this month, but what I really did was rush off to the store to buy the ingredients and I started working on making the ice cream right away. The only reason I didn't share this rum raisin ice cream sooner is because I had a few recipes that needed posting first.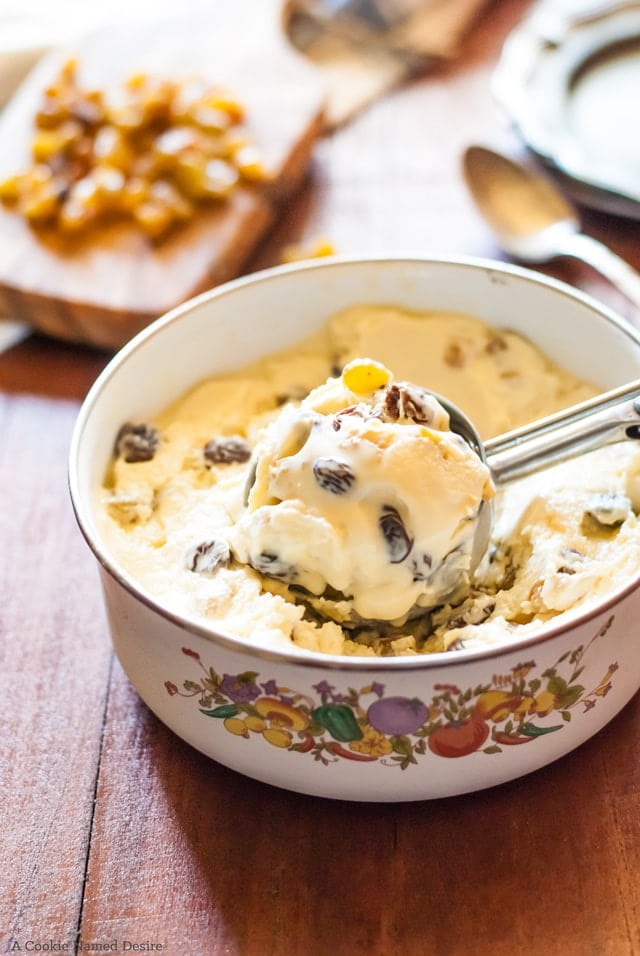 I based my rum raisin ice cream recipe from David Lebovitz's rum raisin in his cookbook, The Perfect Scoop. My only adjustments were to amp up the rum flavor a bit, and add a few pecans for texture and a more balanced flavor. Feel free to leave them out if you want a more traditional rum raisin. Oh, and I paired it with a rum raisin oatmeal skillet cookie. I know oatmeal cookies get a bad rap because they are often confused with chocolate chip cookies. I get it. I really do. When you want chocolate, but get raisins instead, you end up disappointed and with a few trust issues. But really, oatmeal raisin cookies are quite delightful – when you know you aren't getting chocolate of course. They are buttery, spicy, and when you infuse the raisins with rum, bake it in a skillet, and top with rum raisin ice cream, you are in for a really fun treat.
I've been watching a photography series on Creative Live from Todd and Diane of White on Rice couple. They are seriously amazing. Talk about photography goals and relationship goals. They inspired this photography shoot by teaching me to step outside my comfort zone a bit. I also decided it was time to upgrade my camera a step. I've been shooting with a Nikon D3000 (it was a quick replacement after my camera got stolen a few years back) and I am now getting a D7000. I wanted to get a D700, but decided that I would save up for that after the move. I even thought about getting a Canon, but that would mean I would need to buy new lenses as well and I didn't want to do all that. The camera should be getting in sometime next week (maybe even by the time this post goes live!) and I am probably going to end up spending a lot of time experimenting. So excited!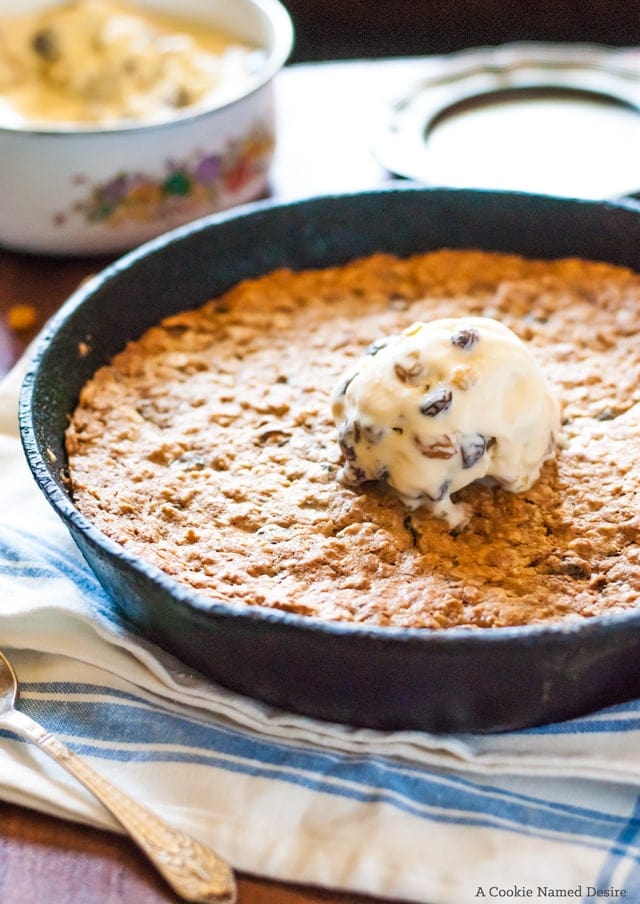 Go and make yourself some rum raisin ice cream (I won't tell if you use extra rum, but try not to go over ¼ of added rum). And please, if you are looking for a particular recipe, please hit me up on facebook, twitter, or email!
Rum Raisin Ice Cream
Author:
Prep time:
Cook time:
Total time:
Serves:
<g class="gr_ gr_59 gr-alert gr_spell ContextualSpelling multiReplace" id="59" data-gr-id="59">1 quart</g> ice cream
Ingredients
⅔ cup raisins (mix of dark and golden preferred)
½ cup, dark rum (I used a spiced Captain Morgan) plus 2 – 3 tablespoons extra
Zest from half an orange
¾ cup whole milk
⅔ cups sugar
1 ½ cups heavy cream
4 egg yolks
⅓ cup chopped pecans
Instructions
In a small saucepan, mix together the raisins, rum, and orange zest. Heat on medium just until the mixture begins to boil. Turn off the heat and cover for about 5 minutes, then remove from heat to soak for a few hours, or overnight.
In a medium saucepan, mix together the milk and sugar together and heat on medium high until the mixture begins to simmer.
Beat the yolks in a small bowl, then slowly whisk in some of the hot milk, making sure you whisk the yolks constantly. Slowly pour the yolks back into the milk while whisking constantly. Whisk the mixture until it begins to thicken into a custard consistency.
Place the heavy cream in a medium-large bowl and put a fine mesh strainer over the cream. Strain the custard mixture into the cream. Mix, then place the bowl into an ice bath, being careful not to get any water into the mixture. Alternatively, you may place the mixture into the refrigerator for several hours, or until it reaches 40 degrees F.
Drain the raisins and reserve the rum. Add more rum as necessary until you have about 3 tablespoons of rum.
Mix the rum into the custard mixture and place the custard into the ice cream maker and churn according to manufacturer instructions. Just before the ice cream is ready, pour the raisins and pecans into the ice cream maker and churn for another 5 minutes. Pour the ice cream into an <g class="gr_ gr_66 gr-alert gr_spell ContextualSpelling ins-del" id="66" data-gr-id="66">air tight</g> container and freeze until firm.
Notes
Ice cream based off David Lebovitz's Rum Raisin Ice Cream in his book, [url href="http://www.amazon.com/gp/product/B00HTK2NY0/ref=as_li_tl?ie=UTF8&camp=1789&creative=390957&creativeASIN=B00HTK2NY0&linkCode=as2&tag=hubp0bc66-20&linkId=MO7UOVFYOEANK4G2" target="_blank"]The Perfect Scoop[/url]
Recipe Card
Rum Raisin Oatmeal Cookies
Ingredients
½

cup

1 stick unsalted butter, room temperature

⅔

cup

granulated sugar*

1 ½

tablespoons

molasses*

1

large egg

room temperature

1

teaspoon

vanilla extract

⅔

cups

all-purpose flour

½

teaspoon

baking soda

½

teaspoon

ground cinnamon

½

teaspoon

salt

1 ½

cups

old fashioned oats

¾

cups

rum-soaked raisins**

⅓

cup

chopped pecans
Instructions
Preheat the oven to 350 degrees F. Grease a 12-inch cast iron skillet with butter.

In a mixer, beat the butter, sugar, and molasses together until light and cream. Beat in the egg until well combined, then add in the vanilla.

In a separate bowl, mix together the flour, baking soda, cinnamon, salt, and oats. Mix in the flour mixture into the butter mixture and mix until just combined. Fold in the rum soaked raisins and pecans.

Pour the dough into the cast iron skillet and spread out into an even layer. Bake for about 20 – 25 minutes, covering the cookie about 15 minutes in with aluminum foil. The cookie should be golden brown and a toothpick should come out fairly lean, but not completely so when inserted in the middle (the cookie will continue to cook in the skillet as it cools)
Notes
*If you do not have molasses, you can use ⅔ cups dark brown sugar instead
**Use the same method we used in the ice cream to soak your raisins, using ½ cup, plus 2 tablespoons rum leave in any excess rum.
Tried this recipe?
Tag me on Instagram! @acookienameddesire #acookienameddesire