My love for chocolate know no bounds. Seriously, I would marry chocolate if it had a good health insurance plan and would be able to buy a house with me. For now, I will settle for this incredibly deliciously decadent tart.
I was inspired to make this tart when I saw a recipe for chai cookies dipped in chocolate and I thought, "That is not nearly enough chocolate." Then I happen to buy a brand new tart pan and this baby was born. I need to warn you, this tart is extremely decadent – even by my standards which is saying something. You only need a tiny slice to satisfy any chocolate cravings.
I recommend pairing this with a glass of wine or even a glass of milk (I recommend almond!). Fresh fruit also helps cut some of the richness of the chocolate. Or, you know, you can be like me and add whipped cream and eat it for breakfast. You really can't go wrong with chocolate.
The chocolate is a ganache-base, pretty much identical to the ganache I used in my grapefruit cake. So as you can imagine this tart is super smooth and creamy. Pair that with the buttery chai shortbread and you are in chocolate heaven. Go on, you'll thank me later.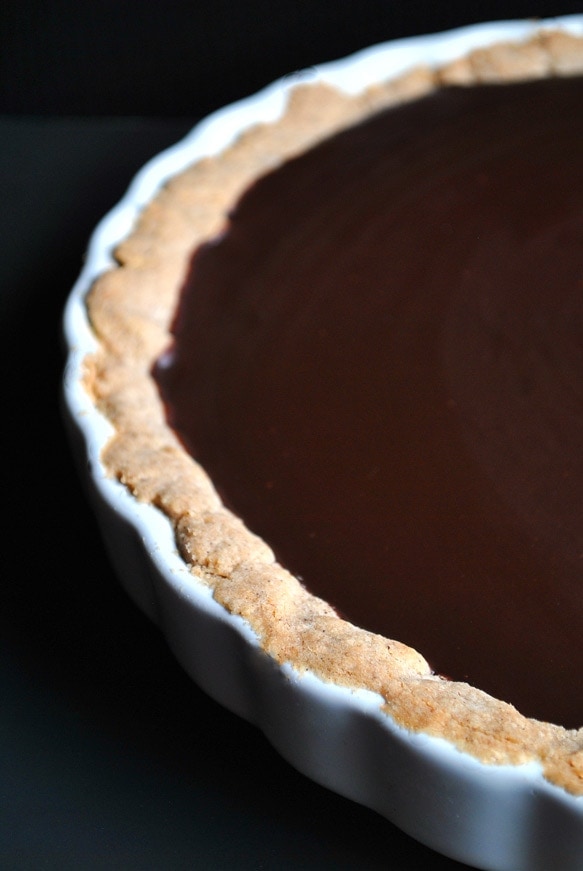 Salted Chocolate Tart with a Chai Shortbread Crust
Ingredients
Chai Shortbread
2 cups flour
¼ tsp salt
1 tsp cinnamon
1 tsp cardamom
¾ tsp nutmeg
¾ tsp ginger
¾ tsp cloves
½ cup powdered sugar
2 sticks butter
Chocolate Filling
8 ounces bittersweet chocolate, finely chopped
4 ounces semisweet chocolate, finely chopped
4 tablespoons unsalted butter (1/2 stick), cut into small pieces
1 cup heavy cream
3 tablespoons granulated sugar
¼ teaspoon fine sea salt
1 teaspoon fleur de sel
Instructions
Preheat the oven to 350 degrees and line the bottom of your tart pan with parchment paper. Lightly grease and flour the sides of your tart pan if desired.
Mix the flour, salt and spices.together in a medium bowl for the chai shortbread crust.Cream the butter and the powdered sugar until light in color. Slowly add the flour mixture and mix until well combined. Press into the bottom and sides of the tart pan. Prick the bottom with a fork and bake for about 30 minutes. Allow to cool completely.
Boil a pot of hot water and place another pot over it (or use a double boiler if you have one). Slowly melt the chocolate over the steam heat, stirring constantly. Remove the chocolate once it's melted and add in the butter. Then add in the heavy cream, sugar and fine sea salt.
Pour the chocolate mixture into the crust and allow to set in the refrigerator - about 2 - 3 hours. Sprinkle with the fleur de sel.