Soft, buttery snowball cookies stuffed with mini peanut butter cups. These cute holiday cookies are perfect for gifting to everyone on your list this season! This post has been sponsored by SC Johnson, makers of the Ziploc® brand. All thoughts and opinions are my own.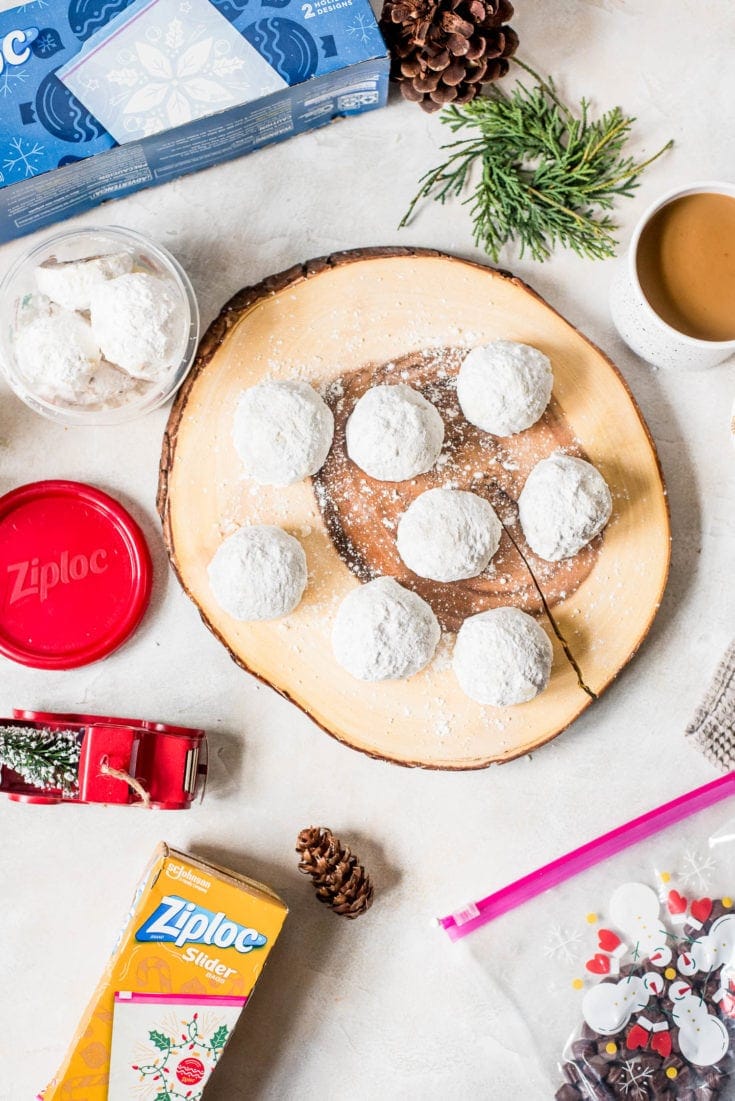 These snowball cookies are the perfect addition to your holiday desserts. So easy to make and incredibly delicious. They're fun for kids and adults alike, especially when gifted in a holiday-printed Ziploc® brand container. Coupons.com has a $1 off any 2 Ziploc® offer while supplies last, making it even easier to grab your supplies!
The cookies are soft, with a nice hint of vanilla-infused throughout. These particular cookies also have a hidden surprise in the middle in the form of a mini peanut butter cup! You can replace the peanut butter cup with anything you like such as caramel-filled chocolate or a chocolate square.
How to Make Snowball Cookies
These cookies are so easy to make, and a ton of fun for kids and adults to make. It's just a matter of mixing and rolling!
Beat the butter and sugar together until creamy.
Mix the dry ingredients into the butter mixture, and mix until there are no streaks of flour.
Roll the dough around a mini peanut butter cup and bake.
Toss with powdered sugar when warm, then again when cool.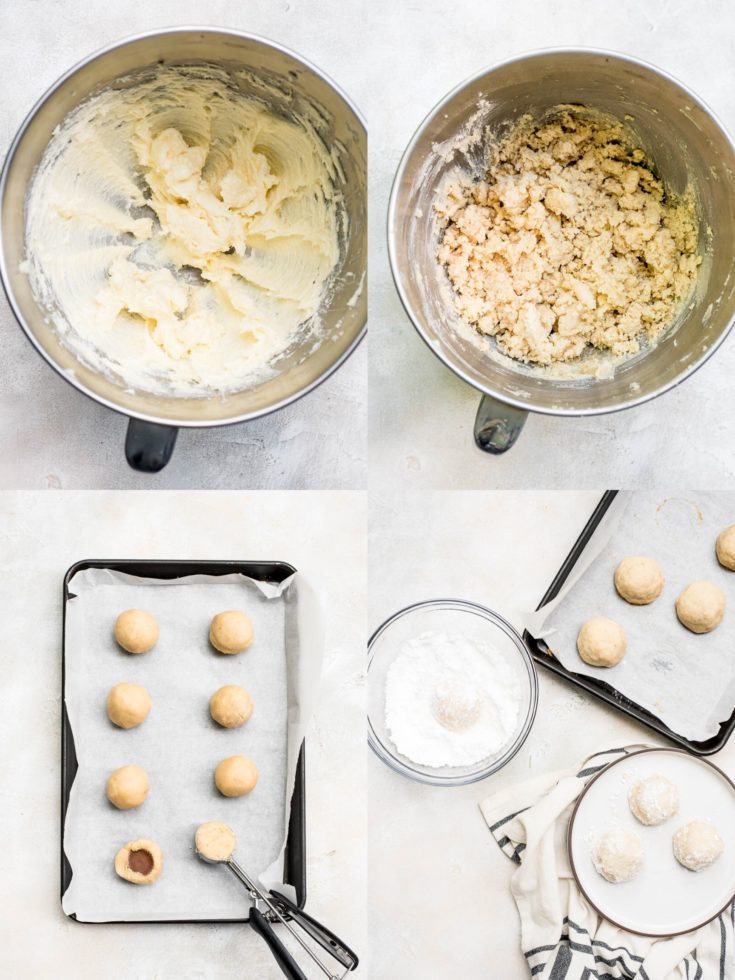 How Far in Advance Can You Make Holiday Cookies?
You can begin making your cookies roughly two months in advance. I love making cookie dough in advance and storing them in the freezer. The unbaked snowball cookie dough can last a month in the freezer. Then once baked, if you wish, they can be frozen again.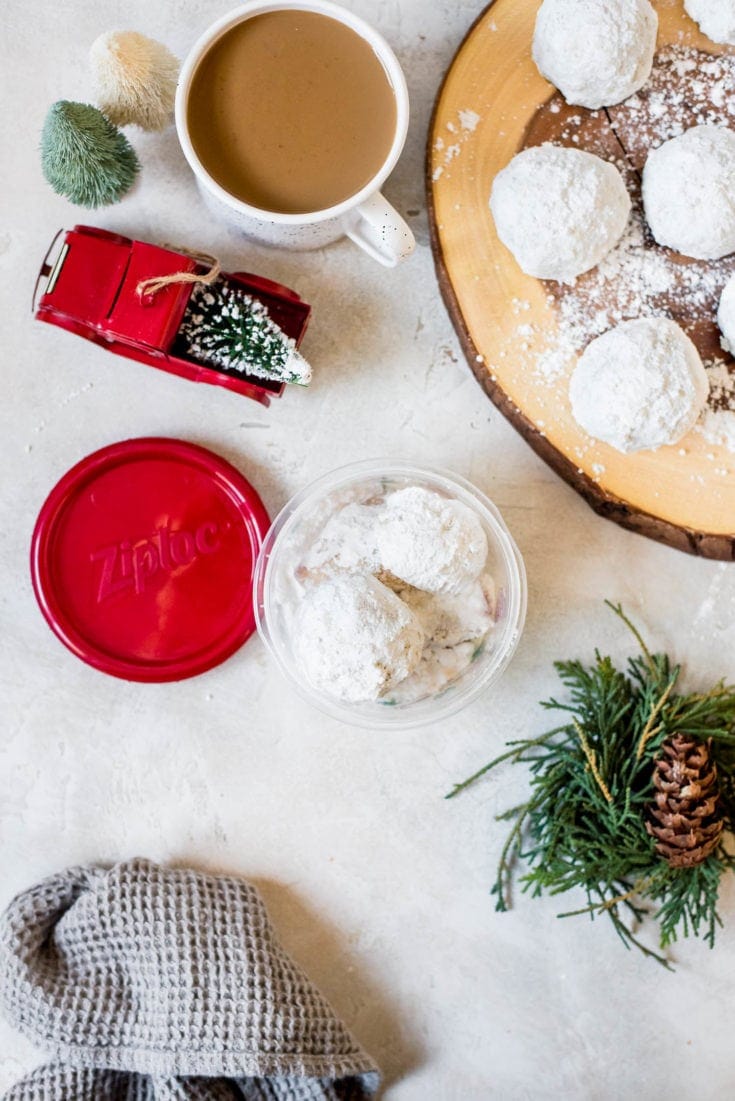 Do Snowball Cookies Freeze Well?
Yes, these cookies do freeze well! They will sometimes get slightly crumbly, especially if you try to eat them while they're still partially frozen (I personally love them that way), but if you leave them to thaw before eating, they should be fine! Just toss them in more powdered sugar before eating. Store the cookies in a Ziploc® brand freezer bag or container in your freezer and they should last a month.
How to Store Your Holiday Cookies and Leftover Ingredients
The Ziploc® brand holiday printed bags are perfect for storing your leftover ingredients. Ziploc® brand freezer bags will keep extra cookie dough intact and if you have extra mini peanut butter cups or powdered sugar, these bags will make sure they stay fresh until you are ready to use them again.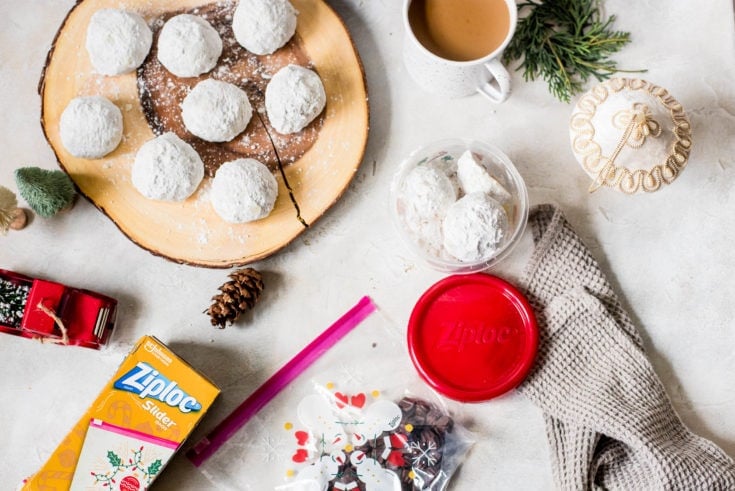 Snowball cookies are best stored in Ziploc® brand Twist 'N Loc containers and Ziploc® brand Press 'N Seal containers. They keep the cookies fresh and they're gorgeous enough to gift to family, friends, and neighbors! Plus, the Ziploc® brand Press 'N Seal containers have easy open tabs for little hands, while the Twist 'N Locs are even easier to open thanks to their built-in grips.
If you are as interested in being sustainable as I am, Ziploc® brand products are great for reusing. The containers are great to use any time, but did you know that you can also save the bags? Their durability allows them to be hand-washed and dried for future use.
Print
Snowball Cookies
A delicious and fun snowball cookie recipe
Materials
Ziploc® brand holiday printed bags

Ziploc® brand containers

powdered sugar

2 ½

cup

flour

¼

cup

almond flour

¼

teaspoon

salt

1

cup

butter

⅓

cup

granulated sugar

1

teaspoon

vanilla extract

16

mini peanut butter cups or chocolate candies
Instructions
Preheat the oven to 325 degrees F. Line a baking sheet with parchment paper. Pour powdered sugar into a bowl. 

In a bowl, mix together the flour and salt together. Set aside. 

In a mixer, beat the butter, sugar, and vanilla together until light and fluffy. 

Add in the flour mixture and beat together until the mixture comes together. It may look clumpy at first but if you press it, it should stick together. 

Take about 2 tablespoons of dough and create a deep indent. Stuff a mini peanut butter cup in the middle, then cover completely with dough. 

Roll into a ball, and place at least two inches apart on the baking sheet. 

Bake for 13 - 15 minutes or until they just begin to brown. 

Allow them to cool slightly on the baking sheet until they are just cool enough to touch. 

Toss the cookies in the powdered sugar, then set aside to cool completely. 

Coat in powdered sugar again when cool.