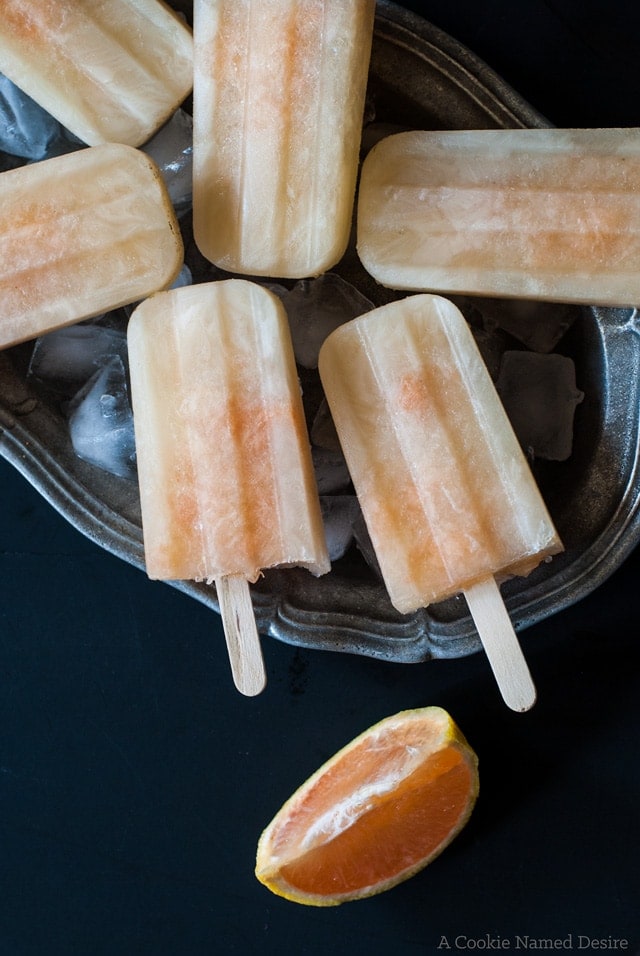 Guys, I am already pining for summer. I'm sure I won't be saying that when it is 100 degrees outside, but right now, I crave clear, sunny skies, ice cold frapps, and wriggling my toes in the warm sand. These spicy rosemary grapefruit popsicles are a perfect way to transport me to a time much warmer than this.

You ready for a quick trip to summer? I'll grab the popsicles, you get the sun block.
These grapefruit popsicles are a really fun, adult way to enjoy your favorite childhood treat. It's made grown up with an infusion of ground chili peppers and hint of rosemary into the simple syrup. Now, I used a full teaspoon of each of the ground peppers and rosemary and while the rosemary flavor came out exactly as I hoped, the spiciness was a bit too much for me. I recommend cutting it down to ½ a teaspoon. You want the heat to be subtle, giving you only the slightest bit of spice at the end of each lick. A full teaspoon may be overpowering, especially if you are not used to spicy desserts.

I am trying to playround with my photography a bit more. If you follow me on pinterest, you will see that I am a big admirer of the dark and moody type of shots. I haven't really explored it much because shooting on darker backgrounds and getting that moody effect really intimidates me. I decided to start practicing by taking these pictures with the black side of my foam core boards. I also experimented with some of the fruits I have in the house. I mostly just wanted to see how well I adapted to the black background. I wasn't really focused on styling or anything... what do you think? Photographers: I would love some words of wisdom on shooting darker photos!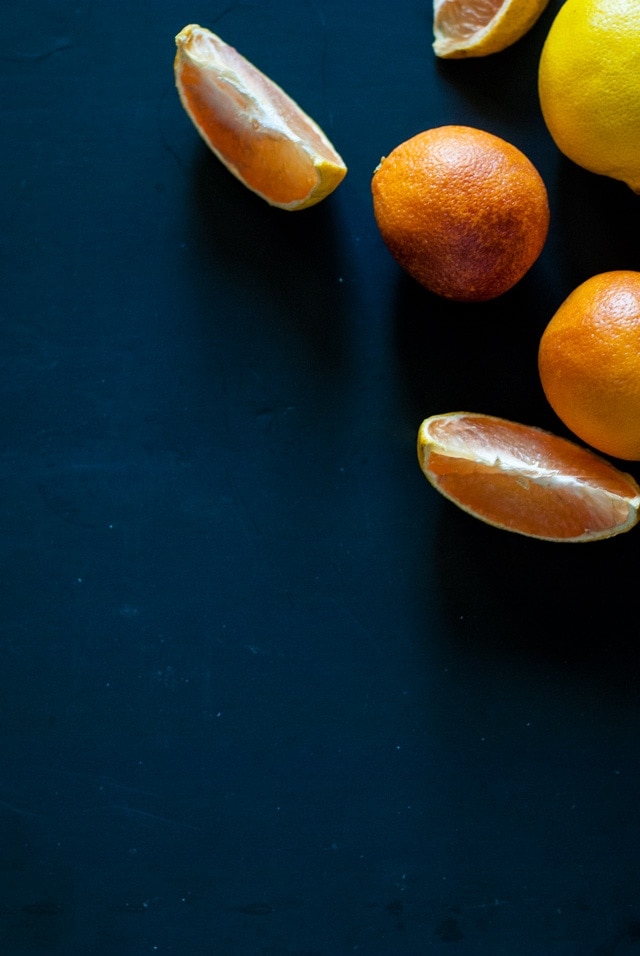 Back to the popsicles and summer. These popsicles are too tasty and too simple to make to pass up. Go on, make some. And when you take your first taste and feel a warm breeze. remember, that's not your heater... that's the breeze from a hot summer's day.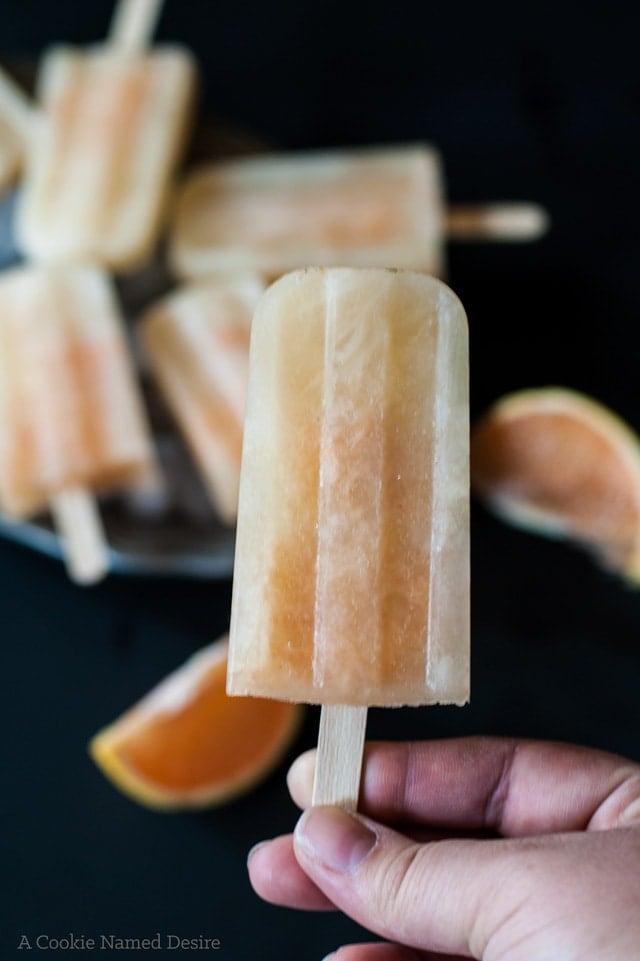 Recipe Card
Spicy Rosemary Grapefruit Popsicles
A refreshing spicy rosemary grapefruit popsicle
Ingredients
⅔

cup

sugar

⅓

cup

water

½

teaspoon

ground chili peppers

1

teaspoon

dried rosemary

1

cup

grapefruit juice

2 - 3

tablespoons

grapefruit pulp

optional
Instructions
Boil the sugar, water, peppers, and rosemary together for about 5 minutes. Pour the mixture through a fine mesh strainer to remove the peppers and rosemary.

Mix the grapefruit juice and simple syrup together and put in a liquid measuring up.

Pour the mixture into popsicle molds. You should have enough to fill 10 molds.

Freeze for about 1 hour, or until the mixture is slushy. Divide the pulp into the molds and mix in.

Insert popsicle sticks and freeze for another 3 -4 hours, or preferably overnight.
Tried this recipe?
Tag me on Instagram! @acookienameddesire #acookienameddesire