Popsicles are amazing icy treats from heaven.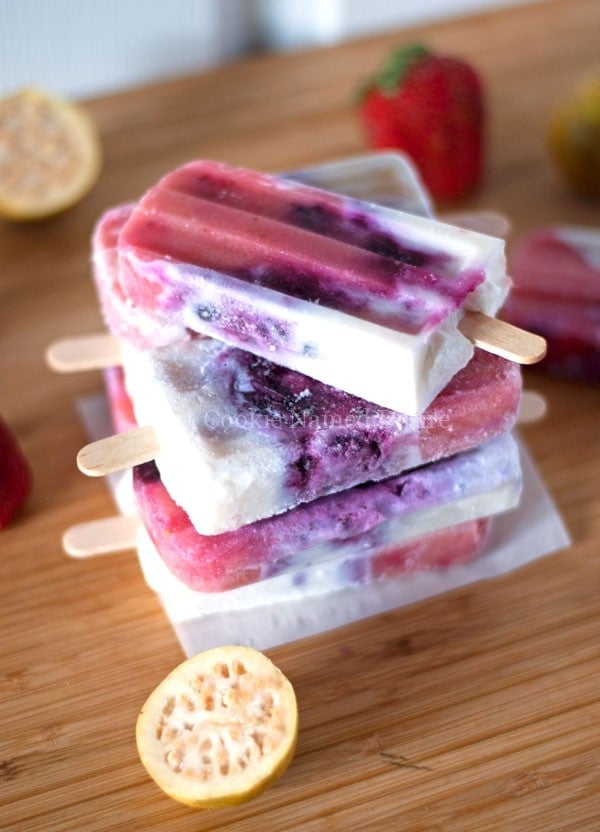 Unfortunately, I don't make them often because my toddler is the only person her age that hates popsicles (the neon-colored store-bought push-up popsicles are okay though). So, I only ever make popsicles when I really want one. And when I saw that my local produce store had fresh guava for sale, I suddenly had the biggest craving for a guava popsicle.
For some reason, my produce store never has the "popular" fruit variations, in this instance, they only had white guava as opposed to those bright pink guavas I am so in love with. There isn't a difference in taste, but still. To get the pink color, I've been obsessing over, I mixed it with the strawberries and the taste was incredible! Paired with the wild blueberries and the coconut milk & yogurt mixture, it is a sweet and summery treat I can't get enough of!
Let's take a moment to stare at my sister's chipped Julep polish. And how awful that stupid watermark is. I got rid of that plugin, but I can't find clean copies of the photos on my work computer. (Did I ever mention how my office is deathly quiet, so I end up writing the occasional post here to help pass the time? More on that later)
Strawberry Guava Popsicle with Wild Blueberries and Coconut Greek Yogurt
Ingredients
½

cup

fresh roughly chopped strawberries

½

cup

sugar

divided

½

cup

wild blueberries

8

fresh guava

peeled, deseeded and pureed

½

can 12oz coconut milk

½

cup

vanilla yogurt
Instructions
in a small pot, heat the strawberries and half the sugar on medium heat until the strawberries release their juices and the strawberries are soft. Mash the strawberries with a fork or potato masher. Place in a separate bowl and set aside. Repeat the process with the blueberries.

Mix the pureed guava with the strawberries and divide the mixture in 10 popsicle molds. Layer the blueberry mixture on top.

Mix the coconut milk with the yogurt and layer this on top of the blueberry mixture.

Insert popsicle sticks and freeze for at least 4 hours.
Notes
For defined layers, freeze the popsicles for one hour before adding each layer. Insert the popsicle stick after you freeze the second layer, before adding the final layer. Freeze the popsicles for three hours after adding all three layers.
Tried this recipe?
Tag me on Instagram! @acookienameddesire #acookienameddesire