This traditional challah recipe creates a delicious bread you will want to have around every day. The challah dough recipe is also a great master dough for your favorite add-ins and for making so many other delicious breads.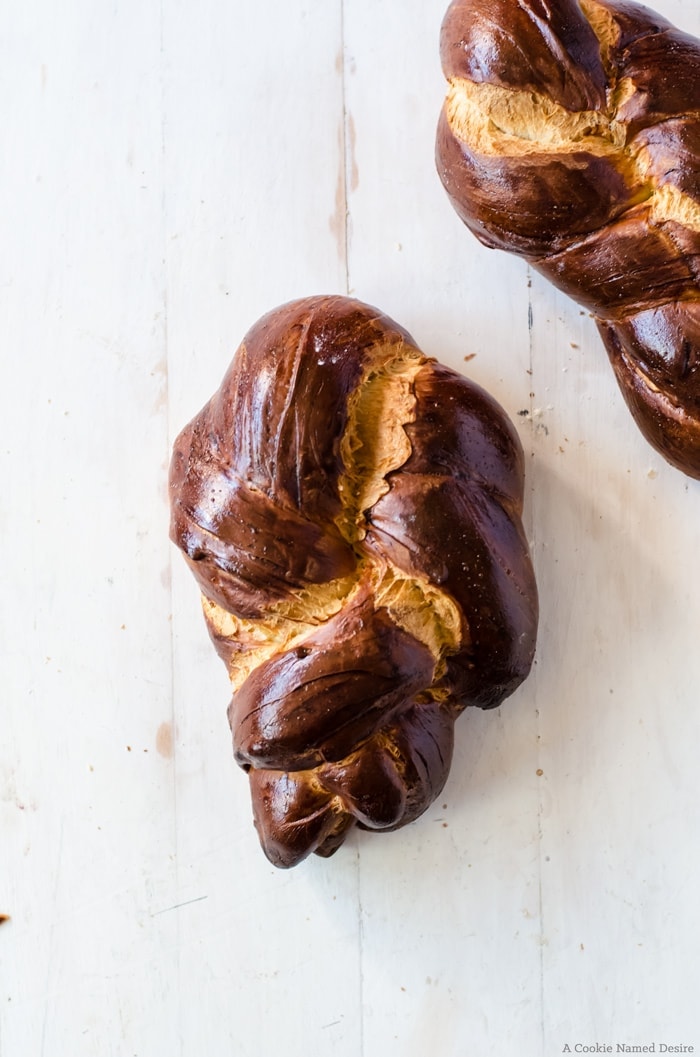 When I heard about the Hot Bread Kitchen cookbook, I could not wait to get my hands on it. I've heard a bit about the bakery in the past and was excited to learn that they are finally sharing some of their recipes. The Hot Bread Kitchen bakery is actually a social enterprise that provides education and hands-on experience to low-income minority women. Not only do they teach them about baking, but they also teach them about managing a bakery in all its aspects so they may find opportunities within the food industry, or even start their own food-related business. This touches me to the core and I cannot help but want to do everything I can to help further their cause.
The cookbook is filled with so many different types of bread from around the world. Some I was already familiar with, but most were completely new to me. Spread out in the cook are other recipes for curries, sandwiches, and a few sweeter dishes. All perfect for making with leftover bread you may have from the book, or meals to eat with your bread. You learn a bit about some of the bakers and some of the recipes they've taught one another from their home countries as well as the history and workings of Hot Bread Kitchen.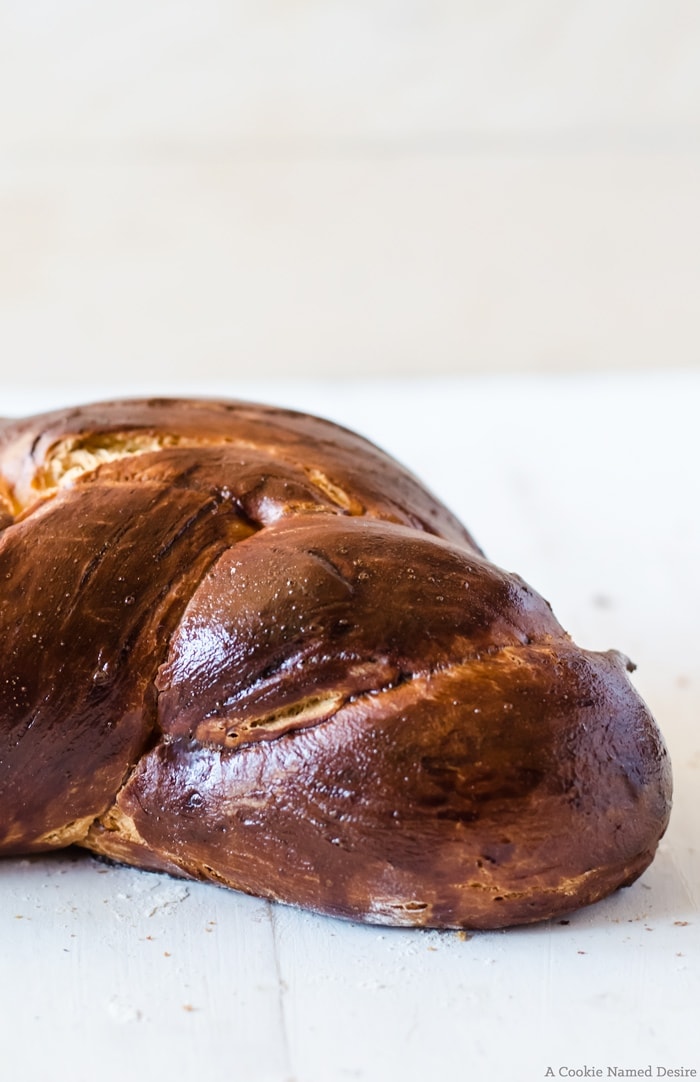 I decided to try the traditional challah recipe. During my baking, I learned about the variations of challah and how they cal tell you where the person who made the bread may be from. For instance, this particular recipe, one with a lot of egg are typical of Ashkenazi Jews from Central and Eastern Europe. Hot Bread Kitchen also uses this recipe as a master dough for several other breads that they make, including their Parker House Rolls.
I've only made a challah recipe once before. A chocolate and cherry-filled one that I never got the chance to share on the blog (we ended up eating it too fast), so my braiding technique.... well, there is no technique in it at all when I do it. Which you can tell by the photos. I am practicing, so hopefully it'll be even better the next time I make it! Fair warning, this challah recipe uses a pate fermentee to give it more flavor. This means you will need to plan ahead as the pate fermentee needs at least 8 hours to rise, preferably 24 hours.
Recipe Card
Traditional Challah Recipe
A simple and flavorful challah
Ingredients
Pate Fermentee
½

cup

water

warm, plus 1 teaspoon

⅔

teaspoon

active dry yeast

1 ⅓

cup

bread flour

plus 1 tablespoon

1

teaspoon

kosher salt
Challah
2 ½

cups

flour

bread or all-purpose

1

tablespoon

plus 2 teaspoons sugar

3 ½

teaspoons

kosher salt

1 ¼

teaspoons

active dry yeast

1

recipe pate fermentee

recipe below

3

large eggs yolks

beaten

2 ½

tablespoons

honey

3

tablespoons

water

more as needed

3

tablespoons

oil

more for bowl

2

large eggs

beaten
Instructions
Pate Fermentee
Place the water and yeast in a bowl, then add the flour and salt. Mix until it forms a shaggy dough.

Transfer to a bowl and cover with plastic wrap. Allow to rise for 30 minutes at room temperature.

Place the covered dough in the refrigerator for at least 8 hours, preferably 24. Can be used cold
Challah
Add all of the ingredients except the 2 large eggs listed at the end into a stand mixer fitted with a dough hook. Mix on low until everything combines, then slowly bring up the speed to medium-high until the dough becomes smooth and elastic. (If you don't see everything becoming fully incorporated after a few minutes, add water, one tablespoon at a time until it comes together.)

Lightly coat a bowl with oil and place the dough inside. Cover with plastic wrap, then place the bowl in a plastic bag. Place in a warm, dry area for 1 ½ hours.

Deflate the dough and transfer to a very lightly floured surface. Divide into four equal pieces. Roll each piece to about 18 inches in length.

Form a two-strand braid. You can do this by making an "X" with two of the ropes. Take two opposite ends of the "X" and fold over so the end that was on the bottom is now on the top and vice versa for the top end. Repeat with the other two ends. Keep repeating this until you can't any longer. Turn this bundle onto it's side and gently stretch to show the braid. Take the small end, which should be the end with the ends of the ropes and press together and tuck under the braid. Repeat with the other two ropes.

Brush the loaves with the beaten eggs. Cover and rise for an hour. While the loaves are rising, preheat the oven to 350 degrees F. Brush again with the eggs and bake for 45 minutes to an hour. The bread should be a dark brown and sounds hollow when you tap on it. Transfer to a wire rack to cool completely.
Nutrition
Calories:
147
kcal
Carbohydrates:
23
g
Protein:
5
g
Fat:
4
g
Saturated Fat:
1
g
Polyunsaturated Fat:
1
g
Monounsaturated Fat:
2
g
Trans Fat:
1
g
Cholesterol:
51
mg
Sodium:
592
mg
Potassium:
52
mg
Fiber:
1
g
Sugar:
3
g
Vitamin A:
70
IU
Vitamin C:
1
mg
Calcium:
12
mg
Iron:
1
mg
Tried this recipe?
Tag me on Instagram! @acookienameddesire #acookienameddesire