A chunky vegetable shakshuka unlike any traditional eggs in hell dish. This version is full of hearty flavorful vegetables mix in the spicy tomato base for a breakfast that will keep you fuller for longer. Feta is studded throughout the dish for an added salty twist.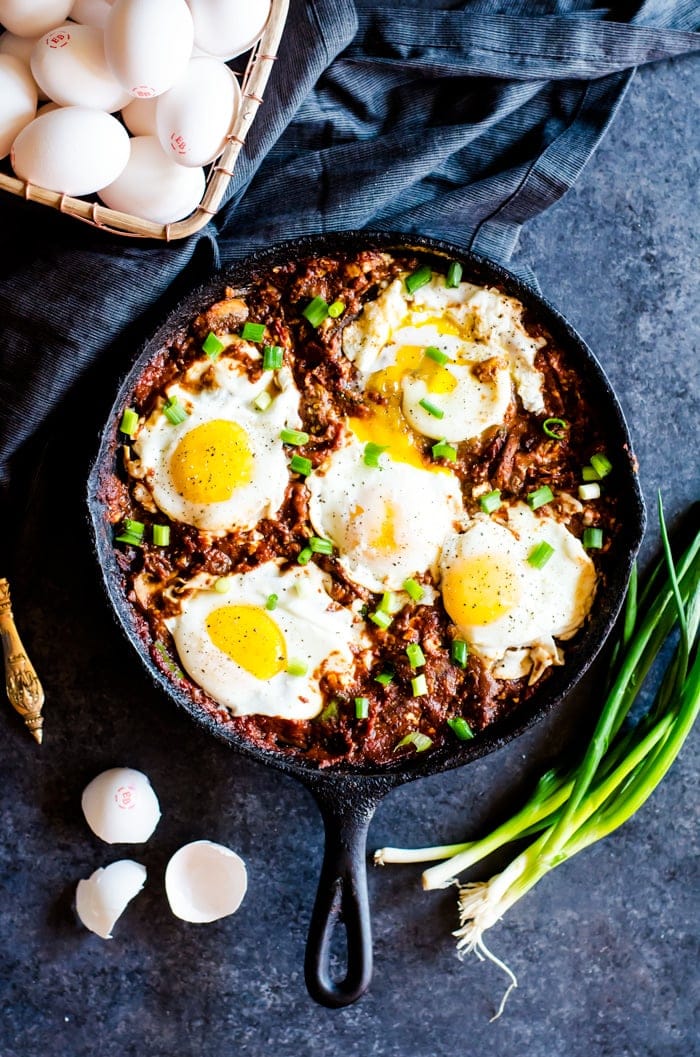 The first time I've ever tried shakshuka was at a Moroccan restaurant years ago. I was exploring with my friends early in the morning because we planned on spending the day searching for a flat for us to move into and left the university well before they started serving breakfast. By the time we made it closer into the city we were starving and decided to try something new. We heard of a good Moroccan restaurant not too far from where we were and decided to try them out.
The food was even better than what we were expecting. We ended up ordering two dishes for the three of us to share and immediately regretted it because everything was so good, we needed more. If we weren't in a rush, we probably would have spent a lot longer there to try out another dish and get to know the owners, but we had an appointment with another estate agent and had to leave. The shakshuka (also known as eggs in hell), left a long lasting impression on me.
Most mornings, I wake up hungry for something hot, hearty, and healthy. Since that morning, I've been making shakshuka for years now and it is one of my go-to recipes for breakfast. If you were wondering, shakshuka is usually eggs poached in a spicy tomato sauce and served with a side of bread. I like to take things a bit further and add a lot of vegetables, and a bit of cheese to make it a more complete meal that I can have any time of day.
What is so great about this vegetable shakshuka recipe is that it is all done in one pan and that is it. Oh yeah. This shakshuka recipe is just adding things in different stages into the same pan and then you are done! Okay, sometimes I also eat my shakshuka right out of the pan just to keep the clean-up as low as possible. Plus, it's kind of fun when you and someone else can eat right out of the pan with your bread.
Despite all the vegetables and spiced tomato sauce in this vegetable shakshuka, the eggs are the real star of the show. They need to be perfectly cooked so the yolks can remain runny and perfect for dipping the bread. Since eggs are the main ingredient, I recommend using a high quality egg. My family usually buys Eggland's Best. We love them because we know their hens are fed a vegetarian diet free of hormones, steroids, and antibiotics. They are lower in calorie and higher in vitamins than ordinary eggs with more than double the omega 3 and four times more vitamin d, to name a few. Some people say they can't taste the difference between eggs, but we can certainly taste the difference. The yolks are richer (better for dipping!) and the eggs as a whole are so much more flavorful. The richer-toned yolks also stand out beautifully against the tomato sauce.
If you are not a big fan of spice, you can certainly tone it down, but I this particular vegetable shakshuka is very mild in spice so my daughter can enjoy it as well.
Recipe Card
Vegetable Shakshuka
An easy and filling breakfast vegetable shakshuka
Ingredients
2

tablespoons

extra virgin olive oil

1

medium onion

diced

3

cloves

garlic

finely diced

2

teaspoons

paprika

1

teaspoon

ground cumin

½

teaspoon

cayenne pepper

or to taste

½

teaspoon

cracked black pepper

½

teaspoon

turmeric

2

tablespoons

tomato paste

1

small eggplant

peeled and diced

2

poblano peppers

diced

1

cup

diced portobello mushrooms

1 28

oz

can crushed tomatoes

salt to taste

4

oz

feta cheese

5

Eggland's Best Eggs
Instructions
Heat a large cast iron skillet on medium high. Add the oil, then the onions, garlic, paprika, cumin, cayenne pepper, black pepper, and turmeric.

Cook just until the spices become fragrant, then add the tomato paste. Cook for about an additional 1 - 2 minutes.

Add the eggplant, poblano pepper, and mushrooms and cook until the vegetables are softened. Add the crushed tomatoes, and salt (you may not need much as the feta is quite salty) then cook for another 4 - 5 minutes.

Add in the feta cheese in small clumps throughout the mixture. Make sure the cheese is submerged into the tomato sauce.

Create 5 wells in the pan and add the Eggland's Best eggs into the wells. Lightly run your spatula into the whites to break it slightly and allow it to incorporate some of the tomato. Leave the yolks whole.

Cook for about 2 - 5 minutes, depending on how hard you want the egg whites. Cover and cook for 1 minute to lightly cook the top of the egg whites, but not much longer, or else you risk cooking the yolks. Sprinkle a pinch of salt and pepper over the Eggland's Best eggs.

Serve hot with a side of bread. I recommend homemade pita or naan.
Nutrition
Calories:
491
kcal
Carbohydrates:
46
g
Protein:
25
g
Fat:
27
g
Saturated Fat:
10
g
Polyunsaturated Fat:
15
g
Cholesterol:
344
mg
Sodium:
1169
mg
Fiber:
12
g
Sugar:
23
g
Tried this recipe?
Tag me on Instagram! @acookienameddesire #acookienameddesire