A moist and delicately flavored white chocolate cake with a smooth and creamy peppermint Italian meringue buttercream frosting topped with airy peppermint meringue shells.
Every year I tend to get excited around September and start shopping for Christmas presents for my daughter. At about this same in November, I finally let myself start sharing a few Christmas recipes - usually a holiday cake. Before I made this gingerbread cake, then I made this chocolate coffee peppermint cake, and now I am sharing this white chocolate cake with a peppermint Italian meringue buttercream with peppermint meringue kisses.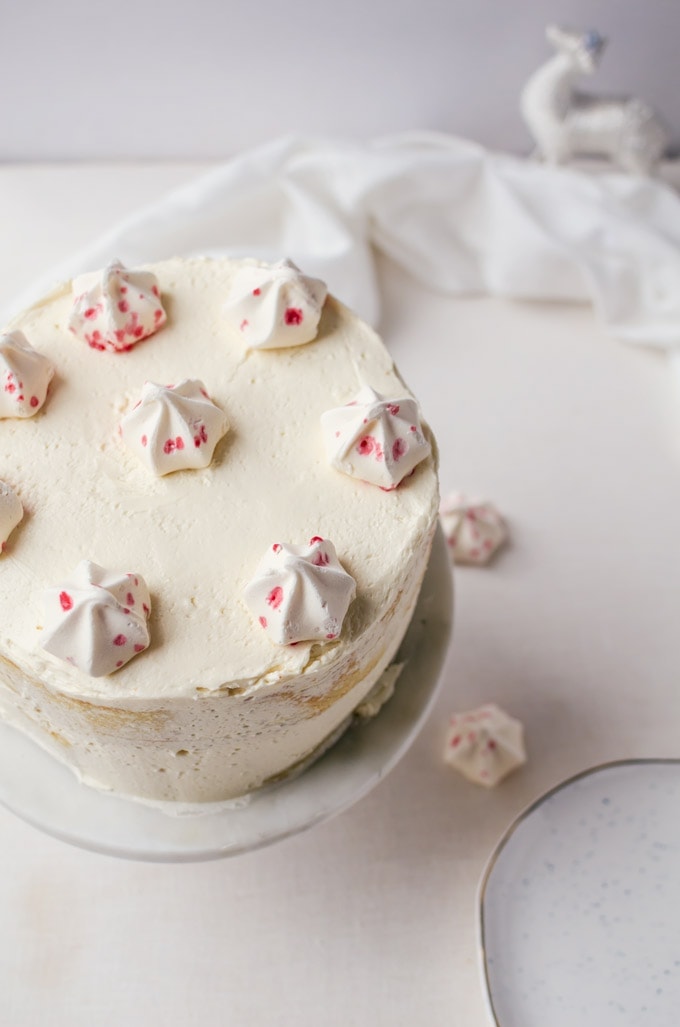 I've been dreaming of making a white chocolate cake of some sort for a while now, and I am so glad I finally did it. My biggest concern was that the white chocolate would make the cake too sweet, but that is not the case at all. Instead, the white chocolate does not add too much more to the sweetness, nor does it overwhelm the flavor of the cake. It is more subtle and adds wonderful depth to the vanilla in the cake. Additionally, it pairs amazingly with the peppermint Italian meringue buttercream.
Usually, I tend to go the easy route and make an American buttercream, but I wanted something silky smooth and wouldn't dry out or harden over time. The smooth Italian meringue buttercream emphasized the cool notes of the peppermint and vanilla. Of course, if you are looking for something a little easier American buttercream will work just fine. My recommendation: whip the buttercream with a whisk instead of a paddle attachment for a lighter, airier frosting. As for the peppermint, I used a regular store brand extract. I recommend adding the peppermint a drop at a time, tasting as you go so the peppermint isn't overwhelming. No want wants to feel like they just brushed their teeth when they are eating cake.
I usually bake with unbleached all-purpose flour and the Organic Unbleached White Flour from Bob's Red Mill is one of my favorites. It is milled from Organic hard red wheat and is not enriched with any additives. Also, it is a high protein flour that is very versatile and is used by many professional bakers for breads and pastries. I think it works well with my white chocolate cake, but if you happen to be gluten-free, their Gluten Free 1-to-1 Baking Flour gives flawless results. You can get a coupon for any of their products here.
This white chocolate cake is perfect for any winter occasion. It's great for office parties or holiday get togethers. I also also recommend it as an amazing alternative to pie for anyone who would rather get something a little more decadent on their plate!

Recipe Card
White Chocolate Cake with Peppermint Frosting
Fluffy and flavorful white chocolate cake with peppermint frosting
Ingredients
For the Cake
10

oz

white chocolate

1 ¼

cups

milk

room temperature

2 ¼

cups

Bob's Red Mill Organic Unbleached All Purpose White Flour

2 ½

teaspoons

baking powder

½

teaspoon

salt

¾

cup

10 tablespoons unsalted butter, room temperature

1 ¼

cups

granulated sugar

4

large eggs

room temperature

2

teaspoons

vanilla extract
For the Frosting
1 ¼

cups

granulated sugar

⅔

cup

water

5

large egg whites

pinch

of salt

1

lbs

2 cups unsalted butter, room temperature

2

teaspoons

vanilla extract

½

teaspoon

peppermint extract
Meringue Kisses
2

large egg whites

at room temperature

⅛

teaspoon

salt

⅔

cup

powdered granulated sugar**

1

teaspoon

vanilla extract

3

tablespoons

crushed peppermints
Instructions
Preheat the oven to 350 degrees F. Grease and flour two 8-inch baking pans.

Mix together the white chocolate and milk together in a small microwave safe bowl. Heat on 50% power for 30 seconds. Stir, then microwave for another 30 seconds. Repeat until the white chocolate is melted and thoroughly combined with the milk. Set aside.

In a small bowl, mix together the flour, baking powder, and salt.

In a mixer, beat the butter and sugar until light and fluffy. Add in the eggs one at a time. Beat well between each addition of egg. Beat in the vanilla.

Add ⅓ of the flour mixture into the butter mixture and mix until just combined. Add half of the melted white chocolate mixture and stir until just combined. Add another ⅓ of the flour and stir to combined. Add the remaining white chocolate mixture followed by the remaining flour mixture. Remember to stir until just combined after each addition.

Evenly distribute the batter into the cake pans and spread out the batter so it is evenly distributed in the pan.

Bake for about 25 - 30 minutes, or until the tops spring back and a toothpick comes out clean when inserted in the middle of the cakes.

Remove from the oven and allow to cool in the pans for about 30 minutes. Run a knife between the cake and the pan, then carefully remove the cakes and allow to cool completely on a wire rack. Once cool, tightly wrap and store in the refrigerator until cold.

While the cake is chilling, make the frosting.

Mix together the sugar and water in a small saucepan and cook until it is 238 degrees F. Do not stir.

While the sugar is cooking, whip the egg whites in a thoroughly cleaned and dried mixer. Add the pinch of salt and whip until the whites form stiff peaks.

Once the sugar is at the right temperature, turn the speed of the mixer to medium-high and carefully pour the mixture between the whisk and side of the bowl. Do not scrape in the sugar and be careful to not get any on you as it burns.

Once all the sugar is in the mixer, beat on high until the meringue is cooled to room temperature. Turn down the speed and slowly add the butter one tablespoon at at a time until it is fully incorporated. Stir in the extracts (tasting as you add the peppermint).

Trim the edges and top of the cakes and top one with about a cup of the frosting. Top with the remaining cake layer. Top that with more frosting and spread the frosting around the top and sides of the cake. Leave it at the crumb coat, or frost the cake fully. (I recommend chilling the cake after you've added a crumb coat for at least an hour).

To make the meringue kisses: Preheat the oven to 350 degrees F. Line two baking sheets with parchment paper and fit a piping bag with a large closed-star tip. Beat the egg whites and salt until they reach stiff peaks. Slowly add the sugar two or three tablespoons at a time, beating well between each addition. Once all the sugar is added, beat until the sugar is dissolved into the egg. Add in the vanilla and mix until just combined. Gently fold in crushed peppermint. Pipr kisses onto the parchment and bake for 20 minutes. Turn off heat, but leave the meringue in the oven for two hours, or until the oven is completely cool. You will not need all the meringue to decorate the cake.
Notes
**For the meringue, I took my sugar and processed it in a blender to create a superfine, powdery sugar which I feel works best in this meringue without having to go and buy superfine sugar at a specialty shop.
Nutrition
Serving:
1
g
Calories:
271
kcal
Carbohydrates:
48
g
Protein:
5
g
Fat:
7
g
Saturated Fat:
4
g
Polyunsaturated Fat:
2
g
Cholesterol:
44
mg
Sodium:
196
mg
Sugar:
42
g
Tried this recipe?
Tag me on Instagram! @acookienameddesire #acookienameddesire
I was selected for this opportunity as a member of CLEVER and the content and opinions expressed here are all my own.