Get ready to try the most amazing banana chocolate chip muffins. They are light, fluffy, delightfully moist, and packed full of flavor!
Muffins are a favorite around my house. We love having them for breakfast alongside a smoothie, or as a better-for-you anytime snack. Chocolate chip banana muffins are the best because they are packed full of melty chocolate and burst with banana flavor. It is a muffin-lovers dream. 
Jump to:
Ingredients
We need just a few pantry-staple ingredients to make the best chocolate chip banana muffins. 
All-purpose flour - I prefer all-purpose flour over other types of flour, but you can use cake flour or white whole wheat flour if that is all you have available. 
Leavening agents - For these muffins, I love using a blend of baking powder and baking soda. This gives the muffins the best rise to make them nice and fluffy. 
Salt - This helps to balance the flavors and help the bananas shine with the chocolate chips. 
Bananas - Ripe bananas give us much-needed sweetness, moisture, and flavor. That is what makes muffins made with bananas so amazing. 
Oil - Any neutral-flavored oil works here. I prefer oil over melted butter because it gives the muffins more rise, and helps keep the muffins nice and moist. 
Sugar - We don't use a ton of sugar in these muffins because I don't believe muffins should have a ton of sugar in them, and the bananas do an amazing job of sweetening the muffins. I use granulated sugar but dark and light brown sugar would also work! 
Egg - Eggs help bind the muffins. Bananas work to do that in the batter, too, but the eggs really make sure we get that irresistible texture. 
Vanilla - Vanilla adds just a bit more flavor and really helps make these muffins irresistible. 
Buttermilk - To help the baking soda in the muffins get a little more rise, I love using buttermilk. You can add a teaspoon of distilled white vinegar or lemon juice to milk and let it sit for five minutes if you don't have buttermilk around. You can also substitute it with plain yogurt. 
Chocolate chips - I love to use a mix of chocolate chips. Semi-sweet and dark chocolate work so well in these muffins. For the best muffins, I would also recommend trying to use chopped chocolate instead of chips.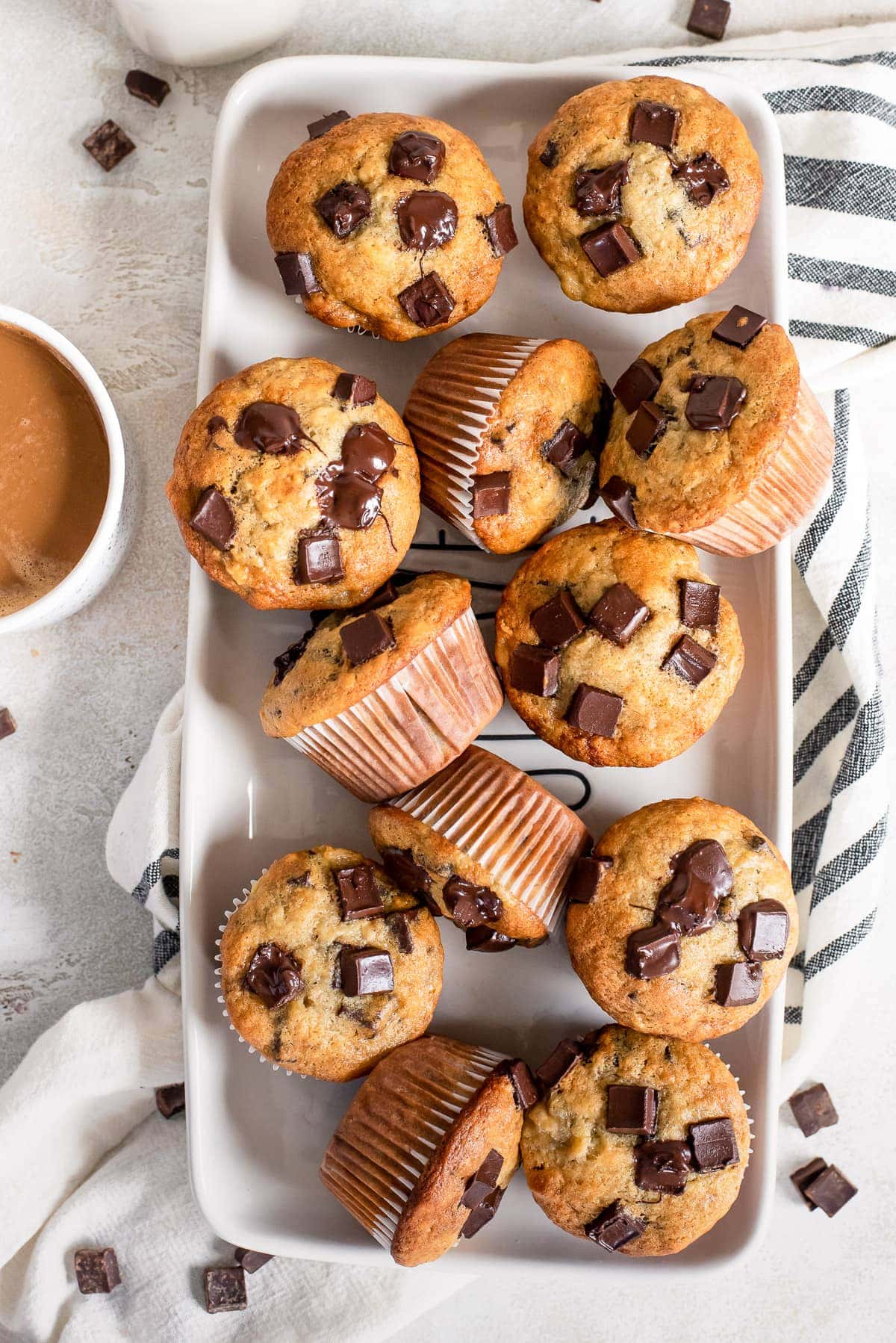 Quickly ripen bananas
You need ripe bananas to make any banana-based baked goods, muffins included. I will leave bananas hanging around just to be able to make muffins and bread. If you don't have any ripe bananas, but still want to make muffins, you can easily do a "quick ripen" of your banans to help speed things along. 
Bake your bananas. Keep the peels on the bananas and bake them at 300°F /149°C for about 10 - 15 minutes, or until the skins are blackened and the bananas are very soft. Allow the bananas to cool completely before you unpeel and mash. 
Microwave your bananas. Peel the bananas, slice, and microwave for about 5 - 10 minutes, and then allow to cool completely before mashing. 
Optional add-ins
There are so many ways you can dress up your banana chocolate chip muffins to make them incredible. Here are a few of my favorite ways to upgrade your muffins. 
Add in chopped nuts. I recommend walnuts. 
Add in spices such as cinnamon, ginger, cardamom, pumpkin spice. 
Nutella swirled throughout is amazing. 
Sweetened cream cheese gives the muffins a cheesecake twist. 
Crushed graham crackers go really well with banana.
A few tablespoons of brown butter will elevate the muffins a ton. 
Streusel topping - it adds an irresistible buttery crunch.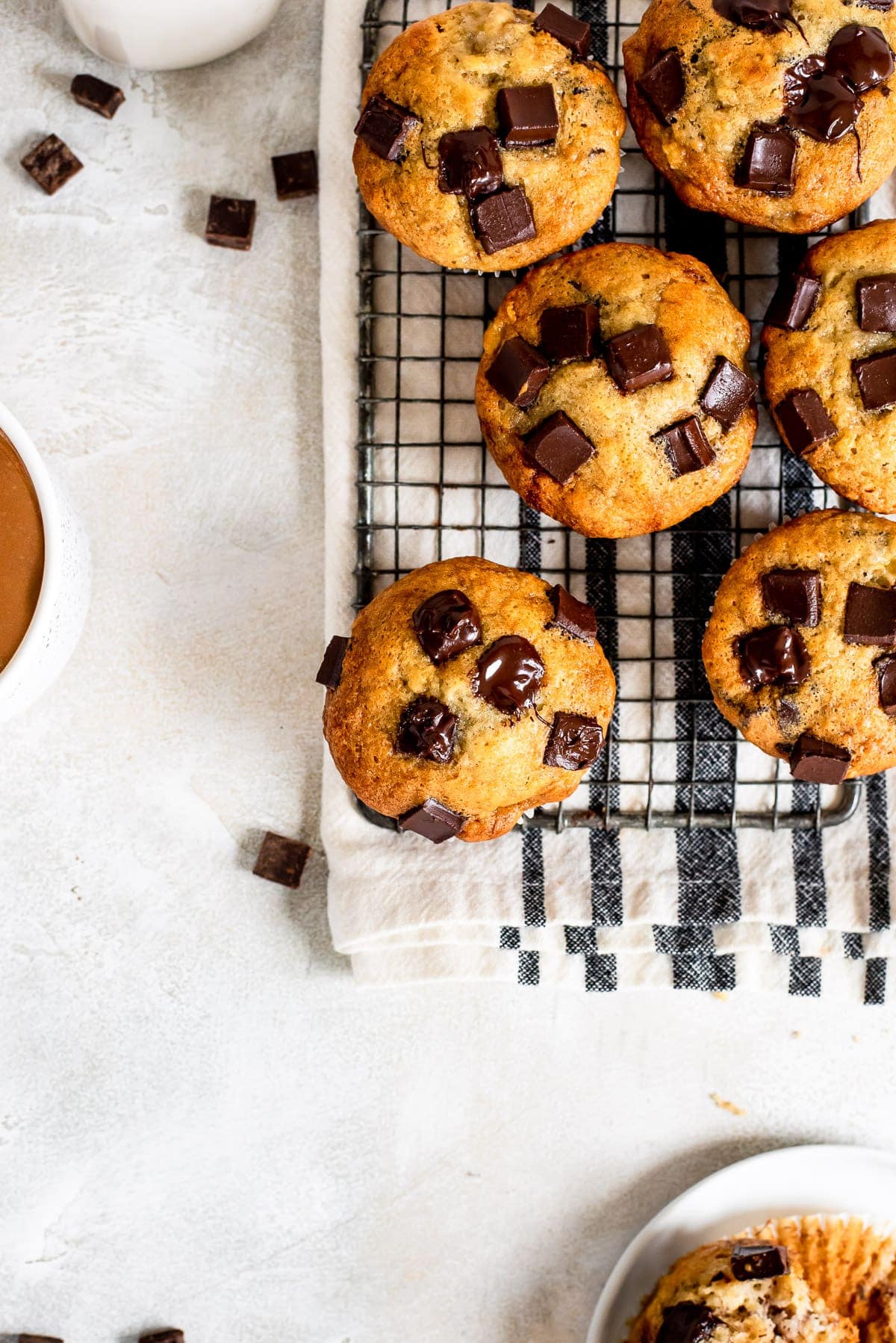 Baking tips
Banana chocolate chip muffins are easy to make for breakfast, snacks, or whenever you want them! Here are some baking tips you may find helpful, especially if you are a new baker. 
Make sure you mix the wet ingredients together - sugar counts as a wet ingredient in this case - and the dry ingredients together. Add the wet and dry together, and mix until just combined. You want to see lumps in the batter. 
Start the muffins at a high temperature for a nice rise, then lower the temperature to prevent over-browning. It is important to follow the instructions exactly. 
Coat the chocolate with flour. This helps prevent the chocolate chips from sinking right to the bottom of the batter when baking. You just need a couple of teaspoons to give them a nice coat. 
Storage tips
You should keep your muffins stored in an airtight container at room temperature for up to 5 days. 
If you would like your muffins to last longer, I recommend freezing your muffins and thawing out the muffins you want to eat that day. Store your muffins in an airtight container in the freezer for up to a month. To thaw the muffins, leave them at room temperature for about half an hour. You can warm them by heating them in the microwave for about 5 - 10 seconds. 
Banana chocolate chip muffins F.A.Q.
Can I make banana bread with this recipe?
Yes, you can use this recipe to make banana bread. Grease and flour a 9 x 5 baking pan. Bake at 35°F/177°C for about 50 - 60 minutes, or until a toothpick comes out clean. 
Can I reduce the amount of sugar in the recipe?
Yes, you can! If you prefer your muffins with just a hint of sweetness, you can cut down the sugar in half, or experiment with lower amounts (I cannot guarantee that using less than half the sugar will taste good). 
Can I replace the sugar with something else?
You can substitute the granulated sugar with brown sugar. Sugar alternatives may also work (please keep in mind that you usually need less sugar alternative compared to standard granulated sugar). You can also substitute some of the sugar with honey or pure maple syrup, please remember these will alter the flavor of the muffins. I do not recommend replacing all the sugar with honey or maple syrup.
Can I replace the buttermilk with regular milk or milk alternative?
Yes, you can simply use regular milk, almond milk, cashew milk, oat milk, or similar types of milk in this recipe. 
Can I use gluten-free flour to make these muffins?
It depends. You should be able to use a store-bought gluten-free baking mix. I cannot guarantee that you will have success with the recipe using a gluten-free baking mix replacement, or other gluten-free flours as I have never tested them this way.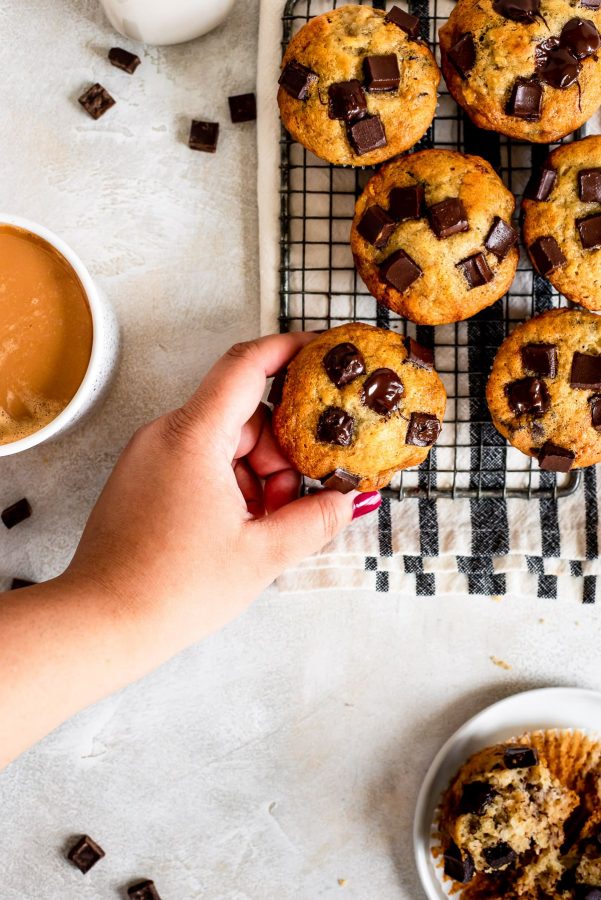 Other recipes you may like
If you love these chocolate chip banana muffins, you will love these peanut butter banana muffins. You would also love trying this brown butter banana bread, chocolate chip banana bread, and cinnamon banana bread. These healthy blueberry muffins are also a delicious muffin you must try. For something more decadent, these brownie muffins are so good. 
Recipe Card
Recipe Card
Banana Chocolate Chip Muffins
Light, fluffy, and moist banana chocolate chip muffins
Ingredients
3

large ripe bananas

⅓

cup

oil

¾

cup

granulated sugar

1

large egg

room temperature

1

teaspoon

pure vanilla extract

¼

cup

buttermilk

1 ½

cups

all-purpose flour

plus more for chocolate chips

1

teaspoon

baking powder

1

teaspoon

baking soda

½

teaspoon

salt

1 ½

cups

chocolate chips
Instructions
Preheat the oven to 425°F. Line a muffin tin with liners.

Mash your ripe bananas.

Add the oil, sugar, egg, vanilla, and

buttermilk

into the bananas and mix well.

In a separate bowl, stir together the flour, baking powder, baking soda, and salt.

Mix together the wet and dry ingredients. Stir until just combined.

Lightly coat the chocolate chips in flour and fold into the muffin batter.

Evenly divide the batter among the muffin liners.

Place the muffins in the oven. Bake for 5 minutes at 425°F, then turn down the heat to 350°F, then continue to bake for an additional 12 - 14 minutes, or until a toothpick inserted in the middle comes out clean, or with a few crumbs clinging to it.

Allow to cool before you enjoy!
Notes
Store in an airtight container.
Nutrition
Serving:
1
g
Calories:
321
kcal
Carbohydrates:
49
g
Protein:
4
g
Fat:
14
g
Saturated Fat:
5
g
Polyunsaturated Fat:
9
g
Cholesterol:
16
mg
Sodium:
253
mg
Fiber:
3
g
Sugar:
31
g
Tried this recipe?
Tag me on Instagram! @acookienameddesire #acookienameddesire