Sweet cinnamon peach muffins are like little cobblers you can have for breakfast. These tasty treats are the perfect way to use up those summer peaches.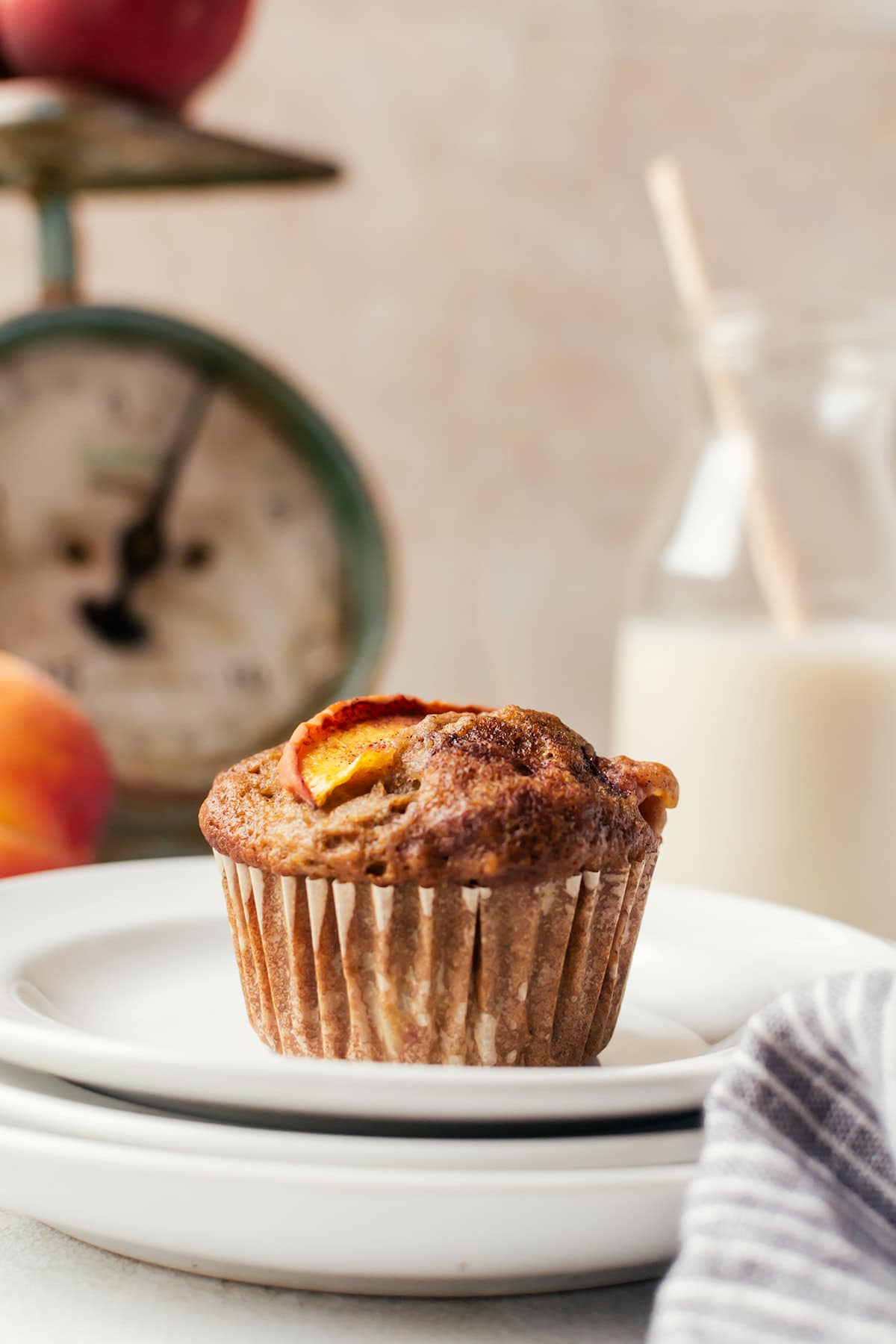 Friends, I think I have a problem. I think I am addicted to peaches. I've been eating peaches for most of my meals and I am not even tired of it. In the morning I'll either have a roasted peach smoothie or these cinnamon peach muffins (most days I'll have both). Lunch and dinner usually involves a salad with peaches or just a peach eaten on the side. I also remade some of my peach crumble ice cream and my daughter and I have been devouring it like crazy people every night.
Some of it is because we picked over 30lbs of peaches, but mostly this year's peaches have been so much more delicious than past years. They are so juicy and sweet and there is nothing better than biting down into one while you watch fireflies light up the night sky. These cinnamon peach muffins have been on the menu for a while already. My daughter will have one for breakfast and request one or two more throughout the day as a snack, then everyone else is grabbing one to munch on or take while on their way out the door.
What makes these cinnamon peach muffins so amazing is that it tastes just like a peach cobbler. Only much better for you which makes them that much more amazing. There are large pieces of fresh peach surrounded by a sweet, fluffy cinnamon muffin and you really feel like you are having dessert for breakfast. When I want to be more indulgent, I like to slather mine with butter or a nice dollop of whipped cream. I can't recommend that combination enough!
If you want to try other muffins, you will love these chocolate chip banana muffins, peanut butter banana muffins, brownie muffins, and healthy blueberry muffins.